Florists' Review – August 2021 Issue
Being a small-business owner requires a multitude of skills, the most important of which may be the ability to multitask. We wear a variety of hats: accountant, designer, salesperson, marketer, teacher, webmaster, counselor, janitor; the list is long. But for me, the list of rewards is even longer. Sometimes, I ask myself if it's worth it, and every time, my answer is a resounding YES
Talking to fellow business owners is one of my favorite parts of my job. I've met so many creative, inventive florists who are redefining what it means to be a florist today. This month, I enjoyed Zooming with the dynamic duo of Ana Vivas and her daughter, Anais, co-owners of Aniska Creations. They shared their inspiring journey that started with a simple Instagram post a few years ago to becoming one of the most celebrated florists in Miami. I also had a chance to chat with Elisha Hodge, of Plumeria Botanical Boutique in Battle Creek, Mich. She shared how she traded a 20-year career in finance to open her flower shop. Hodge has brilliantly incorporated plants and community activities with social media marketing to become a destination shop and thriving business.
In this issue, we take a deep dive into the houseplant sector, highlighting current trends and merchandising and marketing tips. As the younger generations continue their fascination with plants, the boom shows no sign of slowing. Plants provide a growing revenue stream for flower shops and give consumers a reason to stop in occasionally to see what's new.
I'm a big proponent of additional revenue streams. If you are going to pay for commercial retail real estate, which is pricey in any city, you should strive to make every corner of your shop a revenue source. Long past are the days when a flower shop can be a dusty waiting area for the delivery guy. Make the most of your real estate by giving customers a reason to stop in to check out something new. Every interaction you have with a customer builds your brand and, eventually, your bottom line.
Also, in this issue, we cover home accent trends, another potential revenue stream for shop owners. And for those of you wondering how to break into decorating show houses, we offer insights into these valuable branding opportunities. In preparation for the holidays, we have created an extensive "Holiday Management Guide" packed with best practices to make your season spectacular. We also offer creative tutorials and tips on photographing your flower designs, a vital skill all florists should master. We hope you enjoy the knowledge and experience we've packed into these pages.
I would also like to thank everyone who has purchased a new membership to Florists' Review. We are immensely proud of the content and quality of every issue. To assure your copies can be enjoyed for years to come, we print on the finest paper. We greatly appreciate your support, which enables that to be possible.
Best wishes,
Jules Lewis Gibson
President & Creative Director
Florists' Review Media Group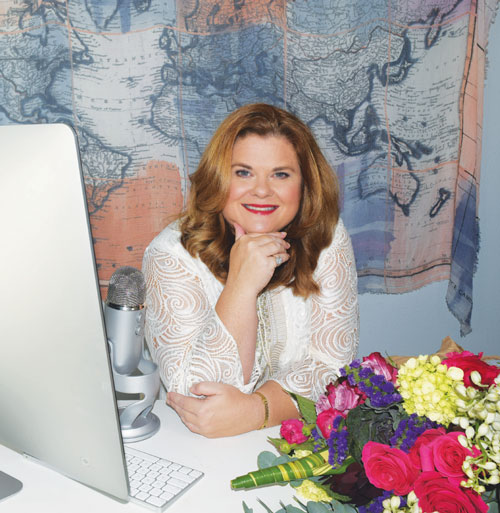 CONTENTS
Houseplant Boom
Florist Spotlight: Aniska Creations
How to Photograph Florals
Holiday Management Guide

Home Accent Trends and much more!