Funding Available for Floral Design Programs
The American Floral Endowment is now accepting applications for 2020 James & Helen Phillip Floral Design Grant 
The application deadline is March 1
The American Floral Endowment is now accepting applications for 2020 James & Helen Phillip Floral Design Grant.
The American Floral Endowment is accepting applications for the James and Helen Phillip Scholarship Fund. This special fund provides scholarships through block grants to students in college/university programs focusing on careers in floral design and retail flower shop operations.
Colleges and Universities that offer floral design certificates or degree programs are eligible for annual annual funding.
Since 2008, more than $300,000, has been awarded to over 270 young professionals pursuing careers in floral design and operations. The institutions currently receiving annual grants in include:
Kishwaukee College
The Ohio State University ATI
Mississippi State University
Texas A&M University
For more information, or to apply for a block-grant to support student scholarships, visit endowment.org/grants and submit an application before the March 1 deadline.
ABOUT THE FUND AND THE PHILLIP FAMILY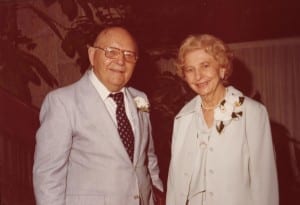 James A. (Jim) Phillip began working in the floral industry at a very young age having only completed eighth grade when he had to start working to help his parents support six younger siblings. What started out as a necessity for the family's livelihood evolved into a passion that would last throughout his life.
In 1923 shortly after marrying Helen they started their own flower shop, Phillip's Flowers & Gifts in Cicero, a suburb of Chicago, Illinois. Jim and Helen had two sons, J.R. and Russ, and a daughter Lee. All three children grew up working in the shop and the business prospered, making it possible for the three children to attend and graduate from Northwestern University.
J.R. and Russ eventually became the owners and operators of the business and, in turn, passed it on to the next generation. Today, in 2008, the small family business has grown to comprise ten locations including a 30,000-square-foot design center, a 20,000 square foot interiorscape and display division, and over 250 employees.
While working full time in the family flower shop, Lee Phillip Bell accompanied her brother J.R. to the Chicago CBS affiliate television station where they were invited to demonstrate flower arranging. Within a short time, she was offered other positions at the station which eventually led to The Lee Phillip Show. This daily talk show was a huge success, running for 34 years (1952 to 1986). Ms. Bell was a popular host, receiving 16 local Emmy awards over the years.
Mrs. Bell was married to William J. Bell for over 50 years and theirs was a true partnership in many ways. During the early days of their marriage, Mr. Bell produced scripts for daytime television dramas such as Guiding Light, As the World Turns and Another World.
Eventually, in collaboration with her husband, Mrs. Bell co-created the popular CBS daytime drama The Young and the Restless in 1973 and its sister show The Bold and the Beautiful in 1987. In 1977, Mrs. Bell was the first woman to receive the Governor's Award from the Chicago chapter of the National Academy of Television Arts & Sciences and eventually she earned nine Daytime Emmy Awards. She and her late husband are the only husband and wife couple to be recognized with Daytime Emmy Lifetime Achievement Awards for their individual work.
Mrs. Bell chose to honor her parents by establishing The James and Helen Phillip Endowed Scholarship Fund through AFE as a lasting tribute to them and the important values they instilled in their children. These values, along with loving memories of her parents, have sustained Mrs. Bell throughout her life
About AFE
The American Floral Endowment is a nonprofit organization dedicated to advancing the floriculture and horticulture industry through funding research, educational grants and scholarships. Since 1961, more than $16 million has been funded in research and educational projects, and more than $3 million has been funded in scholarships and internships designed to attract and retain the future leaders of the industry. To learn more about AFE or how you can support floriculture programs, visit 
www.endowment.org
.
If you would like more information about this please contact AFE.