A New Generation of Australian Florists is Leading the Industry in a Sustainable Direction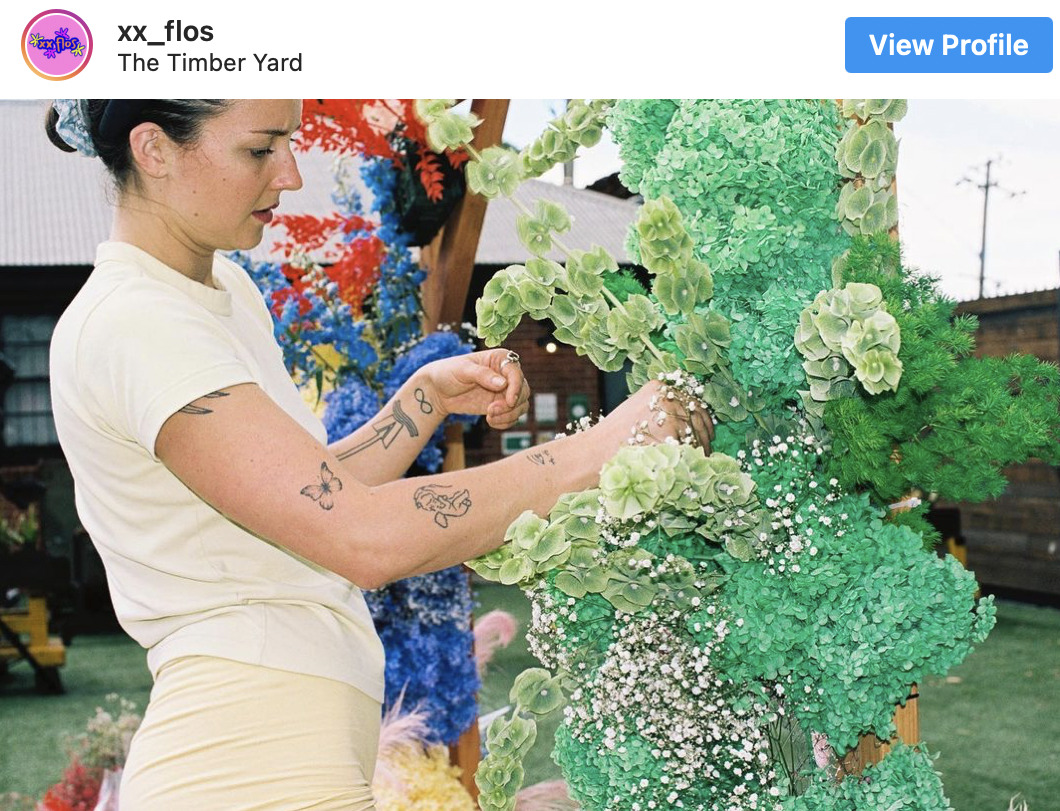 Once reserved for Valentine's Day and sick grandmas, flowers have found themselves back in our homes, offices and Instagram feeds. Thankfully, cellophane and rainbow roses have been replaced by architectural designs and unique flora, as a new generation of Australian florists shakes up the industry, reclaiming their work as an art form.
Kayla Moon is the director of Melbourne-based florist Xxflos. Discovering her love of flowers while using gardening to ground herself, she boasts eight years in the industry and a manifesto outlining her stance that floristry is an art form, not just a trade.
Originally a makeup artist, Ness Scarkie discovered a talent – and a market – for flower crowns for the brides she was working with. Soon, the floral side of the business quickly surpassed the makeup and she extended her offering, launching The Nesst in 2011.
Set on a career with flowers from a young age, Sheridan Gretta Holzworth perfected her craft at one of Sydney's top experimental florists, Hermetica. Finding her niche creating whimsical designs, she returned to Brisbane and launched her baby, Fiflar Floral.
India Robinson of Blossm Bby attributes her unique designs to a lack of 'traditional' training and boasts a cult following thanks to her signature milk crate creations, regularly working with brands like Suku Home and Sans Beast.
Speaking to these four talented Australian florists, I began to understand the necessity for industry-wide change in the face of the current environmental crisis. In the Western world, around 80 per cent of flowers you find in florists are imported – when you take into account the carbon released from transportation, things get unsustainable pretty quickly.
But this new cohort of florists is focused on changing this, and although shifting consumer's perceptions of floristry has been no easy feat, and the industry still faces challenges when it comes to wasteful practices, it's comforting to know that these florists view sustainability practices as integral to the longevity of their art form. With this generation's dedication to educating customers, it appears the industry is in safe (and very dexterous) hands.

The hashtag #floraldesign has over five million posts on Instagram. Has Instagram been a catalyst for changing people's perception of floristry and valuing it more as an art form?
Ness Scharkie: Definitely, there's been a huge movement within the floristry community using Instagram to educate consumers on the value of floral arrangements. It's not just a bunch of flowers that have been thrown together, it's years of investment by the creator. Intricate mechanics, 3am starts and money spent on sourcing quality flowers are all investments in the art and I think people are starting to get that.
Kayla Moon: Instagram has helped by tying into the duality of floristry. It provides both a platform to display your work in gallery form, while allowing you to link to a product on a website. Makers of all industries are benefiting as it allows us to exhibit our work to a growing fan base, while also helping to connect with new customers.
India Robinson: It's definitely helped people to see florals as a medium for creating a true art form. It's a really exciting time to be in the industry, alongside many other amazing designers expressing their art through other mediums too, not just through flowers. We all push each other to think bigger. Instagram has helped people to recognise the versatility of flowers and how they can be repurposed as everlasting, ever-changing art pieces.

How have you adapted to increase sustainability within your work?
NS: After beginning with the delivery of bouquets I began feeling inherently sick about the wastage created, so I spent time researching alternative sustainable products. It's often more expensive, but the benefits for both the planet and my mind space were worth it. Now, about 80 per cent of my practices are conducted in a sustainable way; even my greeting cards are printed on recycled paper.
IR: At Blossm Bby we make an effort to cut our orders off 24 hours before the delivery date to ensure we only buy what we need. We never throw products out, and if there's any leftover we dry and re-sell them. It's a constant balancing act between keeping true to the aesthetic of Blossm Bby, while still being sustainable and considered in our approach.
SGH: During the lull in business when COVID-19 hit, I focused on ways to increase sustainability within my work, specifically reducing my floral foam [an extremely absorbent foam that's used to keep arrangements hydrated and to support a flower or foliage stem in the desired position. Unfortunately, it's made of plastic and is non-biodegradable, often being discarded after one use.] One of the biggest ways to reduce negative impacts is to buy locally instead of imported, which can be easy or difficult depending on how many local growers you have access to.
View the full article here
The fall of 2023 promises to be a season of transformation driven by changing consumer preferences, advances in technology, and a growing awareness of environmental sustainability. Full Article Below Source 2023 fall trends in the horticultural industry As the leaves...
read more