Window displays allow you to showcase your product and services to the public. They, too, are an important marketing tool to make a statement about your brand.  Floratorium is known for literally rescuing many New York restaurants by creating inviting outside faux floral displays during the pandemic. Carlos Franqui and his colleague Patricia Gonzalez are pros who whip up beautiful displays whether faux or fresh flowers. "Of course I use fresh flowers too," laughs Franqui. "But when it's cold outside, I had to use faux flowers along with plants that could survive the weather."
Full Article Below Source
Whether Using Fresh or Faux Flowers, Floratorium Dazzles
By Jill Brooke / flowerpowerdaily.com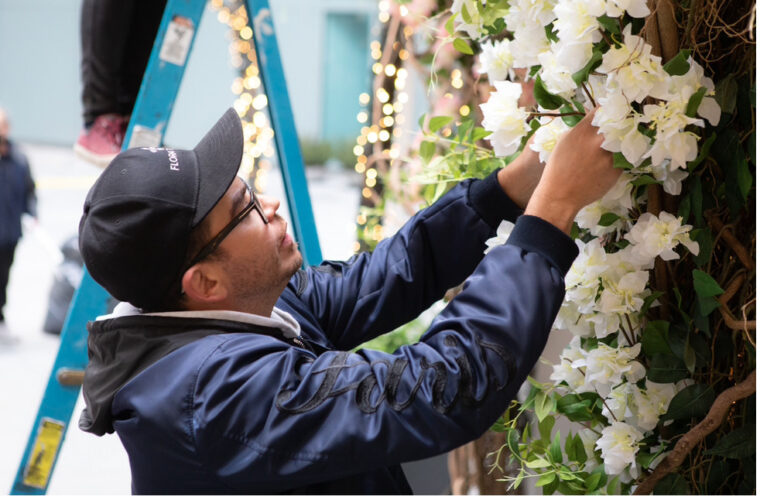 I love when people defy expectations. Although Floratorium is known for literally rescuing many New York restaurants by creating inviting outside faux floral displays during the pandemic. Carlos Franqui and his colleague Patricia Gonzalez are pros who whip up beautiful displays whether faux or fresh flowers.
Whether it's this display of wispy dahlias and fall color patterns using a wide low-rise vase that allows for a casual feel or a gorgeous luscious dramatic door arch exploding with the prettiest pink Rosa Prima roses that were part of Fleurs de Villes Hudson Yards show, Floratorium delivers fields of floral delight.
In fact, I was one of the judges at the Fleurs de Villes show and we chose his display to take a group picture – as did thousands of others who visited the show.
"Of course I use fresh flowers too," laughs Franqui. "But when it's cold outside, I had to use faux flowers along with plants that could survive the weather."
In fact, his faux displays are so highly regarded that countless people have asked him to create his own line of faux flowers.
"It's in the works," he said. "I just have to find the time."
To many, Franqui is a hero and already holds the deep-rooted affection of so many people, especially restauranteurs who struggled to not be in hot water with sinking revenues and opportunities. The public also cheered Franqui and developer Patricia Gonzalez as they parachuted in like S.E.A.L. fighter pilots to the rescue with the suggestion – soon copied – of creating Mediterranean alfresco designs.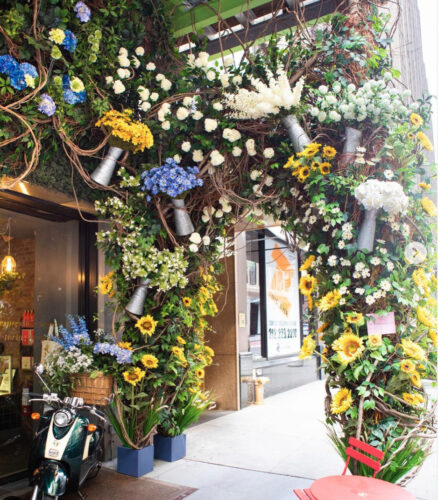 "I'm very proud that we helped make people feel they were on vacation someplace in the Mediterranean" while bundled up in winter coats and scarfs, says Franqui. They also single-handedly weeded out the false notion that faux flowers – which could endure the cold temperatures – couldn't be artfully assembled along with greenery to create enchanting environments since these floral installations could rise to as much as $30,000.
As the New York Post's food and real estate columnist Jennifer Gould wrote, the striking outdoor installations actually boosted revenues for restauranteurs by "drawing in diners eager to forget they're eating in a former parking spot" and having "ugly city scaffolding disappear under an intricate swath of vines popping with flowers."
Not only did Floratorium's designs help bring in clients who wanted to be part of the Floratorium experience and cheerful ambiance but the installations became catnip for pedestrians and Instagram moments. So popular were the outside dining experiences that New York is now keeping them.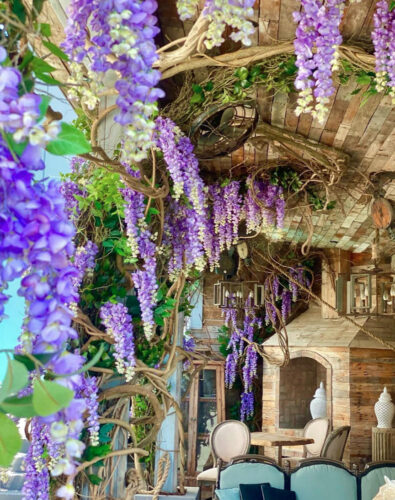 Perhaps it's why Floratorium is so busy creating outside floral displays for both restaurants and stores all across the country – and soon the world. Recently they just created six massive columns of tropical Pathos, Monstera and an explosion of Bougainvillea for the Hilton West Palm Beach and he also did a wisteria-inspired display for a project in his hometown of Puerto Rico.
We can't wait for when his faux flower line hits the marketplace to perhaps conjure up some of his inspirations in our own dining rooms. While waiting, we will just marvel at their talents around us.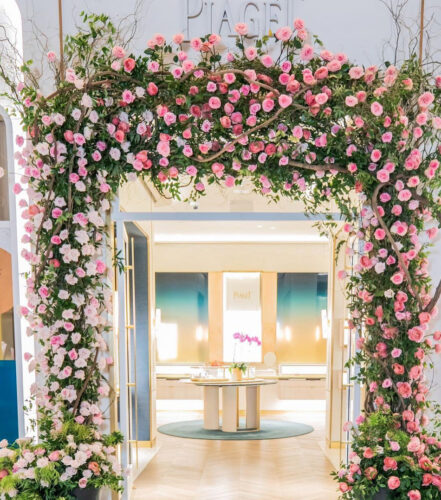 About the Author:
Jill Brooke is a former CNN correspondent, Post columnist and editor-in-chief of Avenue and Travel Savvy magazine. She is an author and the editorial director of FPD and floral editor for aspire design and home magazine