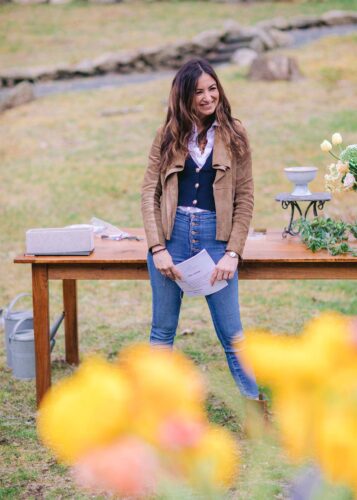 Blue Jasmine
Berkeley Heights, New Jersey
Paulina Nieliwocki
@bluejasminefloral
Paulina's effervescent personality is a perfect match to the whimsically exquisite floral designs she creates. The soul of a teacher who found a new passion and career when she pivoted towards the floral industry. In a few short years, she has carved out a thriving business from her chic boutique Jasminee in the upscale community of Berkeley Heights, New Jersey. She shares some of her challenges and triumphs of her floral journey.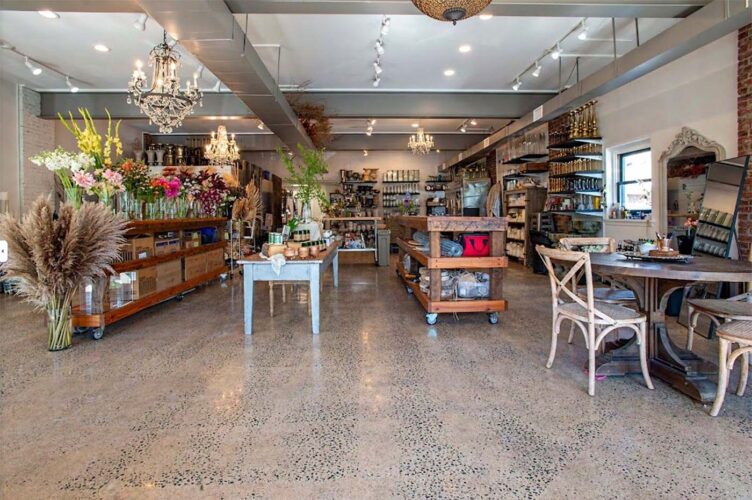 I understand you started your career in education.
I taught high school for six years. I taught the AP Spanish language courses. I loved the teaching, the lesson planning process to teaching to me that was the creative part of it, and it was finding the perfect video or the perfect magazine article or regalia like something that tightened so perfectly to like the grammatical thing that I was teaching or the vocab that we were teaching.
Teaching feeds my soul so when I left it was difficult but I really wanted to be my own business owner. I just had this like itch that I had to scratch and flowers just were the natural fit at the time. My husband was really supportive and gave me two years of financial support for me to give it a try while I tutored on the side.
What did your store focus on at first?
I created a gift boutique, so I opened up a business with 50% retail gifts. I was selling like an aesthetic so like jewelry, scarves, pottery. I was importing stuff from France, I went on a buying trip in Argentina like handbags like that. It was also 50% flowers and I said, whichever one starts to pull is the one I'll put more investment in money and time.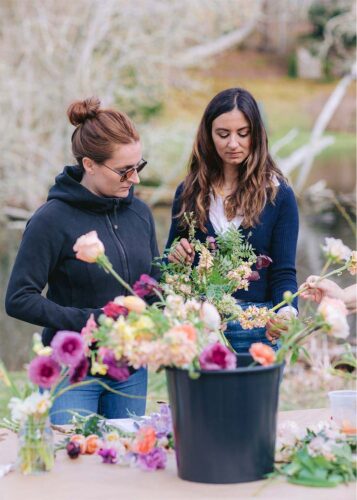 Then it started going like 60/40 flowers, then 70/30 and ultimately the flowers really toueok off and that's how I really landed in the flower business.
In more of the floral world, I was able to flex my creative muscle and find my own voice in how I like to design and you know things that I like to do, but I always missed teaching. It was so nice when I was finally able to come into a moment where I could start hosting workshops.
How did Covid effect your business?
When COVID hit, I had a ton of wedding business that all went away. I had put all my eggs in the wedding basket and hired a ton of people. My payroll was out of control and I had all these commercial vehicles. So I downsized my workforce to help survive this economic downturn and then I started doing more workshops for free and people loved it.
So then I started doing more Zoom classes as I had the time. Now we hold workshops once a month and then I do advanced series a couple times a year with a destination one planned hopefully in Florida.
What happens when weddings come back? Are you going to take 45 weddings a year again or what's your plan?
The business model was I was an 80/20 model where I also had an everyday retail store, so I do sell everyday flowers out of my studio and we have corporate accounts. We have weeklies.
Before COVID, it was more like 80% or more weddings and about 20% or less retail everyday flowers. I have now restructured everything, so now I'm in thirds so I have a third education, a third weddings, a third retail which is working beautifully. I now cap my weddings at fifteen a year so I'm choosy.
I choose weddings that are either creatively stimulating or if it's a venue that we're familiar with that we get to do something kind of cool and fun. I just try making sure that it's a great fit with the client.
How do you feel about competition in the industry?
I always say this, I'm all about community over competition. There is work for everyone. We're in a saturated market here. The cutthroat thing is not for me, I'm not about it. I try to, especially at workshops, encourage everyone to just all charge the right amount of money so everybody can eat.