While red is the classic choice for Valentine's roses, for unexpected and truly seductive color options, offer any of these extraordinary cut David Austin roses. After all, David Austin roses are considered the crème de la crème and Rolls Royce of roses and offer a palette of voluptuous shades. Roses can range from the softest blush, creams and peach to richer apricots and pinks to deeper raspberry, fuchsia, and ruby red!
Full Article Below Source
Guys – Score Points by Asking for These 6 Special Valentine's Roses
By Jill Brooke
While red is the classic choice for Valentine's roses, for unexpected and truly seductive color options, call your florist and ask for any of these extraordinary cut David Austin roses. You need to order in advance but it's worth the effort. Just like a gentleman needs to know a good Pinot Noir wine, a Shakespeare bon mot, or even a Chris Rock joke, citing these David Austin roses will illicit immediate cred. It is almost guaranteed to create that extra sigh of delight while simultaneously making a lasting impression.
After all, David Austin roses are considered the crème de la crème and Rolls Royce of roses and offer a palette of voluptuous shades. Roses can range from the softest blush, creams and peach to richer apricots and pinks to deeper raspberry, fuchsia, and ruby red! In fact, these roses are also coveted for wedding roses as well.
All are available for Valentine's Day in advance.
Furthermore, in the language of flowers, different colors have a variety of symbolism that you may want to invoke.
The white rose represents purity, the pink admiration and elegance, and the yellow rose once represented jealousy but over the years has morphed to symbolize a cherished friendship. Peach conveys gratitude while orange is given to someone with lots of energy and enthusiasm. Lavender now is a code color for love at first sight or being besotted. With the advent of technology, blue and black roses are meant to symbolize mystery, and multi-colored roses are designed to embrace someone who is unique and interesting along with multiple emotions.
And of course, red always means passion, unabashed heat and desire.
So take notes. Remember these names. Tess, Eugenie, Constance Patience, Edith and Juliet. And here's what makes them special.
The Juliet rose is known as the most expensive rose ever developed, costing its creator David Austin $3 million over the course of 15 years. First publicly displayed in 2006 at the Chelsea Flower Show, the bountiful bloom boasts large-headed pillowly petals and continues to be one of the world's most famous roses. After all, its name triggers romantic memories from Shakespeare's Romeo and Juliet.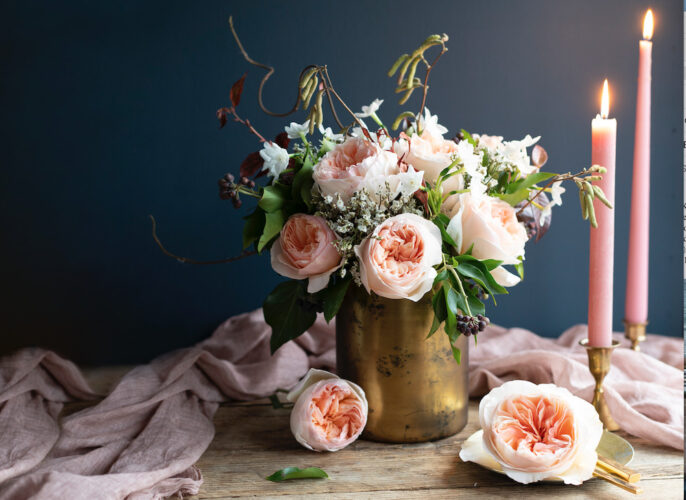 Juliet description: Juliet is "quintessentially David Austin" with distinctive, beautifully-cupped and voluminous flowers framed by an outer halo of paler petals. The color is a flawless blend of soft peach and warm apricot. The flower is classic and shapely, with a full cupped heart. The light fragrance has the softest hint of tea.
Juliet character notes: Juliet has become one of the most iconic and recognizable roses in the world.  This may be due to both her trademark luminous peach color and her distinctive, shapely form.  While her fragrance is elusive, her elegant beauty more than compensates and seduces.  Her name alone speaks the language of love, honoring the female heroine in the greatest love story ever told.
Tess description: Tess brings smoldering beauty to Valentine's Day, with its seductive blackcurrant color and glitter of gold at the heart. The flower is velvety-textured with deep ruffles, for an Old Rose charm that is both dramatic and nostalgic. The fragrance is very light with a charming hint of tea.
Tess character notes: Tess is indeed the color of love and the classic Valentine's rose with passionate red and velvety tones deepening over time with a glint of golden stamens at her heart.  Tess will be truly coveted by the lucky recipient and will forever be a Valentine's rose.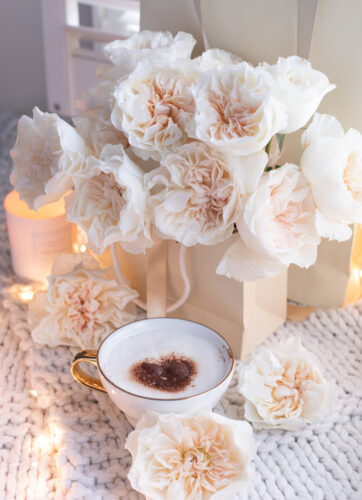 Eugenie description: Eugenie's delicate color is a divine mix of blush apricot, peach and cream. The flower center is a pretty blush apricot and peach, with the color diffusing outwards to paler creamy tones. The petals are wonderfully frilly. The myrrh and aniseed fragrance is strong to medium.
Eugenie character notes: Eugenie seriously knows how to dial up the charm factor.  She has a 1950s Hollywood glamour, combining playfulness and charisma that is difficult to define.  Think of Eugenie as the Audrey Hepburn of the rose world – a frothy delight of blush peach petals and a captivating fragrance of myrrh and aniseed.   A most elegant and romantic gift that is quietly captivating.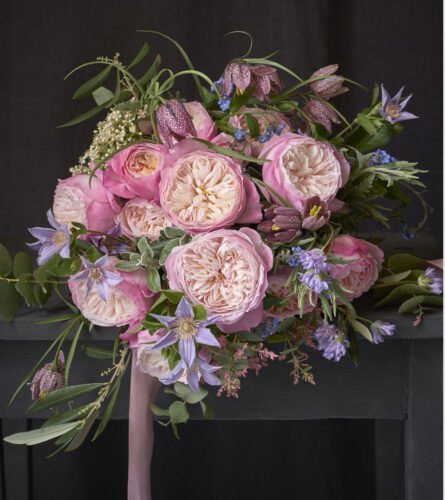 Constance description: Constance is exquisitely feminine in color and flower form, with layers of ballet pinks and deeper hues opening from a cream heart in a billowy ballgown shape. Each flower is enchanting, each slightly different in its mix of palest cream and pink to deeper pink tones. The fragrance is strong and elegant, fruity with hints of apple and pear. In fact, Sahid Nahim, owner of New Room Solutions based in Miami, Florida, says that "Constance" is the go-to flower he recommends for all his guy customers. "It has great impact and looks exotic and special," says the veteran floral expert.
Constance character notes: Constance is a fairy tale rose and she will sweep you off your feet.  She is quite dreamy in every way with her feminine layers of outer pink petals, diffusing with creams like watercolor paints across a canvas.  Her strong and elegant fruity scent adds to the finishing touch. So while her color is delicate and understated, her impact is no less dramatic.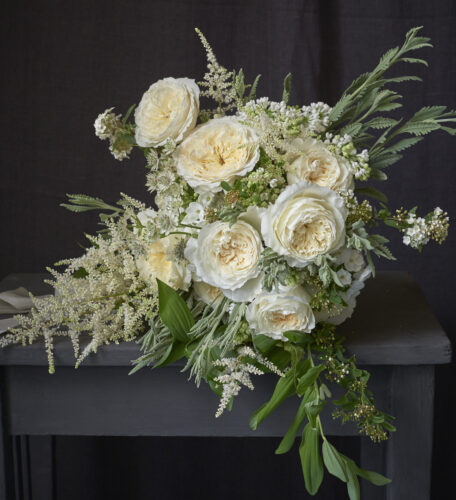 Patience description: Patience's lush, milky white petals have a classic creamy center with hints of pale, buttery yellow. The flower cups are sculpted yet delicately ruffled. The magnificent fragrance is intense with a classic Old Rose perfume fused with lemon.
Patience character notes: Perfume has long been a gift for Valentine's Day as it is deeply personal and can evoke strong memories with a single note.  So a rose with fragrance is arguably the ultimate gift.  The Patience rose is perfume in a bottle.  Her buttery-cream petals unfurl to reveal an intense, fresh scent with hints of lemon as she forms a frilly, ruffled rosette – a truly romantic gesture.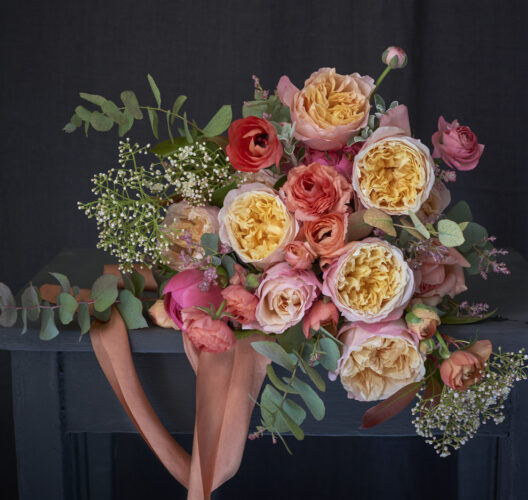 Edith description: Edith is unusual, a bit of a wild card, especially appealing to those of a similar nature. The flower is neither one color nor another, mixing shades of apricot, gold and yellow with a halo of soft pink outer petals. Edith is a classy character, at once relaxed and flamboyant. The strong fragrance is sweet and fruity, with intriguing undertones of myrrh.
Edith character notes: For something completely different and sassy, Edith is the one, and she will make an impression.  She rocks the vintage vibe while also being quite bold and modern. Edith will be the perfect match for strong, independent personalities who love to set the trends rather than follow them.  A real trailblazer of a rose, which is full of beauty and scent.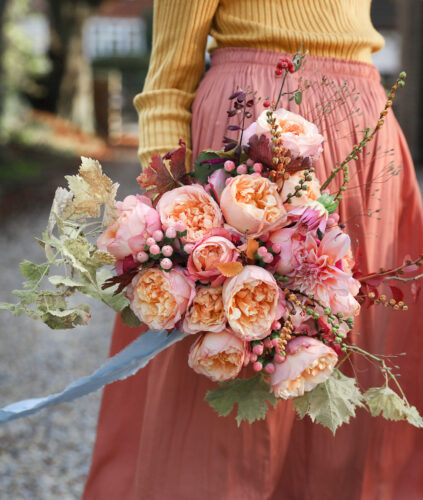 Not only is the rose the national flower in the United States, but it is also considered the flower of the world.
Legend has it that Aphrodite gave the flower to her beloved son, Eros, the god of love. Dig deeper and you see that if you take the "E" in Eros and put it at the end of his name, you have the word "ROSE."
The mysteries and beauty of this flower have been a fertile springboard for writers and poets throughout the ages to explore lessons of love.
Who can't find the wisdom in Kahlil Gibran's words relatable? "The optimist sees the rose and not its thorns," he noted. "The pessimist stares at the thorns, oblivious to the rose."
There's also much sense in Anne Bronte's advice to go for it, which is why you should buy these flowers. As the writer said, "But he who dares not grasp the thorn, should never crave the rose."
Roses never disappoint when given as a gift.  "And you will have a story to tell your loved one when you buy these roses," adds Nahim. "Sometimes it is not only about the gift but about the effort and intention."
Jill Brooke is a former CNN correspondent, Post columnist and editor-in-chief of Avenue and Travel Savvy magazine. She is an author and the editorial director of FPD.