The breeding company Selecta one will be exhibiting at the IPM Essen trade show January 28-31, 2020 in Essen, Germany. Visitors will be able to see the spectacular speckled Poinsettia SkyStar plant (see image above).
Selecta one will also display its bred carnations, with both potted and cut. For bed and balcony plants novelties, there will also be versions with sky patterns and sensational colors combined with excellent production characteristics will be exhibited.
Poinsettias
Selecta one rolls out the red carpet for its new Poinsettia highlight SkyStar. The novelty impresses with red bracts covered in white dots, like the flares of a spotlight. With its dark green foliage; thick, robust, dark red, V-shaped stems; and a good root system this special Poinsettia involves excellent characteristics. Selecta's new Superstar of Christmas Stars comes on stage with suitable advertising material for an impressive appearance at the POS.
Selecta's breeding Christmas Mouse is also a slightly different red Poinsettia. After being presented and awarded at the IPM 2019, the first Poinsettia with round bracts conquers retail and the hearts of the consumers. The variety with the cute cartoon story concept will also be highlighted at the IPM 2020.
Visitors will also be able to convince themselves of the strong single-color red Poinsettias like Christmas Universe with excellent rooting system, the new Christmas Candle and Happy Mood, and the new white variety Christmas Frosting with especially large bracts. Of course, Selecta one shows also the successful and popular series Christmas Feelings and Christmas Beauty with wide color range and proven long shelf life.
No. 1 in Carnation breeds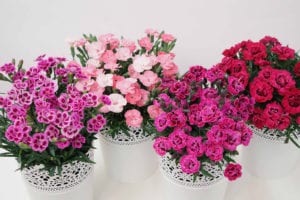 At IPM 2020, Selecta one sets its clear statement: that it is No. 1 in carnation breeding, which is the company has its origins.
Featuring years of experience, a continuously developing assortment, significant breeding successes, and the acquisition of the known breeding company La Villetta in 2019, make Selecta one a competent, innovative and trusting supplier, partner and marketer of pot as well as cut carnations.
From bright, colorful flowers from the Colores series to hardy and successful varieties from the Oscar and Capitán series and the SuperTrouper and robust Diantica varieties, modern pot carnations like Pink Kisses, Peach Party and Scully as well as the strong Kiwi Collection loved by florists in the area of cut carnation – Selecta one emphasizes its know-how in carnation at IPM 2020 impressively.
 DiaDeur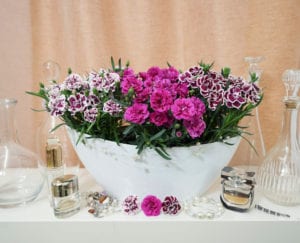 With the new pot carnation concept DiaDeur, Selecta one demonstrates its sense for trends. Memories of childhood, the atmosphere of spring and summer, comfort – the scent of carnations brings up positive feelings. Selecta one is responding to the increased demand for fragrant varieties with special series around the established varieties Sissy, Marie and Sophie.
Pink Kisses
The most successful carnation in the Selecta range and popular trend plant among end consumers continues its success story. Selecta one continues the unique consumer campaign in 2020. After concentrating on brand communication in Germany so far, now consumers from all over Europe will be addressed by a large tour. Strong campaign communication via various channels relevant to the target group will support it.
Autumn Friends concept
Further developed to a concept with endless many late summery-autumnally possibilities for all needs: Autumn Friends with components like for example colorful Heuchera, insect-friendly Echinacea, nice pot carnations, grasses in different heights and autumnally green plants and ground cover. If readily mixed pots or single pots for planting together by oneself – the products bring retail and the end consumer freedom of choice and attractive, colorful and compact products with high durability, which will be displayed at Selecta's IPM booth.
SKYfamily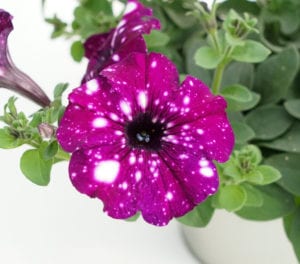 A starry sky feeling will be created with the speckled Petunias of the SKYfamily from Selecta one. The dark MysterySky with with very fine, bright spots; the precious RoyalSky (see image directly above) with its vivid purple floral pattern, and the discreet LavenderSky (see image directly below) will shine next to the incredible NightSky under the same sky.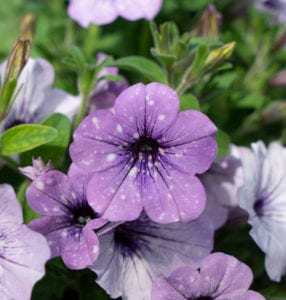 Bed and balcony highlights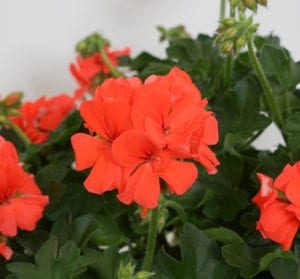 Pelargonium Marcada series, is being heralded as Selecta's garden superheroes. The self-cleaning continuously flowering varieties were complemented with three new strong colors: Marcada Orange, Marcada White and Marcada Pink Purple. The interspecific varieties are early flowering and grow upward as well as slightly hanging. They are especially robust and withstand weather extremes in summer.
The new variety Calibrachoa Rave Pink Hawaii with yellow-white center is a real eyecatcher. The striking star pattern stands out and catches the eye from near and far. Rave varieties convince with an early flower, very good branching and with an easy to control growth habit.
Progress in young plant technology ROCS
At the IPM 2019, Selecta one and Visser Horti Systems introduced the innovative young plants technology ROC, which consists of 34 in substrate rooted cuttings in a Multi Media strip by Visser for fully automatic processing in a Visser AutoStix machine. One year later, Selecta one presents the commercial ROCS assortment with the new developed rooting and shipping tray, which holds 15 Multi Media strips. Furthermore, Selecta one will inform about the further stages of development of this innovative technology – for example, larger "plugs" for appropriate varieties like Poinsettias and Pelargonium are currently being tested.
About Selecta one
The family company Selecta one is a world-leader in breeding, producing and marketing vegetatively propagated ornamental plants. The breeding activities include bedding and balcony plants, poinsettias, perennials and cut flowers. With 11 production sites and distribution companies in Europe, Africa, Asia and America, the corporate group serves all relevant markets worldwide. Company information available at http://www.selectanorthamerica.com/.
Contact
For further information, contact Ms. Milena Weller, Selecta Klemm GmbH & Co. KG, Hanfäcker 10, 70378 Stuttgart, Germany, Tel.: +49-(0)711-95325-245, or via email m.weller@selecta-one.com.