The world's longest-running flower show, The Philadelphia Flower Show, has announced June dates for 2022. You don't want to miss this amazing event full of inspiration. The show will be held outdoors in June instead of in March this coming year.
Philadelphia Flower Show Announces June Dates for 2022 Show
By Jill Brooke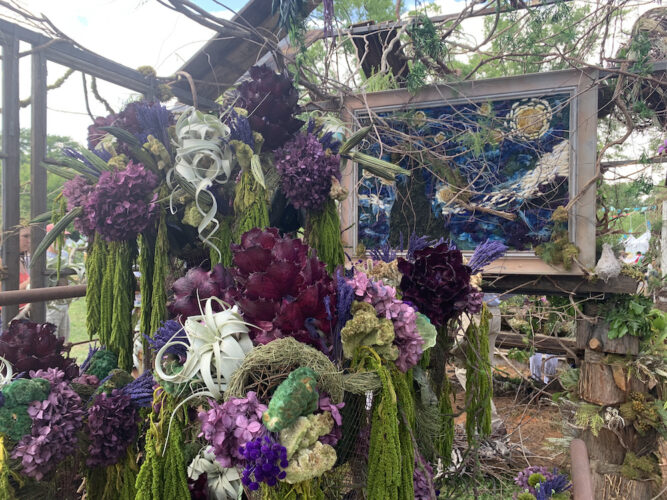 The prestigious Philadelphia Flower Show has just announced that the world's longest-running flower show will not take place in March as is tradition, but on June 11-19, 2022.
The theme for 2022 will be "In Full Bloom," focusing on the recuperative powers of the garden and take place outside at FDR Park, as it did for 2021.
While this is great for landscape architects whose prime season is almost over by June, it's smack in the middle of wedding and graduation season which will be challenging to say the least for florists.
Explains Sam Lemheney, PHS Chief of Show & Events, "The decision was based on the continuing evolution and uncertainty of COVID-19. "We hope that by sharing the hope and healing that nature and gardening bring, it will inspire people to look towards a brilliant future."
Any future with flowers in it is always a good one for us, right flower lovers?
But there could be fewer flowers. Not only did the February date allow florists to cool blooms indoors and import a wide variety of flowers that could last, but some up-and-coming florists will also just have to bow out of this prestigious event since wedding work will take precedence.
Yes, Jeff Leatham managed to decorate a field with thousands of roses that looked like sprinkles on an ice cream cone. And talented pros like Bill Schaffer, Kris Kratt, Jennifer Reed and Theresa Colucci conjured up floral magic and surely these greats hopefully will be back when the show announces more details.
And don't think that the show isn't still a must-see and worth putting on your bucket list. Just a bit different.
Garden lovers benefit because so many trends were established at the 2021 show.
Medal-winner Iftikhar Ahmed, the owner and head designer of Treeline Designz , pointed out that tightly composed boxwood hedges inspired by English design are no longer as in vogue and now being replaced by a more earthy natural style.
Another trend was how the American Institute of Floral Designers (AIFD) matched their inventive display with a burnished wooden frame of Van Gogh's "Starry Night" since the colors matched the display of hydrangeas and other flowers and succulents. The painting is literally hanging from tree limbs and the flora and greenery are built around it to create depth and surprise. Theresa Colucci of Meadowscent Flowers was part of the team led by Valerie McLaughlin. "When I heard that the color scheme was going to be purple and blue, I thought of my favorite painting as the backdrop."
andscape sweetheart and phenom Wambui Ippolito created an award-winning installation called Etherea and her use of pergolas and structures is a trend that we just saw at Chelsea Flower Show as well.
Can't wait to see what all these artists will do with such a great theme that is relatable and the future.
Furthermore, FDR Park is a spectacular place to have a show. A registered historical district designed by famed landscape architects, the Olmsted Brothers in the early 20th century, FDR Park features walkable pathways, majestic trees, and breathtaking views and a place to eat while overlooking the water.
More details to come and I will share when tickets become available.
Jill Brooke is a former CNN correspondent, Post columnist and editor-in-chief of Avenue and Travel Savvy magazine. She is an author and the editorial director of FPD and floral editor for aspire design and home magazine
Photo Credit: FPD