For the King's upcoming Coronation each bloom will be carefully selected for specific reasons. Whether a tcoronations, weddings or at the funerals of Royal Family members, each flower holds special significance.
Full Article Below Source
These are the flowers we might expect to see at King Charles III's coronation
Bethan Rose Jenkins. Mon, 24 April 2023
The King's Coronation flowers may seem like a small part of the monumental day, but each bloom will be carefully selected for specific reasons.
Whether at coronations, within wedding bouquets, or at the funerals of Royal Family members, each flower holds special significance.
Flowers have already been featured heavily around the Coronation. The official logo, for instance, features the floral emblems of different countries of the United Kingdom, while the Coronation invitation is intricately decorated with a wide variety of symbolic flowers.
Traditionally, white flowers have been used for big royal occasions, however, the colorful illustrations of the invitation may indicate a brighter display this May.
At Good Housekeeping, we've been at the British Library researching the flowers used during some of the most poignant moments in royal history, to get an idea of exactly which blooms we might expect to see from King Charles' Coronation this year.
'Floriography', or the language of flowers and their meanings (which became particularly popular under Queen Victoria's reign), can also give us some hints towards which varieties will appear on the day.
Where will King Charles' coronation flowers be taken from?
For Queen Elizabeth II's funeral, flowers were taken from royal residences, including Buckingham Palace and two of The King and Queen Consort's residences, Clarence House and Highgrove House. For this reason, we expect to see some blooms from royal grounds once again making an appearance.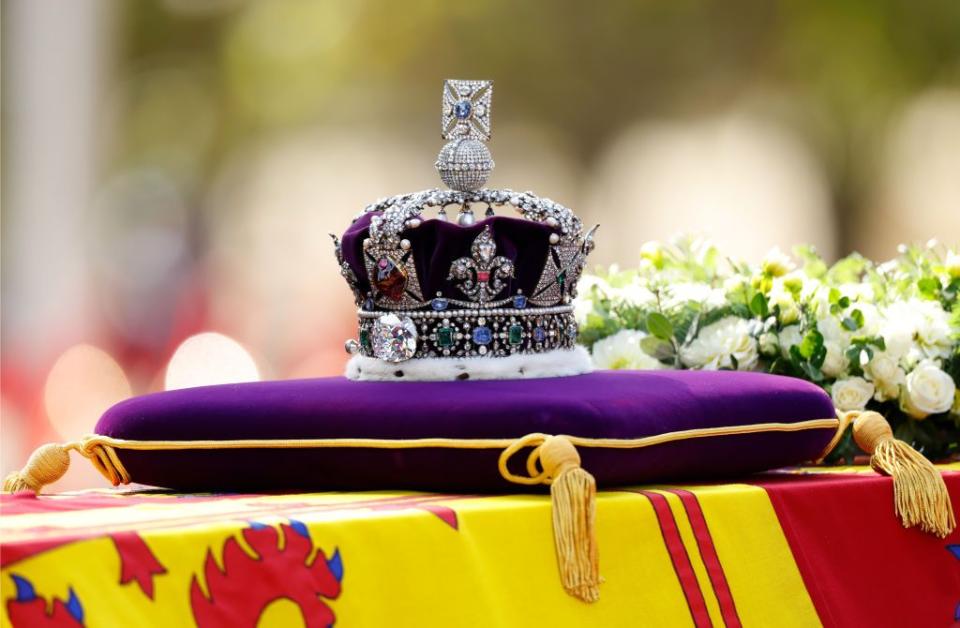 Flowers from or representing other parts of the United Kingdom such as Scotland or Wales are also likely to be included.
It may also be that flowers nodding to wider parts of the commonwealth feature on the day, too. However, we expect that these varieties will have been grown more locally in the United Kingdom rather than being imported in, given The King's known passion for environmental causes.
Which flowers will be at King Charles' coronation?
Exactly which flowers will be appearing in displays, bouquets or iconographic decorations at The King and Queen Consort's coronation have not been officially revealed, but there are lots of clues throughout history and through more recent events.
Here, we take a look back at some of the most poignant flowers from royal events of the past, and the meanings behind them.
Lily of the valley (convallaria majalis)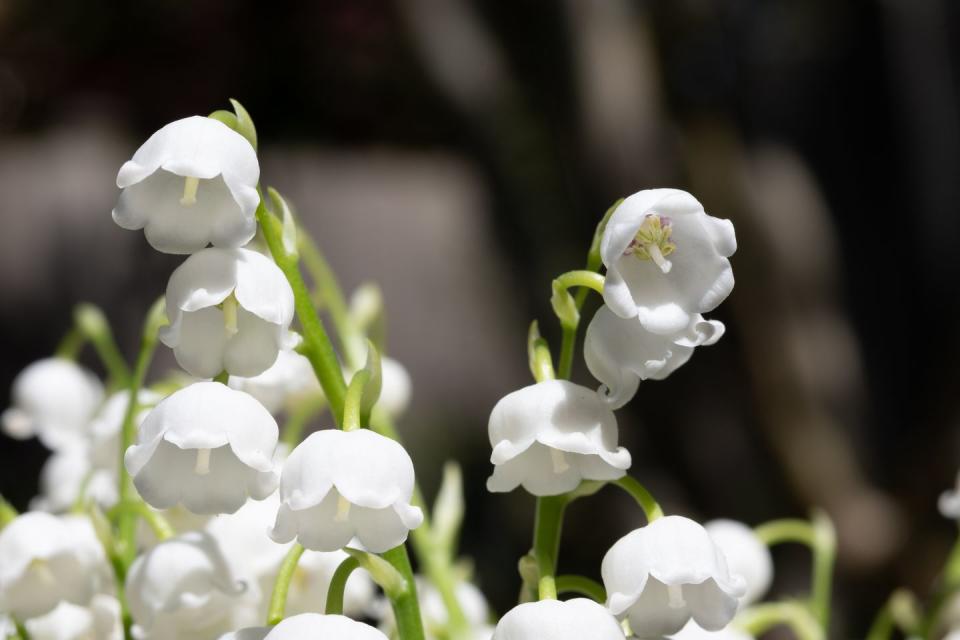 Lily of the valley was one of the flowers illustrated on The King's Coronation invitation, and may make an appearance at the ceremony given its sentimental connection to his mother.
The bloom was famously a favourite of Queen Elizabeth II, starring in her Coronation bouquet at the beginning of her reign, and being made into a custom brooch for her recent Platinum Jubilee in 2022.
The flowers were also used at the wedding of the current Prince and Princess of Wales, and Kate's bridesmaids wore it entwined with ivy in their hair.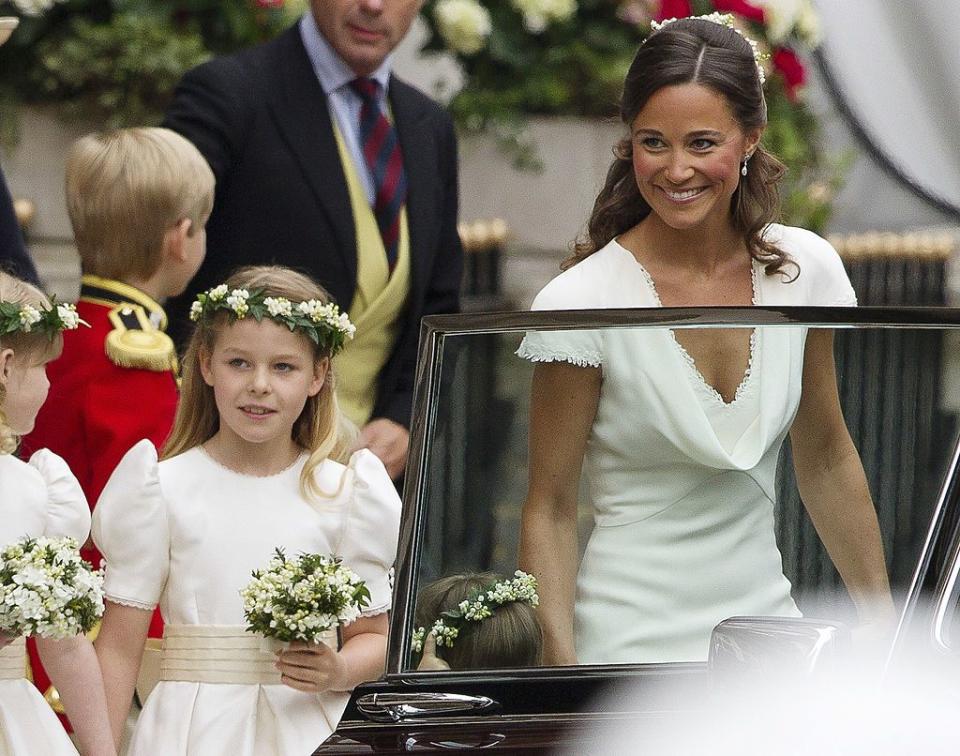 Traditionally, the flowers symbolises good luck and happiness and are said to help visualise a better world. The flowers were also hung inside the Gold State Coach with Queen Elizabeth II (along with other sweet-smelling flowers) during her Golden Jubilee to symbolise the wish of a long reign, so they could be a fitting choice at The King's Coronation.
n 2020, The King (then Prince Charles) revealed that delphiniums were one of his personal favourite flowers. In floriography, they symbolise lightness and an open heart.
In a social media post in collaboration with the Chelsea Flower Show in 2020, he said, "For me, the magnificent, gloriously apparelled delphinium, with its impeccable bearing and massed in platoons, holds pride of place in my botanical affections."
Roses (rosa)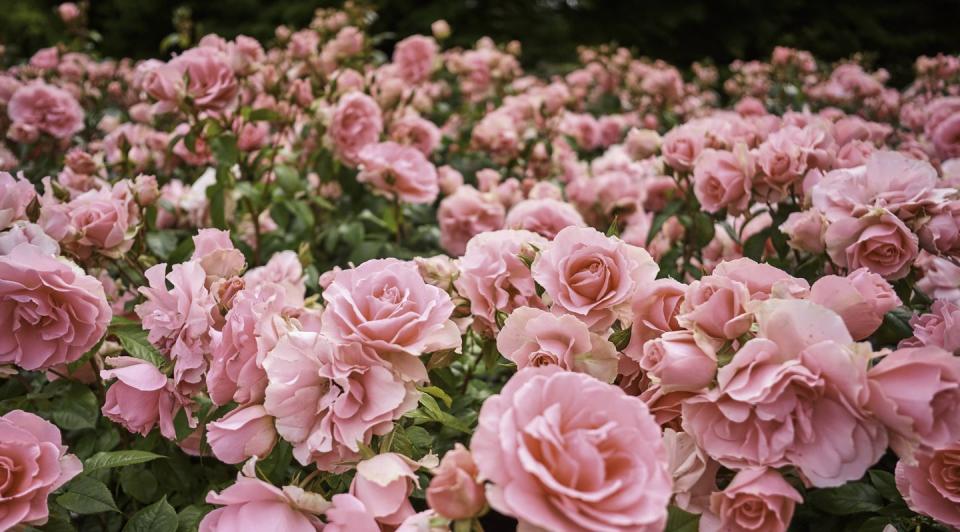 Roses are the floral symbol of England, so we expect to see them represented either as physical blooms or within iconography in some way at the ceremony.
There are also familial connections for The King, as his parents were sent off for their honeymoon in a shower of rose petals, while roses were included in the funeral flowers of his mother, Queen Elizabeth II.
Of course, there are numerous varieties of roses in a wide range of shapes and colours, including one variety with The King's former namesake, the Rose Prince Charles. There are also roses named after other Royal Family members, as well as a Clematis Prince Charles, so it could be that one of these makes an appearance in some of the displays.
Orange blossom (citrus x aurantium)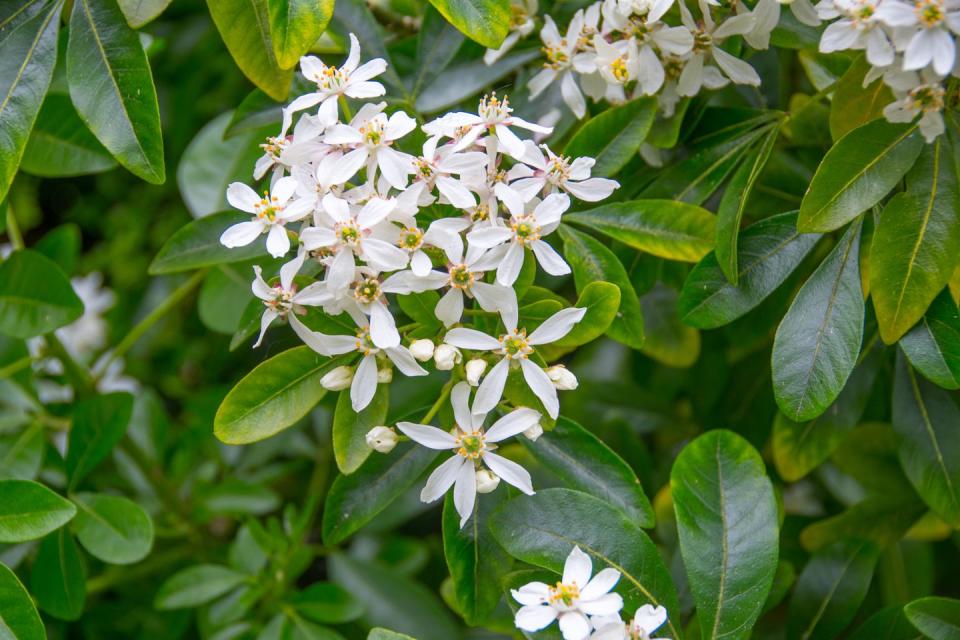 Despite its name, orange blossom is a delicate white flower which was a particular favourite of Queen Victoria, although also used by Queen Elizabeth II.
During their engagement, Prince Albert sent his wife-to-be a gold and porcelain brooch in the shape of the flower. Then, on her wedding day, Queen Victoria wore a wreath of them around her head in place of a crown, while Queen Mary (The Queen's grandmother) adorned her wedding dress with the same blossoms.
Meanings behind orange blossom include fruitfulness as well as betrothal and, given that The King's wife will be coronated alongside him, it could be a fitting choice for the day.
Myrtle (vinca minor)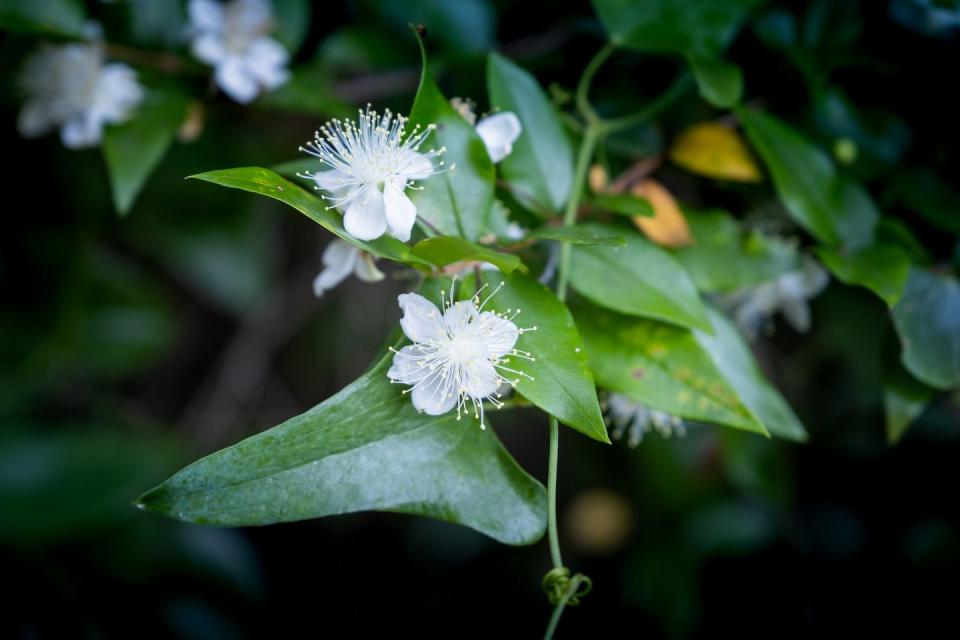 Myrtle has a long history within the Royal Family, although is more traditionally seen at weddings. A sprig of Myrtle from the same bush has been incorporated into the bouquets of royal brides since the 1850s.
As well as symbolising love, myrtle can also mean sweet memories and was seen in The Queen's funeral bouquet, so it may be a sentimental pick for The King to feature.
Rosemary (rosmarinus officinalis)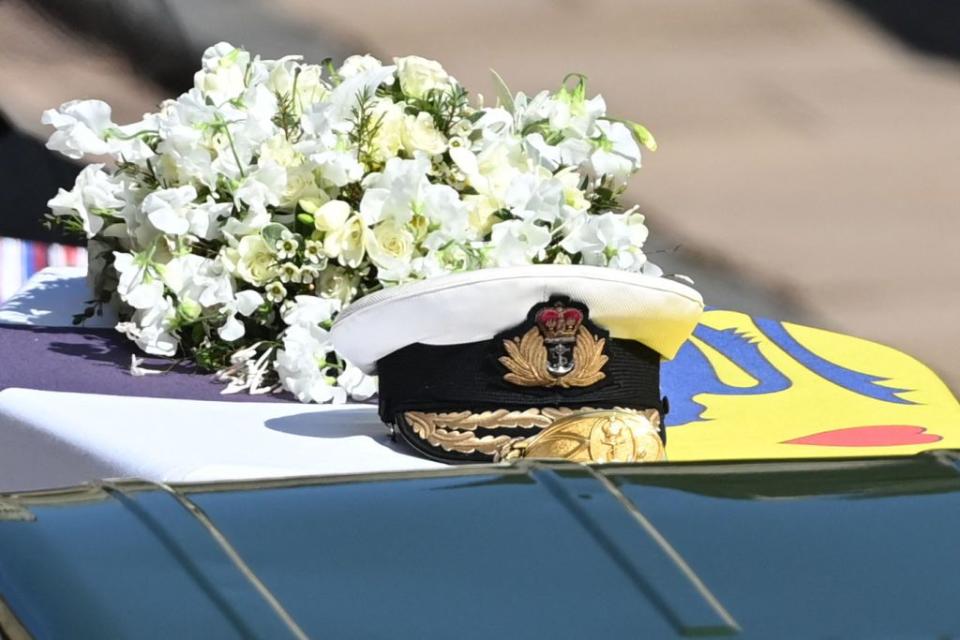 Rosemary is a symbol of affectionate remembrance and was used in the funeral flowers of both The King's mother, Queen Elizabeth II, and father, Prince Philip. The flower was also featured in the illustrations on the invite for his Coronation.
For these reasons, we predict rosemary is likely feature in The King's Coronation Day flowers, as a nod towards the loved ones who are not able to be there with him.
Lady's Mantle (alchemilla mollis)
Of course, it is not only The King who is being coronated this May. The Queen Consort, will be crowned alongside her husband and is likely to have had some input on decisions. While still Camilla, Duchess of Cornwall, she revealed her particular preference for Alchemilla Mollis.
"This acid green fluffy-flowered plant is one of the best-ever foliage plants for the garden and the vase. A must for every gardener," The Queen Consort said as part of a social media post coinciding with the 2020 Chelsea Flower Show.
Cherry blossom (prunus x yedoensis)
In December 2022, the Princess of Wales assisted in the planting of a cherry blossom tree outside of Westminster Abbey in memory of Queen Elizabeth II.
As the Coronation ceremony will be taking place at the Abbey, we can expect to see the tree in footage of the day, even if the flowers are not featured in any additional displays.
An avenue of 'prunus x yedoensis' cherry blossom trees were also planted in Edinburgh as part of the Queen's Green Canopy project (a tree planting initiative connected to Queen Elizabeth II's Platinum Jubilee), and has similarly been dedicated to her memory.
Bear's breeches (acanthus mollis)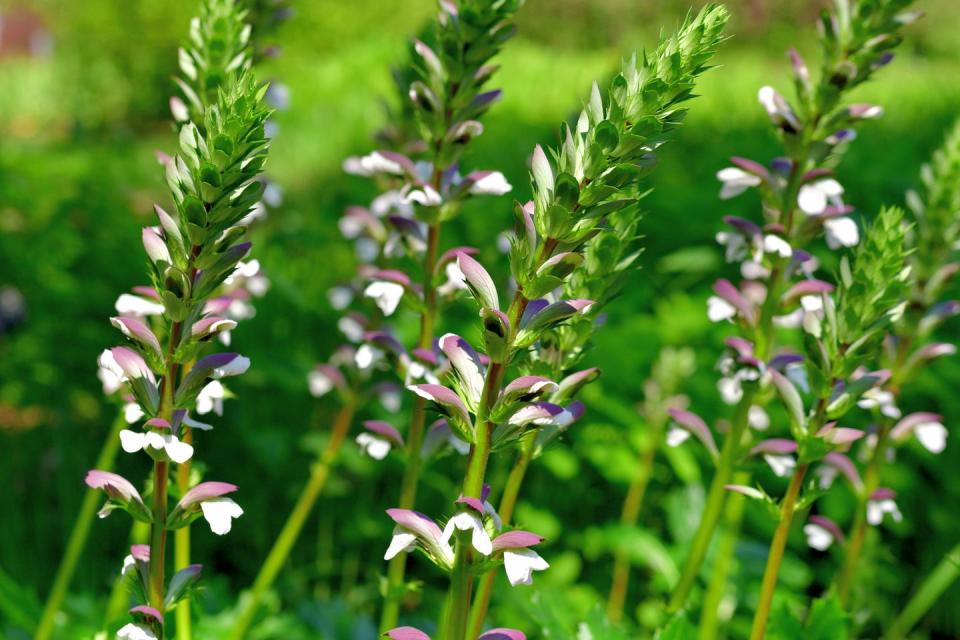 Bear's breeches are the national flower of Greece and could be included in the Coronation Day flowers as a nod towards The King's Greek heritage through his father, Prince Philip.
The Duke of Edinburgh was born in Greece to Greek and Danish Royal Families before renouncing his rights to those thrones in order to marry Queen Elizabeth II. In reference to his upbringing, the national flower was included at Prince Philip's funeral.
Carnation (dianthus caryophyllus)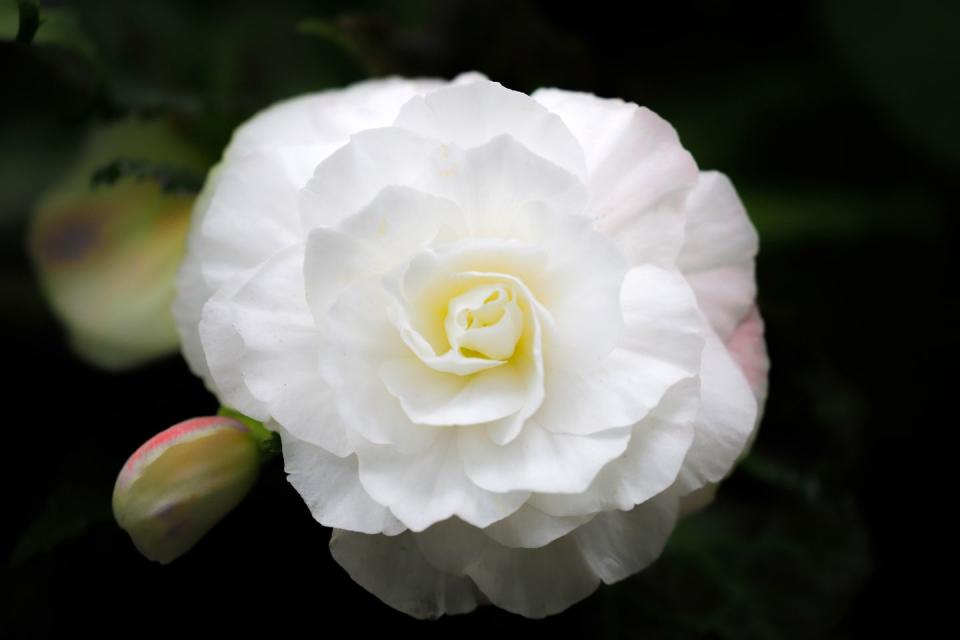 Carnations from Northern Ireland and the Isle of Man featured at The Queen's coronation in 1953, as a nod towards other regions under her reign.
White carnations in particular are said to symbolise faith and purity. This could be especially appropriate due to the religious nature of the Coronation ceremony, and The King's new role as Supreme Governor of the Church of England (a role all monarchs take on when they become King or Queen).
Stephanotis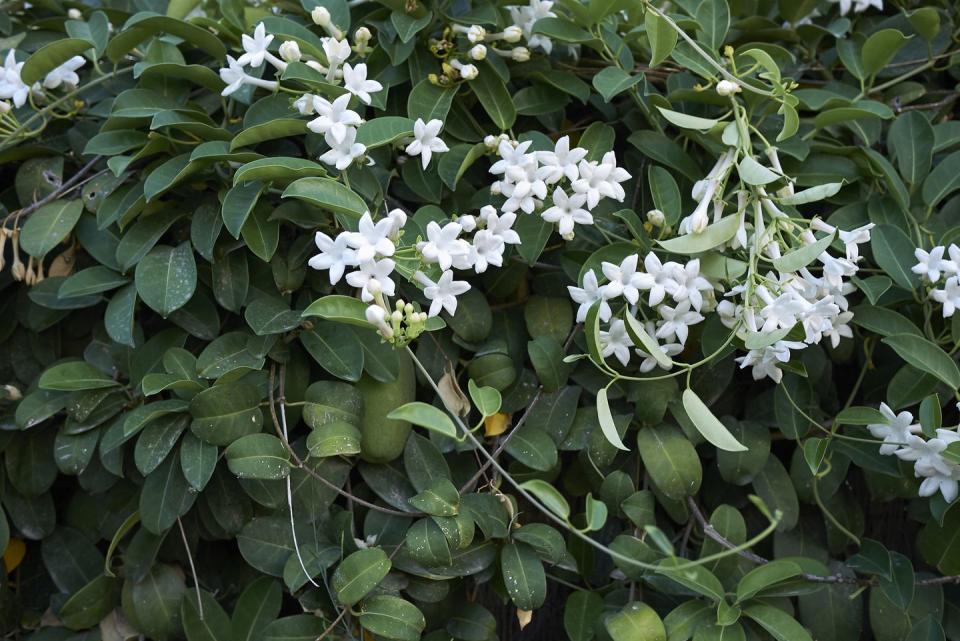 Another flower which was part of Queen Elizabeth II's coronation bouquet was stephanotis, which came from Scotland. The bloom often symbolises marital happiness which makes it a fitting choice given her husband, Prince Philip, was being crowned alongside her.
As The King and Queen Consort are also being crowned together, it could be that we see this flower included in the same way.
Meadow and wildflowers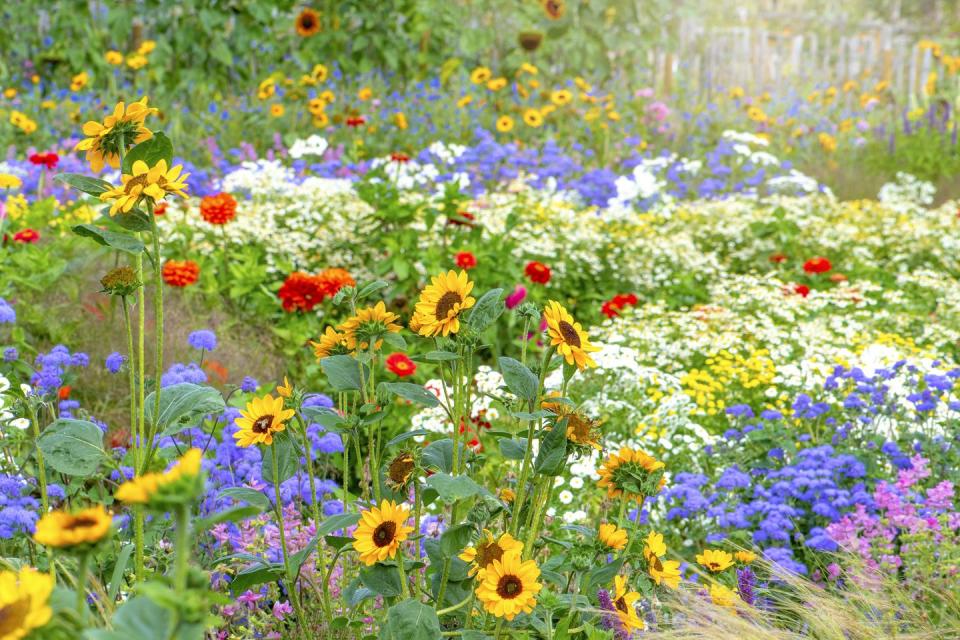 The King's and Queen Consort's former residence, Highgrove House, was home to magnificent gardens which were open to the public. Re-wilding is a growing trend (featuring at Chelsea Flower Show in 2022) and is spotlighted with a special meadow in Highgrove Gardens.
There are also wildflowers illustrated around the edge of the official Coronation invite, so it may be that we see some varieties in displays on the day.
Wisteria (wisteria sinensis)
Wisteria is one of the key flowers which is features around the wildflower meadow at Highgrove Gardens, as do lots of fastigate hornbeams. As flowers from royal residences are likely to be included at the Coronation, these could be some of the varieties used.
Bluebells (hyacinthoides non-scripta [common Bluebell] or campanula rotundifolia [Scottish bluebell/ harebell)
Bluebells are one of the most distinctive wildflowers in the United Kingdom and they will also be in season at the time of the coronation.
We saw bluebells on the official coronation invitation, and the common bluebell usually seen in England traditionally means gratitude and consistency, both fitting qualities for the crowning of a new king. The Scottish bluebell (also known as a harebell) may be incorporated too, which carries meanings of truth as well as gratitude.
Traditional floral emblems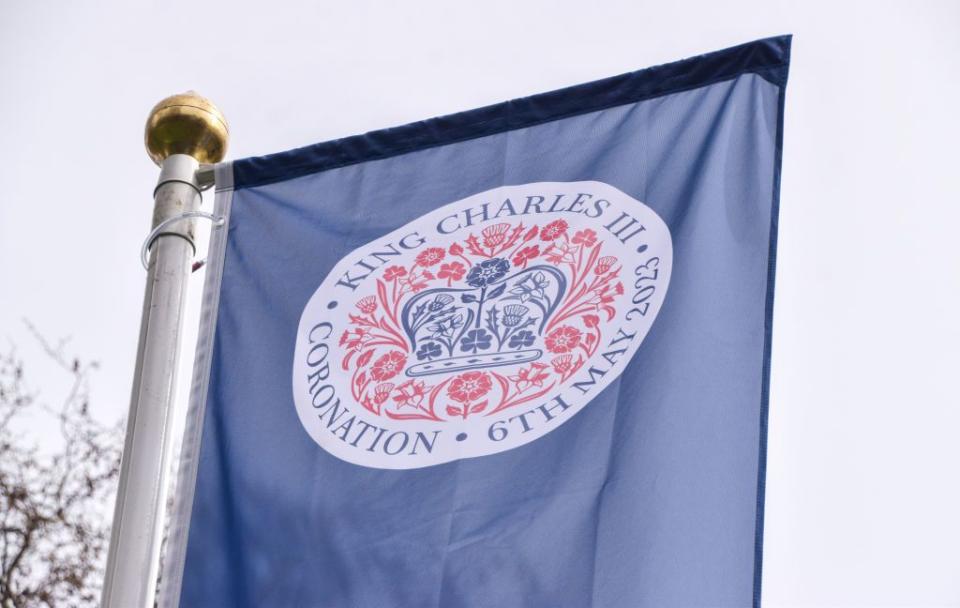 As well as the traditional rose of England covered earlier, there are other flowers which represent specific countries or regions.
The national symbols of various parts of the United Kingdom and Commonwealth have traditionally been sewn into the gowns of Royal Family members over the years, including Queen Elizabeth's coronation dress, as well as her wedding dress and that of Queen Victoria and the current Princess of Wales.
Some such flowers appear in the The King's Coronation logo, so we expect to see them represented on the day in some way, whether as emblems or as blooms within displays.
Here are some of the key ones to look out for:
Daffodils (narcissus)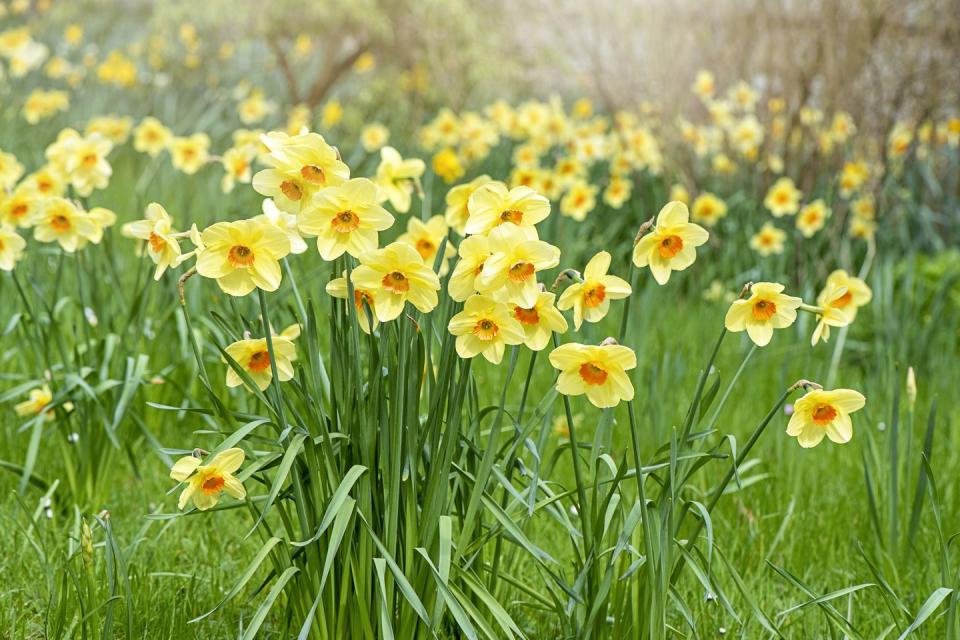 Daffodils are the official floral symbol of Wales and connote beauty and new beginnings, which are befitting to the start of a new royal reign.
Shamrock (oxalis acetosella)
The shamrock represents Ireland and also symbolises joy and luck.
Thistle (carduus)