Floral Design by Beth O'Reilly AIFD,CFD,TMF
Photos by Bill Doran Company, Houston, Texas
Capitalize on the Resurgence in Popularity of Dried Botanicals with Décor Pieces
Floral décor for walls can be created not only for home and office environments (for which this stunning dried design was created) but also for weddings, parties and other special events. These compositions can be placed against walls, suspended in midair or secured in freestanding frames. Consider creating several as rental pieces.
"Installations" of this type make great partitions to separate and divide large spaces into smaller, more intimate areas for both events and businesses. Suggest this floral design idea to local restaurants, salons and other businesses that might have a need to section off or separate customer spaces. As permanent fixtures, they can (and should) be changed out seasonally, creating ever-changing décor for those businesses and a perpetual revenue stream for yours.
Step-By-Step
STEP 1 Create the hanging framework.
Using a mat knife or a florist knife, cut a piece foam board to a size that is slightly larger than the 12-inch- by-16-inch wire wall grid panel (approximately 13 inches by 18 inches).
Using a small paint brush, apply hot-melt (pan) glue to one side of four jumbo wood craft sticks. Position the craft sticks on one side of the foam board, near each edge. This will ensure that the wire used to secure with wire wall grid panel to the foam board does not tear through the foam board.
Once the craft sticks are glued in place, poke four tiny holes through the foam board— two on each side of each craft stick, opposite each other, near each end.
Insert the ends of one taped 21-gauge wire through each pair of holes that are opposite each other. Place the wire wall grid panel atop the foam board, and attach the panel securely to the board with the taped wires. Cut off excess wire.
Create a wire hoop for hanging the design by poking two additional holes flanking one craft stick, in the center of one edge of the foam board. The position of these holes will depend on whether you want it to hang vertically or horizontally.
NOTE: Alternatively, you may attach the wire hanging hoop directly to the wire wall grid panel, if desired, and you may want to create two hanging hoops, depending on the size and weight of the finished design.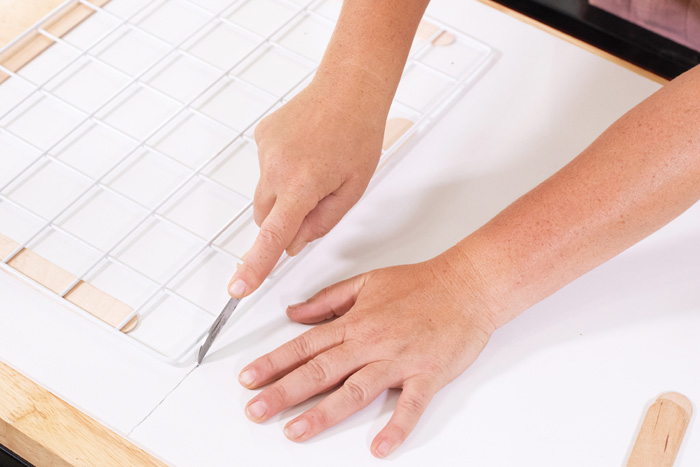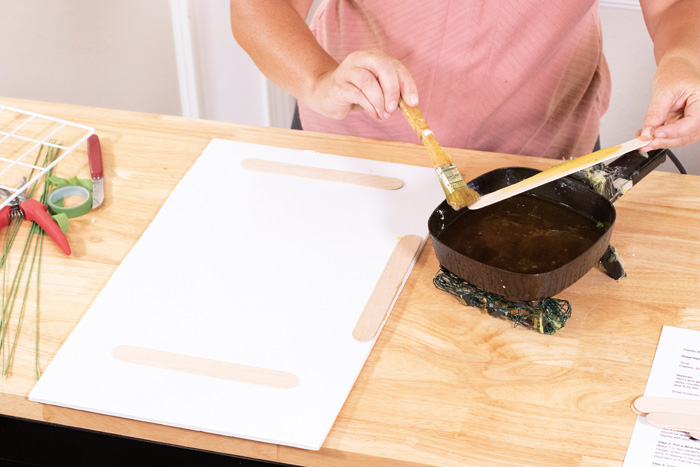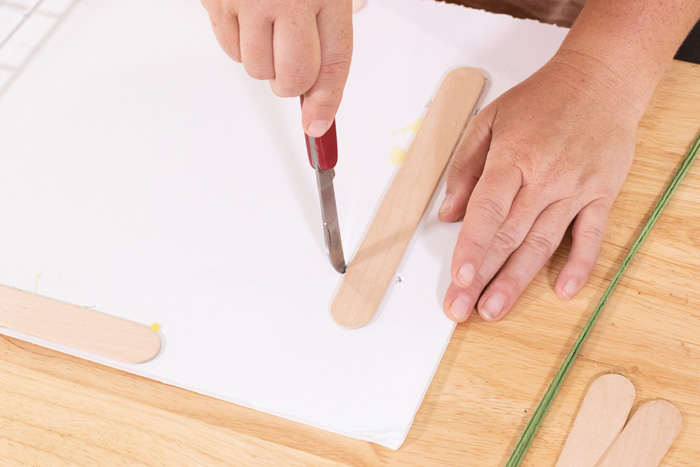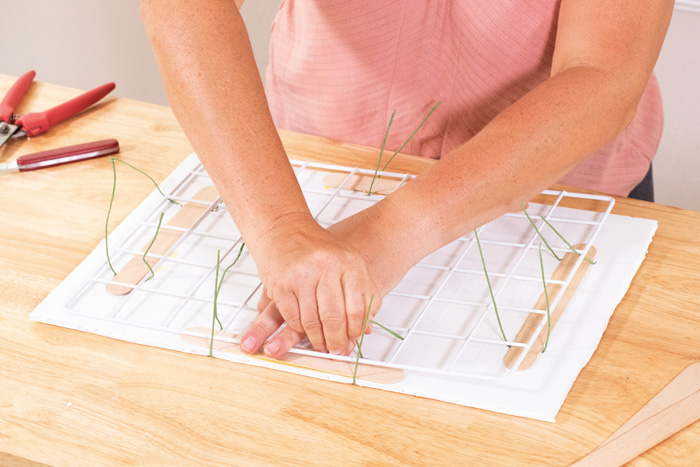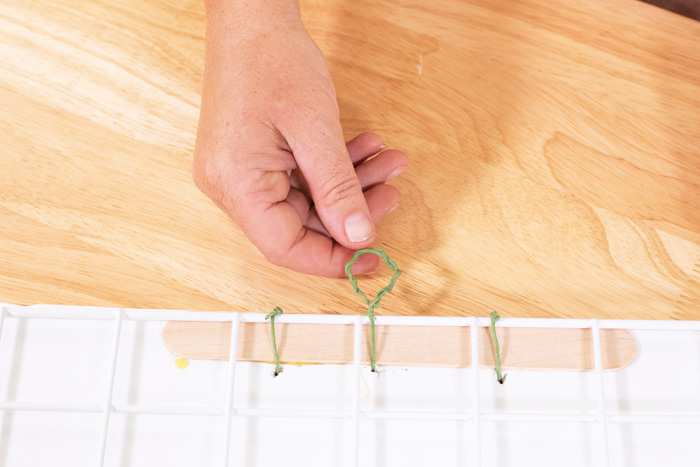 STEP 2 Attach a chicken-wire "tube" to the framework.
Form a piece of chicken wire into a tubular structure that is approximately 20 inches in length and 5 inches in diameter. Flatten the chicken-wire "tube" slightly with your hand, and attach it diagonally to the wire wall grid panel with cable (zip) ties.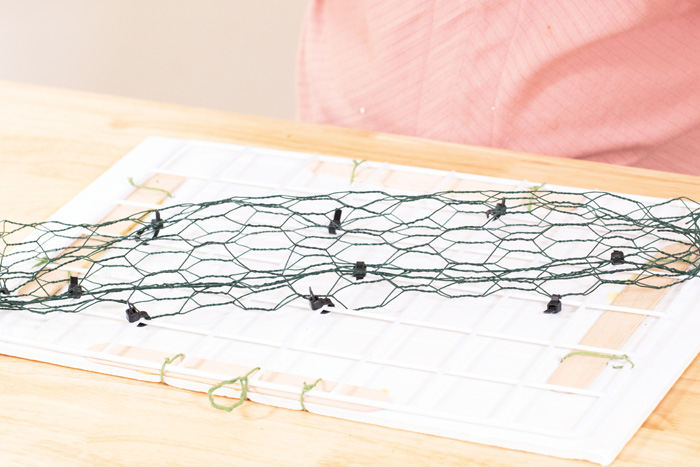 STEP 3 Hot-glue dried botanicals stems into the framework.
With the framework lying flat on a table (or hanging on a wall,if you prefer), begin creating the design by dipping the stem end of each dried botanical into hot-melt (pan) glue and arranging it through the chicken wire. Make sure that each stem end makes contact with, and is glued to, the foam board. Create a strong focal, with lots of varying sizes, color and textures of botanical materials.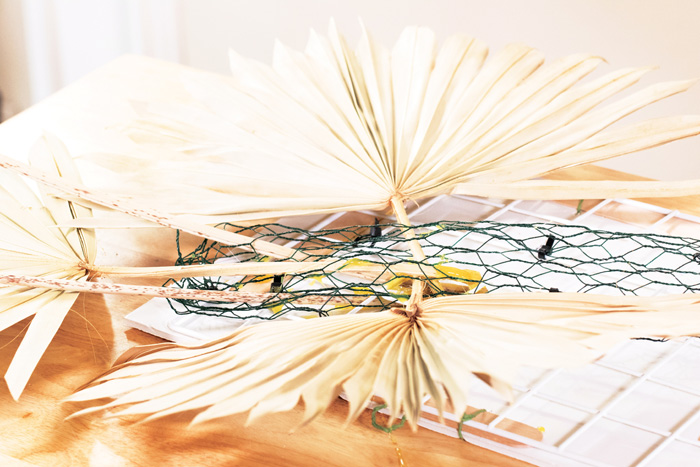 STEP 4 Create faux hanging Amaranthus.
Tape seven to nine half-length (9-inch) taped wires to a 6-inch wood pick, and spread the wires a bit. Attach a length of chunky chenille yarn onto each wire by wrapping the yarn around the wire and pinching the end of each wire over the yarn with needle-nose or jewelry pliers. The ends of the lengths of yarn, beyond the wires, should be pendulous. Vary the lengths of yarn to mimic hanging Amaranthus. Create several of these "stems" of faux hanging Amaranthus.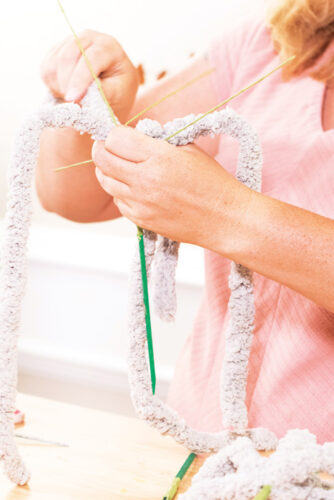 STEP 5 Arrange the "stems" of faux hanging Amaranthus.
Dip the end of each wood pick into hot- melt (pan) glue, and insert the faux hanging Amaranthus "picks" into the design.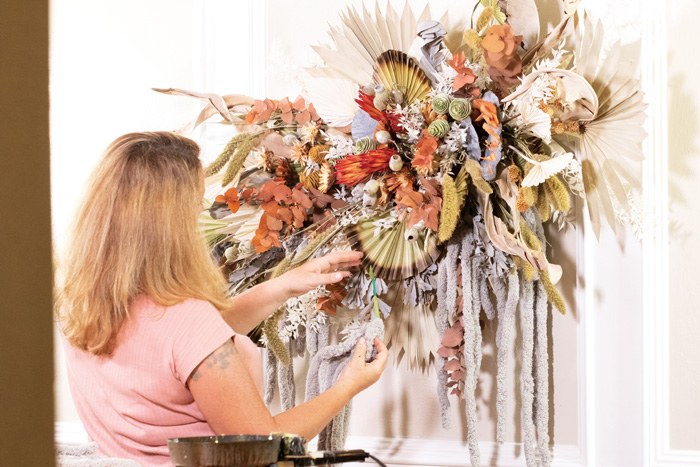 Dried Botanicals from Schusters of Texas
• Sun Palm, Natural
• Burnt Palm, Light Green
• Palm Spears, Bleached
• Ruscus, Bleached (Ruscus aculeatus; Italian Ruscus)
Spray Millet, Natural (Setaria italica; foxtail millet)
Estreliza Leaves, Natural (Strelitzia reginae; bird-of-paradise)
• Spiral Cones, Cream and Frosted Green (Leucadendron platyspermum; platy star)
• Sponge Mushroom, Gray Wash
(Armillaria mellea; honey mushroom, honey fungus)
• Preserved Eucalyptus spp., Autumn
• Integrifolia, Gray Wash (Banksia integrifolia foliage; coast Banksia foliage)
• Protea repens, Red (sugarbush)
•Protea compacta flower heads/flats
• Plumosum cones (Leucadendron plumosum/ L. rubrum; spinning top)
• Bellgum Branch, White Wash
(Eucalyptus calophylla/ Corymbia calophylla; gum nuts)
• Exotic Assortment Bouquet
HARD GOODS from Bill Doran Company
• Wire wall grid panel (12" x 16")
• Fome-Cor® Foam Board (20" x 30") • OASIS Florist Netting
• OASIS Florist Wire (21 gauge)
• OASIS Hot-melt Glue
• Floratape Stem Wrap
• Wood picks (6 inch)
• Chunky chenille yarn
• Jumbo wood craft sticks
• Cable (zip) ties