An artful mingling of commercially grown garden roses and foraged materials creates a stunning natural yet elegant aesthetic.
Floral design and text by Patience Pickner, AIFD, CFD, PFCI
Photography and Videography by Cassandra Scholl
Model: Jenna Vaad
Venue: The Green Palace Wedding & Event Barn; Chamberlain, S.D.
Sponsored by Alexandra Farms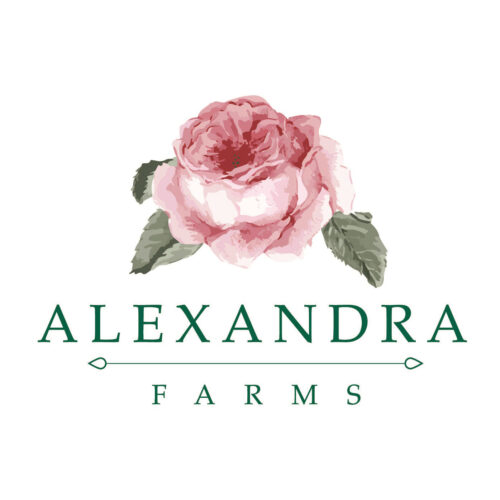 Like many floral artists, I get much of my design inspiration and energy from nature. I love to forage plant materials and other items that I can implement into my arrangements. From wasps' nests and feathers to branches, driftwood and deer sheds, these types of natural elements add so much to floral compositions and give me so much joy.
In this design, I incorporated a hollow driftwood tree trunk, which I found while fishing several years ago. It has been my favorite go-to for many design projects, and I adore how it looks "anchoring" an arch or as a "container" with flowers spilling out of it. I also intermingled fragrant lilac branches foraged from the river banks below my house; I use them in my designs every spring. That said, the gorgeous commercially grown garden roses and spray garden roses from Alexandra Farms are, undoubtedly, the stars (and the moneymakers!) in this nuptial arch design.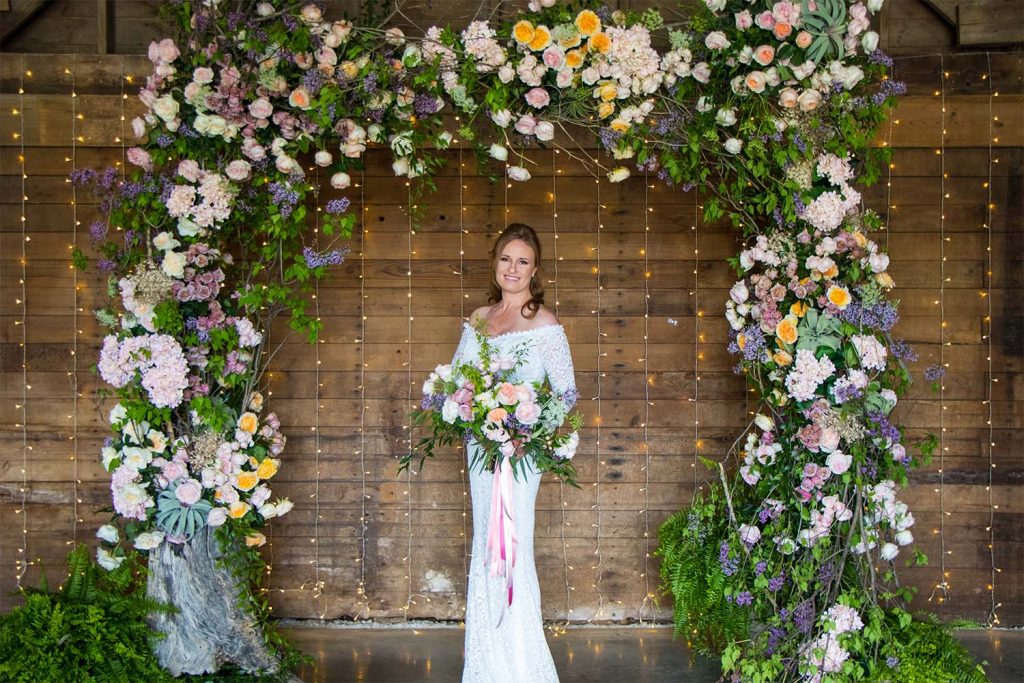 STEP BY STEP
Step 1
Assemble a heavy-duty pipe-and-drape backdrop stand kit, at the desired height and width, to serve as the structure for the arch design. Attach a few long deciduous branches to the upright and crossbar pipes with duct tape.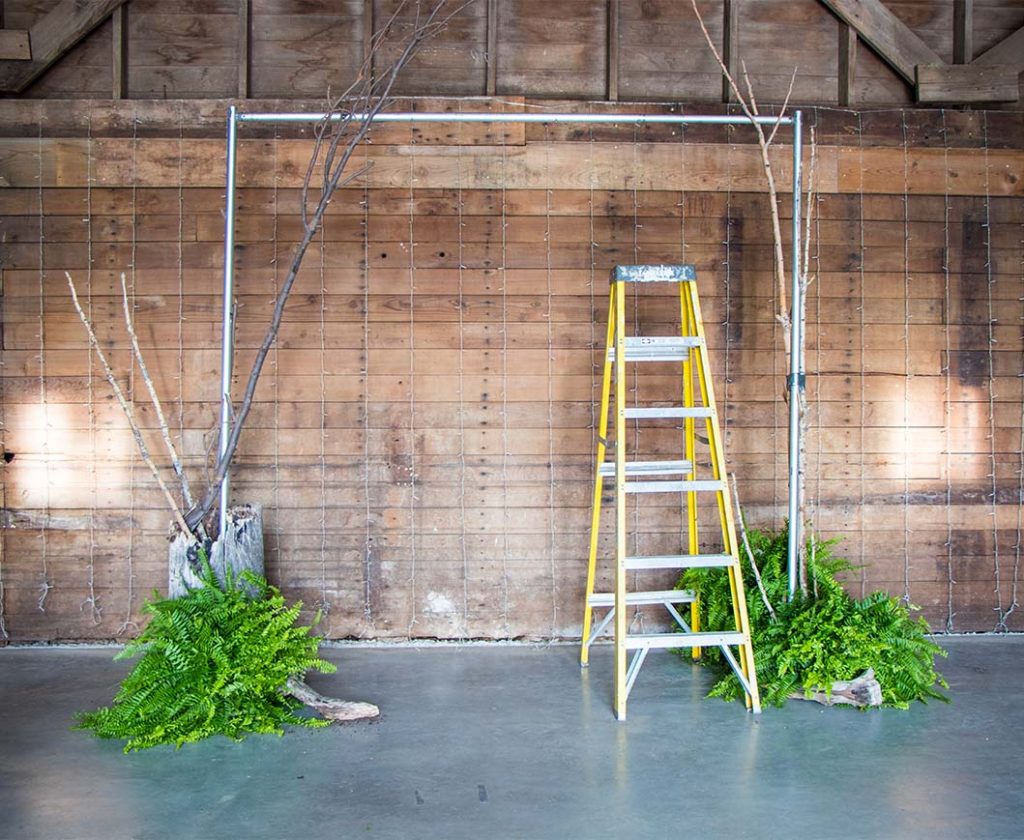 Step 2
Soak large floral-foam cages in properly proportioned flower nutrient solution, and then attach them to the branch-covered upright and crossbar pipes tightly with zip ties. Securing the floral-foam cages to both the branches and the pipes will help prevent the cages from slipping.
DESIGN TIP: For extra-large installations—as well as those that don't require a water source—wrap the structure and/or the floral-foam cages with chicken wire, to create additional design "space" and additional security.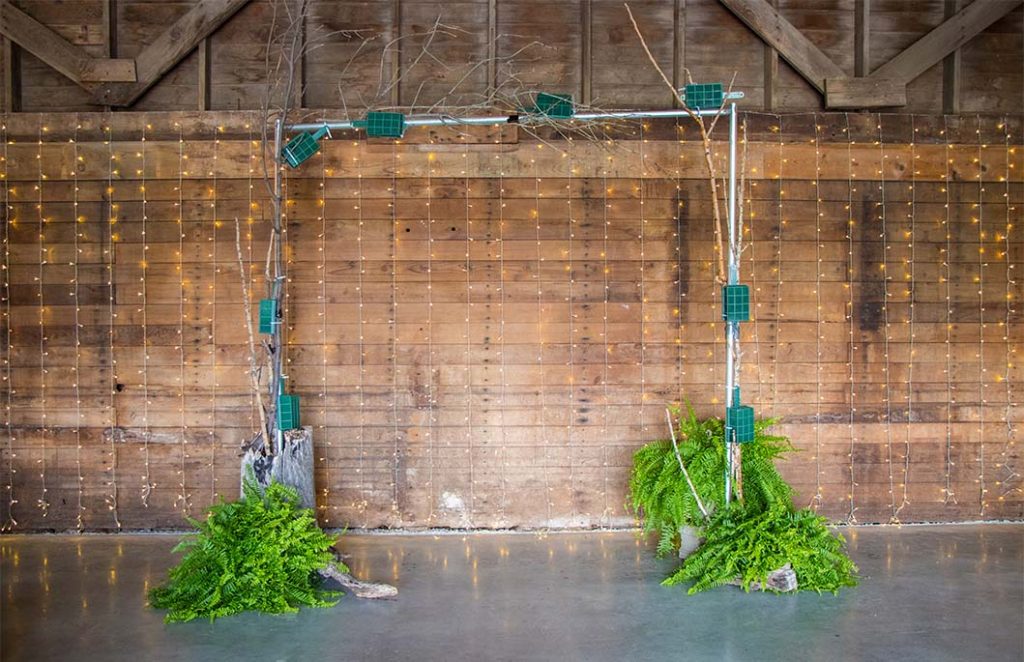 Step 3
Arrange stems of flowering and/or leafy branches (foraged or commercially grown), along with cut foliage, into the floral-foam cages, covering both the fronts and backs of the pipes and creating lots of dimension, rhythm and lines. For additional security, bind the flowering/leafy branches, at various points, to the pipes and deciduous branches with zip ties. Don't "over-green" the cages, to leave plenty of space for the flower stems.
DESIGN TIP: "Test-drive" any foraged product to ensure it will hold up for the amount of time that you need it to. You can also arrange the branches hanging downward, to counteract the look of drooping flowers/leaves if they become water stressed.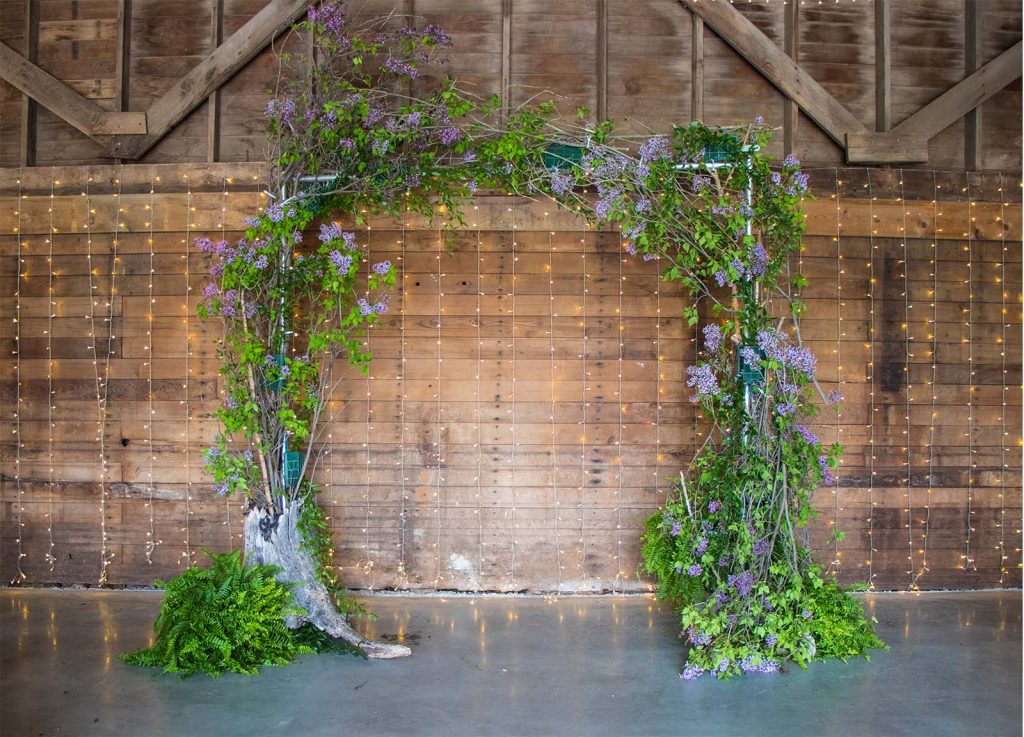 Step 4
Arrange garden roses and spray garden roses into the floral-foam cages. Group varieties for maximum impact, and create plenty of depth and dimension by placing some stems deep into the design while leaving other stems longer.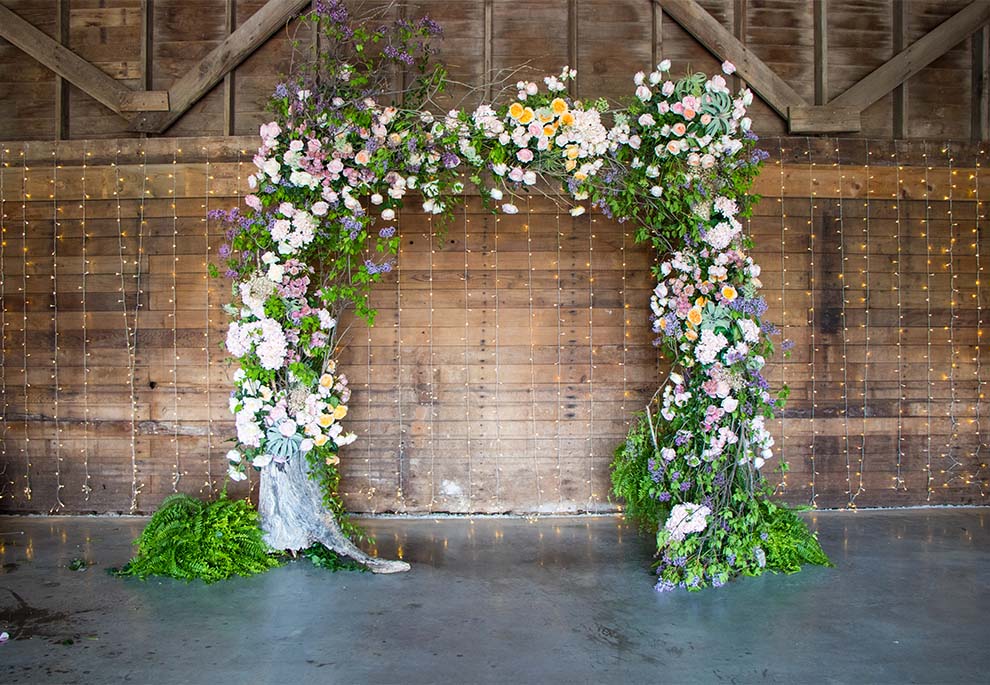 Step 5
Arrange fresh Queen Anne's lace and additional fresh foliage, as well as permanent and/or dried botanicals, as needed, to finish covering mechanics and to create additional texture, dimension and visual interest.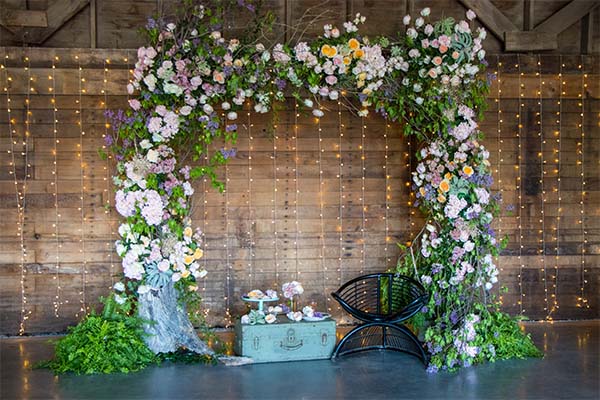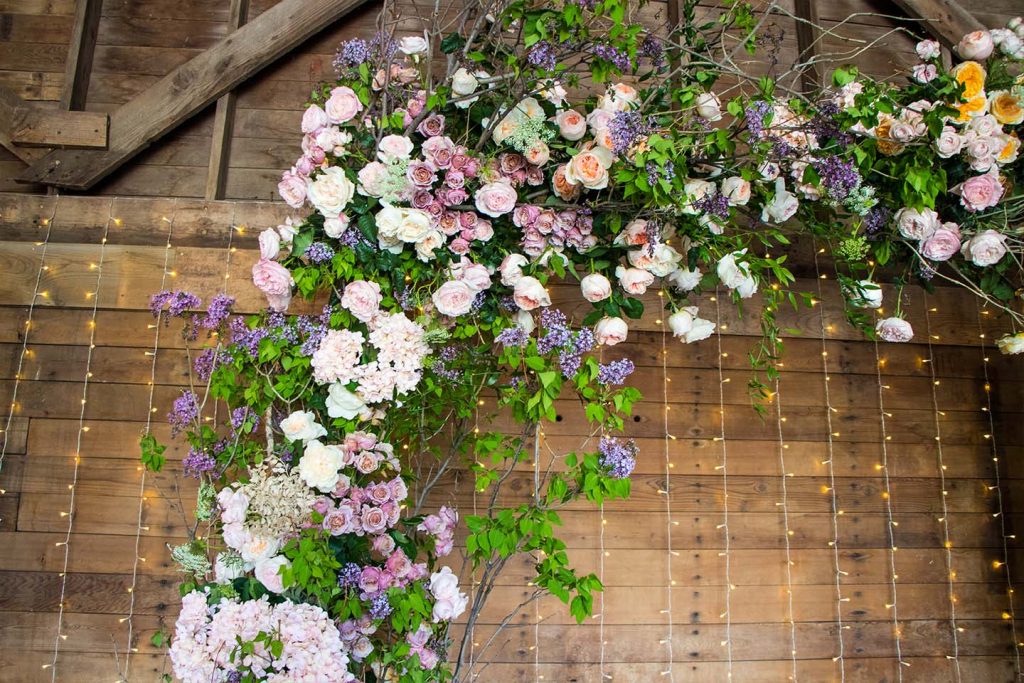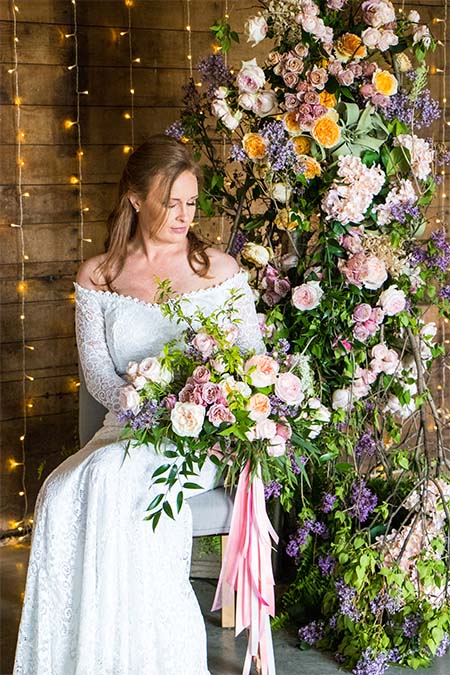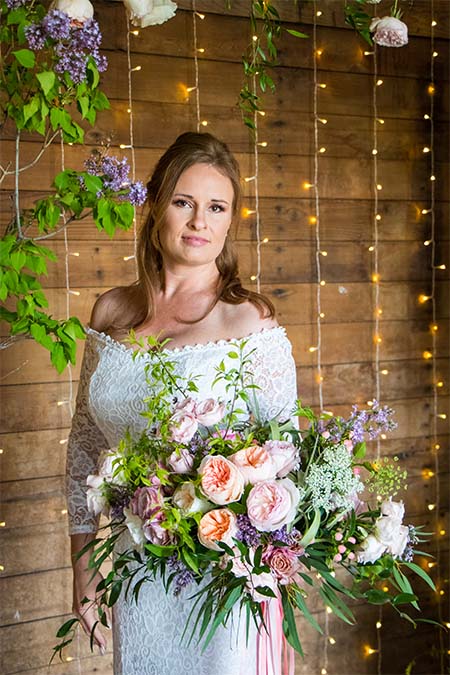 MATERIALS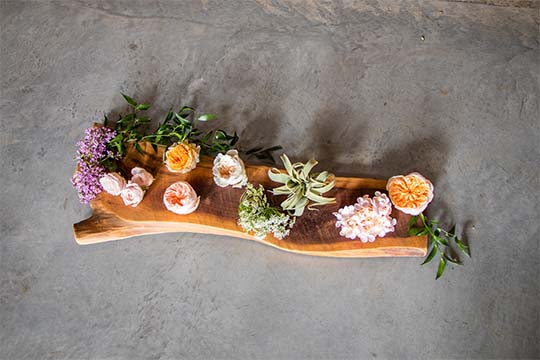 ROSES FROM ALEXANDRA FARMS
• Rosa spp. 'Beatrice' (David Austin Wedding Roses garden rose)
• Rosa spp. 'Eugenie (David Austin Wedding Roses garden rose)
• Rosa spp. 'Juliet' (David Austin Wedding Roses garden rose)
• Rosa spp. 'Keira' (David Austin Wedding Roses garden rose)
• Rosa spp. 'Loli' (Wabara spray garden rose)
• Rosa spp. 'Princess Fairy Kiss' (Princess Japanese spray garden rose)
OTHER FRESH BOTANICALS
• Ammi majus (bishop's weed, false Queen Anne's lace, bullwort)
• Syringa vulgaris, foraged (lilac)
• Ruscus aculeatus (butcher's broom, box holly, Italian Ruscus)
PERMANENT AND DRIED BOTANICALS
• Hydrangea macrophylla (hortensia, French Hydrangea)
• Tillandsia spp. (air plant)
• Dried foliages
HARD GOODS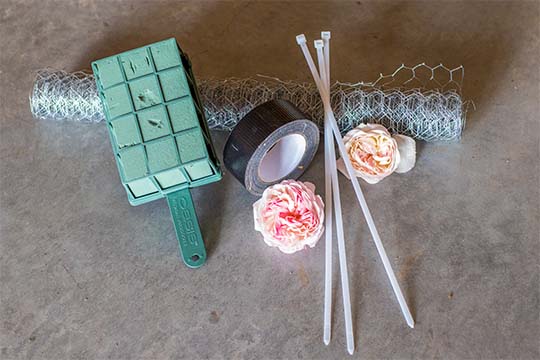 • FLORACAGE® Grande Holders
• Zip ties
• Duct tape
• Adjustable heavy-duty pipe-and-drape backdrop stand kit
• OASIS™ Florist Netting (chicken wire), optional