BEST IN BLOOMS November CONTEST
feel free to -oWin a Florist Spotlight feature in Florists' Review magazine and have your work featured across all of our social media platforms, AND win a $500 credit with Alexandra Farms!!!!
Submit your entry below to become a semi-finalist in our BEST in Blooms November contest. Four semi-finalists will be chosen to compete in the finals.
Please submit 3-4 photos of your original floral designs to be chosen as a semi-finalist contestant in our BEST IN BLOOMS contest and tell us a little about yourself in the description box.
The deadline for submission to become a semi-finalist is Wednesday, September 29, 2021.
Each semi-finalist chosen will be delivered a selection of flowers provided by Alexandra Farms.
All semi-finalists will be featured in our Florists' Review November Issue and across all of our social media channels.
**Please note that as a semi-finalist you will receive your flowers around October 6th 2021. You must be able to photograph and video your creation and/or a tutorial and return your files to us by October 16th, 2021.
 Please reenter if you have entered in previous contests! Thank you for joining us! ?
Our Partner
Alexandra Farms
Alexandrafarms.com
Have fun, get creative and build your brand with Florists' Review!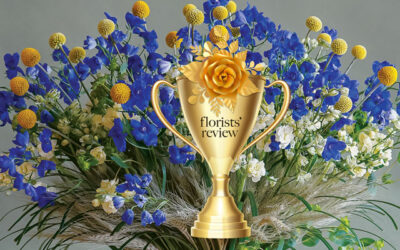 Sponsored by Alexandra Farms & Smithers-Oasis North America Submission for the Florists' Review BEST IN BLOOMS Fall 2023 Contest Enter Florists' Reviews Best in Blooms Design Contest today for your chance to win a Florist Spotlight feature...
read more