The floral arrangements for the State Dinner with Australian Prime Minister Anthony Albanese and his wife was a sea of beautiful pastels.
Full Article Below Source Flowerpowerdaily
White House State Dinner Designed by Bryan Rafanelli
By Jill Brooke
The floral arrangement for the State Dinner with Australian Prime Minister Anthony Albanese and his wife was a sea of pastels
First Lady Biden wanted the scene to look like guests are sitting in a field of flowers. The U.S. state flower – the rose – was represented with pink roses both in the arrangement and weaved and draped into glistening gold chandeliers.
Every table featured arrangements not only of roses but delphinium, eucalyptus, and dahlias since these blooms grow in both countries. Also dotting the tablescape are pears, pomegranates, apples and red and green grapes which are part of the bounty of fall.
"The State Dinner design is inspired by the idea of our countries' shared painted landscapes, celebrating the awe-inspiring beauty and vibrancy of the United States and Australia's natural wonders and panoramas," the White House said.
The china – an ombre blue and brown color palette – represented "where the Rocky Mountains meet the Blue Mountains."
All flowers were sourced from organic farms around the United States.
As First Lady. Biden remarked, "Food is comforting, reassuring and healing." As are flowers. What do you think?
So what did Dr. Jill Biden wear? As we know, she often wears floral-inspired dresses and did not disappoint. Her blush-toned dress was designed by Reem Acra with silver sequins in a floral pattern.
The floral design was orchestrated by Bryan Rafanelli, who also created the floral designs for Naomi Biden's wedding. His work is always so tasteful and builds a tapestry of colors seamlessly. The previous State Dinner honoring French President Emmanuel Macron was designed by Jung Lee. First Lady Jill Biden often offers these design opportunities to different U.S. florists. But she and Rafanelli have a wonderful relationship and are in sync in design and symbolism.
The food was created by female chefs including farro & roasted beet salad, butternut squash soup, braised short rib with Brussel sprouts, celery root puree and glazed carrots and a hazelnut and chocolate mousse cake. The wine served was Windracer chardonnay "Alexander Mountain" 2019 and Sequel Syrah Columbia Valley 2019.
This marks the fourth State Dinner during the Biden Administration. Since Dr. Jill Biden is a flower lover, the designs are worth the wait.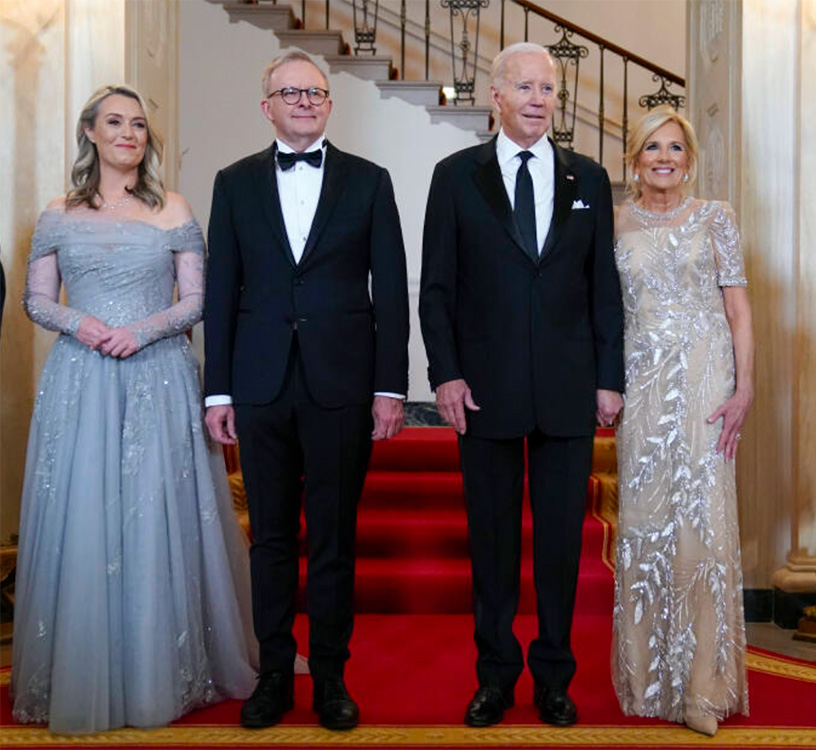 Photo Credit: White House