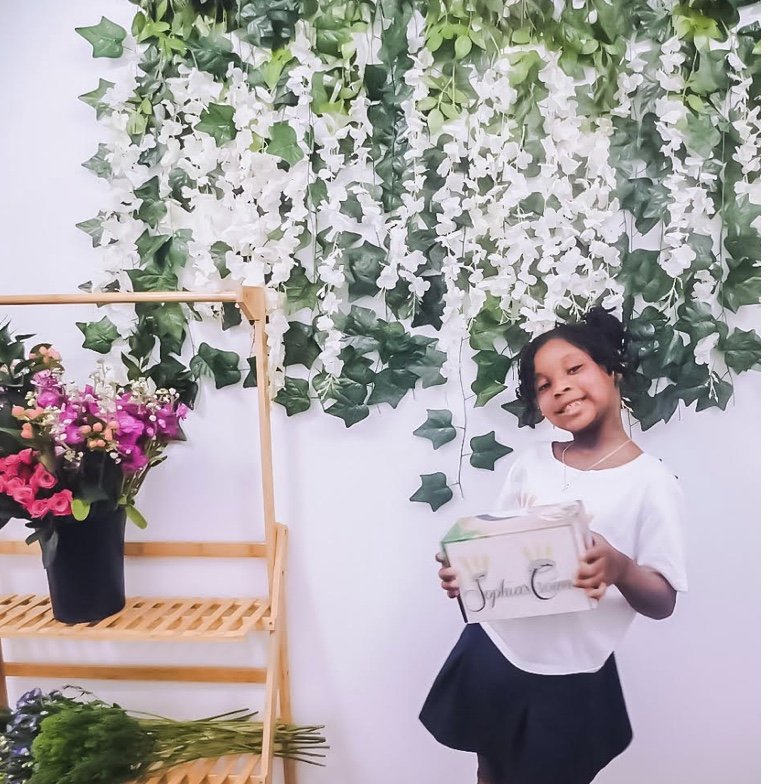 6 Year Girl Launches Her Flower Shop
Sophia Boyle has dreamed of opening a flower shop since she was just 3 years old and, at the age of 6, she's achieved that dream with some help from her mom, Trisha Boyle. The pair celebrated with an official grand opening event of Sophia's Crowns Flower Shop (4500 South Kingshighway) on June 19, Juneteenth. 
As an infant, Sophia was diagnosed with severe skin conditions that cause her to look different than peers. Those, along with asthma and severe allergies, have made many everyday activities difficult or inaccessible. Through all the diagnoses and doctors' visits, "Flowers have been something that have brought her solace over the years and being connected to nature has definitely helped her feel more grounded. It's helped her connect with the community," Trisha says.
Trisha had been operating Sophia's Crowns as a side business but decided it was time to open a brick-and-mortar store after laying some groundwork and researching local demand. Still, she was surprised when more than 45 people pre-registered for the grand opening event. 
"And we actually sold out of flowers," she says. "So being able to open this flower shop officially on June 19 with our ribbon cutting really solidified the fact that there is a need for affordable flower arrangements, but also for kids to have a place where they can connect with nature."
The shop's offerings include floral arrangements, flowers for events, Sophia's signature flower crowns, and classes for adults and kids, with Sophia lending a hand teaching kids' classes. When asked about her favorite part of helping operate a business, Sophia says she enjoys choosing the flowers, especially when they come in her favorite color, pink. She's also very serious about her teaching duties and demonstrating the items in the shop's Grow & Learn planting kits.
PHOTOGRAPHY BY RICHARD WASHINGTON OF URB ARTS
Trisha Boyle with her three daughters: 6-year-old Sophia, 3-year-old Sasha, and 1-year-old Melania
"Because that's my job," says Sophia, who added that seeing friends and sampling vegan cuisine from a local caterer were her favorite parts of the grand opening.
Prices for individual arrangements max out at $45 on the website and hour-long kids' classes are currently priced at $25, including supplies. Trisha says keeping things affordable and accessible is an important part of the shop's philosophy, especially when it comes to the kids' classes. She's also offering classes for children of all abilities. 
"It can be a safe space from bullying or different things like that where kids can really just come and connect with other children in their community," says Trisha, who had been working for the Sierra Club before becoming a full-time entrepreneur.
The Southampton location is close to home, which, as a mom of three young kids, Trisha definitely appreciates. And other business owners in the building have already shown support, as have local clergy and elected officials. 
"Being a first-generation business owner, being able to be in this space as a woman of color and being trusted within a community to provide a really solid service has been a great learning experience," Trisha says. "And I'm looking forward to seeing how we are going to grow and develop over the years."  
That's why Trisha says she will not be taking a salary for the next three years and will instead put all of the shop's profits back into the business to pay for employee wages, products, and more. Sophia's goals are more short-term. When asked what she's saving for, she replied, the popular children's toy, LOL Surprise Balls.
 Article originally from https://www.stlmag.com/
It's not too early to start ramping up for the holiday season, particularly Small Business Saturday. Full Article Below Source 25 Fantastic Small Business Saturday Ideas Published: Sep 5, 2023 by Lisa Price It's not too early to start ramping up for the holiday...
read more