Advice to turn your delivery vehicle into a mobile advertisement for your business.
By Andrew Joseph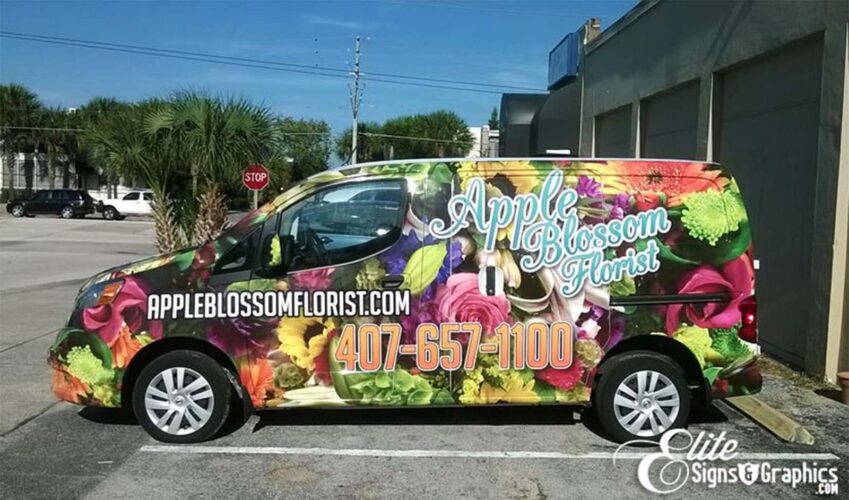 While word-of-mouth is certainly the ultimate compliment when it comes to advertising your flower shop, there's another more subliminal way to garner new business. You've seen them on the roadways, and sometimes you may have thought to yourself, "Hmm, that looks interesting," and you make a note to check it out later. This is the power of vehicle advertising.
Whether it's on a bus, car or transport truck, eye-grabbing graphics and images make you look—and that's the point. Making someone look at a vehicle, and then to determine just what the business offers. That's what you should be utilizing as you traverse around town making deliveries or even traveling back and forth between home and work.
Florists' Review looked at a few companies across the U.S. to gather their views of how a vinyl wrap can get your message across, to gather new customers or to remind previous customers to come back and see you. Although we are going to focus on vehicle vinyl wraps in this article, most vehicle custom wrap businesses will also offer alternate messaging such as magnetic signs, decals and flags (attached to your vehicle window—usually used by folk showing support for a favorite team).
Vehicle wraps can be difficult to design, as the design must flow over the vehicle's shape flawlessly. There are door handles, lights, windows and mirrors, etc.
While many wrap companies will have a "catalog" of designs that can be applied to your vehicle, we suggest that for a truly original look, you design your own original wrap. You could utilize the services of an artist to create a custom design, but most vehicle wrap companies allow you to create your own vehicle mock-up. We know you have a creative streak; just as you let it out for your floral designs, release it when designing your vehicle vinyl body wrap advertising.
Oh, and just so you know, regardless of the vehicle(s) you want to use as your new advertising medium, these companies can accommodate you.
Use the digital capabilities we found at Custom Car Wraps (custom-car-wraps.com), a website that offers a one-stop shop for people looking for vinyl advertising help. Note that this is just one company; there are many others. The point is that you can create your own custom vehicle wrap or decal design mock-up in minutes.
When it comes to a vehicle body wrap, the most important portion of the project is the design, which must represent your company, brand and product offerings. Even with that to concern you, we advise that you have a design in mind before creating a mock-up—you know, take some time, check out what others in our field are doing, and then come up with your own plan. Don't copy anyone; keep yours original, and keep it you!
On the design aspect of the Custom Car Wraps website, there is a "general" offering of vehicles for you to work on. At this stage of the game, you don't need to work on the exact make, model and year of your vehicle. Instead, you want something general to see just how the design you have in mind will actually look when laid out on a vehicle.
Doing a mock-up before laying out money for a vehicle body wrap is important. Because a vehicle has a front, rear and two sides—and even the hood and roof—you need to ensure that your messaging doesn't get lost in translation or misplaced. For reference of how not to do it, watch an old episode of Modern Family (Season 2, episode 19, "The Musical Man"). Business was good in that episode—only not the type of business wanted.
On the Custom Car Wraps website's mock-up page, you can upload your design and logo, add text and then experiment with colors until you are satisfied. You can add color fades, stylish text, save it and share it.
A Capital Suggestion
Capital Wraps (capitalwraps.com) is considered a leader in the field of graphics application and vehicle wrap services in the U.S. It is headquartered in Raleigh, N.C., with additional teams in Maryland, South Carolina, Virginia and Washington D.C. On the company website, under the "Products" section, they list "Vehicle Wraps" and then a further sub-menu "Florist Vehicles."
Capital Wraps notes that research shows that "91 percent of people notice words and pictures when passing vehicle wraps." Our opinion is that because our brains are conditioned to see vehicles in solid colors, when presented with graphics, our eyes are drawn to it.
What graphics should be on the vehicle wrap? Along with your logo and contact information (website address and phone number), you have to add your business brand. Generally speaking, your business brand is flowers. And this is why you should not use a generic photo but, rather, a professional photo showcasing your flowers or your floral design work. And flower close-ups work very well—an image that shows the freshness, the exoticness or simply the beauty of flowers.
On its website, the company states, "Capital Wraps designers can work with your brand and identity to create custom designs that will get you noticed and reflect your flower company. We know how to target your clientele and attract them to your services with effective flower vehicle wraps."
While social media is certainly an effective visual means of gathering new customers, note that those would-be customers are already peering into the world of floral activities. But, with a properly dressed vehicle, you are bringing the advertising to them in a passive manner, with color, visuals and messaging grabbing their attention.
For those who are interested and can afford multiple changes throughout the year, events or promotions can also be highlighted with a vehicle wrap. For most flower businesses, though, we suggest a more general approach without applying specific dates to your messaging. There is nothing worse than an out-of-date message in your advertising whether it be your on your vehicle, media or social media. It makes it look as though you are not able to keep up.
Flower shop delivery vehicles can be on the road all day, but even when parked in front of your shop, in front of someone's home or in your driveway at night, the message will be there for all to see. Capital Wraps notes that "time on the road is valuable marketing time" and that a vinyl wrap on your florist vehicle "is the most effective form of advertising available to your company," noting that the American Trucking Associations cites that 98 percent of in-car audiences notice truck ads.
Capital Wraps will work with you to design a wrap for your vehicle, but again, hopefully you will have some graphic concept in mind. And if you're concerned about quality, don't be. Capital Wraps states that all of its wraps can offer a photographic quality output up to 1,200 x 1,200 dpi and that it only uses "the premium cast vinyl designed for long-term outdoor applications. In most cases, we use 3M material, fully-warranted from fading under the 3M Performance Warranty." This material is designed for long-term outdoor signage and graphics applications, conforms to non-flat surfaces, is extremely durable and can be finished from matte to high gloss.
Do It Like a Pro
SpeedPro (speedpro.com) began in 1992 in the Canadian province of Alberta, but today, aside from a singular presence now in Winnipeg, Manitoba, the rest of more than 120 other franchised locations are spread out across the U.S. "Our goal is to be considered an extension of each client's marketing team, and we collaborate with partners to determine the right solution for you and your business's end customer," says SpeedPro on its website. (Don't let the term "marketing team" scare you; the company works with companies both large and small.)
SpeedPro provides some excellent advice about how to care for your vehicle wrap. A vinyl wrap is actually fairly low maintenance, according to SpeedPro, but it does suggest a few ways to ensure it looks great for a long time. For example, wash your vehicle regularly. Keeping your vinyl wrap clean is about more than increasing its lifespan; it's about looking like you care about beauty. You are selling beauty, and that's what your advertising message and actual physical vehicle appearance should sell.
SpeedPro suggests rinsing your vehicle and scrubbing it with a mild non-abrasive alcohol-free detergent. Give it another rinse, and let it air dry or use a microfiber cloth. SpeedPro also recommends spot cleaning the wrap as needed, such as after bug splatters or bird droppings hit. You can also pressure wash the vehicle or take it through a drive-through car wash, if absolutely necessary.
There's also preventative medicine: Park in a covered area like a carport or under a tented area—but not under a tree (bird droppings!). Depending on the size of your vehicle, use a fabric cover when it's not in use. SpeedPro also advises that you "avoid driving on gravel roads, where rocks and debris can kick up onto the sides of the vehicle."
A vinyl wrap also acts as a protective layer for your vehicle, should you lease it or have plans to resell at a later date. The vinyl layer helps stop dirt and gravel impacting on the vehicle's actual paint job. And, while such things can affect the wrap, "You can easily swap out portions of the wrap as needed and forgo expensive repairs for chips and dings," SpeedPro notes. And if you wonder about removing a wrap, there should be no damage your vehicle—as long as it was applied correctly.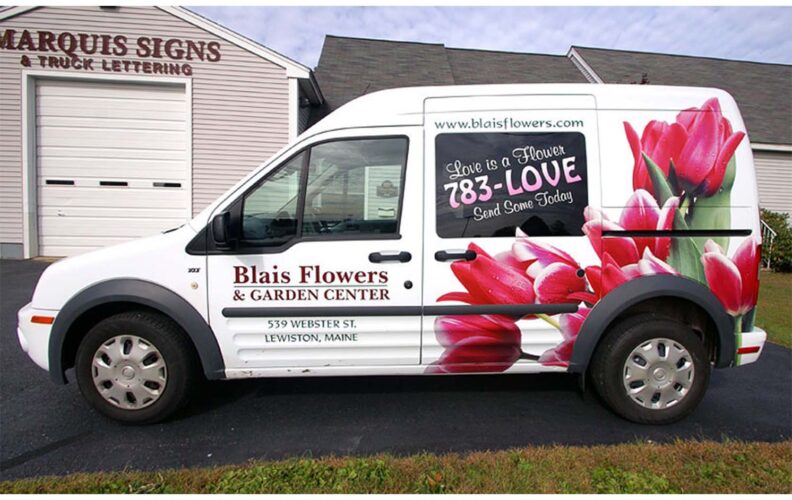 I'm a Highway Star
Starfish Signs & Graphics (starfishsigns.com) offers vehicle body wraps and other fully customized signage solutions to businesses in Southern California. The company takes great pride in helping its customers "Stand Out. Be Noticed. Get Results."
Starfish Signs & Graphics says that where it stands out is its process, beginning with the "idea and consultation phase." As the most important phase in the process, the company notes that it is open to trying any idea that you might have, but if you aren't sure what you want, the company's designers will discuss options with you to come up with ideas. Starfish will then prepare a custom proposal that includes your design concept and pricing.
Says Starfish, "According to one study by the 3M company, a vehicle wrap can receive more than 3,000 views per hour on a busy road. Vehicle wraps and graphics are also an alternative to custom car paint jobs."
So, how much does it cost to turn your vehicle into a mobile billboard? Well, every company calculates a cost in its own way, but you could use the example that follows to determine an approximate cost in your area.
Starfish says there are different variables it examines when determining its cost:
• The square footage of the vehicle determines how much material is needed for the vehicle to be covered.
• The type of material typically used by Starfish is a premium 3M vinyl wrap, but in some cases, the use of a different kind of vinyl is necessary.
• Vehicles with many round curves require more time for installers to ensure your wrap is applied correctly. Vehicles with flat surfaces, such as a box van, take less time to install.
• The decision to cover your vehicle windows, roof or both also affects the cost.
At Starfish, prices for custom window and vehicle graphics start at $250, partial vehicle wraps start at $500 and full vehicle wraps start at $1,500.
Depending on how funky you wish your flower delivery vehicle to look, Starfish offers regular vehicle graphic application; partial vehicle wraps (hood, rear and sides but not roof); full graphic wraps (entire vehicle surface, including side windows); and even the option of utilizing a color change wrap.
Which is best? That depends on you. What type of message are you trying to convey and how much money do you want to spend? If money is a huge concern, let's look at things from a different perspective to try to convince you of why you should get a vehicle wrap.
If you use your vehicle every day for deliveries or as your main means of transportation to and from work, not having your company's messaging on it is a lost opportunity to further grow your business. We admit that having some signage on your vehicle is better than none at all, but why go halfway?
Show your company's true colors and its flair every time your vehicle hits the road—and even when it's parked. You don't have to find a way to discover new customers; let them come to you. Let them see what you are all about—with bold vehicle graphics!