Amazing sculptural vessels created out of dried and pressed flowers by Shannon Clegg are full of creativity and inspiration. South African-born Shannon Clegg is a designer-maker and part-time educator whose work embraces the principles of biophilic design, creating to connect us in a deeper way with nature for well-being purposes. Through the utilisation and reimagining of traditional craft skills her practice investigates the narrative potential of making to encourage a better human-nature relationship. Clegg currently lives and works in London, United Kingdom.
Full Article Below Source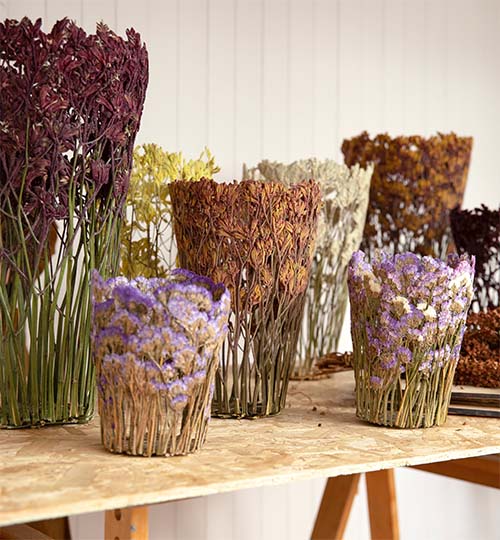 Immersed in the flora of Cape Town's Table Mountain as a child, artist Shannon Clegg has always had an affinity for unembellished, humble materials, particularly those harvested naturally and shaped into innovative forms. This now lifelong inclination emerges in Bouquet, her series of biophilic sculptures comprised of dozens of flowers dried and pressed into intricately constructed mesh. Hollow and vase-like, the preserved works extend the vibrancy and supple forms of purple statice or burgundy kangaroo paw from approximately ten days to upwards of five years.
To create the botanical pieces, Clegg researched at The Herbarium at The Royal Botanic Garden at Kew. She describes "looking back through archival methods for storing flowers pressed by their botanists around the world and the types of equipment they use to collect and press flowers."
The work led me to create a 'self-assemble' glass side-table with DIY flower pressing kit. The product allowed the user to go out to nature, collect and press flowers, and then arrange them for display within their home inside the glass table… The act of slowing down, observing plants, and then collecting them to bring back home to display—for me it's the essence of biophilic experience through an object.
Following her explorations at Kew, Clegg developed a hand-mold process that she utilizes to shape and preserve cut plants. Each three-dimensional piece takes about six weeks to complete.
To see more of the Bouquet series, visit the artist's site, and follow news about upcoming exhibitions and available sculptures on Instagram. (via Lustik)