Floral designs and text by Max Hurtaud
Max Hurtaud Master Florist
Brussels, Belgium
maxhurtaud.com
@maxhurtaud
Photos by Gaziano Photography
Brussels, Belgium
@gaziano.photography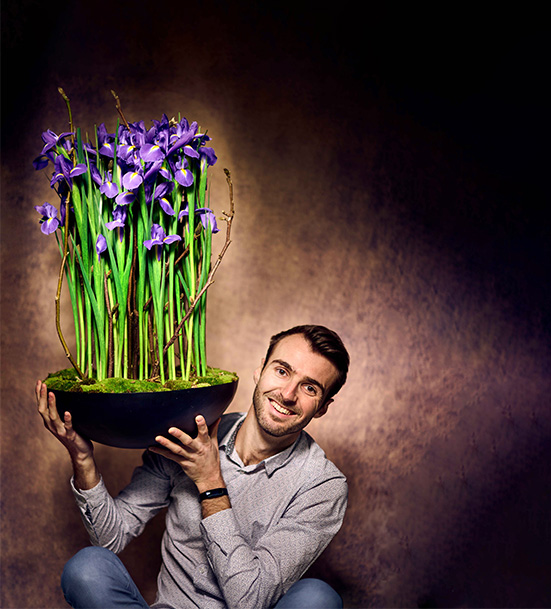 Floral art never stops evolving, and from one country to another, it differs by its colors, techniques and cultures. This is what appeals to me in my floral work and what attracts me, and the opportunity to travel has helped me have a much wider eye on this field. European floral art has "je ne sais quoi" (a special something that is undefinable) and that, over time, has managed to conquer the hearts of people from around a good part of the globe.
What is different between you and me?
First, let's explore what the European style of floral art is—if there really is such a thing. It is reflection, emotion and transmission, and what makes it different are all the differences. The European style is a mixture of the cultures of multiple European countries. French floral art is very different from German floral art, and the Belgian style is completely different from the Dutch style.
These differences are what makes European floral art unique and give it its strength. The Scandinavian style is extremely interesting and current, in view of the period we are going through. The quantity of botanical materials is reduced to give this style a maximum effect. It is a complex work that requires a good reflection before and during the realization.
What differentiates European floral design is, of course, the choice of its forms, the way in which the flowers are worked. We can go from very tight work—a floral compression—to a floating and airy work with fluidity and blur.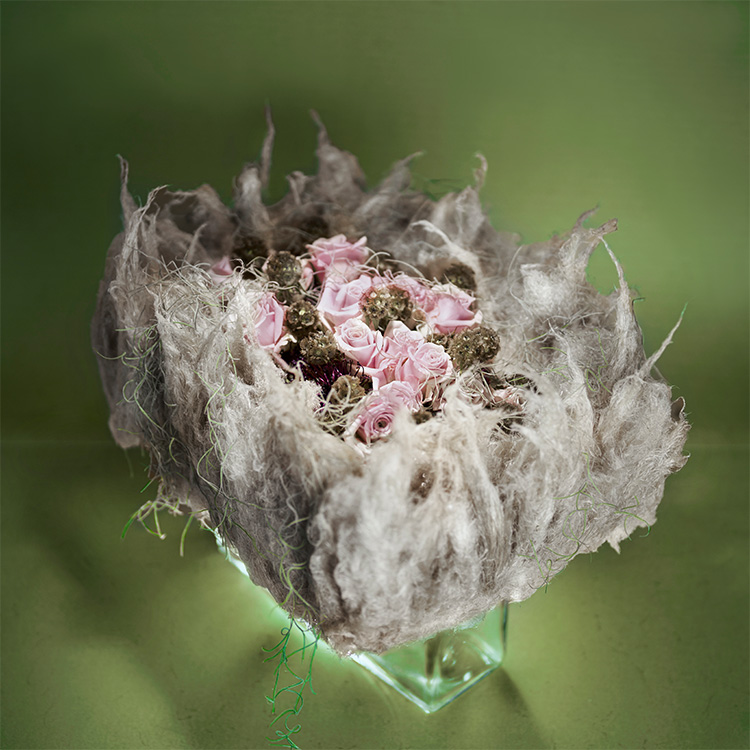 European floral design is a set of styles.
European floral art can be so diverse, so surprising, but there are basic theoretical floral art styles (decorative, vegetative, linear, parallel, etc.), that we undeniably find in floral works. In Belgium, for example, we move toward a meticulous work, more compressed, with a purity in the lines and forms. The choice of colors is also important. Everything is not mixed, and the links of colors are the basis (e.g., orange, salmon, old pink and pink). With materials, we like contradictions, such as mixing aluminium wire with natural willow branches, for example.
In Germany, the basic materials are much more natural. Branches are chosen regularly, and botanicals are more related to the other materials. Respect of line is essential. It represents nature by nature; nothing is ever forced. It is true that German floral designers' work of structure can appear blander in terms of color, but they know how to put the flowers—shapes, colors and textures—in value.
The Dutch style is colorful and mixed. Being one of the foremost countries of flowers in the world (thanks to the three international auctions), Dutch floral designers have access to myriad interesting flowers type and varieties, which allows them a to create floral profusion in their work. They are also quite experimental with surprising shapes and mixtures, which is another factor in creating their unique style.
As for French floral art, it is rather controversial. Pioneered in the 1900s by working with flowers only, it took a new turn in the 2000s. The decorative side overtook the vegetal side, largely because the numbers and supply of botanicals was constantly decreasing, but that, too, is evolving again. Today, the French style incorporates natural elements more and more, and the mixtures of colors are more cleverly dosed than 20 years ago.
Another style to discuss is the Scandinavian style. It is a very natural style, which prioritizes quality over quantity. That is, with five or six stems of flowers, Scandinavian designers are very good at adding volume and bringing out the beauty of the botanicals. It is very rewarding to train or work alongside these florists who are, ultimately, going back to the basics of the trade.
It must be admitted that the opening of borders between European countries allowed floral art to develop and become almost "standardized," even if we are not yet totally there. Time will do things at its own pace.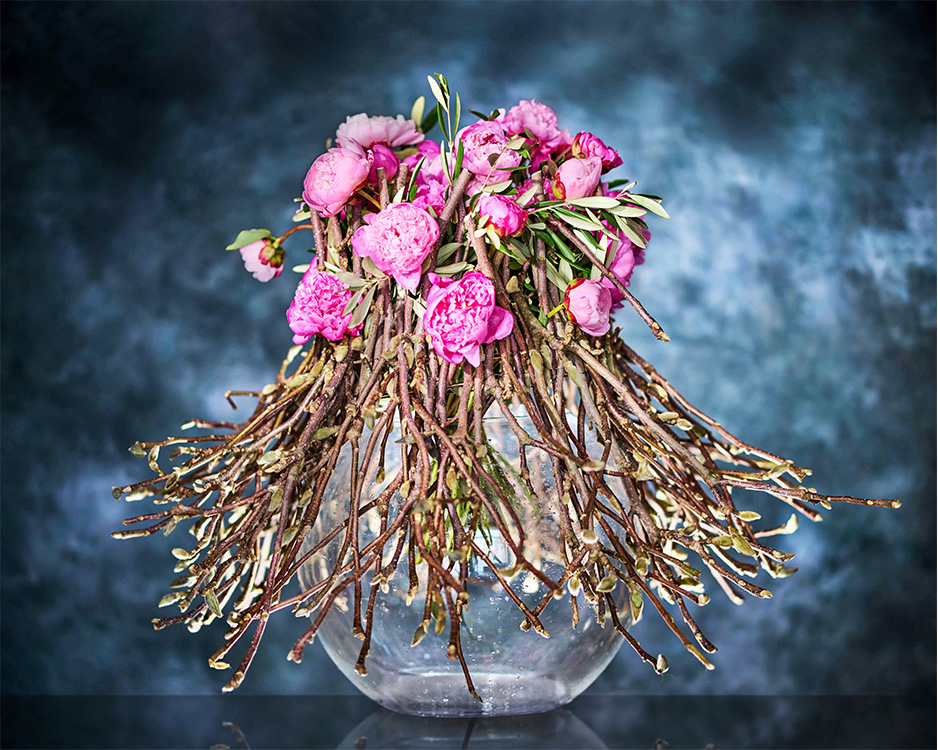 A path full of discoveries and knowledge to be acquired.
Training and education are extremely important in Europe. Anyone can be a florist, but to be a good florist who knows how to combine all the required knowledge requires a lot of training. Training typically takes a minimum of two years and can last as long as six years. Curricula can vary from one country to another because education is not regulated by the European Union. Small differences can interfere in the training programs depending on the country, as well, but this does not directly affect one's ability to become a good florist.
Let's take two examples—France and Belgium. In France, the education is divided into five diplomas on four levels. It depends on one's age and ambitions. One can start with a pre-apprenticeship as a florist, to become a florist assistant. From there, one can pursue the CAP Fleuriste national certification course, which takes two years, to get the title of florist. For the next level, a baccalaureate diploma, one can choose between a "Brevet Professionnel" or a "Brevet Technicien des Métiers" (the former provides access to technical training in the trade while the latter is directed toward the management of a retail flower business). Finally, there is the "Brevet de Maîtrise" which earns one the title of Master Florist—equivalent to the prestigious title of "Meilleur Ouvrier de France."
In Belgium, it's much simpler. Three years of study will earn one an EFDE (European Floral Design Education) diploma, and then one is ready to work. I studied for six years in Bordeaux, France, and earned the highest diploma. I believe that the Belgian education process doesn't go enough in depth on some subjects that are important to be a florist, so I'm working with the Belgian federation to make changes.
Trends in Europe that are influenced by the U.S.
Trends in European countries are much like the ones in the United States because we are now all influenced by social networks such as Instagram, Pinterest and others. In recent years, the mix of dried and fresh flowers has become commonplace, in a boho-chic style. But that trend is starting to fade. The return to the classic style is returning and requires cleaner shapes and a more regular work. Clean shapes, however, do not exclude original shapes. In Europe, we are constantly thinking outside the box, and this allows us to push each other toward better work.
In terms of colors, one of the announced trends is "Barbiecore"—an aesthetic inspired by the Mattel Barbie doll that embraces vibrant hues, particularly the doll's signature colors of hot pink and bubblegum pink. Also popular is orange-pink, like the coral rose hue, as well as combining orange and pink. Designers can add a brownish hue to give their work a more vintage feel. After all, it goes perfectly with pampas herbs. Which are nowadays always more or less present. On the flip side, the natural aesthetic remains a timeless classic, especially, today, comprising white and green hues.
This is my brief description of European floral art, which still hides many beautiful surprises to foreign florists. To master it, it requires practice, patience and reflection. I like to say that we are floral designers and artists before being flower sellers in Europe; that's what makes us different. But because everything continuously evolves and influences come from everywhere, I think that, in two years, we could imagine a new article on this subject.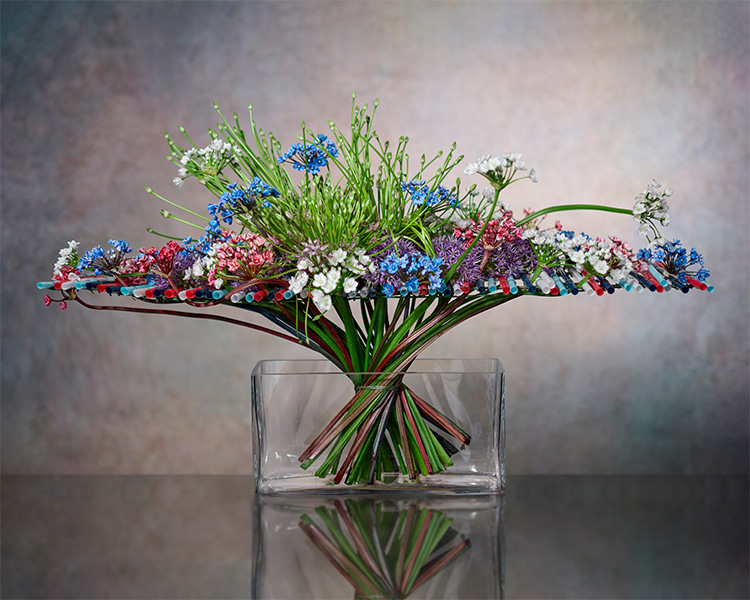 Max Hurtaud is a French Master Florist based in Brussels, Belgium, specializing in floral event design and floral coaching and teaching. He creates wedding florals and teaches workshops around the world. Originally from La Rochelle, France, Hurtaud earned his French Master Florist credentials after six years of study in Bordeaux, France, and worked in England before moving the Brussels in 2015. He has been awarded multiple times in prestigious international competitions, including the bronze medal in the Belgian Floral Art Championship, in 2020. Traveling to discover different cultures is his passion and the main source of inspiration for his eclectic work.