Taking a cue from the international theme of this issue, this versatile design concept offers opportunities for myriad adaptations.
Floral design, photos and text by Nita Robertson, AIFD, CFD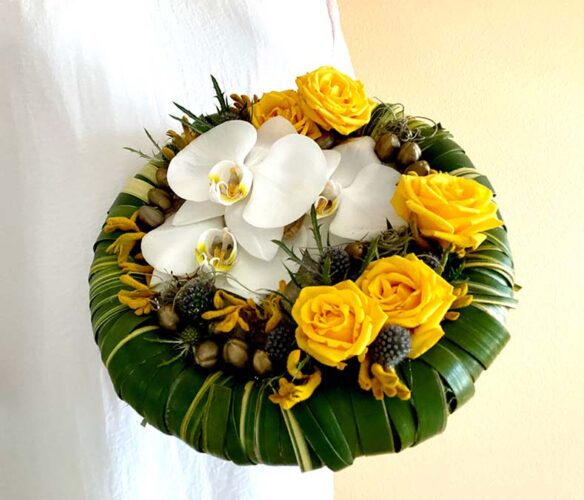 Inspired by our amazing international floral-design community—many members of which are featured in this issue—I created this European-style bridal bouquet, choosing the colors, the botanicals and the circular form to represent optimism and hope.
This contemporary design concept is highly versatile, lending itself to the incorporation of virtually any botanical materials and enabling designers tailor it to complement myriad styles and aesthetics. The bouquet can even be adapted into cascade and waterfall styles, with the addition of trailing and pendulous flowers, foliages and/or vines. Let your creativity go wild with the possibilities this design concept provides!
STEP BY STEP
Step 1
Cut each of several pieces of variegated hala foliage into eight strips. Wrap the narrow foliage strips around a Styrofoam® wreath form, overlapping them slightly and securing the strips to wreath form with adhesive dashes. Be sure to completely cover the form (the foliage will "shrink" a bit as it dries).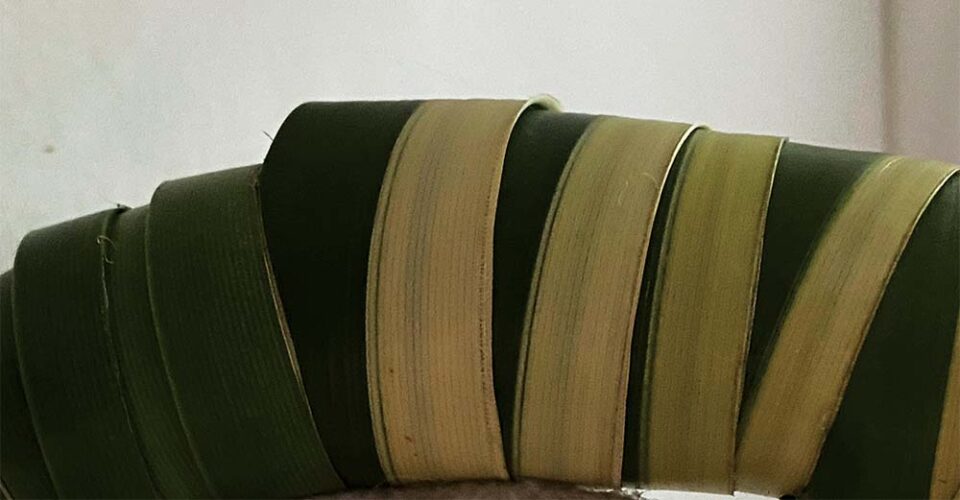 Step 2
Cut a round piece of cardboard or thick card stock that will fit snugly in the center of the wreath form. Then, cover the circle with felt, securing the felt to the cardboard/card stock with hot glue.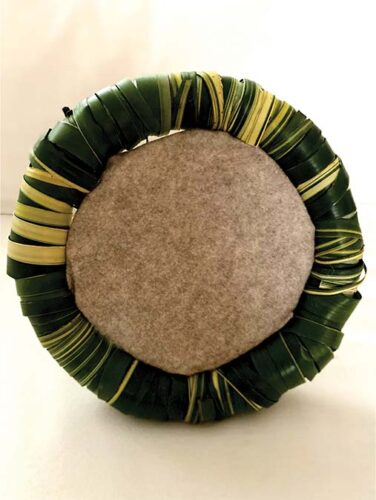 Step 3
Create a stem/handle for the bouquet with 12 pieces of 18-gauge florist wire. Bundle the wires, and bind them together by taping half of the length (approximately 9 inches) of the wire bundle with stem wrap. Next, bend each wire at its center, at a right (90-degree) angle, forming a spoke-like structure. Then, insert the end of each wire into the inside perimeter of the Styrofoam® wreath form, spacing the wires equidistantly. For security and stability, place a drop of hot-glue at each point where a wire is inserted into the wreath form. Wedge the felt-covered circle into the center of the wreath form, atop the wire spokes, and secure it in place with hot-glue. Finally, cover the mechanics on the underside of the wreath structure by gluing Spanish moss or foliage.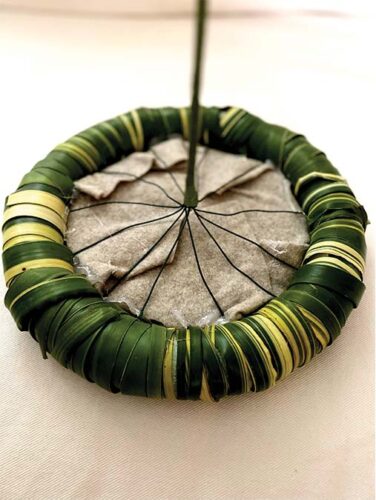 Step 4
Arrange flowers atop the felt base, gluing the in place with liquid floral adhesive. Glue the Phalaenopsis orchids first, followed by spray roses.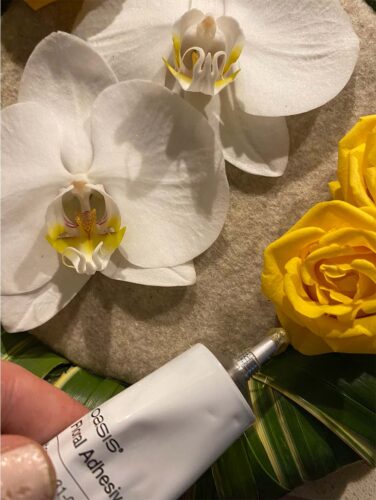 Step 5
Spray paint Hypericum berries gold, and, once dry, remove the berries from the branch. Next, using liquid floral adhesive, glue the Hypericum berries, Eryngiumand kangaroo-paw blooms, and tufts of Spanish moss into the bouquet.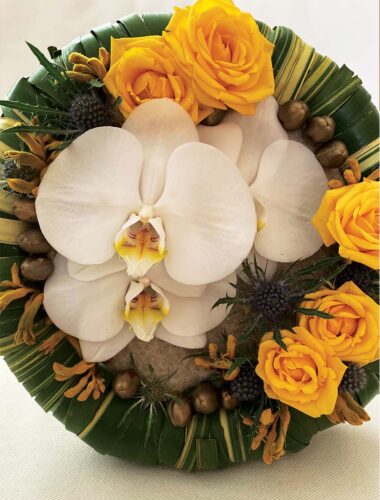 Step 6
Wrap the wire stem with double-face satin ribbon. If you want to create a thicker, more cushioned handle, wrap the wire stems with felt or cotton batting before wrapping them with ribbon.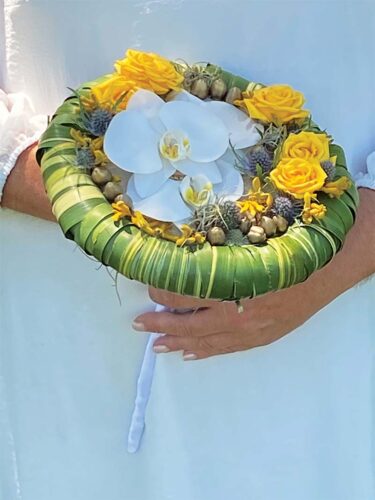 MATERIALS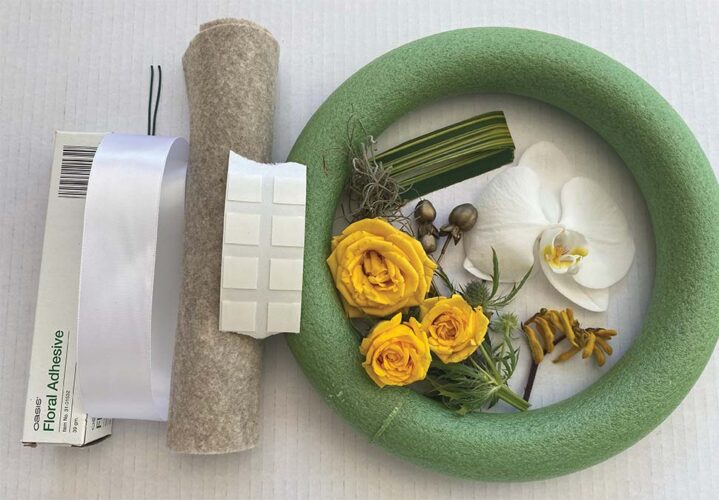 BOTANICALS
• Phalaenopsis amabilis (moth orchid)
• Rosa spp. (spray rose)
• Eryngium planum (sea holly, flat sea holly, blue cap sea holly, sea star thistle)
• Anigozanthos flavidus (kangaroo paw)
• Hypericum androsaemum (tutsan, St. John's wort)
• Pandanus tectorius (variegated hala, pu hala, Pandanus palm, thatch screw pine)
• Tillandsia usneoides (Spanish moss, graybeard)
HARD GOODS
• Styrofoam® wreath form, 10"
• Design Master Colortool® Spray (Antique Gold)
• Floratape® Stem Wrap (Green)
• OASIS™ Florist Wire (18 gauge)
• OASIS® UGLU™ Adhesive Dashes
• OASIS® Floral Adhesive
• OASIS® All-temperature Glue Sticks
• Felt
• Double-face satin ribbon
• Cardboard or thick card stock