Comfortably wearable flower designs are a specialty at Miami's Aniska Creations, and co-owner Ana Isabel Vivas shares her technique for creating her bespoke flower necklaces.
Floral design, photos and text by Ana Isabel Vivas
"I have a passion for floral wearables," says Ana Isabel Vivas, co-owner of Aniska Creations in Miami, Fla. "I love fashion and the idea of creating something that someone will wear, so I want to share this passion with you and inspire you to give it a try."
Known throughout her area for her alternative-style tiara/headband-style flower crowns (FR September 2021), Vivas also has developed an alternative method for creating comfortable-to-wear flower necklaces. Her distinctive designs are just the sorts of things that spirited, fun-loving Gen Z consumers—like prom-goers and younger brides—are hungry for. So, create a niche for your flower shop this coming prom and wedding season with custom, personalized wearable flower designs.
STEP BY STEP
Step 1
Choose a costume jewelry blank choker collar necklace that is flat and wide enough to glue onto. Next, choose flowers in a variety of sizes and textures, in a palette that will complement the wearer's dress and skin tone. You'll need mostly small flowers, and they should be as flat as possible. (Think of a Ranunculusblossom as opposed to a rose head.)
Step 2
Apply liquid floral adhesive to the surface of the necklace, and allow it to become tacky. You may apply the adhesive to one section at a time or to the entire necklace at once, depending on how you like to design—and how quickly.
Step 3
Remove the entire stem from each flower, cutting each one as flat as possible. Apply a drop of liquid floral adhesive to the base of each flower, and allow it to become tacky.
Step 4
Place the botanicals onto the adhesive-covered surface of the necklace, in whatever pattern or design you choose. Place the largest flowers first, filling in between them with the smaller blooms, berries, etc.; this will enable you to create balance and line. Hold each botanical firmly against the necklace for a few seconds so that it adheres securely. Be sure to cover the entire necklace base, and remove any strings of adhesive.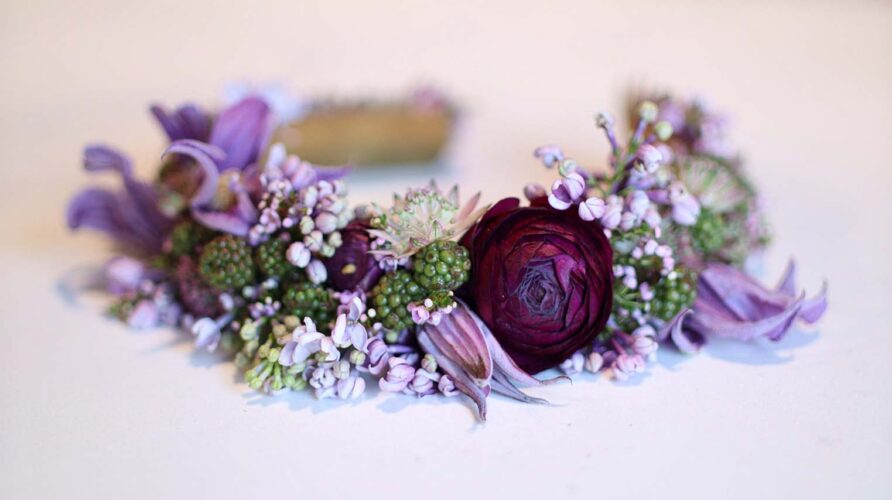 Step 5
Allow the adhesive to dry completely. Then, spray the completed design with an exterior-coating finishing spray, such as Floralife® Crowning Glory®. Allow the finishing spray to dry completely before packaging the design and placing it into a floral cooler.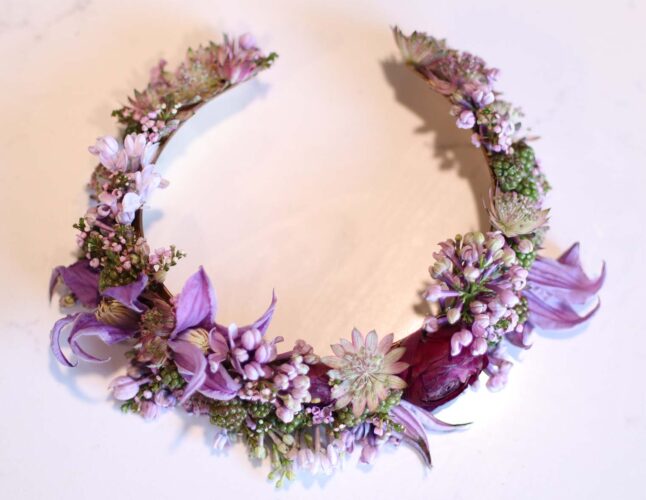 NOTE ABOUT FINISHING SPRAYS: Exterior-coating finishing sprays, like Floralife® Crowning Glory®, are formulated for designs that have limited or no access to water, such as corsages, boutonnières, headpieces, hand-tied bouquets, etc. Cellular-level finishing sprays, such as Floralife® Finishing Touch, are developed for use on finished arrangements that have a water source via a container or floral foam.
MATERIALS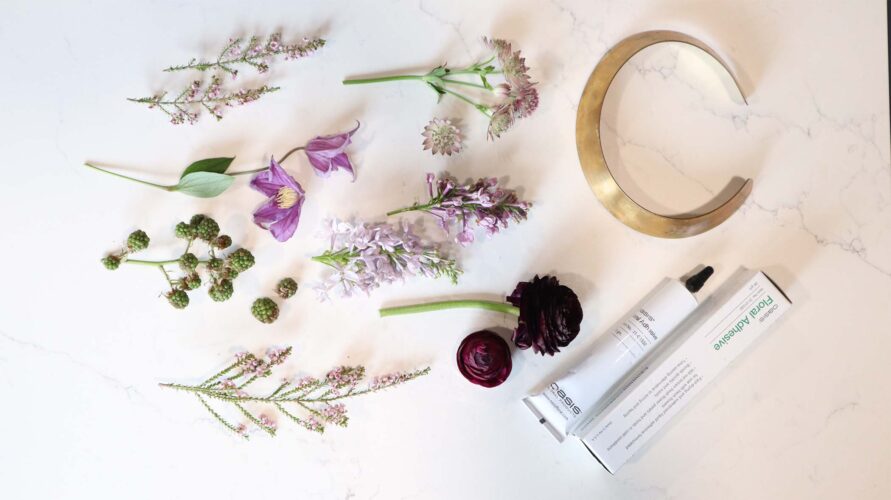 BOTANICALS
• Astrantia major 'Roma' (masterwort, great masterwort)
• Clematis integrifolia 'Amazing Rome' (virgin's bower, leather flower, vase vine)
• Syringa vulgaris 'Dark Koster' (lilac)
• Ranunculus asiaticus 'Elegance Viola' (Persian buttercup)
• Thryptomene saxicola (rock Thryptomene, rock myrtle, rock heath myrtle)
• Ligustrum vulgare, berries (common privet)
HARD GOODS
• OASIS® Floral Adhesive
• Floralife® Crowning Glory®
• Metal or plastic choker collar necklace