By Nita Robertson, AIFD, CFD
As we enjoy the last weeks of summer, holidays loom right around the corner. It is time to prepare for all the wonderful fall and winter celebrations, secular and religious, including Thanksgiving (Nov. 24), Hanukkah (Dec. 18-26) and Christmas.
If you haven't done so already (and we hope you have!), now is the time to create your roster of holiday designs and, along with that, place orders for cut flowers; evergreens (bunches, wreaths, garlands and even trees, if you sell them); poinsettias, Christmas cacti, 'Paperwhite' Narcissus, amaryllises, Norfolk Island pines and other flowering and foliage plants; and supplies including containers, ribbon, pine cones, ornaments, candles, floral foam and so on. It's also time to plan your open house or other holiday events and workshops and to start creating your merchandising displays and marketing plans. Tasks such as prepping containers, making bows, and picking or wiring pine cones should also be well underway. Finally, pull out all leftover inventory to determine what you have, and make a plan for selling the items this year, including creatively using leftover holiday containers—in ways that will make them seem new and current. The to-do lists for holidays go on and on!
Arrangements
Offer an upgrade of candles to all table centerpieces. According to Creative Candles in Kansas City, Mo., fresh flower arrangements for the holidays become even more special when they include premium candles. From tapers, pillars, scented vessel candles, ball candles, floating candles, votives and tealights, candles greatly increase the perceived value of holiday centerpieces.
In addition, create a lineup of themed holiday designs for both home and office spaces. Whether it's a stunning arrangement to grace an entrance (indoors or out); a centerpiece or composite design for a dining table, coffee table or mantel; or a suspended floral installation, flowers and evergreens—both fresh and permanent—can tastefully turn living and work spaces into holiday wonderland.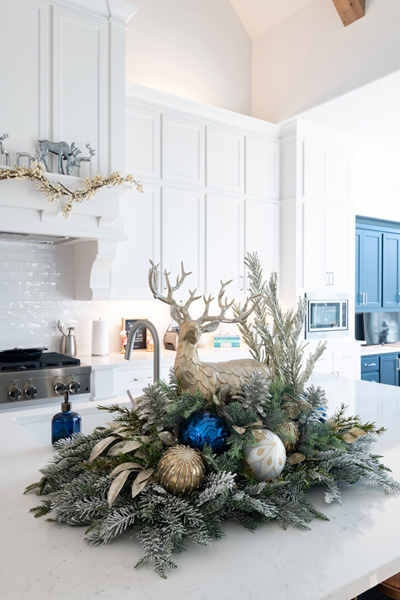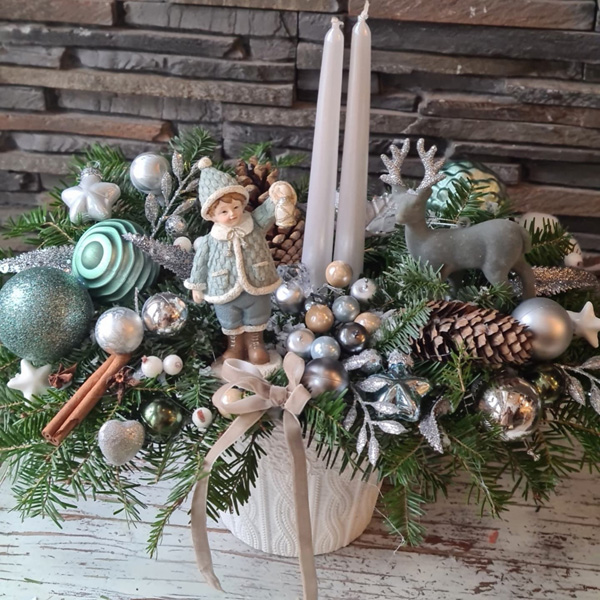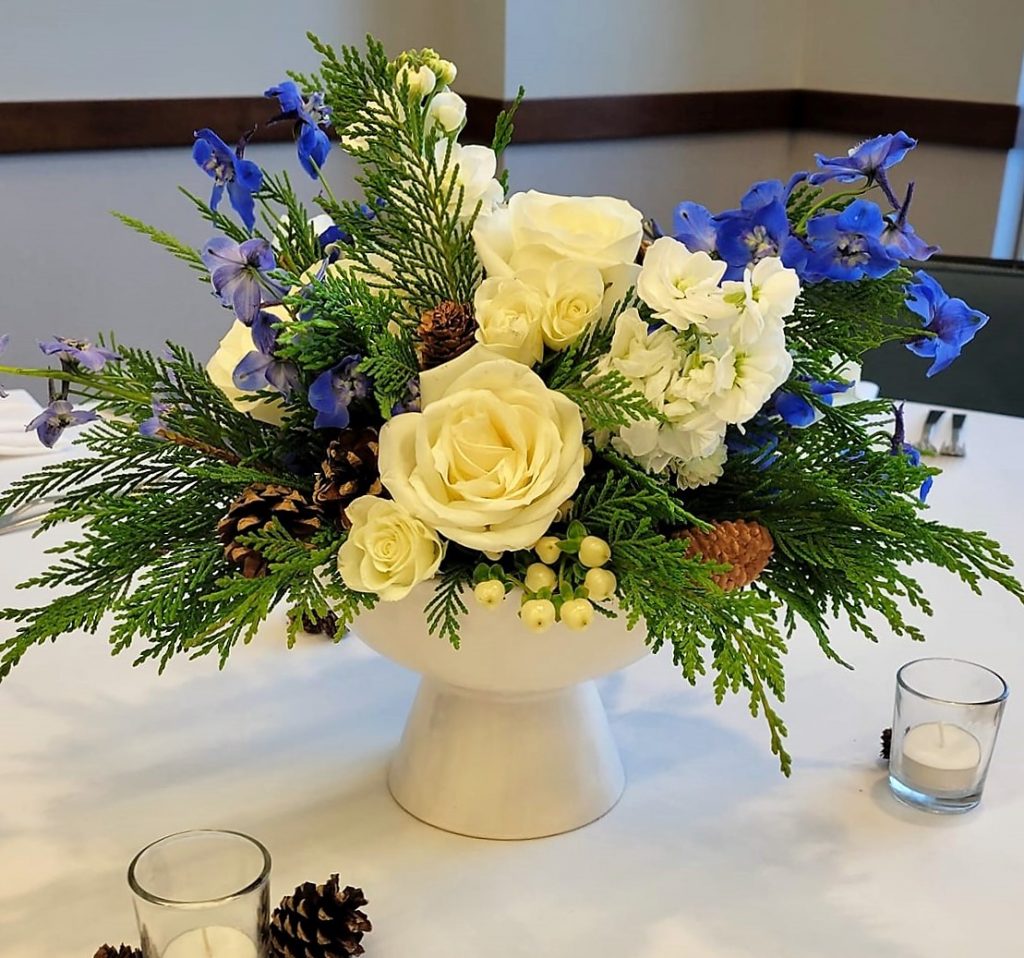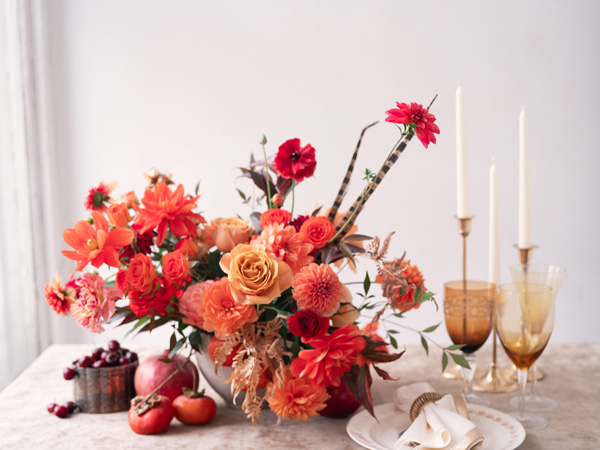 Grinch Trees
A fun winter holiday trend that is still going strong are Grinch trees (a.k.a. Grouch trees, Grump trees, Whoville trees). Remember the tree in the book and movie How the Grinch Stole Christmas? Grinch trees can be either miniature potted trees or designs of fresh cut evergreens—often cedar or cypress—bound with twine or decorative wire, with the tops curving to one side and an ornament dangling from the downward-facing curved tops. These clever designs are perfect for office desks, kitchen counters, bathrooms and other tight or crowded spaces, and they can be customized with fresh flowers in water tubes and tinted in a rainbow of fun, bright hues. Sure to stop traffic and cause conversation, Grinch trees will bring laughter and fun into any environment.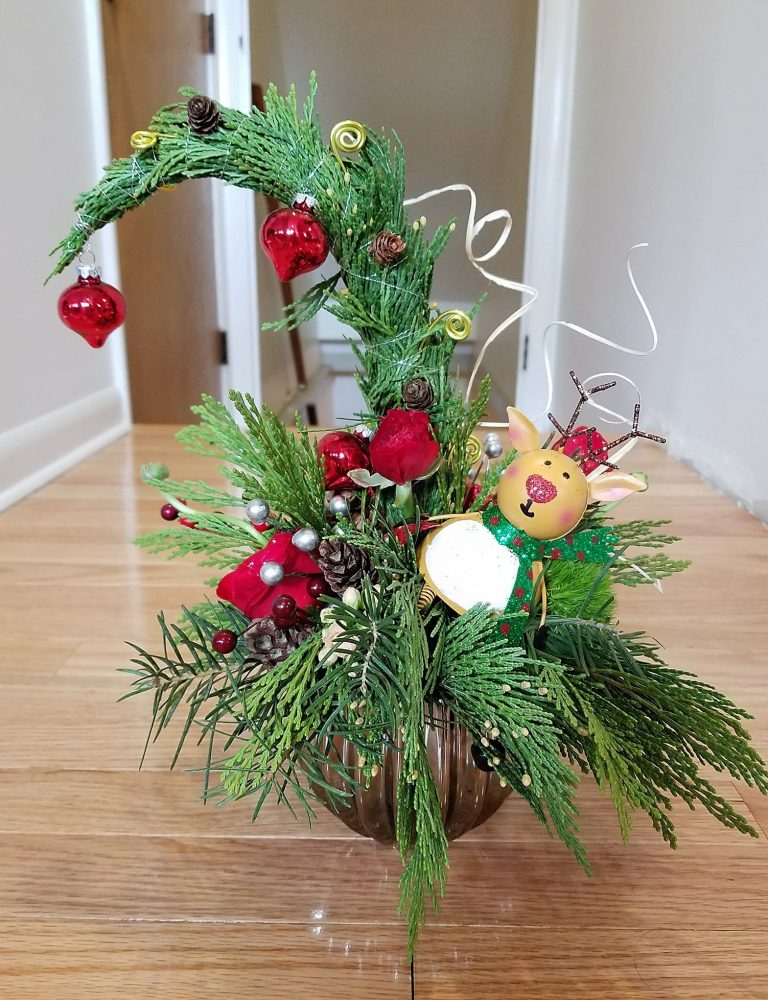 Wreaths
Offer designer wreaths for both fall and winter holidays, for indoors and outdoors, customized with ribbon, ornaments, natural elements, decorative wires, dried fruit and more, to fit with a variety of personal décor tastes and themes. Start designing and displaying your fall wreaths now, and introduce winter wreaths starting around mid-November, when people start to decorate for the winter holidays. Be sure to offer shapes other than round, such as square and oval wreaths, as well as lush, textural mixed-foliage wreaths that are composed not only of several types of evergreens but also holly, Eucalyptus, Ruscus, boxwood/Oregonia, salal, Magnolia, Pittosporum, ivy, and/or other hardy leafy year-round foliage.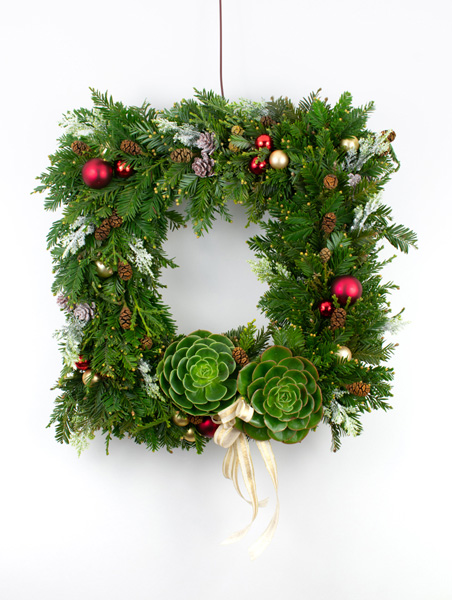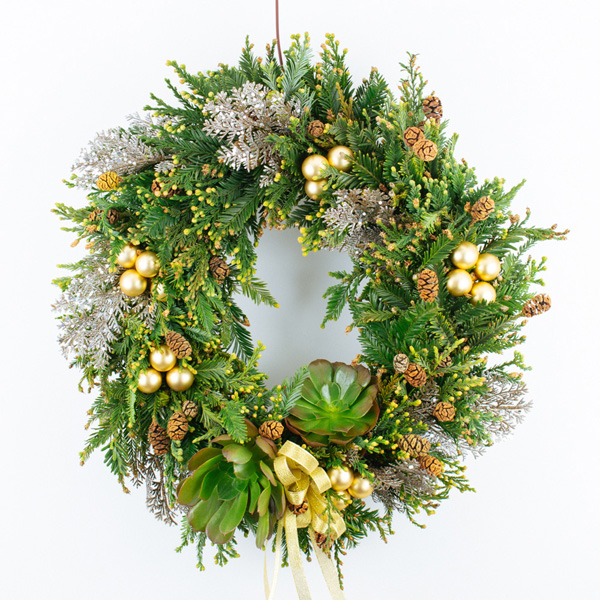 Remember, too, that wreaths, placed horizontally on dining and coffee tables, make great centerpieces, and the centers can encircle figurines; candles, including tapers in candlesticks, pillars in hurricanes and lanterns; cylinder vases filled with … whatever; or bowls of nuts, candy, cones, ornaments. The options are endless!
Also trendy and highly sought-after are living wreaths created with live plants, especially succulents. Make sure that any holiday adornments can be easily removed without damaging the plants so these wreaths can be enjoyed year-round.
"Holiday wreaths are one of those classic essentials that makes everything feel festive," shares Oxana Sanukova, owner of Sol Ambiancein San Francisco, Calif. "From simple evergreen wreaths to elaborate pieces of Christmas art featuring an abundance of foliage and other botanical materials, wreaths are highly symbolic of the season. We adore making wreaths, and while we treasure the traditions of wreath design, our stylists also follow all the latest embellishment trends. We work with the best ornaments, ribbons and lights, as well as dried flowers, fruit and pods, to create high-quality custom designs to satisfy each of our client's personal style."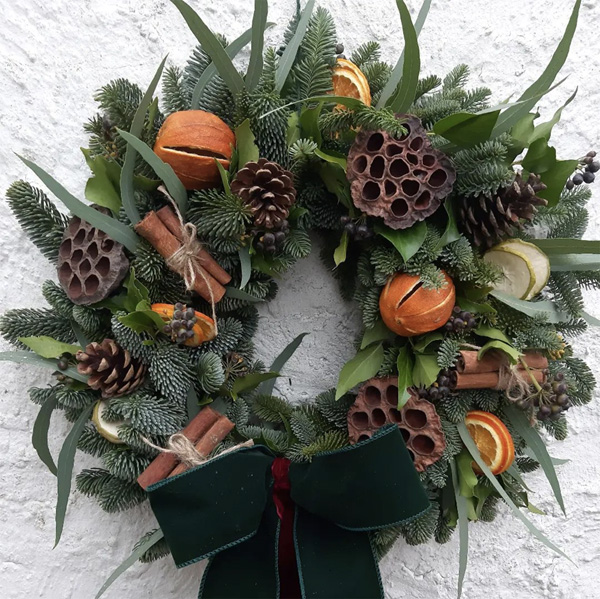 Garlands
There's nothing more magical at Christmas than a dining table, mantel or office reception area decorated with a fresh garland of evergreens. And when it comes to evergreen garlands, don't be afraid to go big; more is better! You can create lush, full custom garlands, with multiple varieties of foliage, that will set your offerings far apart from those of supermarket, mass-market retailers and big-box stores. Simply add additional stems of various foliages to the ready-made garlands everyone sells, including Christmas favorites like holly and juniper as well as hardy leafy greens such as Eucalyptus, Ruscus, boxwood/Oregonia, salal, Magnolia, Pittosporum and ivy. For truly spectacular garlands, twist or braid two or three ready-made garlands together, and then, if desired, supplement them with other hardy leafy year-round foliages.
"As with our holiday wreaths, our garlands can be simple, elegant and traditional or follow the latest design trends and color palettes." Sanukova explains. "We work with our clients to get the styles just right."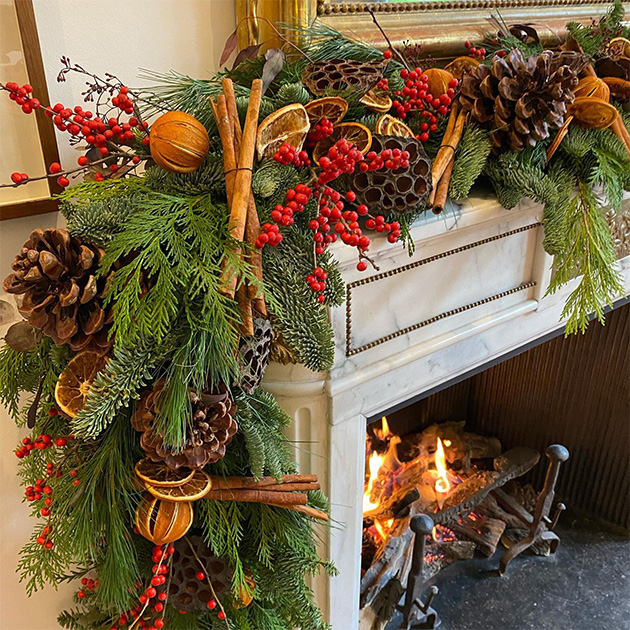 Plants
Poinsettias still top the list for favorite winter holiday plants, but also offer interesting alternatives including tropical plants such as Anthurium and orchids, bulb plants like 'Paperwhite' Narcissus and amaryllises, unusual plants such as Helleborus, as well as other traditional favorites including Christmas cacti Cycamen and Azalea/Rhododendron.
Foliage plants can run the gamut from trendy options like frosty ferns (Selaginella kraussiana), rosemary trees and topiaries, dwarf lemon cypress trees, dwarf citrus and pear trees, miniature holly bushes and even succulents to more traditional favorites such as English ivies, peace lilies and, of course, Norfolk Island pines.
Dress up your holiday plants with decorative items like deciduous branches, pine cones, miniature ornaments and decorative wire, to name a few. Upgrade your holiday plants by placing them into beautiful containers that set you apart from your competition. Wood or birch-bark containers impart a rustic look while metallic ceramic containers provide an elegant aesthetic. The options are endless.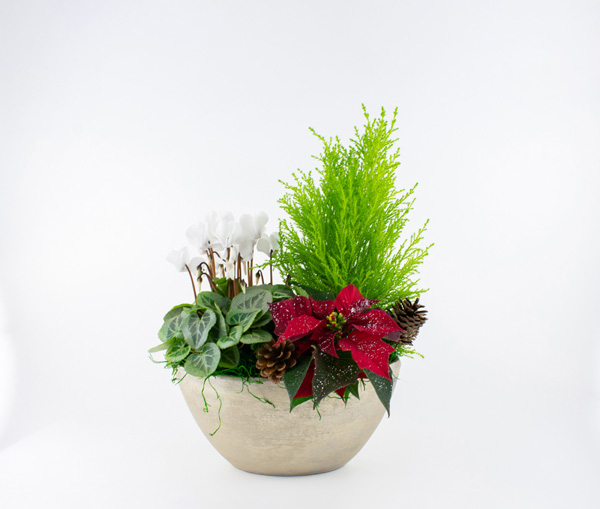 Gift and Gourmet Baskets
Gift, gourmet and fruit baskets are always popular at the holidays and provide options for consumers who prefer to send gifts other than flowers and plants. Plan in advance how you want to handle offering perishable baskets. Require a 24- or 48-hour notice for these items, for example, and charge accordingly for shopping for fresh items. Fresh flowers, plants, sprigs of evergreens and other botanical elements can be incorporated into (or onto) these gifts, as well.
Spa items and bath-and-body accessories are great options for gift baskets, too. If you don't want to make your own, which can require investing in a large inventory of products, you can purchase fabulous ready-made spa gift baskets, at wholesale; from companies such as Bath Accessories Company (bathaccessories.com).
Offering individual ornaments, ornament collections and ornament baskets is another great gift-giving option for consumers. Individual ornaments can be packaged separately or incorporated into arrangements. Check out the collections—and even gift sets—at companies like Kurt S. Adler (kurtadler.com), Melrose International (melroseintl.com) and Accent Décor (accentdecor.com).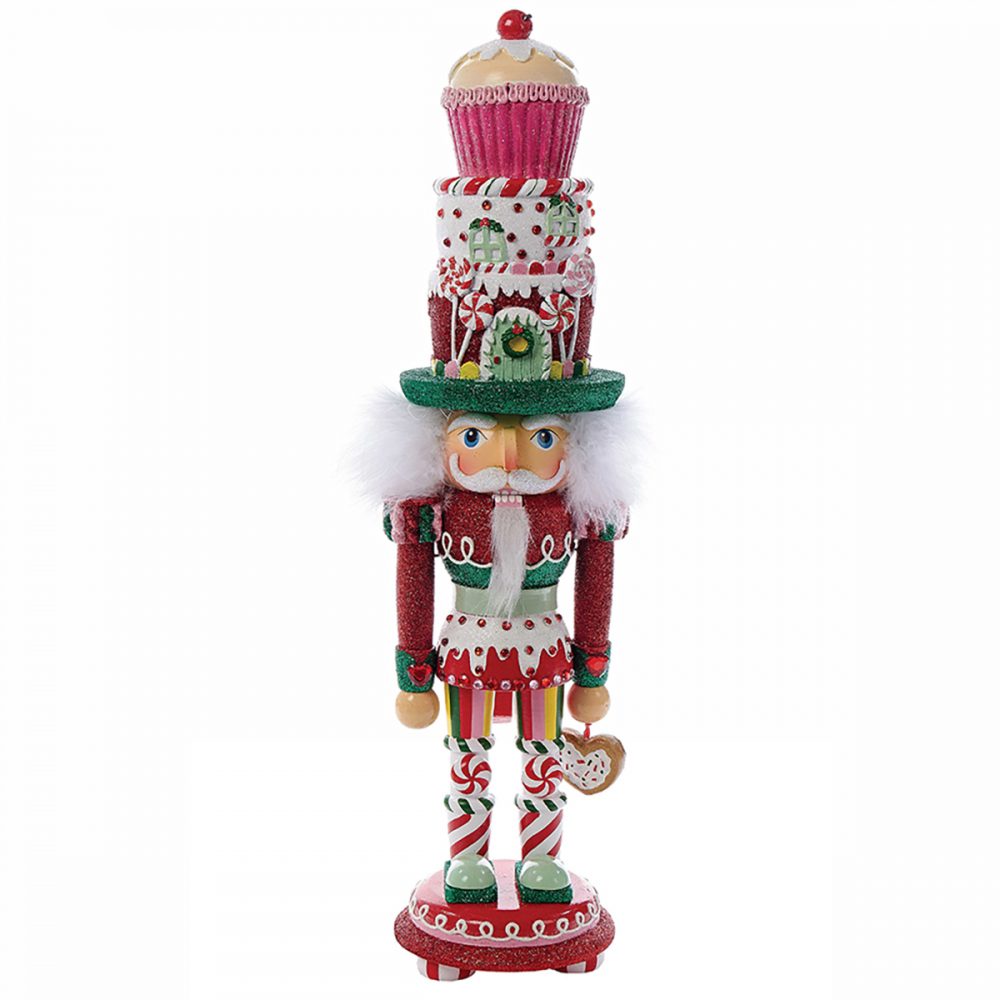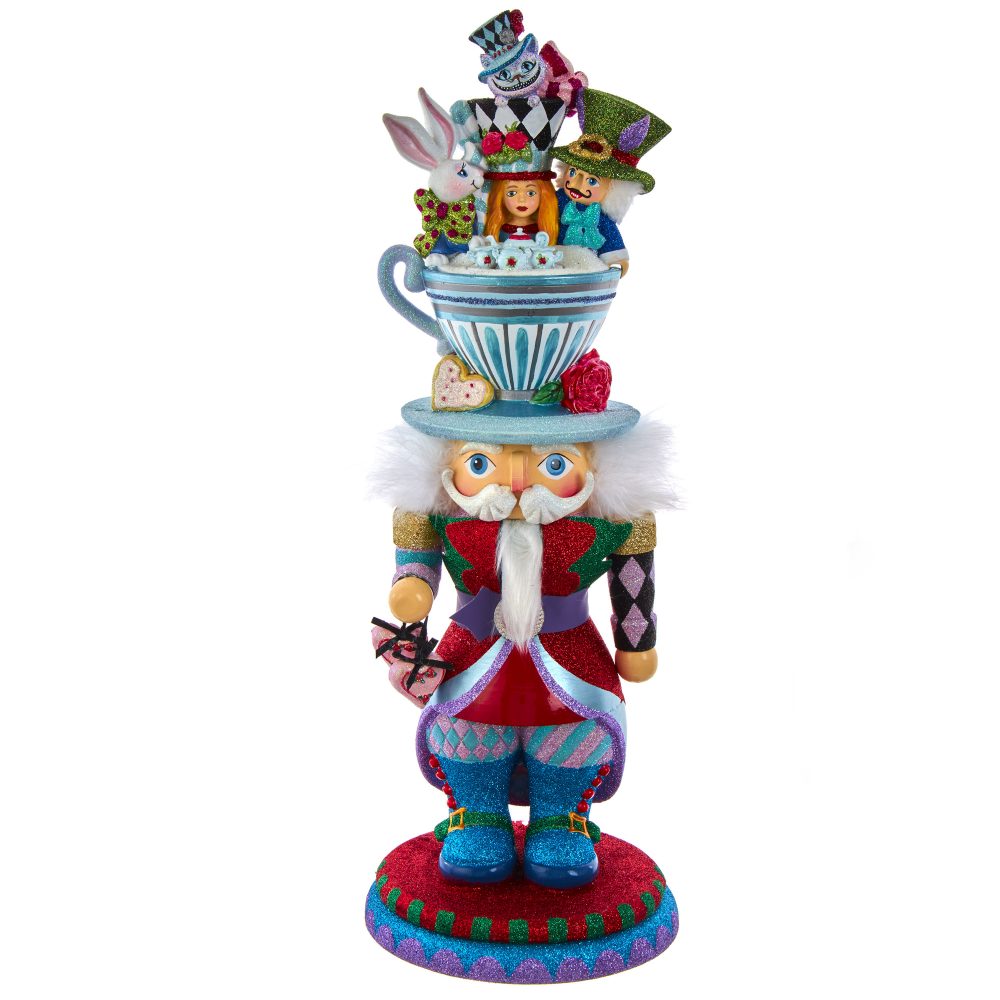 Other staples for gift baskets include candles, chocolates and plush items. And don't forget to seek a selection of local/regional handmade gift items, to support your area small business communities.
Marketing
Promote your holiday offerings and services on your website and social media platforms, and start now! Many businesses, for example, begin looking for gift ideas for their employees and clients as early as this month, and they also might be planning their office decorating and holiday parties now, as well. The age-old adage "The early bird gets the worm" has never been truer than it is today, especially when dealing with business clients. In addition, encourage all other consumers to get their shopping done early, as well, to get the best selection and reduce the stress of the holidays. Get your customers thinking about your shop and all you have to offer now.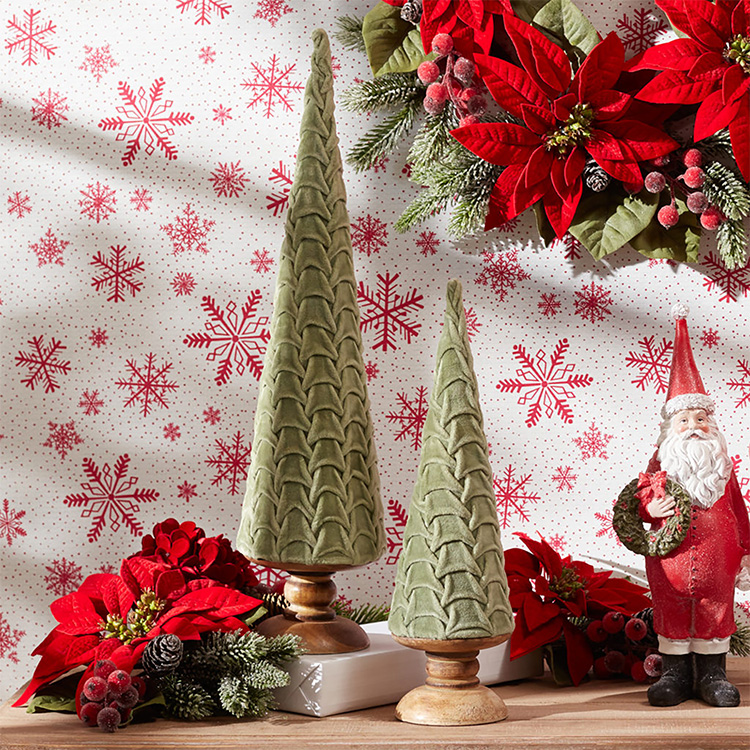 Home and Commercial Decorating Services
If you offer holiday decorating services for homes and offices, now is the time to contact those clients, as well.
"Our holiday styling services generate a significant portion of our annual revenue," Sanukova shares. "We design to suit every client's individual style, and a big part of that is incorporating their personal treasured decorations into the décor we create for them."
Baker Design Group is an award-winning full-service interior and exterior Christmas decorating company that provides services for residences, hotels, public spaces and corporate offices in the Dallas/Fort Worth, Texas area. "The Baker Design Group takes 'hectic' and 'stress' out of our clients' vocabulary by designing festive holiday environments that their friends, employees and clients won't soon forget," shares Claire Morgan, Baker's marketing and client relations manager. "Our holiday design process begins with an in-home or office consultation with one of our experienced Christmas designers. Approximately one week later, we will present design plans or proposals to the clients. After the clients approve the plans or proposals, we schedule them on our Christmas installation calendar."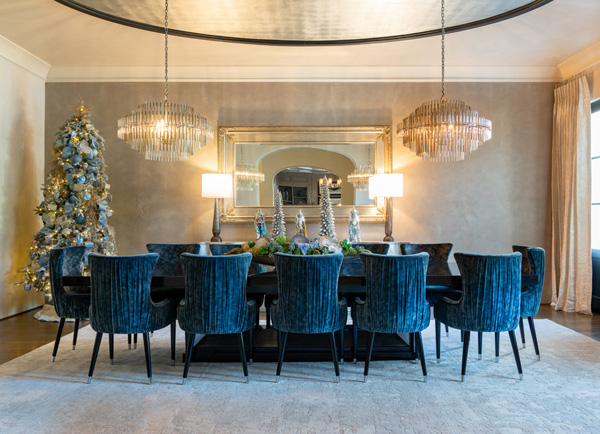 Morgan spoke with us about the hottest trends and colors the Baker Design Group is working with for Christmas 2022. "Soft natural shades of cream and green combined with simple natural patterns, to provide coziness and relaxation, is the biggest holiday decorating trend for 2022," she advises. "We are designing fresh and updated looks with Eucalyptus and pine, hints of platinum and glitter, and soft florals. Sage green is the biggest color for us right now, with so many clients wanting it in their residential or commercial spaces. It pairs so well with many different colors. The biggest change we see is everything not being traditional red and green anymore. We certainly have clients who still love the traditional feel, but most of our design plans revolve around our clients' existing décor and the existing aesthetic throughout their spaces."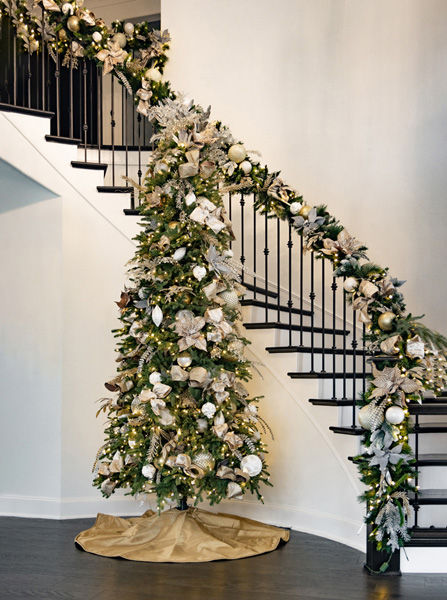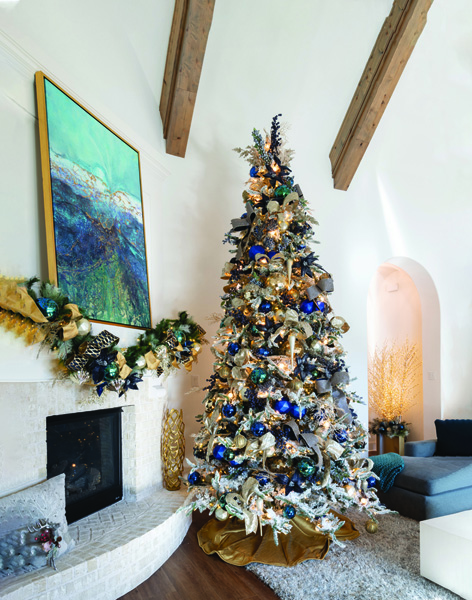 Chanukah Décor
By Jill Brooke
As someone whose historic home was the place where the term "Chanukah bush" was coined, and who also married someone with whom I had to learn new traditions, here are inspired and respectful ways to create Chanukah flower arrangements and décor for Jewish clients.
1. Make friends with blue flowers such as Delphinium, Eryngium, Hydrangea and hyacinths.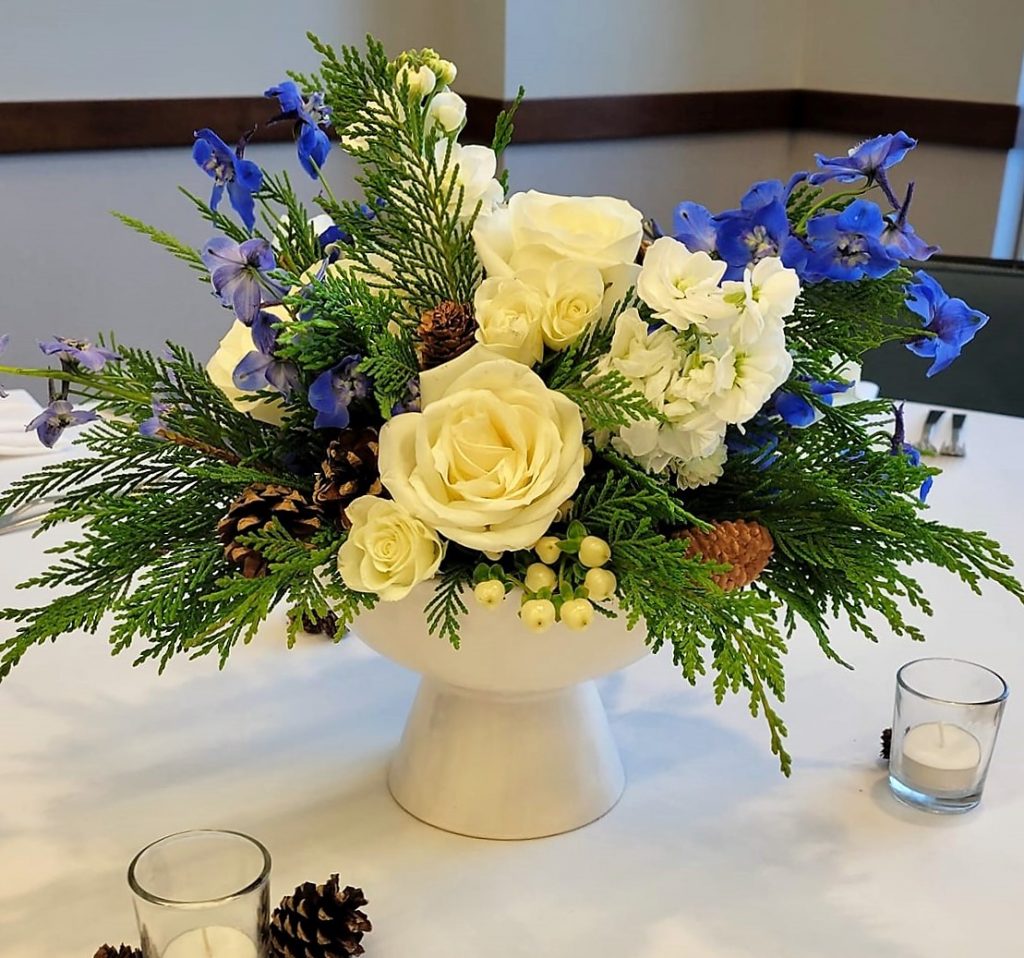 The traditional colors for Chanukah are blue and white, the colors of the flag of Israel. Of course, the question then is, "Why blue?" It's the color the Israelites were told to dye the thread (tekhelet) on the knotted fringes of their prayer shawls made with ink from sea snails. You can find many ways to create holiday centerpieces using these colors that won't clash with your clients' décor. Perhaps make it a complementary color and find various shades to include the blue theme.
Juniper and baby's breath are great options for Chanukah tables. Juniper has a bluish hue, so add it to flower arrangements. Baby's breath can also be added the same way and is particularly lovely tucked into napkins. I've also used it as a base for plants instead of moss. Have plenty on hand to add that extra flourish to your clients' holiday tables.
Because white is part of the tradition and reflects purity, as well, white roses, Hydrangea, snapdragons, daisies and the ubiquitous poinsettias are also useful to include, and white can be the dominant color, if needed. Plus, white mixes so well with pine flourishes.
2. Think lots of candles; Chanukah is also called the "Festival of Lights"
Seeing the light is what this holiday is about. When the Greeks were trying to assimilate the Jews by forbidding the practice of the Sabbath, a group of Jews defied them in what is known as the Maccabean Revolt, 167-160 BC. The Israelites had enough oil, for light, for only one day, but it miraculously lasted eight days, to ensure victory. Any way you can use lights and candles in the Chanukah décor is appreciated, even if it is just putting a string of lights around a vase.
3. Menorah
The menorah is the star of the show. Many families collect menorahs, which typically have eight branches and a central socket for the candle that lights all the others each night of Chanukah. It may be worthwhile to offer some for sale—especially because they can be decorated, depending on the style, with flowers. The creative possibilities are endless, so research some to sell in your store, and display them to attract Jewish customers.
4. Adding ornaments
Many Chanukah ornaments will inevitably be in that darkish blue color. I often paint them to be a more pleasing color or to match whatever theme I will be using. For example, I found blue Jewish stars (Stars of David) at Pier 1 Imports and painted them gold for napkin décor. You will also see Chanukah gelt (gold-foil-wrapped chocolate "coins") and dreidels, which are given as gifts during Chanukah, that can be color-coordinated to your client's theme and décor. When painted, they can be added to a vase or table runner, for an extra flourish.
Along with a menorah, votive candles and interesting candlesticks complement the spirit of the holiday. After all, as Anne Frank said, "Look at how a single candle can both defy and define the darkness.