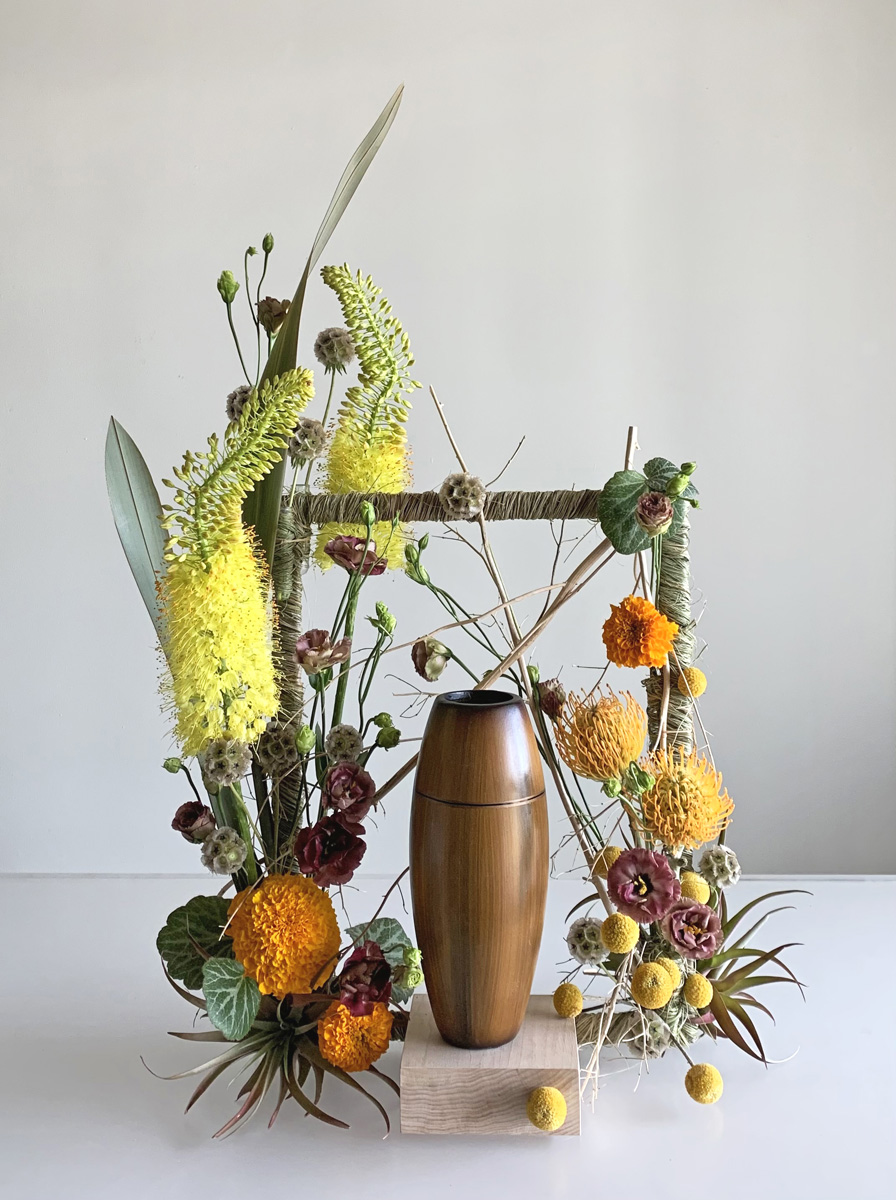 How To: Modern Urn Tribute
 Floral design, photos and text by Brenna Quan, AIFD, CFD
A contemporary, artistic sympathy expression befitting of today's modern services—and appealing to consumers seeking unique, personalized floral designs. 
When family and friends are celebrating the life of a loved one who thrived on adventure and vibrancy, wouldn't they want a floral tribute to reflect that person's personality and lifestyle? Just as funeral and memorial services have evolved into celebrations of life, including receptions and even parties, floral tributes, too, must evolve, in order for flowers to stay relevant to consumers for these events. 
Many of today's consumers are seeking more contemporary, artistic, personalized—and less "funereal"—floral expressions, and as professional floral designers, it is our responsibility—and honor—to capture the essence of one's spirit through floral expressions that make a final lasting memory for surviving family members. 
In this modern tribute, the cremation urn is elevated and framed by brightly colored botanicals that speak of the individual's essence. The base structure could even become the centerpiece of a "shrine" that the family might want to create at home.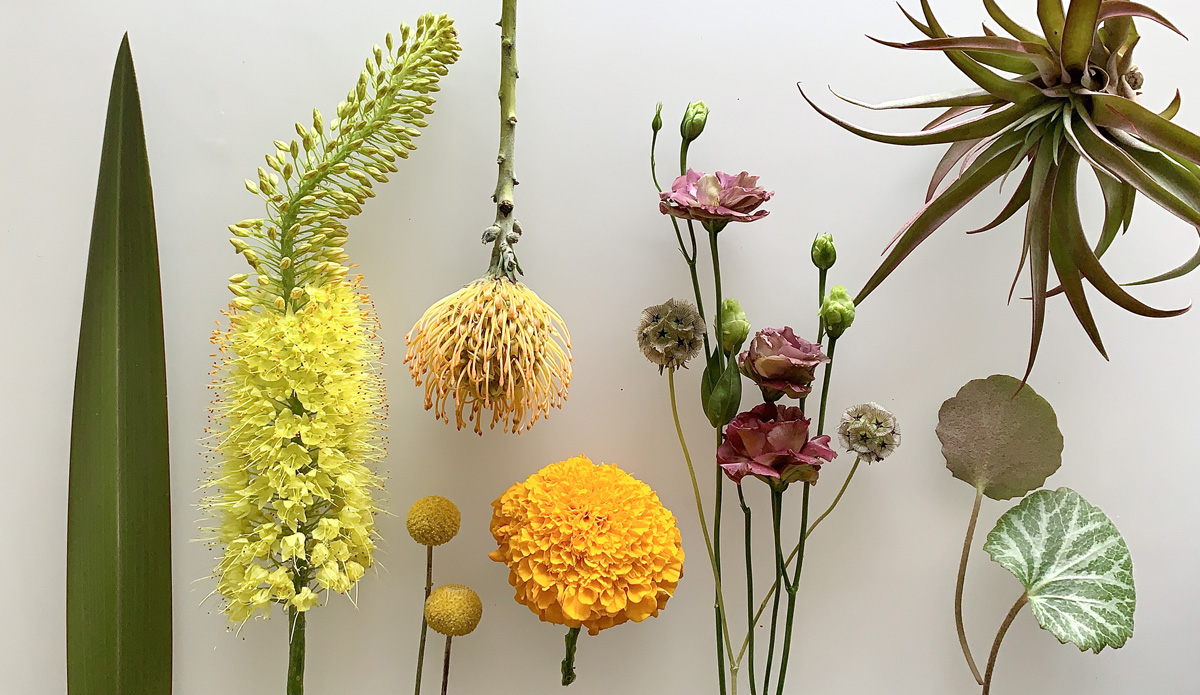 MATERIALS 
BOTANICALS
Eremurus stenophyllus (foxtail lily, desert candle, king's spear)
Leucospermum spp. 'Hawaii Gold' (pincushion)
Tagetes erecta (African marigold, Aztec marigold, Mexican marigold, American marigold, big marigold 
Eustoma grandiflorum/Lisianthus russellianus (double-flowered prairie gentian) 
Scabiosa stellata (starflower pincushions, paper moons)
Pycnosorus globosus [formerly Craspedia globosa], dried (billy button, drumstick) 
Phormium tenax (New Zealand flax)
Saxifraga stolonifera, foliage (strawberry geranium, strawberry Begonia, strawberry saxifrage, creeping saxifrage)
Tillandsia brachycaulos (air plant)
Branches, dried
HARD GOODS
OASIS® Water Tubes
OASIS® UGLU™ Adhesive Dashes 
OASIS™ Bind Wire 
3M™ Super 77™ Multipurpose Spray Adhesive
Metal kenzan (pin holder/pin frog)
Rectangular wood picture frame
Square wood block
Wood screws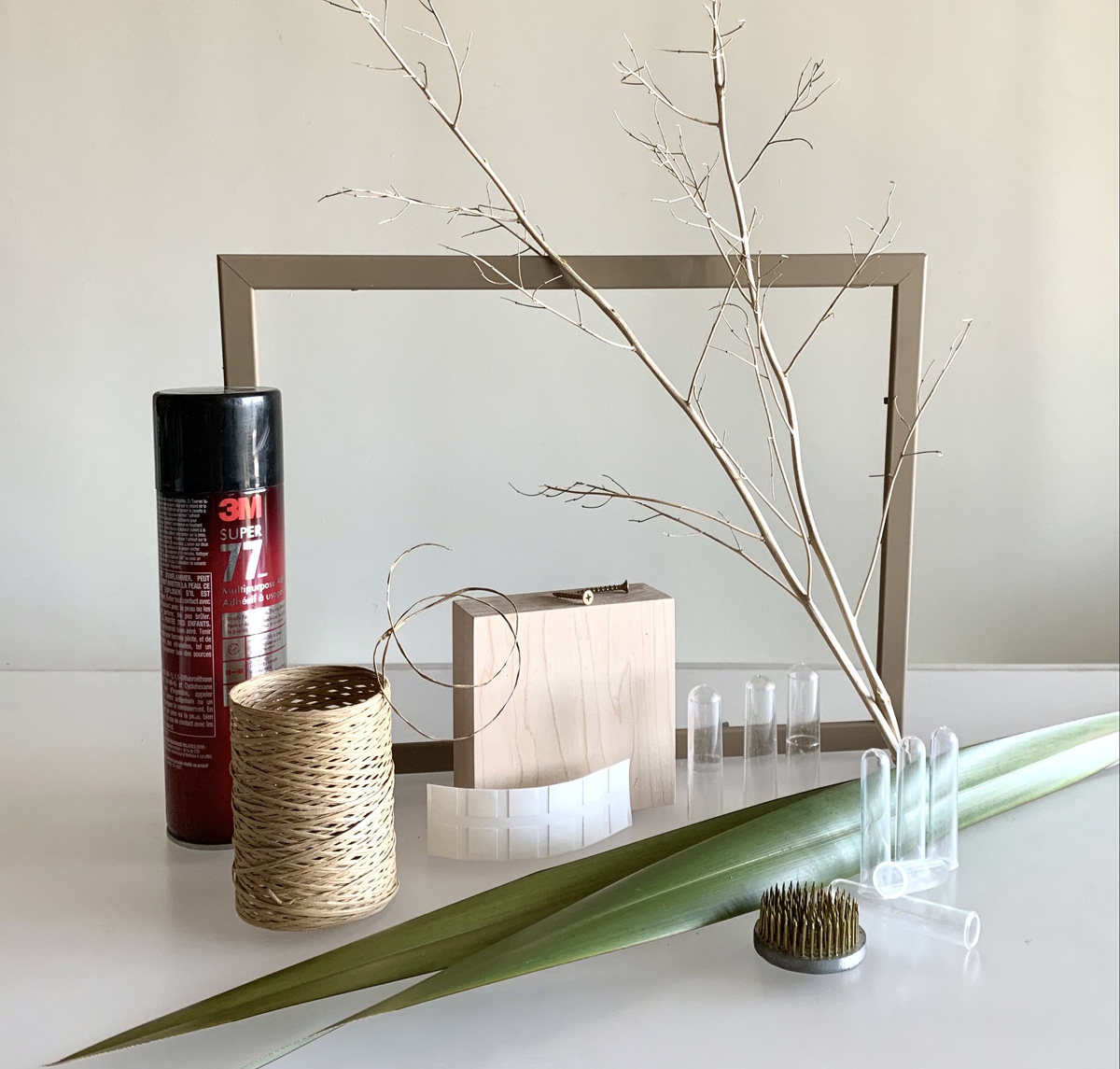 Step 1
Shred New Zealand flax leaves with a kenzan (pin frog).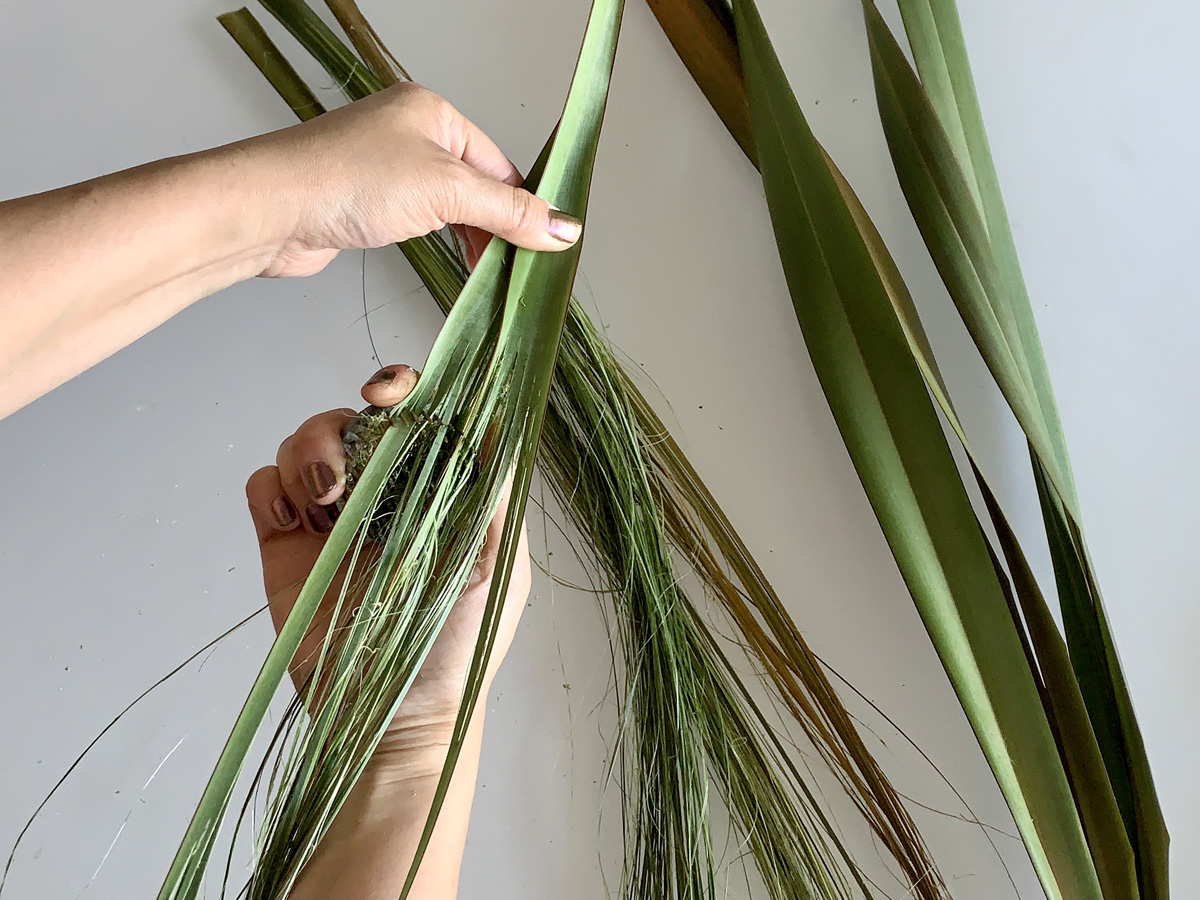 Step 2
Spray adhesive to the backsides of the shredded flax leaves, as well as to the wood picture frame. Allow a few minutes for the adhesive to get tacky.
Step 3
Wrap the frame with the shredded flax leaves until the frame is fully covered. Apply adhesive dashes to the frame, if and where needed, for additional security.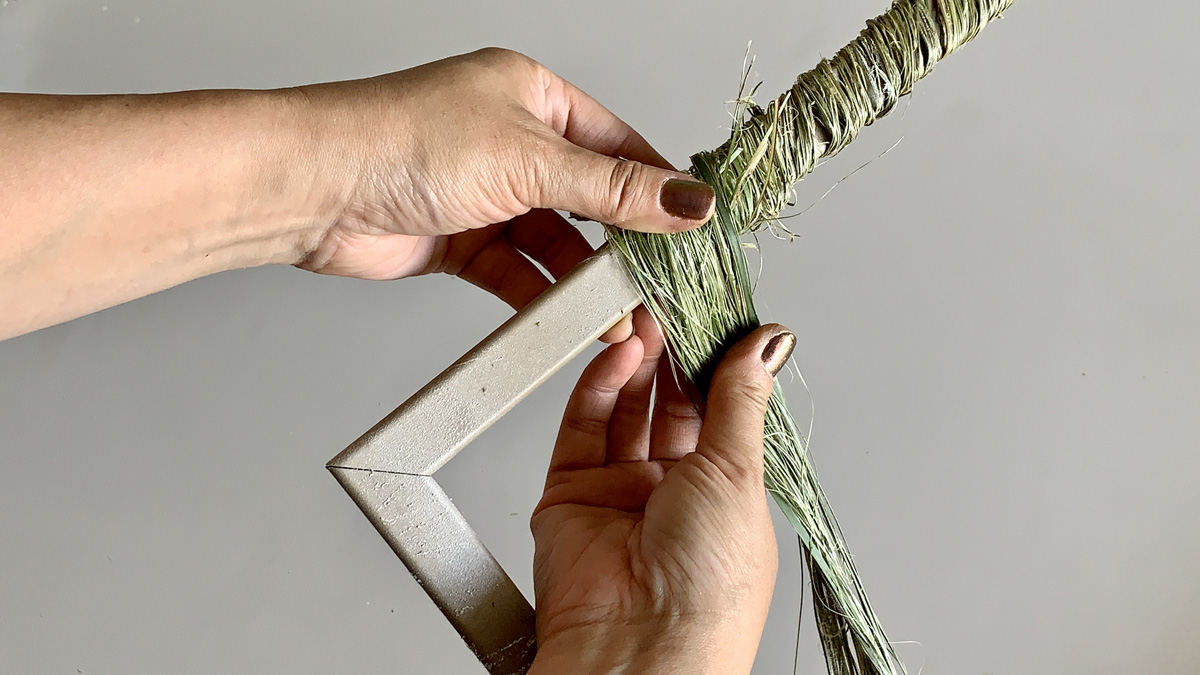 Step 4
Attach the flax-covered frame to one edge of a wood block with two wood screws.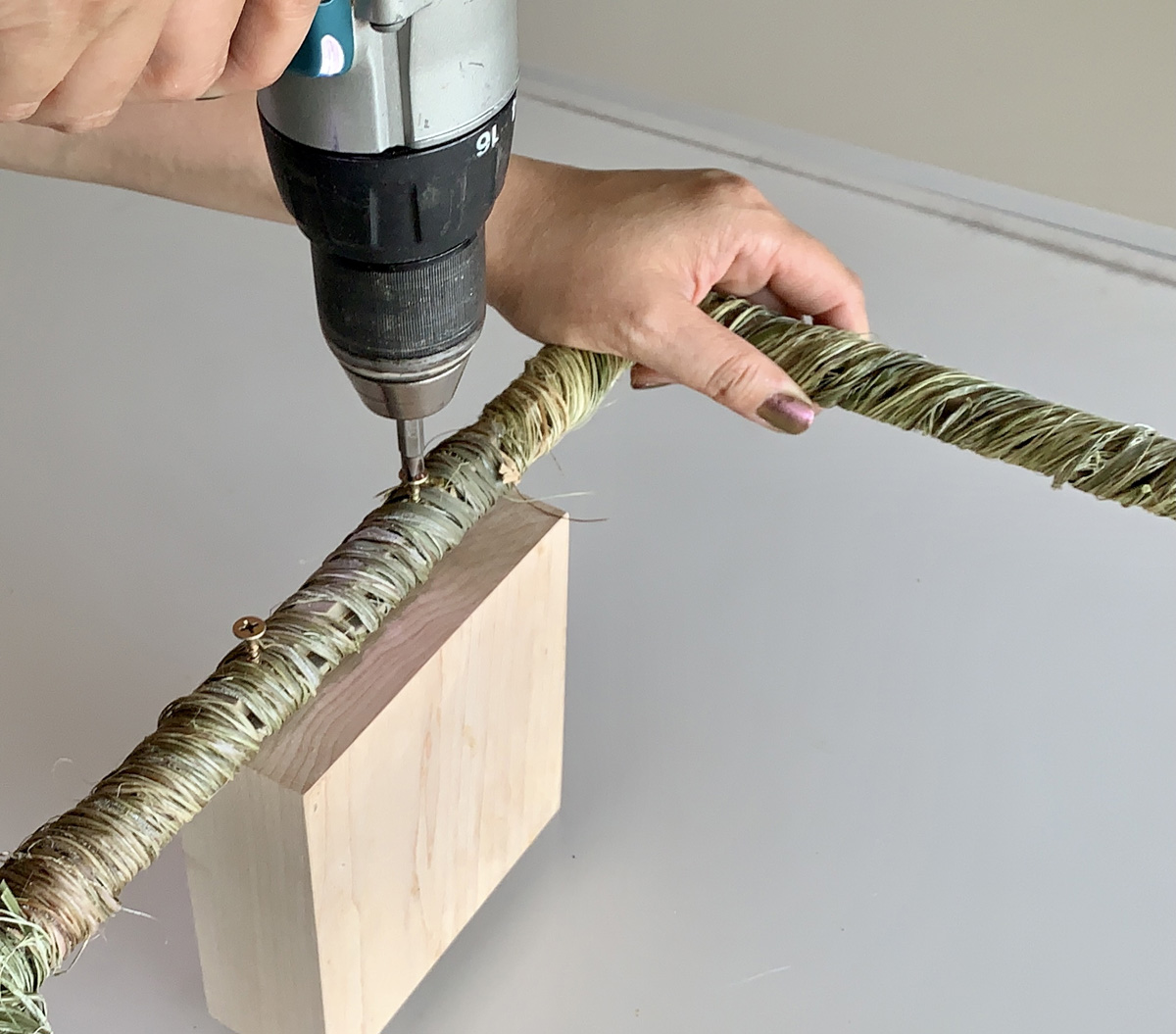 Step 5
Attach dried branches to the frame, in multiple directions, wiring them to the frame with paper-covered wire. 
Step 6 
Cover water tubes with shredded flax leaves, adhering the ends of the flax leaves to the water tubes with adhesive dashes.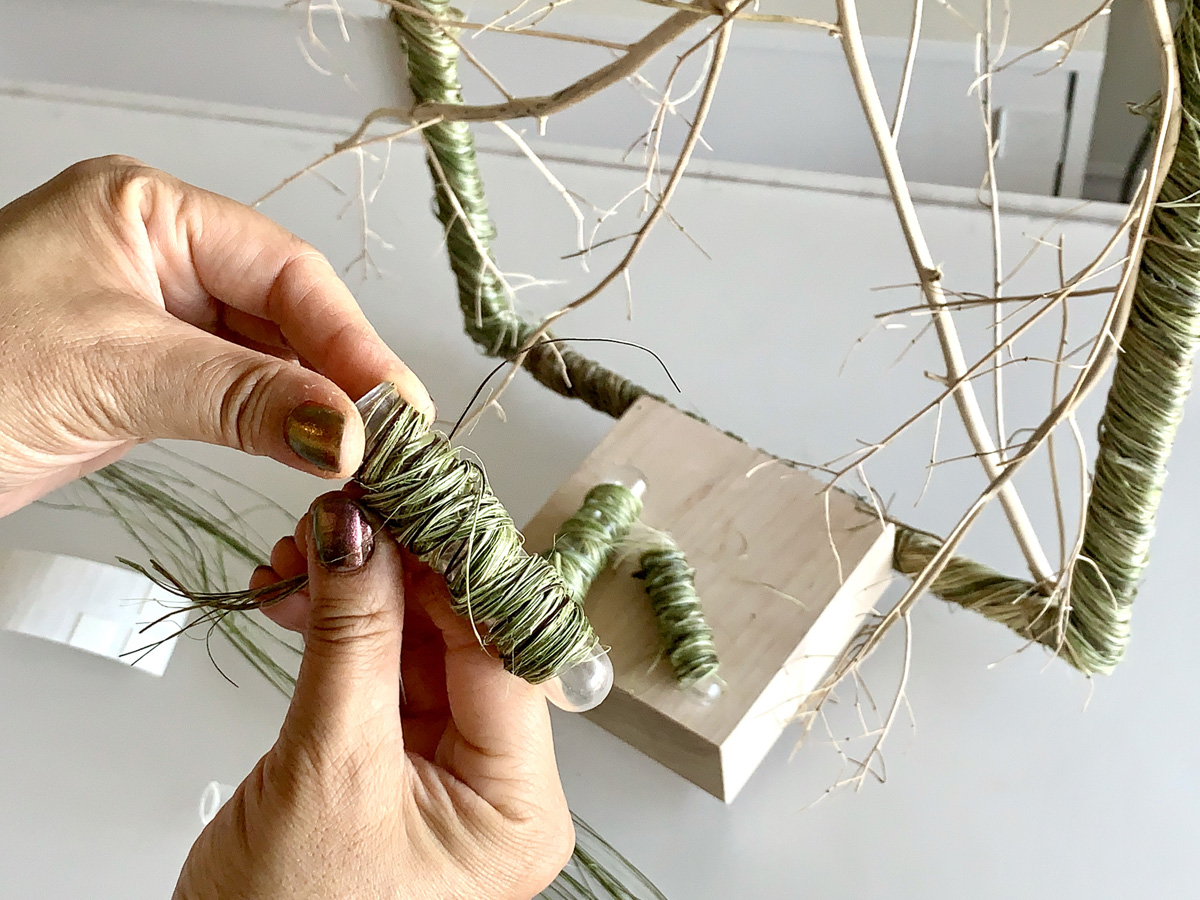 Step 7 
Wire the flax-covered water tubes to the structure in places you wish to add flowers and foliage.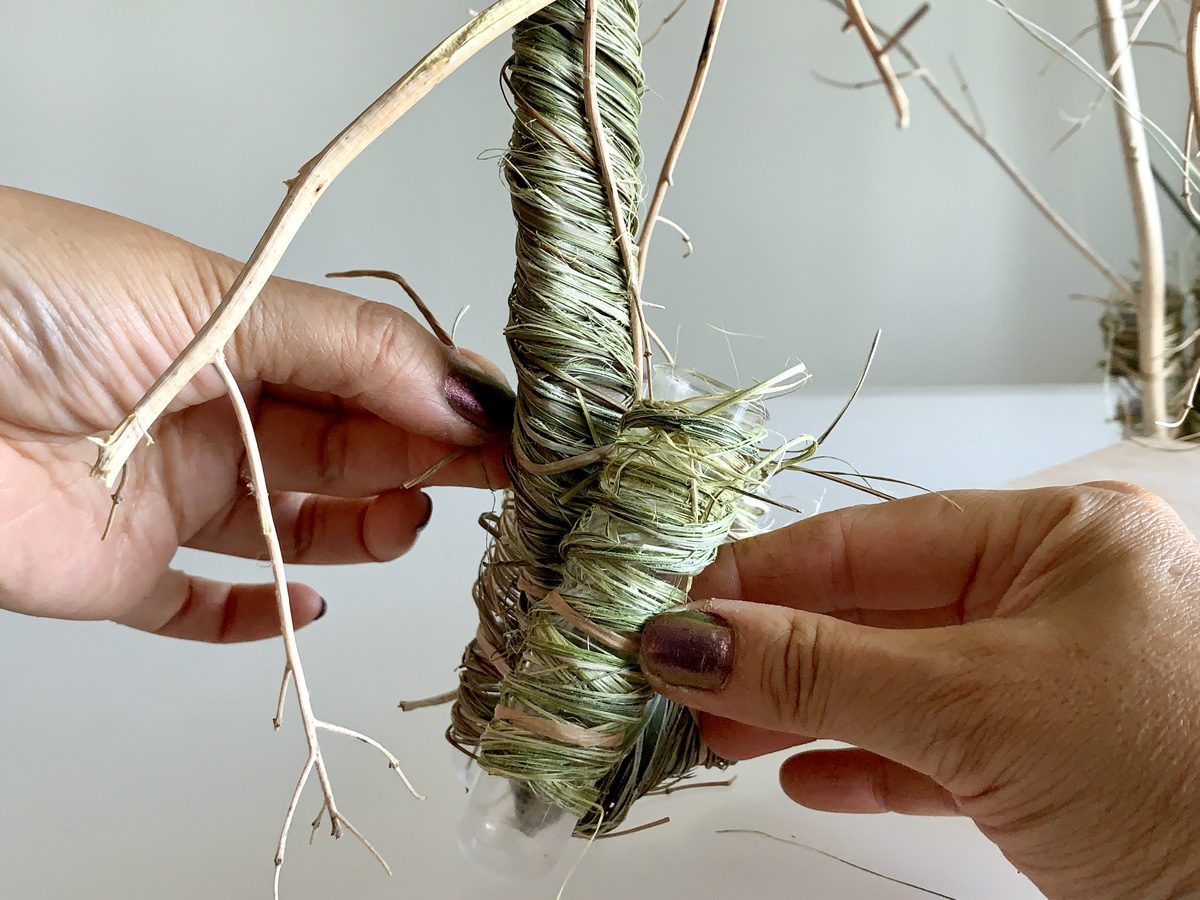 Step 8
Fill the water tubes with flower nutrient solution, and arrange flowers and foliage into the water tubes, to frame the cremation urn.