Floral designers create Korean floral arrangements at 24:01 Florist, which bring a modern look to an event or space.
Full Article Below Source
Korean flower arrangements make for modern whimsy
Flowers give life and vibrancy to any space; from roses to tulips, they delight the senses and bring joy to those who lay eyes on bouquets of perfect petals and designs. An excellent floral arrangement can also make a good event great.
The use of flowers for decoration dates back to approximately 2686 BCE, according to Encyclopedia Britannica, with depictions of flowers in vases. More than 2,000 years later, in about 305 BCE, floral garlands and wreaths were popular in ancient Greece.
The intrigue of floral decoration and arrangements is timeless, and it continues changing.
At 24:01 Florist, located at 155 Main St. in Los Altos, floral designers create Korean floral arrangements that bring a more modern look to an event or space than traditional American bouquets, according to Jason Li, co-founder of the flower shop.
Katherine Xu, a floral designer at 24:01 who studied Korean flower arranging in Korea, said Korean arrangements tend to have more curves than American arrangements. Liner flowers, like curly willow, are often included in the designs.
Korean bouquets are also made with an emphasis on wrapping paper, she said. Varying patterns and textures are used to complement one another and bring the entire arrangement together.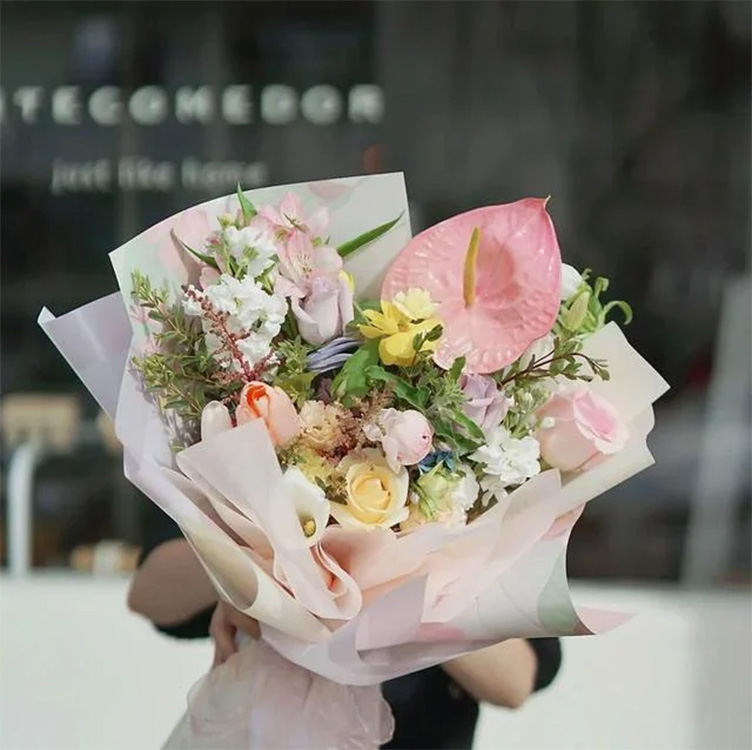 "In the United States, it's not very common as in Korea or China, where it's a very common style," she said.
Many local residents are embracing the international design style, Li noted, and are requesting floral arrangements for a variety of events.
"They're wanting more of a table arrangement, we call them centerpieces, and they're usually arranged in specific containers," he said.
June through September is the shop's busiest time for weddings, Li added. Couples usually ask the shop for large aisle arrangements and, in many cases, floral arches.
When working with engaged couples, Xu said, understanding the couple's vision for their wedding is the first step.
"It might be a European castle style, a modern style, a forest style or something like that," Li translated for Xu from Mandarin. "They are pretty much different from each other, so that's the most important. After knowing the size of the wedding, we also, from the communication with them, we need to know their preference of color style, if there's flowers they wanted to avoid, or if they preferred (certain) flowers."
Do it yourself
While 24:01 Florist provides arrangements, Xu said one of the major aspects of the business is workshops where florists teach local residents how to create their own Korean bouquets and flower designs.
When the business first opened, 24:01 would deliver the flowers needed to workshop attendees' houses, and florists led the workshops virtually. Now, the workshops are held in person, but not many people know the shop holds them.
While 24:01 routinely provides customers with floral arrangements, giving people the tools to create their own beautiful designs is a priority and passion for Xu.
"We want to make everyone who's interested in making flower arrangements, or just the flower lovers and those who want to have some flowers at home, (be able to) make very beautiful floral arrangements by themselves," Xu said. "And they can also share the flower arrangement with their relatives, with their friends, with everyone. We want everyone to enjoy the flowers and the flower arrangements."
Anyone, from beginners to advanced floral arrangers, can enroll in a workshop.
To sign up for a 24:01 floral arranging workshop and for more information on the shop, visit 2401florist.com/book-online.
Christina is a reporter for the Los Altos Town Crier.