Tips, hacks, advice, trends and more for making this prom season your most efficient and profitable ever.
By Nita Robertson, AIFD, CFD
Proms are important for florists for a couple of reasons. First, promoted well, they can generate hundreds or even thousands of dollars in revenue. Second, and perhaps more important, proms offer an opportunity to reach and showcase your artistic talent to young new customers who—provided that they have a great and fun experience with your shop—could be turned into regular flower buyers for a lifetime. Make certain that you make the most of this opportunity to train the next generation of customers in the simple joy of giving and buying flowers. Doing so, however, will take some planning and work.
Prom season can require a lot of skilled and labor-intensive design work in a short period of time, so organization, efficiency and speed are critically important. To maximize your sales and profits, you will want to ensure you are geared up take and fill as many orders as possible. Turning away new, potentially first-time flower buyers (or their mothers!) is not the way to create a positive and enticing experience for them. Therefore, preparing well in advance (like now!) and staying organized and efficient is the key to having a smooth and successful prom season.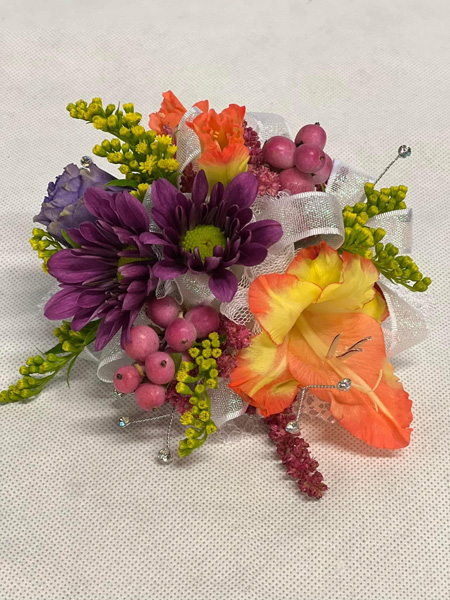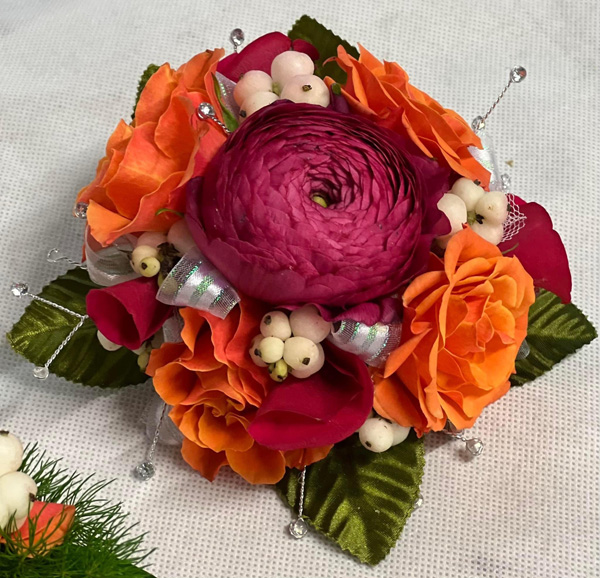 MAKE IT FUN AND EASY TO ORDER
Create a "prom bar" in your shop to create fun and interactive experiences for these Gen Z customers. Display all of your ribbons, bracelets, jewels and gems, decorative wires, lights and other accessories so that each prom-goer can create a unique look that fits his or her unique personalities. Another benefit of a prom bar is that displaying all of your add-on options will, most often, result in larger sales. To stay organized and help you monitor your inventory, bag the selected items as they are ordered and place them with the corresponding order.
In addition to all of your accessory items, be sure to have multiple sample corsages, boutonnières, hairpieces, flower jewelry and other fanciful designs—perhaps made with permanent botanicals—on display in your prom bar. Not only will they show your customers trendy flower and color combinations and your creativity and artistry but also how the various accessories will look in the finished designs.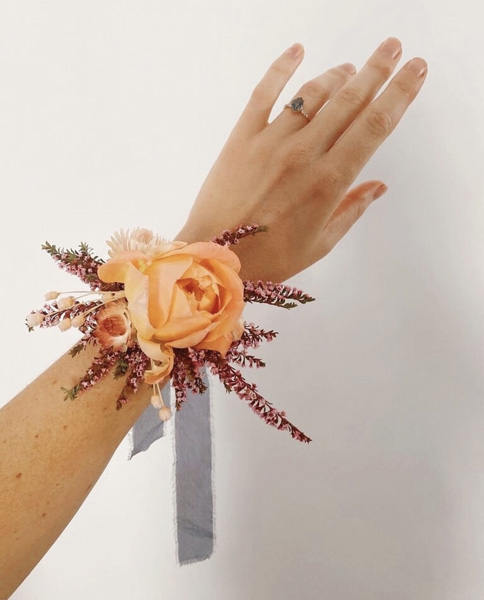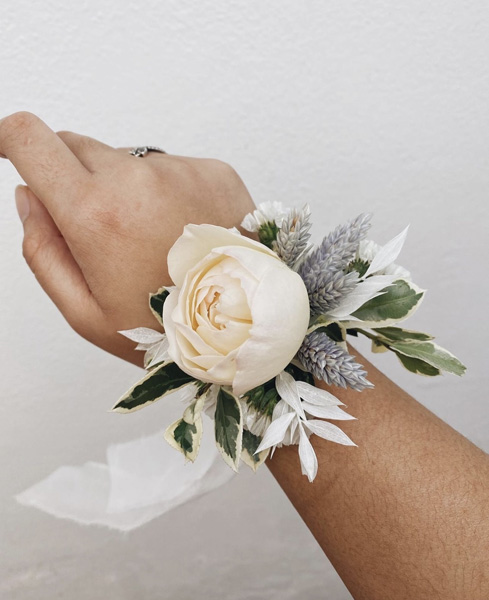 ONE FLORIST'S SYSTEM
In Indianapolis, Ind., Gillespie Florists & Flower Delivery tackles multiple proms every year in a big way—several smaller proms and two larger proms, some of which are on the same weekends. For each of the two larger events, the shop will make as many as 200 corsages and 150 boutonnières. As you can imagine, organization and efficiency is critical in this shop, so they do as much work as possible—make bows, prepare corsage bases, etc.—well in advance of the proms.
Gillespie creates a prom bar for its customers, giving them an opportunity to customize and personalize their corsages and boutonnières. They have bags sitting out for each customer to put his or her selections in—leaves, ribbon samples, rhinestones and more. Once each order is finalized, the "pre-kit" goes to "order control," which makes call tags and sets the pre-kits in a box for the appropriate weekend. Designers then assemble the pre-kits, creating each design with everything except the fresh flowers. This is done as early as possible, often weeks in advance. During the week of a specific prom, designers have only to glue in the flowers and send a photo of the design to the customer via text. Gillespie staffers always try to get the call tags in the photos so that if a customer wants any changes, they can easily reference the order number.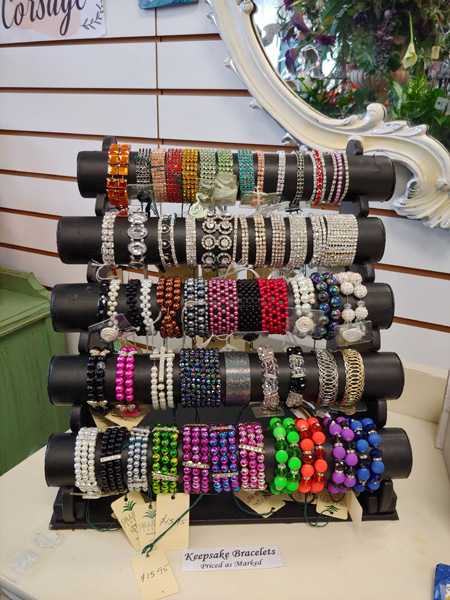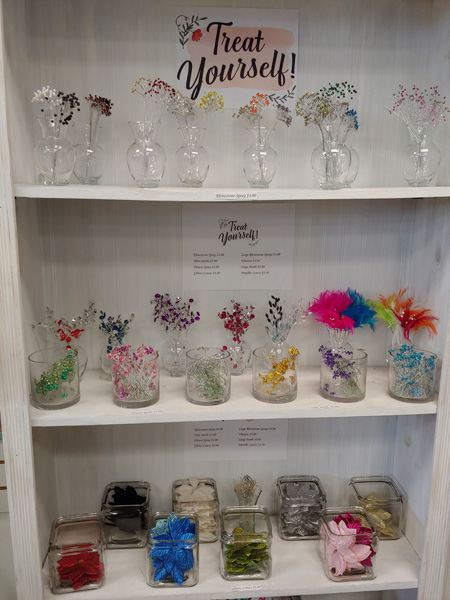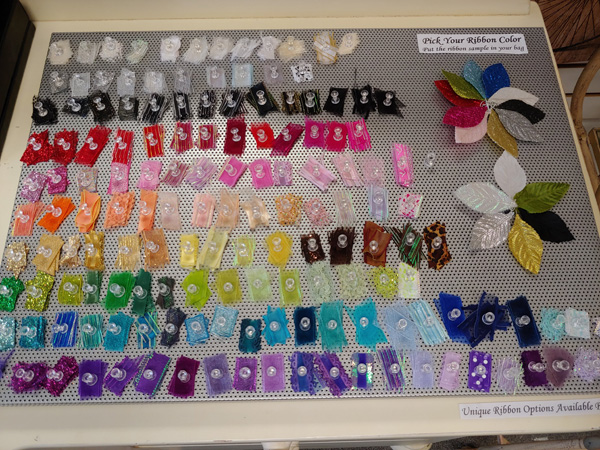 Although the shop has lots of customers who order early, it also has many who wait until the week of the prom—or even the day of. Even for those late orders, staff still follow the same process.
On the day of a prom, Gillespie continues to take orders, and staff regularly make announcements on the wait time. For customers who don't have time to wait, the shop always has plenty of corsages and boutonnières made up that they can "grab and go."
FLOWER AND ASSEMBLY TIPS
Another key to a successful prom season is using only flowers that are intriguing yet lightweight and that will hold up well out of water. Some popular options include miniature Phalaenopsis and Cymbidium orchids, Ranunculus, Delphinium florets, spray mums, Hypericumberries and succulents. Roses and spray roses are still the most popular choices, and when properly conditioned, will also hold up well. Remember that offering too many flower options can overwhelm customers and slow decision making. It can also necessitate buying a larger inventory of flowers. Even with a limited but adequate selection of flowers, if it is well though-out, you can still create artistic and exciting prom designs, with beautiful color palettes and interesting textural combinations.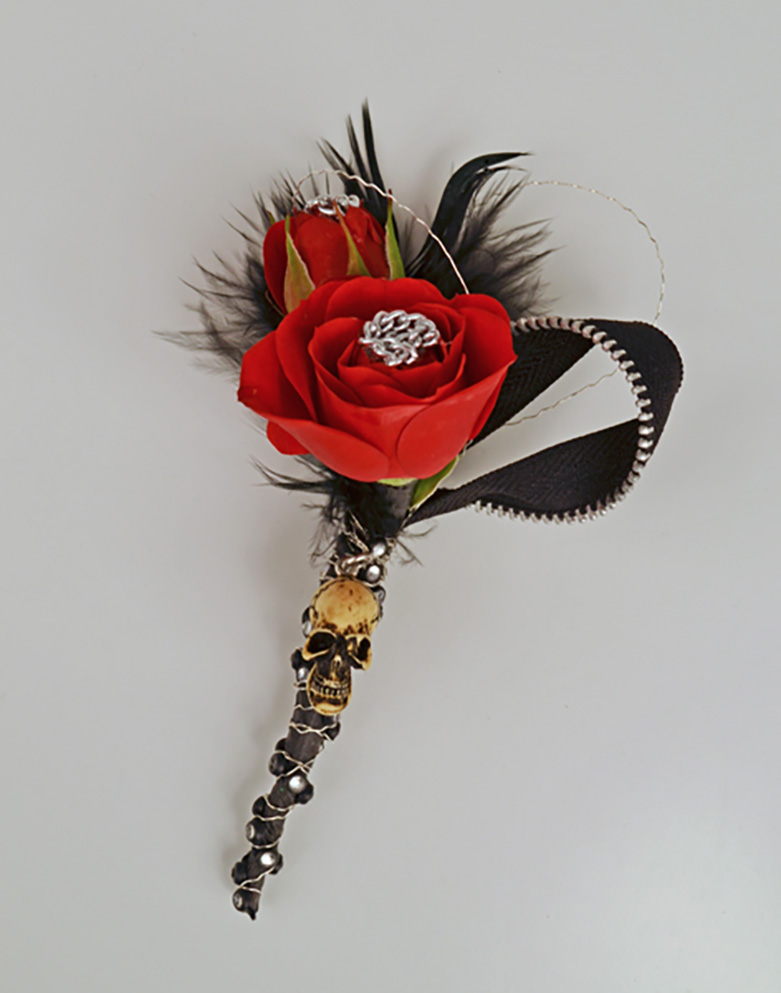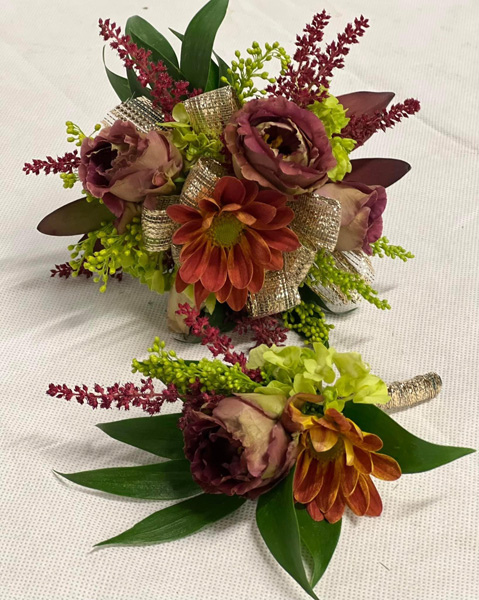 Gluing flowers, foliages and accessories into prom designs with liquid floral adhesive, instead of wiring and taping individual botanicals, will dramatically speed the design process, thereby reducing labor costs. If a basic form is made in advance, it only takes a minute or two to glue the fresh botanicals in place.
For maximum efficiency, assemble several corsages at a time. Slide several bracelets/wristlets onto a length of PVC pipe, and glue the fresh botanicals into the ready-made bases with liquid floral adhesive. Also, consider grouping orders that require flowers of the same types and colors. Make sure that the liquid adhesive is completely dry before packaging the designs and placing them into a floral cooler. Organize orders in the cooler alphabetically, by order number or by assigned pickup times.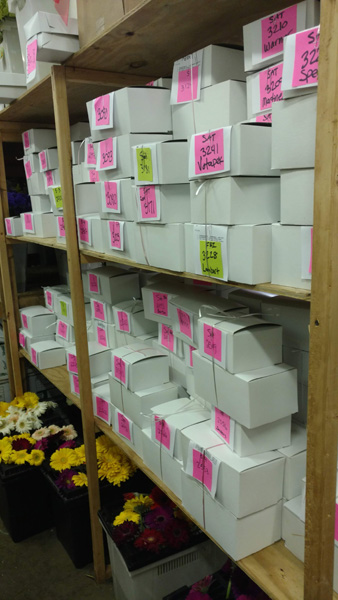 THE PROM KING
Daniel Fisher, owner of Fitz Design in Port Charlotte, Fla., a leading supplier in the prom accessories industry, thinks 2023 will be a big year for proms, and he expressed the importance of being familiar with the latest prom dress trends. "It is extremely important for florists to know what dress styles and colors are trending so that they can have the appropriate accessories to create coordinating designs," he says.
Fisher shares that the best-selling Fitz Design corsage bracelets are the "Avery" and "Classic" in the beaded bracelet category, the "Riley" and "Mayleigh" in the cuff category, and "Sophisticated Lady" and "Rock Candy" in the rhinestone category. It is heartwarming to know that Avery, Riley and Mayleigh are named after Fisher's granddaughters.
"Fitz Delightzz" are another great option for those who are looking to speed design time, increase efficiency and reduce labor. These bracelets come prepped with bows and are offered with or without rhinestones sprays. All that is required is to glue in fresh botanicals and whatever other accessories a customer might want. Fitz Delightzz offer a solution for shops dealing with labor shortages and enable them to take last-minute orders.

UPSELL BY OFFERING FLOWER JEWELRY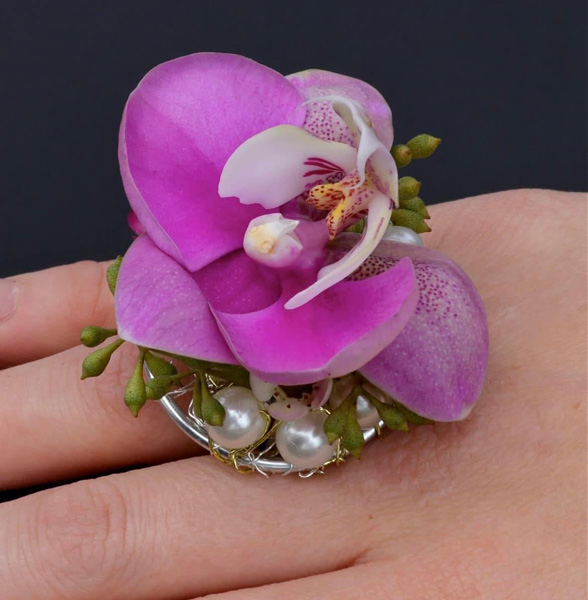 Flower jewelry is becoming increasingly popular for proms and other formal events. Necklaces, bracelets, rings and anklets are becoming common requests. Promote this trend by showcasing these types of designs in your prom bar and on your website and social media. It's important to show consumers what is possible because most of them probably don't know these types of wearable flower designs even exist. For your more adventurous customers, suggest options such as matching floral necklace or earrings in addition to—or even instead of—traditional corsages.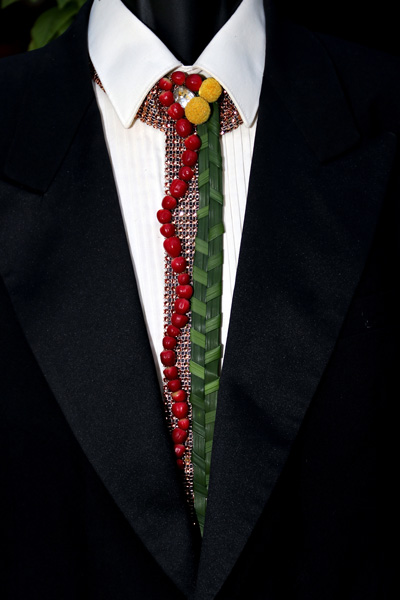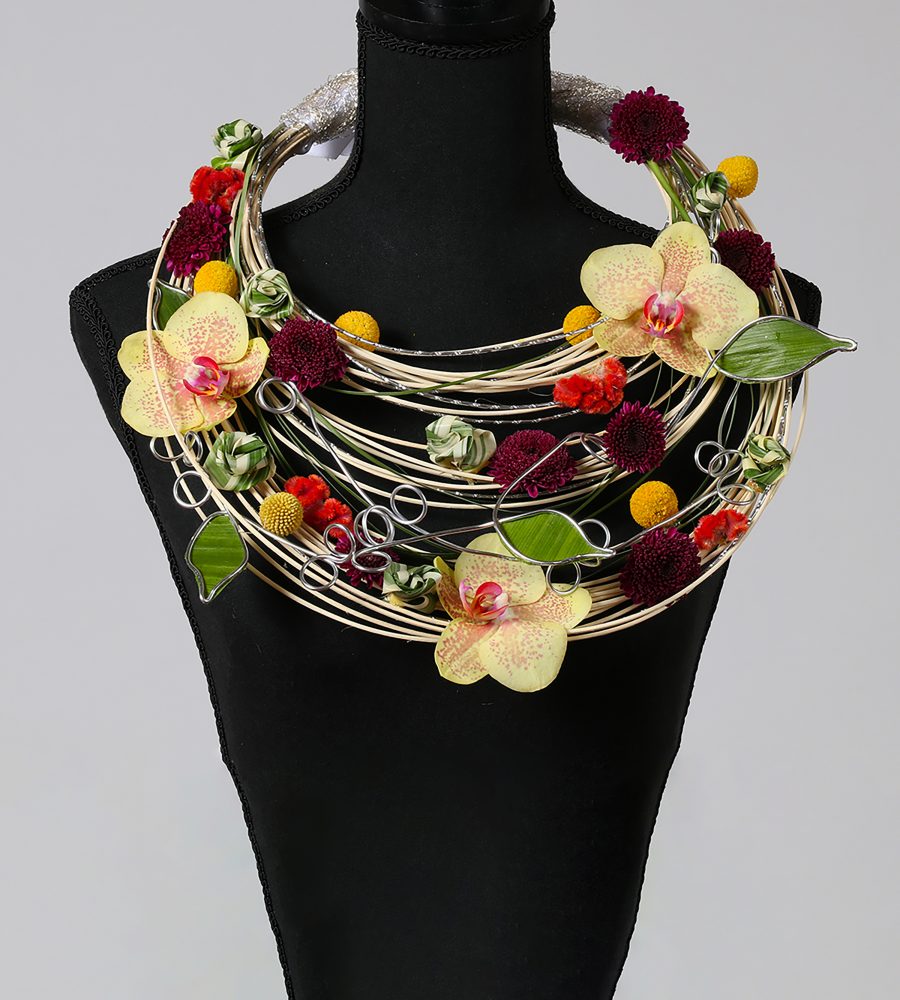 2023 PROM TRENDS
The Pantone Color Institute selected "Viva Magenta" as its "2023 Color of the Year." A red with subtle notes of purple, Viva Magenta flawlessly complements a variety of color palettes, so show your customers that you are on top of the latest trends by offering flowers, ribbons, bracelets and other accessories in this hot hue—or that pair beautifully with it.
As Daniel Fisher suggests, looking at the latest prom dress trends can tell you a lot about what your customers will be wearing. Study the hottest looks, and create prom flower design styles in colors and with accessories that will coordinate with and complement the latest trends.
According to Amarra, a fashion design house that specializes in formal evening wear specifically for proms, homecomings and graduations, among the top trending dress styles and accessories are boho-chic, corsets, feathers and sequins. With this in mind, stock some feather accents and plenty of bling this prom season.
Amarra further reports that colors for 2023 prom dresses will be bright and bold—neon pink, yellow, orange, fuchsia and lime will be everywhere. Other popular brights are Barbie pink and peacock (a vivid teal), and trending pastels include light blue, periwinkle and lilac. There's also a growing interest in newer colors such as wine, slate blue and gold, Amarra notes.
PROM HISTORY AND TRADITION
The word "corsage" comes from the French term bouquet de corsage, meaning a bouquet of flowers worn by ladies on the upper part of their bodies. "Boutonnière" is another French word that translates to little buttonhole, referring to the placement of a single flower on the lapel of a suit jacket.
The tradition of the prom corsage comes from a 20th-century practice of men bringing their dates' parents bouquets of flowers. From those bouquets, the men would select a single bloom to pin to their dates' dresses.
Traditional corsage etiquette has the flowers pinned onto the upper left side or shoulder of a lady's dress, with the flowers facing upward, in the manner they grow. Modern etiquette allows the flowers to be worn on the wrist, in the hair, at the waist of a dress, on a handbag and on a hat. Traditional boutonnière etiquette states that flowers for men should always be worn on the left lapel, pinned to the button hole, with the flowers facing upward.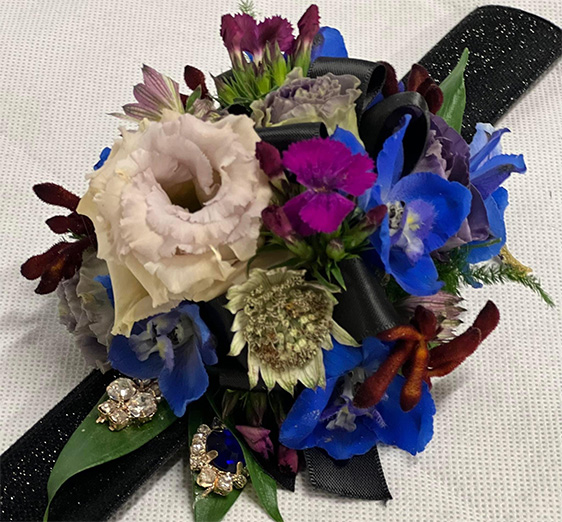 Tips to Help You Navigate the Prom Rush
• Order the most popular flowers well in advance.
• Order all of your prom accessories (ribbons, bracelets, rhinestones, glue, etc.) well in advance.
• Make bows and prep corsage bases ahead of time.
• Create your own unique collection of designs, and showcase them on your website and social media platforms.
• Team up with your local high schools to promote your business and prom offerings to students.
• Partner with other local businesses, such as restaurants, to offer prom packages.
• Develop a social media campaign to help drive sales.
• Require payment in advance.
• Give each customer a receipt with an assigned time for the day of pickup. Make pickup times early enough for corrections.
• Ask each customer for his or her mobile number. Then, call or text anyone who misses his or her assigned pickup time.