"The "city by the bay" has a style all its own, and style launches trends."
Most people who have spent any time in San Francisco talk about how much they love the city. Small wonder; it's a totally awesome place. San Francisco's natural beauty, creative vibe and legendary social movements are an important part of what makes the city unique. This cool coastal city has a relatively small population (slightly more than 850,000), but it's always had a big presence in influencing trends throughout the U.S.
Be sure to wear some flowers in your hair.
Lifestyle trends also have played a significant role in what makes the San Francisco Bay Area special. Inhabitants have access to incredible natural landscapes, from the Pacific Ocean to the microclimates of the Central Valley to the grand Sierra Nevada mountains. There are not many places in the world where you can stroll on the beach drinking a cappuccino in the morning and then drive to Tahoe to snowboard or sip Chardonnay in the wine country in the afternoon. The appreciation of the natural beauty around San Francisco and the inspiration it offers people has always been a large influence on creativity in every part of the design world, including fashion, technology and, yes, flowers. San Francisco has forever been on the cutting edge of what is new and fresh. The city's history, energy, environment and creativity have given the city a style all its own – and style launches trends. The flower and plant business in the Bay Area continues to trend and shows no sign of slowing down. The city has been the launchpad for forward-thinking floral influencers like Farmgirl Flowers, Roseshire and Studio Choo Florists. It's the perfect story of nature meets technology.
There's a whole new generation with a new explanation …
The city by the bay has always been a hub for innovative floral design. Mt. Eden Floral Co. has been a part of the San Francisco Bay area for more than 100 years. With locations in the San Francisco Flower Mart and in San Jose, the company's long history and deep connection with its customers inspires its continual evolution. The Shibata family has witnessed and withstood many changes in the floral industry over the years, and their willingness to embrace those changes is what business in San Fran is all about. The fourth generation of this family has taken root, and Alex Shibata is the new generation supply buyer who pays close attention to style and color trends in order to meet the fast-changing needs of his customers. When discussing the changes in San Francisco floral retailers over the last five years, Shibata says. "We're finally seeing more young people getting into the flower industry. We've been seeing millennials starting and running event studios for the last few years, and this year, we're seeing a lot of millennials opening brick-and-mortar flower and plant shops, with a focus on the customer experience and growing their followings on social media."
if you come to san francisco, summertime will be a love-in there …
Diversity also plays a major part in the San Francisco trend culture. The city is a vast melting pot of residents from around the globe, and that has an amazing impact on trends in art, food, technology and more. The customs, cultural flavors, color preferences and celebrations of the city's prominent immigrant populations are opening the door to new trends, especially in events.
Mt. Eden has paid close attention to these cultural shifts and trends. "The things our customers can't get enough of this year are structures and stands for event centerpieces," Shibata reports. "Candelabra and oversized glass vases are out, and metal stands are in [like the Brentmore, Epic, Harlow and Juniper Stands from Accent Décor]. We're also seeing people gravitating toward uniquely colored pottery with interesting textures and moving away from mercury glass."
Florists in San Francisco are always looking for new ways to help clients express their unique diversity and style. Trending ceremony options include open mandaps, ceremony circles and A-frame triangle backdrops, and customers can't get enough of super trendy pampas grass.
In the streets of san francisco …
Thanks to tech startups galore, San Francisco has rapidly grown into a financial behemoth where the median household income is now higher than anywhere else in America. The median monthly rent is already the highest in the country, and it's still increasing at a rate three times the national average.
"Operating in the Bay Area is a blessing and a curse," Shibata notes. "The positive is that there is a lot of money here, and because of that, there is no shortage of demand for flowers. The challenge is the extremely high costs of operations for us and our customers. The formulas that wholesalers and florists around the country typically use don't work in the Bay Area because everything is more expensive. The presence of Google, Facebook and other tech giants in our area have made our rents and wages skyrocket, but they also provide us with a steady stream of wealthy customers to buy flowers."
Big companies + big money = big flowers. And that's awesome for Bay Area florists. The financial challenge of living and working in an expensive urban city is the catalyst for finding new solutions on how to live with flowers. The "small floral" trend has evolved, in part, because of places like San Francisco, where consumers desire quality flowers and plants to fit within limited spaces.
Following the happenings in trendsetting cities like San Francisco is important in predicting what comes next and helps to understand customers' lifestyle choices, what they buy and how they spend their free time. As elements of trends filter into our own backyards, it's nice to be able to share a small amount of something amazing from the land of laptops, lattes and locovores.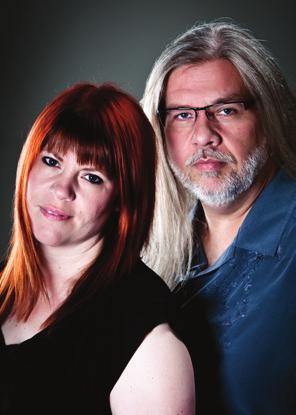 Bill Schaffer, AIFD, AAF, PFCI, and Kristine Kratt, AIFD, PFCI, are the creative directors behind Schaffer Designs, a floral event company. Bill and Kris are diverse contributors in the floral industry, specializing in not only trend translations, education, product development, and showroom and trade-show design but also commissioned floral installations. They're also award-winning authors.
Email bill@schaffer designs.com and/or kris@schafferdesigns.com.