A colorful tablescape for a gathering of women celebrating women.
Floral design, photos, video and text by Paulina Nieliwocki, Blue Jasmine Floral, Berkeley Heights, N.J.
Presented by Sun Valley Floral Farms
Arcata, Calif.

The vibrant rainbow-like hues of the flowers are at the core of this design's inspiration—a refraction and dispersion of color, each a celebration women's many wonderful triumphs and current challenges. Each hue is clustered to enhance its vibrance, reminding us to live colorfully with joy and love and motivating us to strive for greatness and growth.
Using the sustainable mechanic of chicken wire, the stems have support and are in water, which allow for botanicals to experience a long vase life. I established line and the skeleton of the design with foliages before arranging the flowers in color groupings, starting at one end of the arrangement with cool hues, transitioning through the center and finishing on the opposite end with warm hues.
STEP BY STEP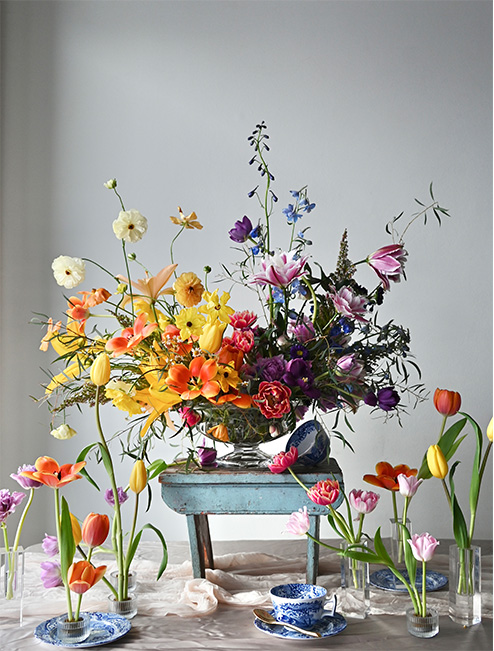 Step 1
Create a ball of chicken wire, place it into the compote and secure it in place with clear florist tape. Fill the compote with properly proportioned flower nutrient solution.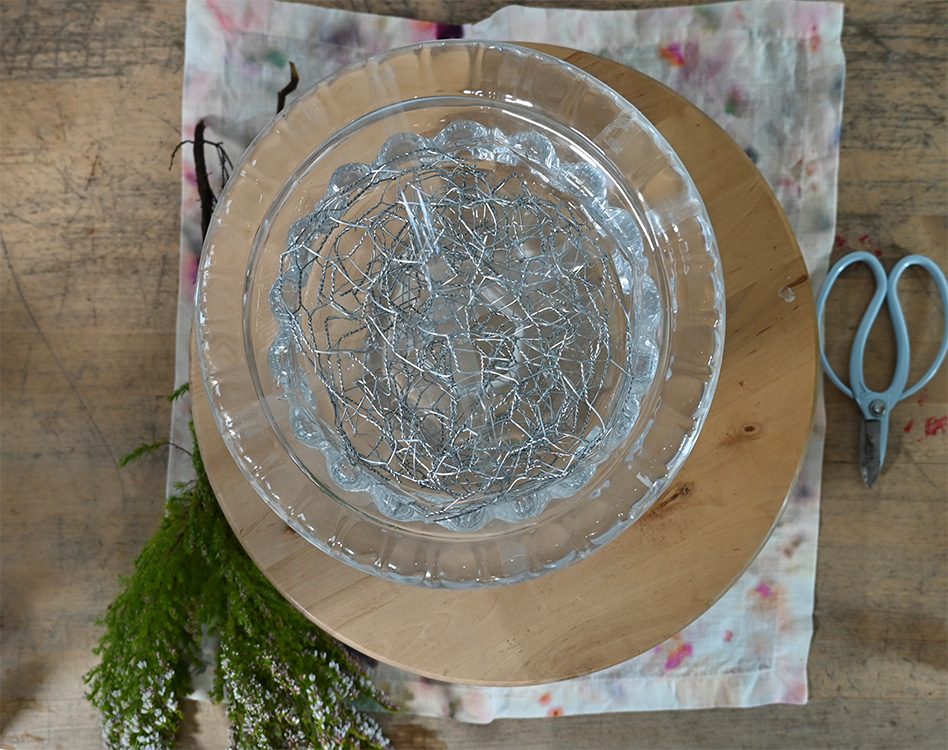 Step 2
Arrange stems of heather, willow Eucalyptus and fern fronds in a modified crescent formation, as shown (higher on the right, lower on the left).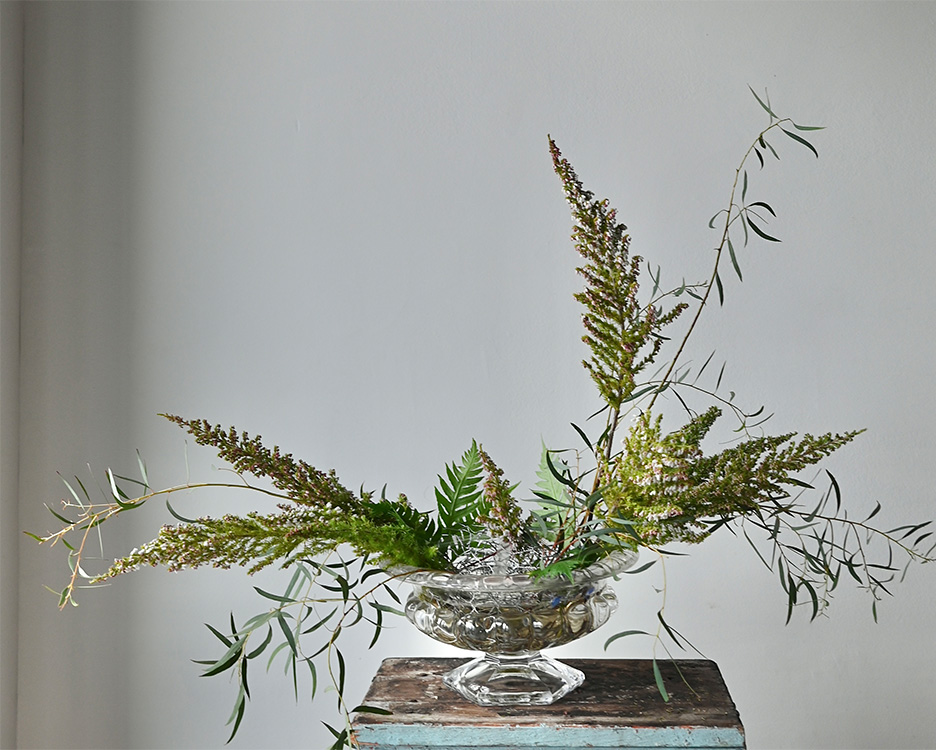 Step 3
Arrange the cool-hued blooms together on the right side of the design—Delphinium, purple single and double-flowered tulips, and purple 'Matsumoto' asters—concentrating the colors for greater impact.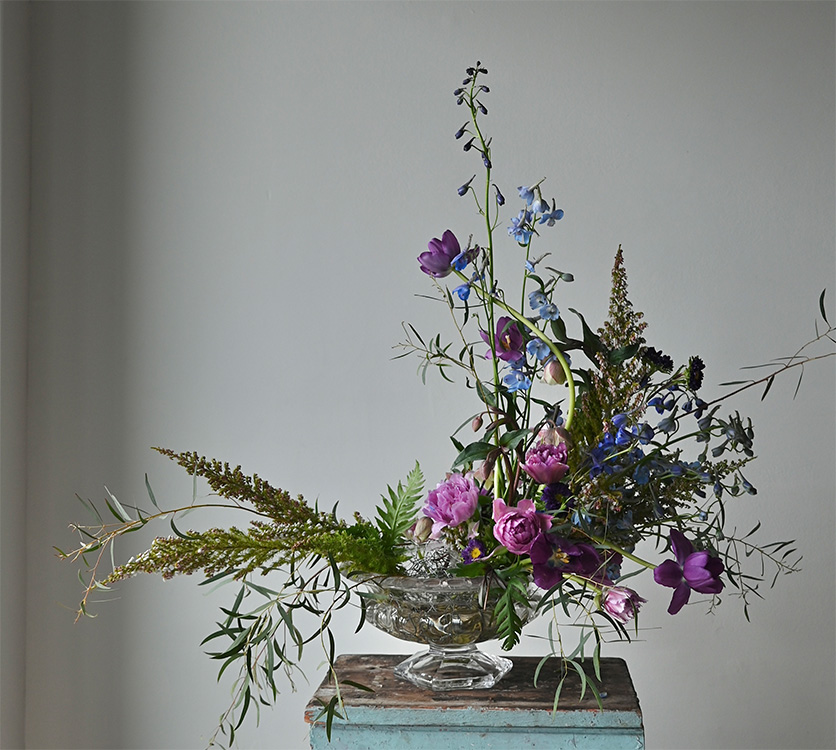 Step 4
Start the transition from the cool hues to warm hues in the center of the design by arranging 'Winterbells' hellebores, pink Roselilies, pink 'Matsumoto' asters, and tulips in pinks, peaches, apricots and corals. Concentrating the darker pinks in the center, and then layer in some paler pinks. Also, add a couple of these flowers into the cool-hued section to blend and smooth the transition.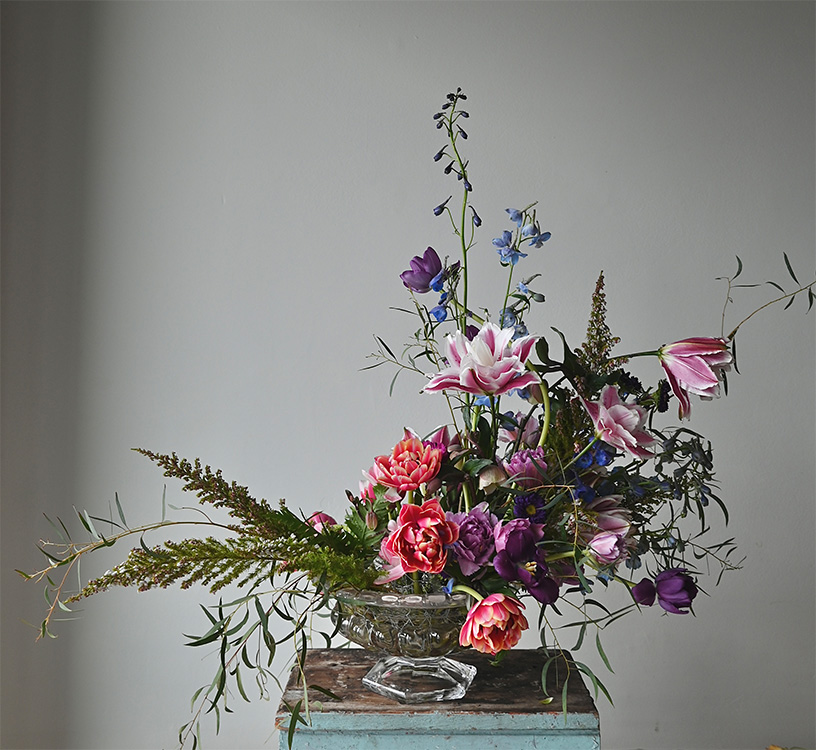 Step 5
Continue the transition to warm hues on the left side of the design by arranging peach, apricot, coral and orange tulips, lilies and butterfly Ranunculus.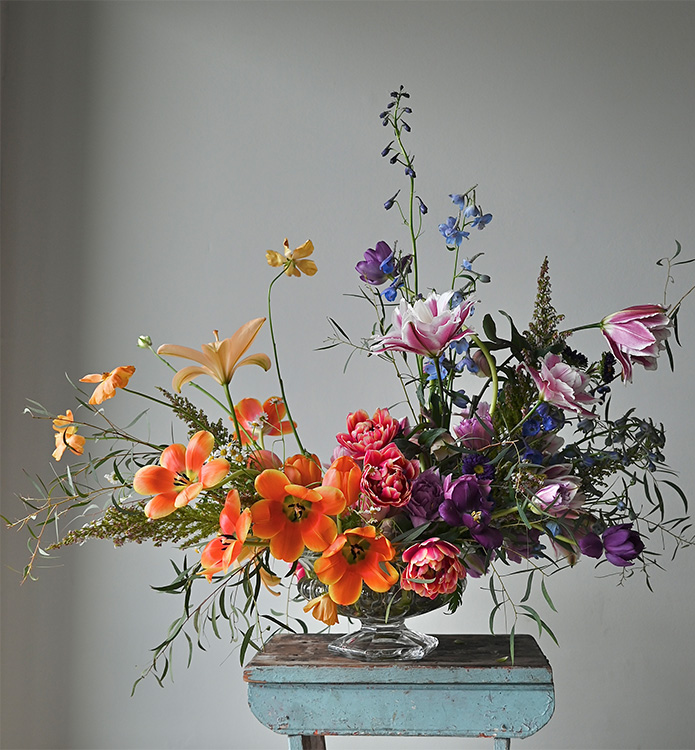 Step 6
Complete the design and the color story by arranging tulips, lilies and butterfly Ranunculus in vibrant and pale yellows, soft creams and even hints of white, with chamomile daisies. The transition on this end of the design should end on a light note. Finish by arranging additional sprigs of willow Eucalyptus.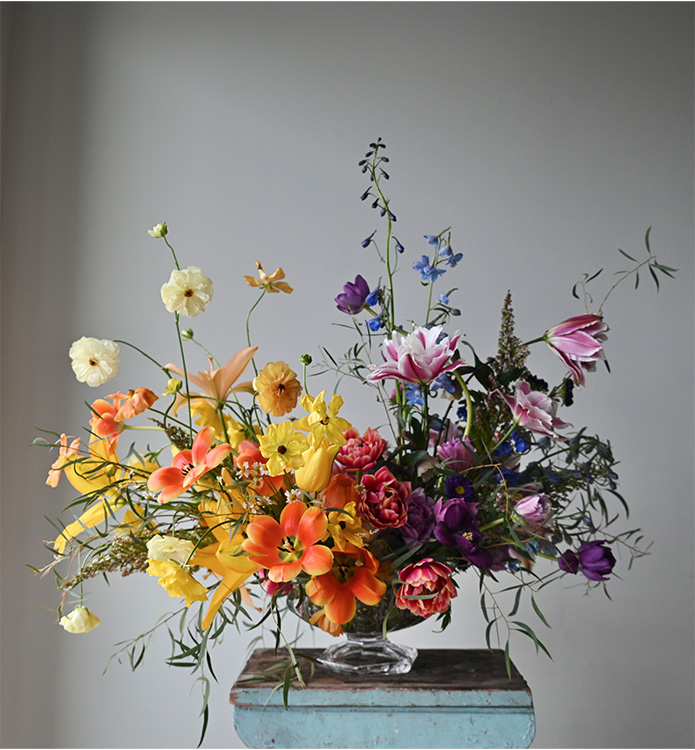 Step 7
Complete the tablescape with several small arrangements in bud vases and tealight holders with kenzans. Place the small arrangements of cool-hued flowers at the warm-toned end of the main design and vice versa.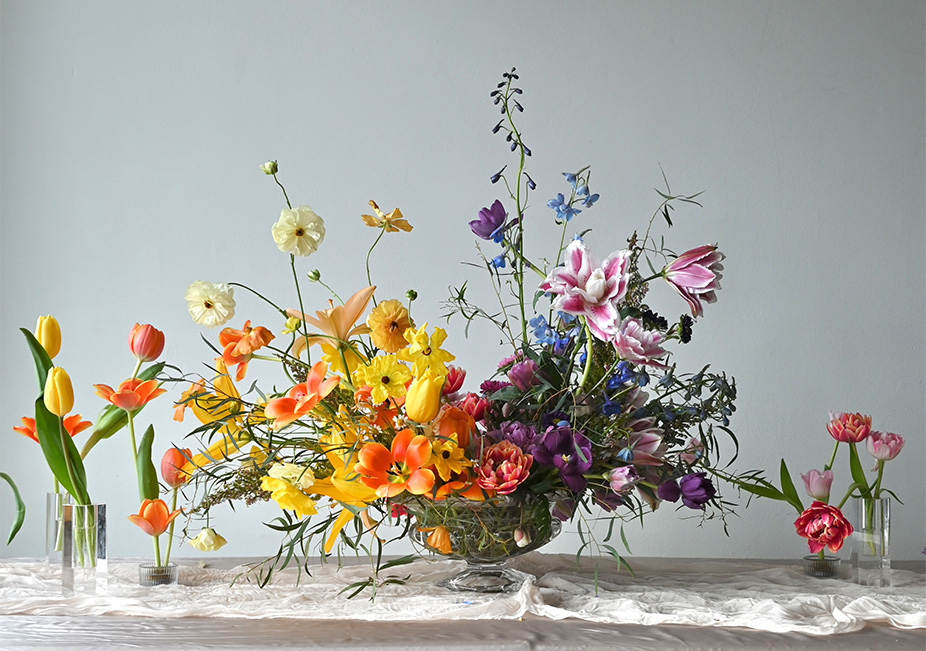 MATERIALS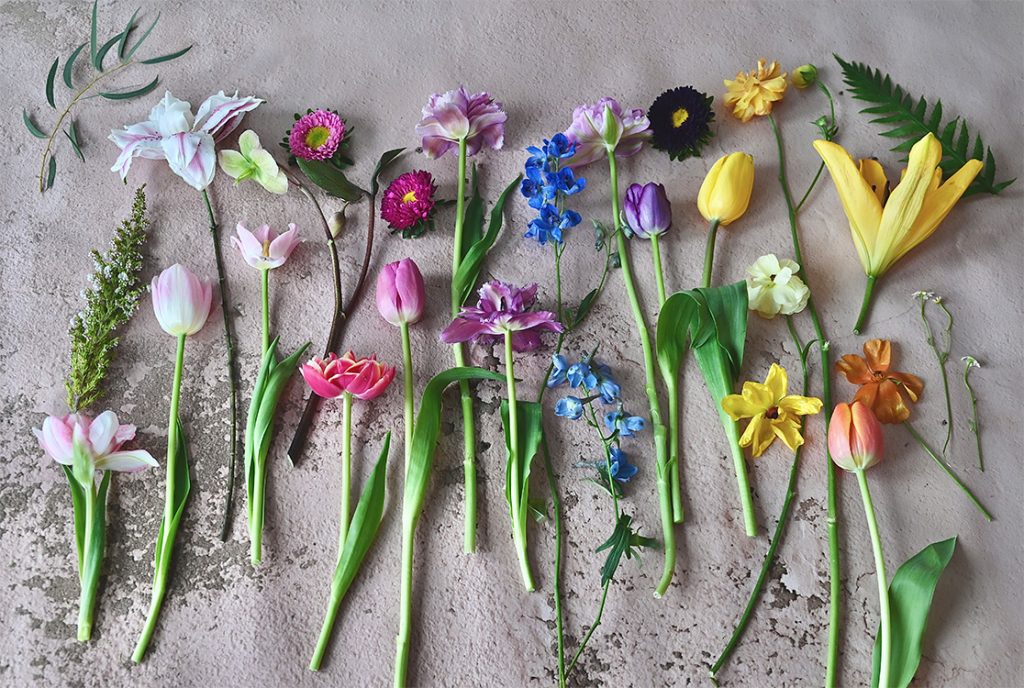 BOTANICALS provided by Sun Valley Farms
Tulipa spp. (tulip)
Tulipa spp. (early and late double-flowered tulips)
Lilium spp. (LA hybrid lily)
Lilium spp. (Roselily, double-flowered Oriental lily)
Delphinium × Belladonna (larkspur)
Callistephus chinensis 'Matsumoto' series (China aster, 'Matsumoto' aster)
Ranunculus spp. Butterfly™ series (butterfly buttercup, butterfly crowfoot, butterfly Ranunculus)
Helleborus × sahinii 'Winterbells' (hellebore, winter rose)
Matricaria chamomilla/M. recutita (chamomile daisy, chamomile)
Calluna vulgaris (heather, Scotch heather, ling)
Eucalyptus nicholii (willow peppermint, narrow-leaved black peppermint)
Nephrolepis spp. (fern)
HARD GOODS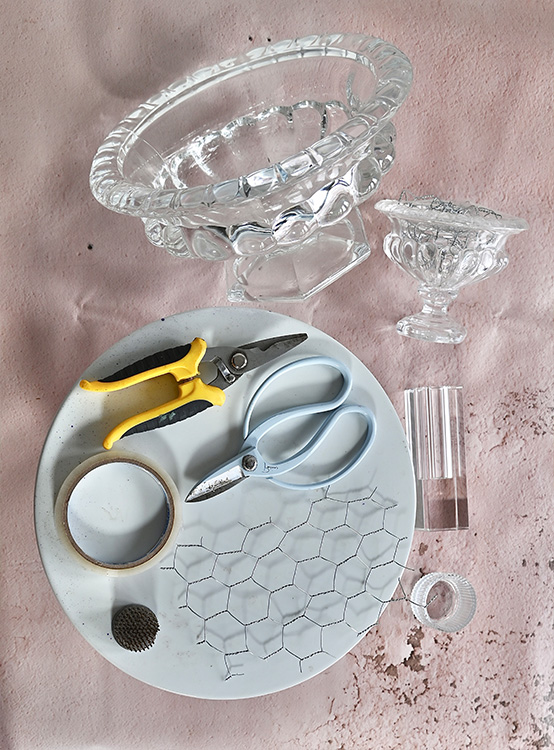 Abelia Compote – "Holly Heider Chapple exclusively for Syndicate Collection" from Syndicate Sales
Square Glass Crystal Bud Vases from Jamali Garden
Finsmak Tealight Holders from Ikea
OASIS® Clear Tape
OASIS™ Florist Netting (chicken Wire)
Kenzan (pin frog), 1 inch, round