Longwood Gardens' world-famous Chrysanthemum Festival includes a Thousand Bloom Chrysanthemum this year. Amazing display of 1366 flowers on a single plant stretching more than 12 feet in diameter.
Full Article Below: Source Flowerpowerdaily
1366 Flowers on Single Chrysanthemum! At Longwood Gardens
By Jill Brooke
Longwood Gardens' world-famous Chrysanthemum Festival includes a Thousand Bloom Chrysanthemum this year, after two misfires.
Well, actually it is now 1366 flowers on a single plant stretching more than 12 feet in diameter.
Proving that hard work and pivots pay off, this star flower "has been painstakingly grown by dedicated horticulturists for the past 18 months."
It also is the widest Thousand Bloom they have ever grown at Longwood.
"This year's Thousand Bloom of Chrysanthemum × morifolium 'Susono-no-Hikari' is a culminating example of the unchanging beauty and art of people and plants working together," says Kate Santos, Ph.D., who works with the Pennsylvania-based organization.
Of course, there are other gorgeous chrysanthemums to see.
As Santos explains, growing the Thousand Bloom Chrysanthemum, known in Japan as Ozukuri, is a difficult and precarious process and technique that originated in China and expanded to Japan several hundred years ago. The goal of the technique is to grow an extremely large chrysanthemum and produce the maximum number of flowers possible on a single plant.
In preparation for each Chrysanthemum Festival, their expert horticulturists grow and nurture Thousand Bloom throughout a horticulturally intense, 18-month-long process of growing, pinching, and tying of the chrysanthemum to its customized frame.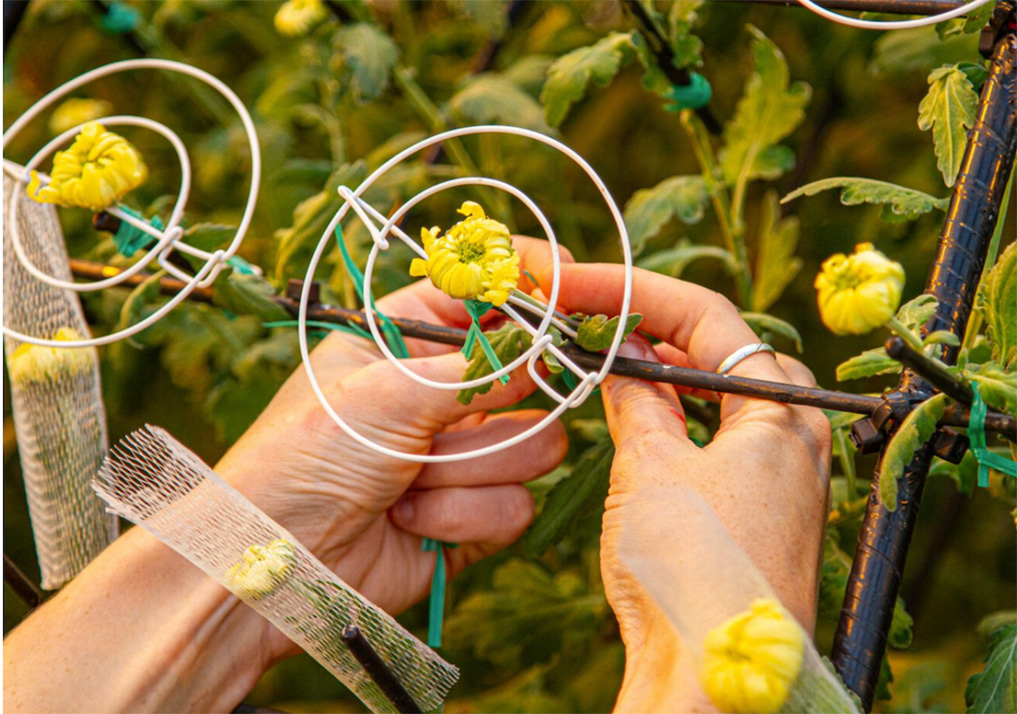 After a wilting period to allow the stems to become more flexible, they arrange the blooms in a dome shape, in pursuit of the goal of achieving as many uniform blooms as possible on a single plant.
"If that doesn't sound difficult enough, the technique also requires that there is only a single bloom on the end of each individual branch," she says. "None of the flowers on the sides of the branch can be used."
Can you imagine how painstakingly hard that is?
To further complicate matters, each flower must be perfectly placed in concentric horizontal rows on a dome-shaped frame.
Growing a Thousand Bloom Chrysanthemum requires constant attention over the more than 500 days it takes to reach our display—so, as they said, one can only imagine the loss and disappointment felt by the team two years in a row.
But we are so grateful they persevered.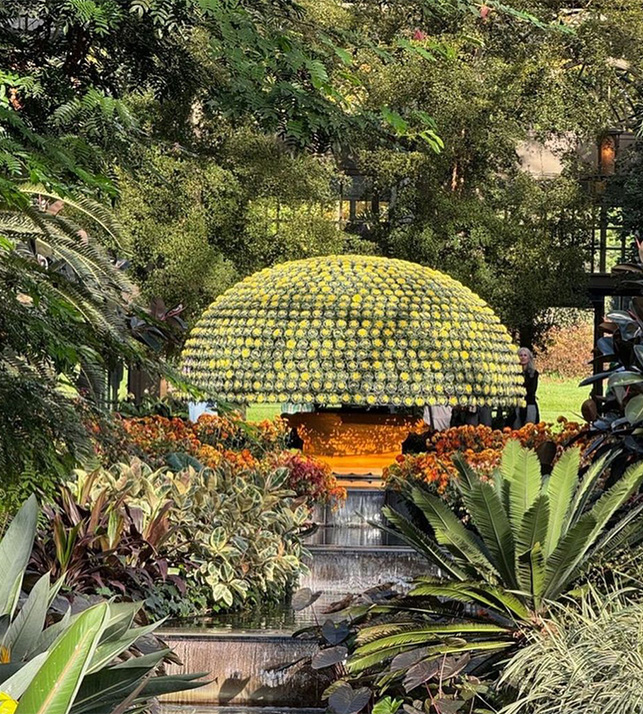 "As horticulturists, we have all experienced the loss of a plant—but we see it as an opportunity to learn and inform what to do (or not do) next time to find success," Santos said.. "Thankfully, as horticulturists and scientists we are incredibly good investigators, and so after changes from the first loss did not result in a positive outcome for the second, we dug deeper to figure out what was causing these root-borne pathogens to take hold and make our plants succumb in the eleventh hour. "
And voila, it's here in all its glory. The show runs until November 12th and one can also enjoy countless other chrysanthemums – which also happen to be the flower of November. One special one here showcases a 400-year-old plant-growing techniques.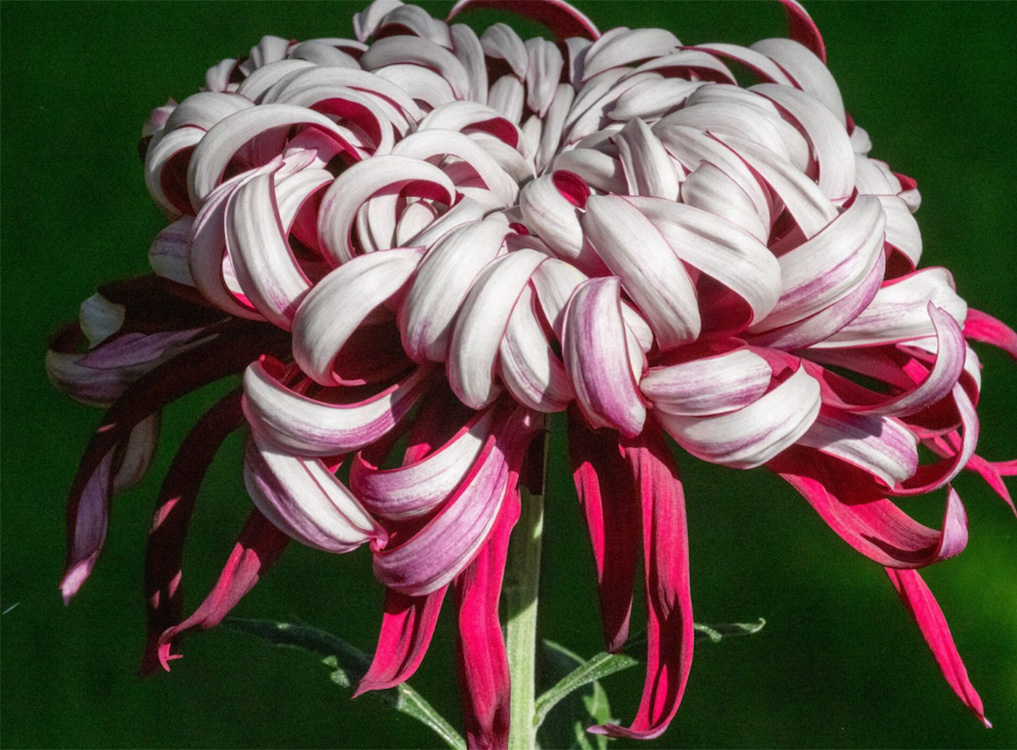 In the language of flowers, Chrysanthemums symbolize devotion, joy, optimism and loyalty. It is also the most popular flower for fall in the United States. As we reported, there is now a new blue flower available because of popular demand. There are also efforts by gardeners to encourage more variety. In Japan, the chrysanthemum is the flower used for official government documents. Furthermore, for the military, the Supreme Order of the Chrysanthemum is the highest honor to be awarded by the Emperor. As far as shows, Longwood Gardens gets our seal of approval always. This show showcases chrysanthemums like no other.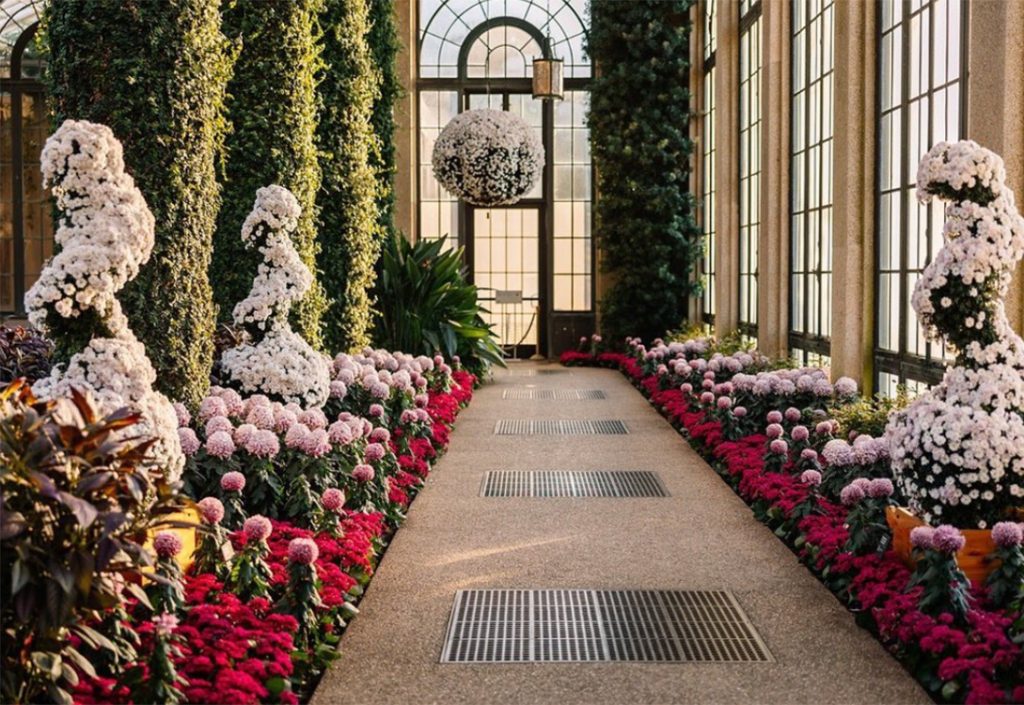 Jill Brooke is a former CNN correspondent, Post columnist and editor-in-chief of Avenue and Travel Savvy magazine. She is an author and the editorial director of FPD and a contributor to Florists Review magazine.
Photo Credit: Longwood Gardens