The sylvia cup is one of the most prestigious floral design competitons. Talented designers are supplied flowers, foliage, supplies and a theme for inspiration. Then they race against the clock to create something beautiful. In the end, one winner will emerge with a trophy, cash and a coveted title, and all the bragging rights it entails. Congratulations to Jenna Naylor Temple, AIFD, GMF for winning the 52nd Annual Sylvia Cup Design Competition at the 2021 Society of American Florists Annual Convention!
Full Article Below Source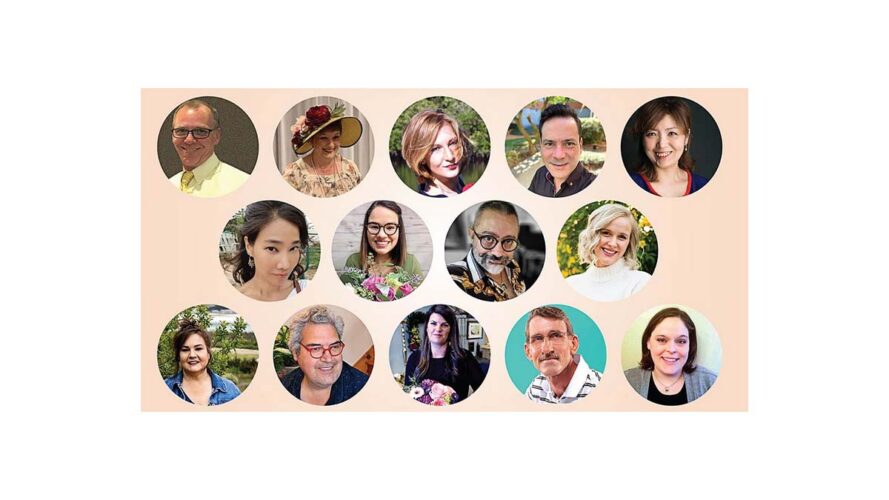 14 Designers Vie for Sylvia Cup at SAF Orlando 2021
By Nona Nelson
September 14, 2021
Assemble talented designers, give them flowers, foliage, supplies and a theme for inspiration. Now, make them race against the clock to create something beautiful.In the end, one winner will emerge with a trophy, cash and perhaps most importantly, a coveted title and all the bragging rights it entails.
The 52nd Annual Sylvia Cup Design Competition will play out live for attendees of SAF Orlando 2021, where 14 floral designers will compete for the cup and a grand prize of $3,000. Two other competitors will be named runners-up and be awarded plaques and money. The contest takes place Sept. 22.
This year's contestants include past winners such as Rey Rodriguez, AIFD, AAF, a floral designer based in Exeter, New Hampshire who took home the cup in 2018; Alejandro Figueira Fernandes, AIFD, president of Alejandro Figueira Floral Artistry in Davie, Florida, who was second runner up in 2019; and Jeanne Ha, AIFD, CFD, owner of Park Florists in Takoma Park, Maryland, who was the second runner up in 2016. First timers are also in the running.
"I am coming in extremely green," said Hallie Morrison, AIFD, CFD, a designer based in The Woodlands, Texas who is representing the Texas State Florists Association. "I've done a few competitions in the past. I really enjoy competing. I know a lot of people who have won [the Sylvia Cup] and I thought I would give it a shot." New competitors such as Morrison should have a great experience, Ha says. "My first experience was so good and it was so much fun," she says. "I have been to other competitions, but this one I don't feel like it's a competition when I get there as much as a party with fellow top-notch designers."
The competition's format compares to reality contest shows such as "Chopped" and "Project Runway." Contestants have two hours to complete their designs and, like any good contest show, there is always a twist or two.
The first challenge is that designers do not know which materials they will be working with until the contest begins."Floral designers let the flowers and the containers talk to them," says Patience Pickner, AIFD CFD PFCI, owner and creative director of The Picket Fence in Chamberlain, South Dakota. Pickner is a past Sylvia Cup contestant. "They might not have the flowers and the hard goods I was imagining, but to just show up blind and just get a surprise package is my favorite way to do a competition."Style is another twist in the competition. The inspiration for the design must come from a surprise theme selected by the judges.
"You have to use what they give you," says Rodriguez. "You don't have to use all of it but you have to use some of it. Everybody has the same tools and the same ingredients." At some point in the contest, the judges will throw a curveball at the contestants.
"They will bring you some bizarre object and you have to incorporate it into your design," Pickner recalls. Last-minute additions from past Syvia Cup contests have included clocks and full-size hula-hoops."They bring an item that we all have to add [to the design] and it's coming in almost as we finish," Ha says. "It's like dropping a bomb."That's always where you have to think on your feet," Pickner adds. "But's fun and it's interesting."While the contest itself may be a mental and artistic challenge for the competitors, Ha says, the atmosphere for the conference attendees who watch the process is more like a party.
"There is an emcee going around, DJ music and they are filming. It's like a TV show," Ha says. The veterans' advice for new Sylvia Cup contestants such as Morrison is to enjoy the experience and use it as a learning opportunity."You have already proven yourself as a top designer," Ha says. "So, you don't need to prove anything anymore. You just need to shine."
Nona Nelson is a contributing writer for the Society of American Florists.