If you're looking to branch out and diversify your press portfolio, then it's time to level up your publicity strategies and leverage your know-how to truly stand out as a thought leader in the industry. Here are 5 ways you can upgrade your PR approach to make an impact within and beyond your network.
Full Article Below Source
5 Easy-to-Implement PR Tips for Floral Professionals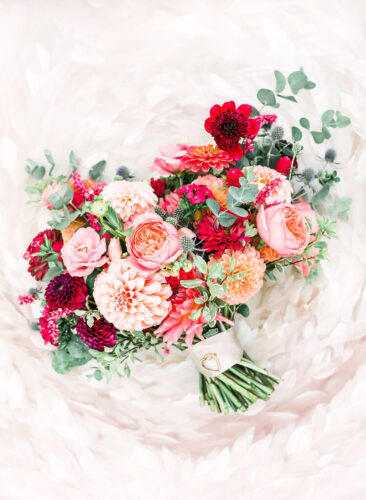 For florists who have been in the game for some time already, you might already have an impressive press portfolio filled with real wedding features and possibly some styled shoots. When you work with a highly visual medium, wedding PR might seem easy so long as you capture the right aesthetic.
However, as you become more established in the industry, you should be recognized for more than just your handiwork. After all, you're now an expert, and you should be proud of the knowledge you've earned that has helped you grow from the first day you started as a fresh, new florist. If you're looking to branch out and diversify your press portfolio, then it's time to level up your publicity strategies and leverage your know-how to truly stand out as a thought leader in the industry. Here are 5 ways you can upgrade your PR approach to make an impact within and beyond your network.
1. AWARD SUBMISSIONS
Winning an award for your hard work isn't necessary to succeed in the wedding world, but it can give you a leg up when it comes to brand recognition and sales. Think about it: If given a choice between two florists, one with an industry award and one without, which would you be more likely to hire? Award submissions can seem intimidating (and pricey, depending on the submission fee), so you must make sure you're doing it for the right reasons. Each association gives you all of the tools you need to nail the application, so sit down and thoroughly go over the guidelines. This means following the word count, using hi-res photos of your work, attaching any necessary budgets, etc.Give yourself plenty of time to complete the application, and enlist some help with proofreading or writing if needed!
2. SURPRISE & DELIGHT MARKETING STRATEGIES
Surprise and delight are some of my favorite things to do when it comes to going the extra mile, and it's a wonderful opportunity to add that "wow factor" to any client relationship. It can be a pleasant, unexpected gesture, and it has proven successful among countless Fortune 500 companies. Now, you may be thinking: "I don't have the funds to go all out on a gift." The good news is that surprise and delight doesn't have to mean breaking the bank—it can be as simple as keeping track of small, meaningful details about your client. Pay attention to things that would make their lives easier or something inexpensive that you can quickly purchase for the day-of, such as their favorite coffee to keep them caffeinated for their big day. Building these small touch-points into your workflow can greatly impact the long run, especially when your clients aren't expecting it.
3. BECOME A SPEAKER
In recent years, the idea of becoming an industry speaker has grown exponentially in popularity among floral industry professionals. There are a multitude of reasons for this, whether you want to leverage your expertise, diversify, offset the costs of attending conferences, or simply want to grow your community roots. Opportunities abound in both seminars and conferences—like the annual Team Flower Conference!
For florists, this is your time to shine in your field of knowledge. Not only can becoming a speaker help to build brand awareness for yourself and your company, but you have the power to spread the wealth and grow your audience.
People will get to know you on a much deeper level, and you can forge mutually beneficial relationships through these engagements. Better yet, you'll be building up your portfolio, and any promotion from booked speaking will link directly back to your website—a win for your Google rankings and SEO.
4. PREP YOUR PRESS MATERIALS
I can't stress enough how important it is to have your press materials at the ready, as it shows that you're prepared and easy to work with for media promotion. For starters, I recommend having an information one-sheet on file that you can easily send out to anyone that may need it.
Ideally, this will include your headshot, a brief bio, top speaking topics and descriptions, association memberships, awards, recent speaking engagements (if applicable), and all social media and website links. While this isn't inclusive of everything you might need, it's a great start if you're pitching yourself to a conference or podcast
Additionally, if you're gaining traction with press pickups, you might want to consider introducing a media-specific page to your website for easy access. You'll want to include any recent press, recent press releases, company history, team profiles, downloadable logo(s), and headshots, as well as a press contact such as a publicist or dedicated email address. Everything is conveniently hosted in one place, and there won't be any confusion if a journalist needs to pull some information quickly.
5. UPDATE YOUR WEBSITE
Once you've kicked off your press efforts, editors and writers will start to take notice and may be inclined to connect with you directly. Keep your portfolio updated regularly, include your bio and company profile (if not already posted), and ensure that your contact page is easily accessible and works properly.
I also recommend setting up a system to track metrics on your site, like Google Analytics, so you can fully gauge the success of your publicity tactics. Lastly, if you have the resources available, I recommend investing in SEO improvements, which will make it easier for journalists and media reps (and potential clients!) to find you online.
You may be on top of your game, but that doesn't mean there isn't room to grow. Wedding PR connects you to key media outlets that can help you position yourself as a thought leader and put you front-and-center in front of your ideal clients. Real wedding features are always lovely additions to any portfolio, but this year has shown us the value of press that doesn't rely on live events.
When it comes to PR, it's very much a "practice makes perfect" process, so don't feel discouraged if you feel uncomfortable at first. You will hear "no" plenty, and, in some cases, you may never even get a response.I know this firsthand from a career full of rejections, but it's also one full of big, exciting wins—and, trust me, the successes are well worth the noes along the way. Keep refining your pitches and nurturing those media relations, and it won't be long until you start seeing the benefits of a smart, strategic approach to public relations.