Florist-specific software for planning weddings and events offers the potential for increased efficiency, sales and, of course, profits.
By Brenda Silva
Flower retailers looking to increase their shop efficiency, sales and profits can benefit from florist-specific wedding- and-event-planning software programs, many of which are designed to enhance the capabilities of point-of-sale (POS) systems already in use. These software options help florists plan and manage weddings and events, offering options for beautiful and professional proposals, payments and communications.By embracing the features offered by these software programs, flower-shop owners and managers can enhance their professionalism and brands; increase their efficiency, productivity and profits; and grow their wedding and event business with modern technology, all while maintaining the traditional one-on-one service of yesteryear that many consumers still desire.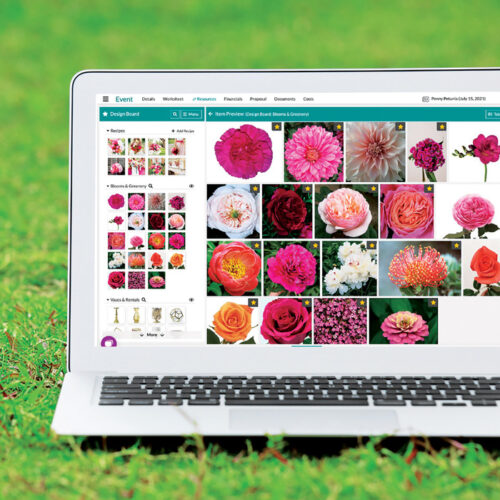 SUCCESS IS ALL IN THE DETAILS
One company that understands the details of the retail flower business is Details Flowers Software, which was founded in 2015 by Corrine Heck. The software caters to all flower-related events, but its focus is primarily weddings.
Prior to launching Details Flowers Software, which is located in Ormond Beach, Fla., Heck opened a boutique and designed for weddings in Central Florida. Even with hundreds of successful wedding designs to her credit, Heck was aware that there were business challenges—such as processes and procedures—that could be improved for florists. Improving and streamlining these challenges was the seed from which Details Flowers Software grew. According to Heck, Details allows florists to "connect directly to the industry's first-rate suppliers while designing weddings and events with ease and creating proposals that win."
"Our belief is that if your proposals lack organization during the design process, how can a bride expect her flowers to be well-crafted?" Heck asserts. "The proposal is your first opportunity to create a 'wow' experience for bridal and event clients, and it should reflect how beautifully their weddings or events will come together. It should be professional, polished and perfect!"
Continuing education remains key to the future success of any flower shop, and Heck is quick to point out the role it plays at Details Flowers Software. "We champion continuing education in the floral industry," she shares. "There are so many exciting new techniques and materials that we want to keep Details users in the conversation. Some of our initiatives include partnering with top industry educators, hosting monthly tips-and-tricks webinars, offering exclusive 'master classes' with floral professionals and presenting hot topics at industry conventions."
At Details, the focus on continuing education and keeping florists in the floral loop begins in house, where
team members meet daily to exchange ideas based on client feedback. Viable suggestions are then explored by the development team, "and the features grow and change through a series of rigorous version tests before, eventually, we publish the changes to the platform for all of our users," Heck explains.
CURATING SALES AND CUSTOMER SATISFACTION
Another well-known software platform that has also found success among florists, especially those specializing
in weddings and events—and even caterers and rental companies—is Curate (which began as Stemcounter), a platform initially started in a flower shop by company CEO and founder Ryan O'Neil, PFCI, and his wife, Rachael, as they "struggled to create quick proposals and accurate stem counts" in their St. Louis, Mo., retail florist business.
Summarizing how Curate can enhance florists' businesses, O'Neil explains,"Curate provides everything florists need to automate their businesses. It is a holistic portal designed specifically to help manage the unique workflows and pain-points of florists. Curate software makes it easy for florists to instantly create beautiful proposals, process payments, manage complicated supply chains, and optimize communication with customers and suppliers, saving time and maximizing profitability."
In an effort to help the floral industry during the height of the pandemic, Curate rolled out a streamlined e-commerce platform for florists to manage their daily orders. "Curate is the first platform to allow florists to keep track of stem counts on their daily orders," O'Neil reports, "and this has empowered many business owners to be able to run their entire companies on the platform."
DO YOUR HOMEWORK, THEN DECIDE
With many different POS systems and e-commerce options for floral-related software, how do floral retailers know which platform will be best for their companies and offer the potential to increase future sales? According
to Tim Huckabee, FSC, president of FloralStrategies, decisions about floral- specific software should not be made based on the number of Facebook likes or because it's the cheapest option available. Rather, Huckabee suggests, florists should make these decisions only after researching various software options and determining which one best meets the specific needs of their individual companies. Along with not fixating on the highest popularity on Facebook or the lowest price, Huckabee asserts that flower Florist retailers need to consider additional factors when doing research and prior to changing their current platforms or making the leap from working on paper to using technology. "As part of doing your homework, ask yourself what, specifically, do you want your POS to do for your business, and how much of it will you really use," he advises. "Most systems offer the same basic options and benefits, such as basic inventory, time-clock features, sales analytics, forecasting and delivery management—and, of course, the ability to take and process an order. Buy only what you need and what you expect to use."
When considering a potential vendor, Huckabee says florists should ask questions like, "What is your support like?" and "Do you have tech support people available on the weekends and holidays?" He adds that flower retailers should also ask how software training works, by which methods staff will learn the platform and how ongoing support will be available after the initial software instruction is finished.
Huckabee points out that another thing flower retailers should keep in mind is order history. "When you migrate from one vendor to another, be prepared to lose your order history. You may be able to keep your customer list, but you will probably lose their order histories because there generally isn't any crossover between vendors and platforms."
Another major consideration for florists when choosing a software platform is the ability to have multiple stations, ensuring it will be a true store management software. "If you are still writing phone orders by hand, you are inefficient and doing twice the labor," Huckabee asserts. "You should cut your order time in half by moving onto a POS system, not doubling it!"Huckabee also suggests that flower retailers invest in the proper forms, with their company logos on them, to look more professional and further market their companies' brands."A POS system can become a marketing companion because it gathers emails and customer information with every order," he informs. "A wise choice of a POS system will help pay for itself with increased sales and efficiency—and, therefore, profits."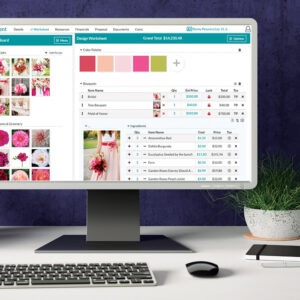 EVENT MANAGEMENT AND EFFICIENT MODULES
Much like the comments made by Huckabee about inefficiencies that often require twice as much work,
Alex Frost, founder and CEO of QuickFlora, located in Fort Lauderdale, Fla., points out, "Many florists use separate systems for events and point-of-sale (POS), which leads to double work and a huge disconnect. We created eVenta Event & Wedding Manager for our POS users who wished to have full integration with the POS modules—production, recipes, budgets, delivery and accounting."
He continues, "We also integrate purchase-order management for large multilocation retailers, so
the controller has companywide transparency for all weddings and events. The ability to create a quick proposal that customers can sign online and make a deposit is also key."
For clients considering a new POS system, QuickFlora offers its own option. "We started our POS(QuickFlora) about 12 years ago, when our users were looking to upgrade to a cloud-based system that was not tied to a specific server at one location or to a wire service. The 'cloud' was a new concept a dozen years ago, and cloud-based systems were largely still unknown. They have since become the standard in all other industries, and people realize the benefits of not being tied to a single server, or worse, the server going down and taking down all terminals with it."
Frost asserts, "Most systems were far too complex for the average user, and we found users preferred using a mouse and touchscreen best when entering many orders each day. These days, POS must have the ability to use tablets and smartphones (mobile apps); being tied to just a PC is too restrictive to operate on a daily basis, especially in multilocation stores."
SIMPLIFIED PROCESSES AND STREAMLINED SALES
As is the case with many newly launched software programs, it was the lack of available options that saw a family flower shop create a platform to fill an important need for their business. William O'Shea, co-founder and CEO of Floranext, located in New York, explains, "Growing up, I worked in our family flower shop and wished we had affordable tools to run our business and help us build an online brand. Years later, having worked at tech companies like Skype, in its early days, I saw an opportunity to provide things that we couldn't get from our wire-service software: easy-to-use tools and unique, customizable websites at reasonable prices. We built the first version for our family business, then started doing similar things for other flower shops, and that's how Floranext was born."
Among the software options offered by Floranext, all of which can be purchased separately or together, based on a florist's needs, is Floral Wedding/Event Manager,a cloud-based wedding-and-event- management tool. O'Shea reports, "We saw independent flower shops like our own trying to manage events with complex spreadsheets. Our Floral Wedding/Event Manager, which is also accessible via a web portal or as an iPad app, allows florists to create proposals with beautiful images.It also simplifies the calculation of costs and profits, helps them to build contracts and floral shopping lists, and seamlessly collect payments."
Keeping pace with available POS systems, O'Shea details his company's cloud-based option, which allows customers to access their systems anywhere. "Our POS Standard, which is accessible via a web portal or via an iPad app, is built for traditional retail flower shops. It comes with advanced tools like ticket printing, delivery routing, an app for delivery drivers to update order status, the ability to send completed order photos to clients, a calendar manager to see daily orders easily, and many other tools.Our POS Lite is a streamlined version that focuses on order taking, which is perfect for studio florists."
Along with its wedding-and-event software and POS system, Floranext also offers a website product that allows shops to offer flower subscriptions and collect Google reviews, among other features.Sharing what motivates him to continue building technologies for florists, O'Shea says, "Having grown up working in my family's flower shop, I'm driven to help independent florists grow their businesses easily and affordably. Our focus at Floranext has always been on building innovative solutions for florists so they can focus on the creative part of the job."
CHOICES, CHOICES
When Tim Huckabee, FSC, president of FloralStrategies, advises in this article that florists research various software programs and POS systems before choosing one, he's assigning some hefty homework. There are myriad options, and determining which one will best fit the needs of your shop will require lots of comparison shopping and critical analysis.
To help you with this task, we've assembled this list of the top flower-shop-specific wedding/event-planning software programs and POS systems in North America. Visit these companies' websites to discover which ones offer the features you need most—and, of course, their costs.
TOP WEDDING/EVENT-PLANNING SOFTWARE PROGRAMS
Aisle Planner: AislePlanner.com/Solutions/ Tools-for-Floral-Designers. BloomsBy: BloomsBy.com. Curate:Curate.co. Lobiloo: Lobiloo.com. Osagao: Osagao.comDetails Flowers Software:Info.DetailsFlowers.com. Socko Florist: SockoFlorist.com True Client Pro: TrueClientPro.com
TOP POS SYSTEMS WITH WEDDING/EVENT-PLANNING SOFTWARE PROGRAMS
Floranext (POS with "Floral Wedding/ Event Manager"): Floranext.com
flowerSoft Silver (POS with "Wedding Program" and "Quotation Program") flowerSoftSilver.com
FTD Mercury (POS with add-on "Event Planner" module) FTDI.com/MercuryTechnology
IRIS Software Systems (POS with "Florist Wedding & Event Software") OnlyIRIS.com
QuickFlora Florist POS (POS with "eVenta Event & Wedding Manager") QuickFlora.com
TOP POS SYSTEMS FOR FLORISTS (no wedding/event-planning software)
BloomNation: JoinBloomNation.com. MAS: MASDirect.com
BloomNet Business Management System (BMS) (POS and websites) BloomNet.net/Technology/Business-Management-System
FAS: FloralAccountingSystems.comFloral POS (The): TheFloralPOS.com. FloristWare: FloristWare.com
gotFlowers (POS and websites) gotFlowers.com. Hana Software (POS and websites) HanaFloristPOS.com
Komet Sales: KometSales.com. Visual Ticket (POS and websites) FloralSystems.com
Teleflora Dove POS and RTI:MyTeleflora.com/DovePOS.aspx & MyTeleflora.com/RTI_POS.aspx.