Affordable "everyday" flowers offer great potential and possibilities for creative floral designers.
By Nita Robertson, AIFD, CFD
There are many beautiful cut flower options are more budget friendly but still enable floral designers to achieve a modern look. The key is how one presents them. For example, designers can incorporate a few premium blooms into the focal areas of their designs, to draw attention and create a higher perceived value, and they can group flowers by type to create a greater visual impact. Also, when designing with lower-cost blooms, using one's creative flair—say, with foliages, decorative wire and other elements—can add artistry to their designs.
I spoke with David Dahlson, flower specialist and R&D manager at Mayesh Wholesale Florist, and he shared some interesting thoughts on budget-friendly flowers. "Etched into my mind is an incredible floral display from 1995, installed in the restaurant at the Four Seasons Hotel in Beverly Hills, Calif.," he recalls. "We walked into the main dining room, and in the center was an amazingly simple yet resplendent arrangement of large boughs with lavender flowers. It was spectacular and made an impression on everyone. Yet, it was late summer, and the season of blossoming branches had long since passed. The arrangement consisted of large Magnolia boughs, 8 feet tall and full of glossy dark green foliage with their intrinsic brown suede reverse. Peppered throughout the branches were sprays of beguiling lavender blooms, which, upon closer examination, revealed themselves to be humble lavender daisy spray mums.
"The keys here are in the preparation of the floral materials and the context," Dahlson continues. "The most crucial step in elevating what are essentially 'cheap and cheerful' ingredients to another plane is the conscious editing of those products. In the case of the lavender blossoms cited above, the stems were cut short, all foliage was removed, and each stem was placed into a water tube and then wired to the Magnolia branches in profuse abundance. The context of exceptionally large Magnolia boughs in a luxurious setting allowed for the visual splendor to create an allusion of expensive and charismatic springtime blossoms.
"Flowers often referred to as 'budget-friendly blooms' include Chrysanthemum, Alstroemeria, carnations, Hydrangea, Hypericum and waxflowers," Dahlson notes. "These flowers are all available year-round, the prices are always reasonable, and they exhibit excellent longevity. These same attributes make them popular in supermarket flower departments, but their ubiquitous nature means they are often met with disdain by consumers looking for something elevated and distinctive. To infuse these blooms with a fresh look, it is necessary to do some prep work and editing of the product to highlight their more beautiful attributes."
DIANTHUS / CARNATION, SPRAY CARNATION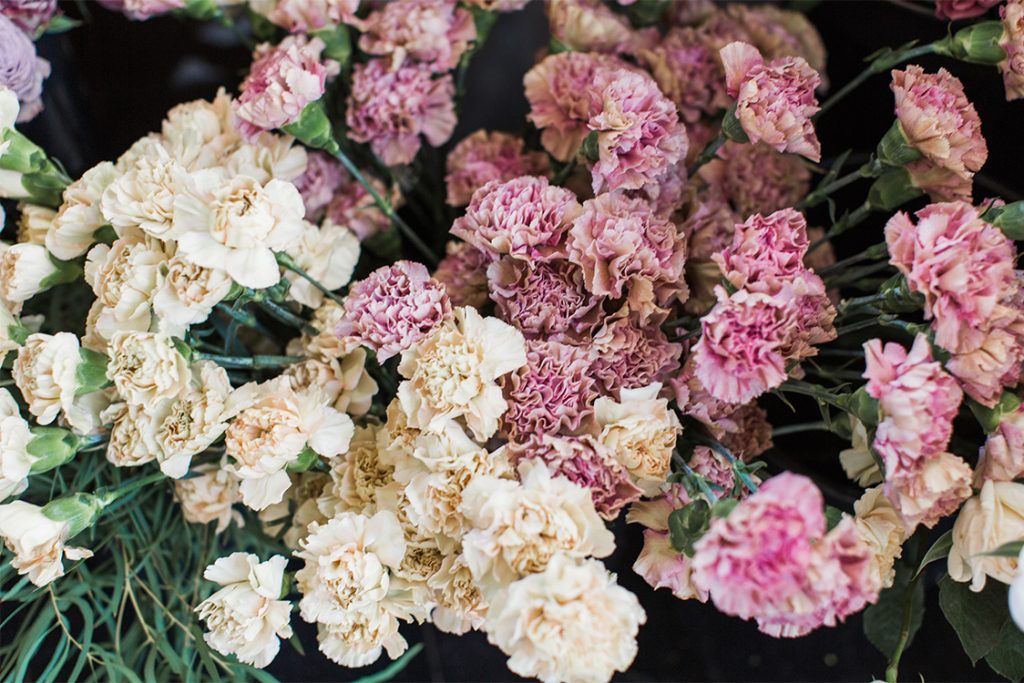 Carnations are a fabulous option as they are long lasting and are now offered in an assortment of amazing colors. There are many amazing new varieties offering unique colors making them much more interesting to work with.
Beth O'Reilly, AIFD, CFD, TMF, a well-known floral designer and product development manager for Dutchess Bouquets, a Miami, Fla.-based supplier of fresh cut flowers to national retail chains in the United States and Canada, has taken a deep dive into the world of carnations, studying, designing with and testing numerous Dianthus varieties from Dutchess Bouquets' farm in Colombia. "Carnations are one of our specialties," O'Reilly says. "Our partnership with SB Talee, one of the most prolific breeders in the world, gives us a constant influx of the most beautiful colors and varieties. I have always loved carnations, but being on this side of the growing process gets me really excited for the possibilities of Dianthus and what they can do to elevate modern floristry and design. Gone are the days of carnations being second best. The varieties on the market today are definitely showstoppers."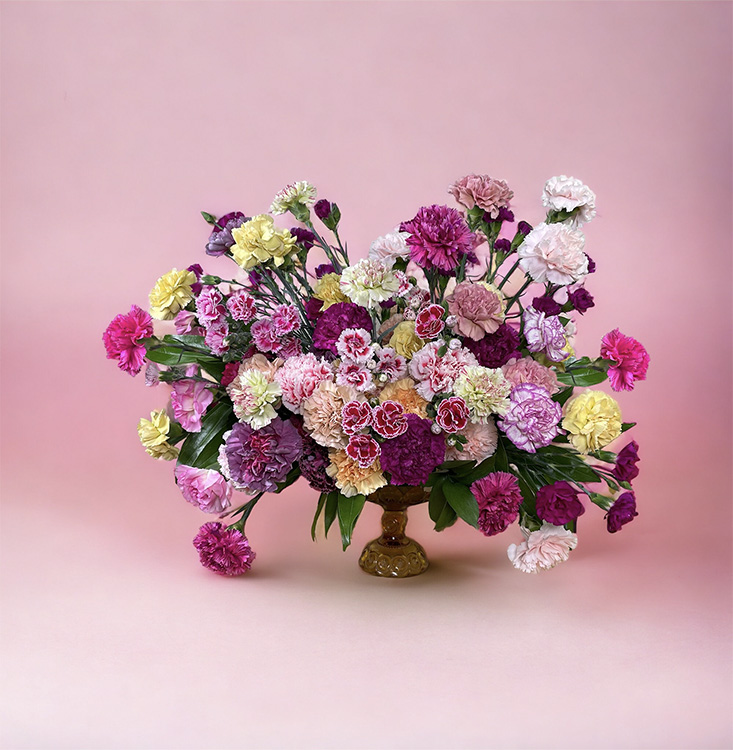 This past March, during "Dianthus Week 2023" in Colombia, SB Talee debuted more than 20 spectacular new varieties of carnations and spray carnations for the world to see. "What's exciting about this is, after five years of breeding a new variety, a brand-new flower is born," O'Reilly enthuses. "It is a constant breeding cycle, and the carnation, as we know it, just keeps evolving and transforming every year."
According to O'Reilly, there are so many reasons why this powerhouse flower should be celebrated. They are affordable, recognizable and lend themselves to so many design applications. They can be focal flowers or filler flowers, or they can stand alone. There's no limit to what you can do with this timeless flower. Carnations can be terraced, clustered, massed and color-grouped, and they are great for basing. "Abstracting" carnations is another popular technique, where a designer will remove the center portion of petals to dramatically change the look of the flower into what appears to be a completely different bloom. Also, carnations can be used in combination with the most premium flowers, such as peonies and Dahlia, or as companions to other mainstays, including Chrysanthemum and roses.
O'Reilly mentions that color is one reason why she loves to design with carnations. "You can create gorgeous layers that give a fantastic, lush and abundant look," she informs. "With all the new complex-hued varieties, it's easy to create a modern and sophisticated color palette, full of depth and breadth. Whether you are creating a dark and moody color aesthetic, an earth-tone vintage combination, or a fun and vibrant color way, carnations can easily become the key 'color bridge' that a design needs to take it to the next level."
Some of her favorite carnation and spray carnation varieties for "color bridging" are 'Lege Pink', 'Lege Marrone' (beige), 'Mustard' (beige/yellow-gold), 'Bernard' (dark pink bicolor), 'Brick Extasis' (coppery red), 'Canela' (pinkish "terra"), 'Brown Sugar' (pinkish "terra") and 'Ethereum' ("blue"). A color bridge allows designers to step from one color to another seamlessly. "It makes for a more sophisticated composition," O'Reilly explains. "So, the next time you are trying to bring that color palette together, give carnations a chance to be your go to color-bridge solution."
Another reason to love carnations, O'Reilly explains, "are the new varieties of spray carnations and pinks named 'Fiorino®' and 'Lilliput®'. I love them because their petal formations and colors make them look extravagant and expensive, when they are actually economical, and I can't get enough of the lux look they provide." 'Fiorino® Kampa' (reddish hot pink bicolor), 'Fiorino® Score' (crimson bicolor) and ''Fiorino® Value' (purple bicolor) are three of the varieties that were introduced this year.
Visit catalog.sbtalee.com and dutchessbouquets.com/products to see all of the mind-blowing new colors and types of Dianthuses.
CHRYSANTHEMUM / MUM
Mums offer a large array of marvelous shapes, sizes and colors, and they are extremely hardy and long lasting. There are multiple categories, or segments, of Chrysanthemum, from disbud to spray, Santini, Madiba and Pixel. There are also myriad bloom types, including daisy, decorative/cushion, pompon/button, spider/fuji, spoon, quill, anemone, incurve (football, cremon), reflex, single, double, semidouble—and the list goes on.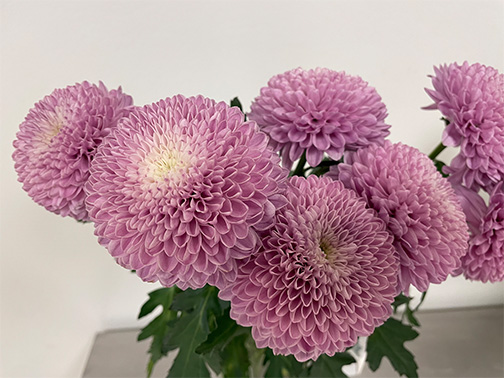 Deliflor Chrysanten, a large worldwide mum breeder based in the Netherlands, has developed scores of amazing Chrysanthemum varieties.The Deliflor assortment consists of disbud mums, spray mums and Santinis and comprises more than 300 cultivars.
"We have three exciting new collections," shares J.D. Lecuona, commercial director at Deliflor Latin America. "'Ballhias' are disbud mums that resemble certain types of Dahlia and have a round shape. 'Margriets' are anemone-type disbud mums that look like Gerbera.'Fullfillers' are multi-spray Santini mums with multiple blooms that can be used as fillers."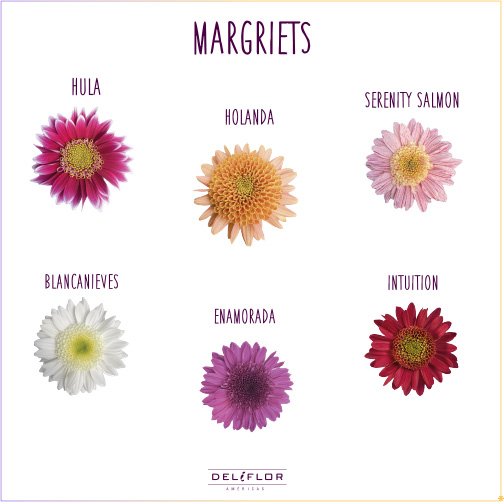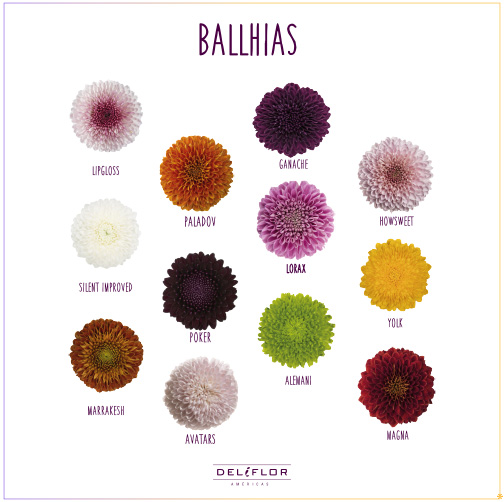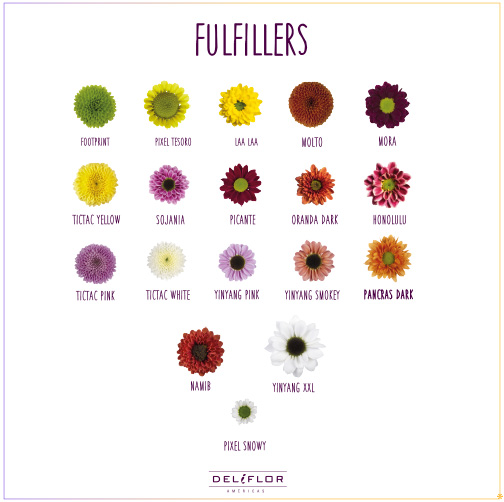 "Chrysanthemums are easily elevated through one key preparation: allowing them time to open prior to using in design work," says Dahlson. "Mums have very long-lasting flowers and benefit from about five or six days in [low-dose flower nutrient solution] to allow the petals to fully reflex. The foliage may atrophy, but it can and should be removed. Pairing mums with more sophisticated flowers invokes new dynamics and changes the perspective of the viewer."
To be dazzled by the incredible varieties of mums available today, visit the websites of Deliflor, as well as other prominent hybridizers, including Dekker Chrysanten, Royal Van Zanten, Selecta One, Floritec and ICON Selections.
ALSTROEMERIA / PERUVIAN LILY
Alstroemeria is another great budget-friendly option. These flowers are versatile in both form and color. They can serve as a line flowers in contemporary arrangements, and they also make a statement in clusters and on their own. It is advisable to remove the foliage because it often turns yellow long before the flowers fade.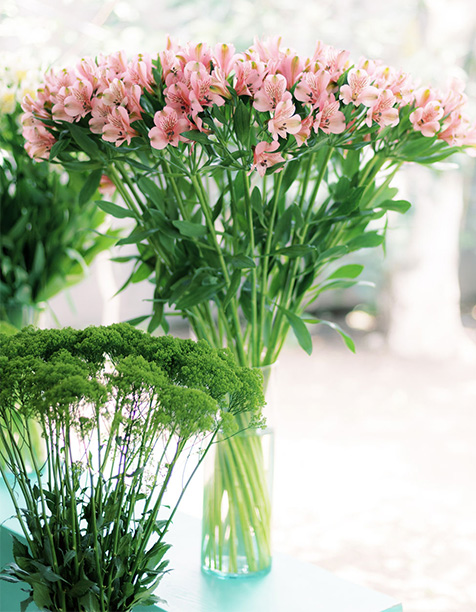 "These flowers are often looked at askance by many designers," Dahlson says, "yet, at Mayesh, we have found that carefully removing most of the foliage that surrounds the flowers and all the foliage at the junction of the lateral stems results in an almost different product. We also recommend that the blooms be open or starting to open before placing them in a design."
Also, keep your eyes peeled for new flower varieties. For example, two of the world's leading cut flower breeders and growers—Royal Van Zanten, headquartered the Netherlands, and The Queen's Flowers, based in Miami—joined forces to create a brand-new flower: the 'Astronova®'. Ten years in development, Astronova blooms look like "double-flowered" Alstroemeria blooms, but they are larger and have only one bloom per stem. Currently there are five varieties—pinks, lavenders and purples—but more are on the way; Astronovas were just introduced in February. Discover more about them at astronovaflowers.com, queensvarieties.com/astronova-gallery and royalvanzanten.com.
In 2014, Royal Van Zanten also introduced 'Charmelia®' in the U.S., a kind of "spray Alstroemeria" featuring blooms growing consecutively along long lateral stems—somewhat like Gladiolus and Freesia. Check them out at royalvanzanten.com/en/cut-flowers and charmelia.us.
CHAMELAUCIUM / WAXFLOWER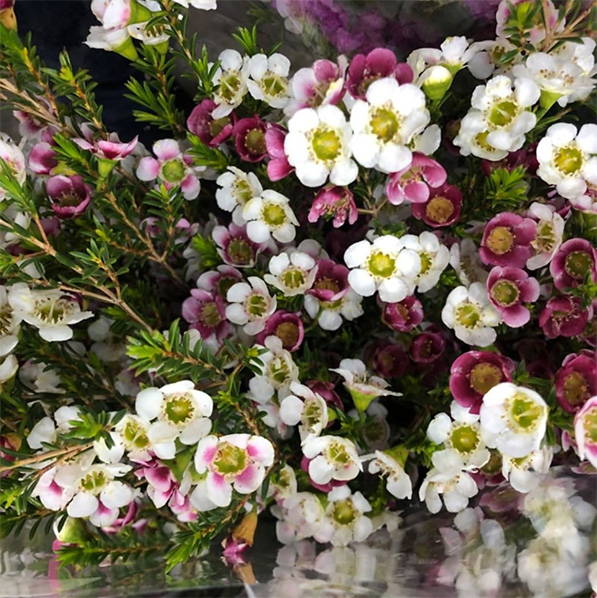 "Chamelaucium has come a long way from the straggly species discovered in Western Australia," Dahlson reports. "Today's hybrids are rich in color, with an abundance of decorative sprays of tiny flowers. Some newer hybrids even have double flowers, which cast them in a more bucolic light than their waxy single counterparts. A frequent problem with waxflowers is an 'overgrowth' of foliage that shoots up above the flowers, causing a weedy look. Again, careful editing of the wispy needle-like foliage reveals charming blooms that are equally at home in lush wedding compositions with garden roses, Dahlia and peonies as they are in sylvan, wild arrangements that evoke the spirit of the countryside."
HYDRANGEA
Hydrangea give designers big bang for the buck because the large "mophead" blooms occupy a lot of space in arrangements and are great mass flowers. "These wonderful flowers can be used in a wide variety of ways, limited only by the scope of one's imagination," Dahlson says. "Hydrangea are incredibly versatile flowers for floral professionals and, while the unit price can be high, the size and mass of the umbels provide significant value for money."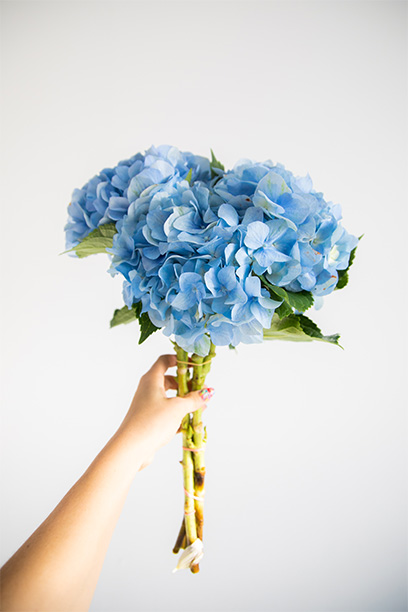 HYPERICUM
Hypericum is relatively new to the basket of budget-friendly flowers, but its decorative value and hardy character are important attributes for modern designers. "The predominant feature of Hypericum is the glossy berries that occur in corymbs at the end of the stems and laterals," Dahlson says. "Carefully removing the leaves reveals sparkling 'pearls' in a vast range of colors. While unadulterated stems are fine for bouquets, Hypericum becomes quite sophisticated when the foliage is removed."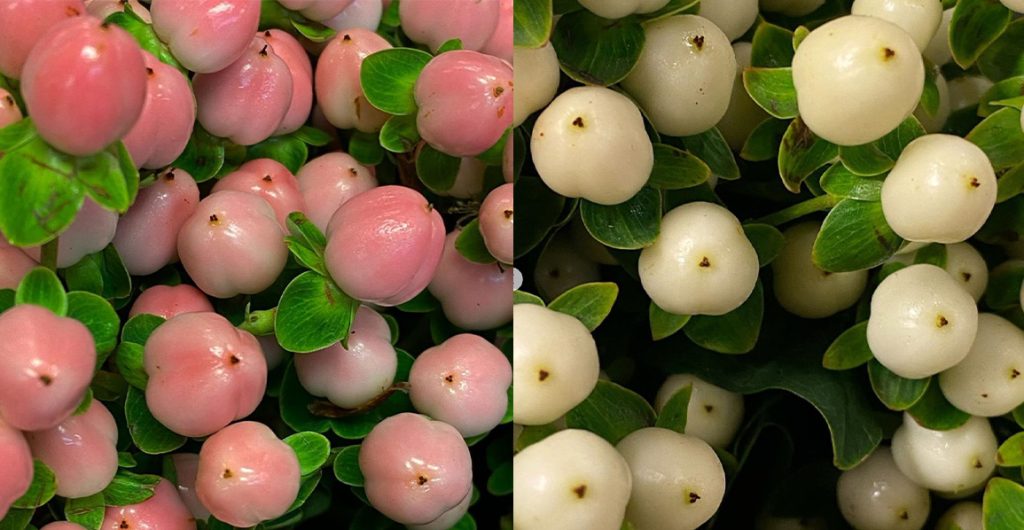 "By way of a metaphor, in the world of fine cooking, there are many inexpensive cuts of meat that are often treated with disdain but which, in the hands of a good chef, can be rendered into some of the most exquisite and delicious meals. The key is in the preparation, the context and the accompanying ingredients."
— David Dahlson