Offering locally and regionally crafted and grown products in your retail shop can have many positive impacts—including increased sales.
By Nita Robertson, AIFD, CFD
Selling locally and regionally made products, including unique artisan-crafted décor and gifts, is a perfect match for almost any retail flower shop. By supporting local and regional artists, craftspeople and flower growers, you'll not only be supporting your local economy but also offering your customers a range of specialty options and, most likely, creating an additional revenue stream.
Today's consumers recognize the benefits of locally made and grown items, and demand is higher now than ever before. Shoppers are often willing to pay a little more for the perceived quality and benefits that come with such products, including stimulating their local economy and creating jobs while, often, providing less of an environmental impact.
The "buy local" movement was gaining traction even before the pandemic, but momentum has been building even more since then. In fact, many Americans are rebelling against the dominance of online retailers and big-box stores, choosing instead to support their local economies. As a retailer, you should consider this expanding niche in your area.
Both locals and out-of-towners love to buy local products. Partnering with local and regional artisans and suppliers can help set you apart from all types of other retailers, including your floral competitors. Popular locally produced items you can offer at your flower shop include not only fresh cut flowers but also artisanal skin-care products and soaps; candles; gourmet delicacies, chocolates and other candies, spices, sauces and flavored oils; jewelry; textiles; pottery and tableware; and all forms of artwork for home and office décor.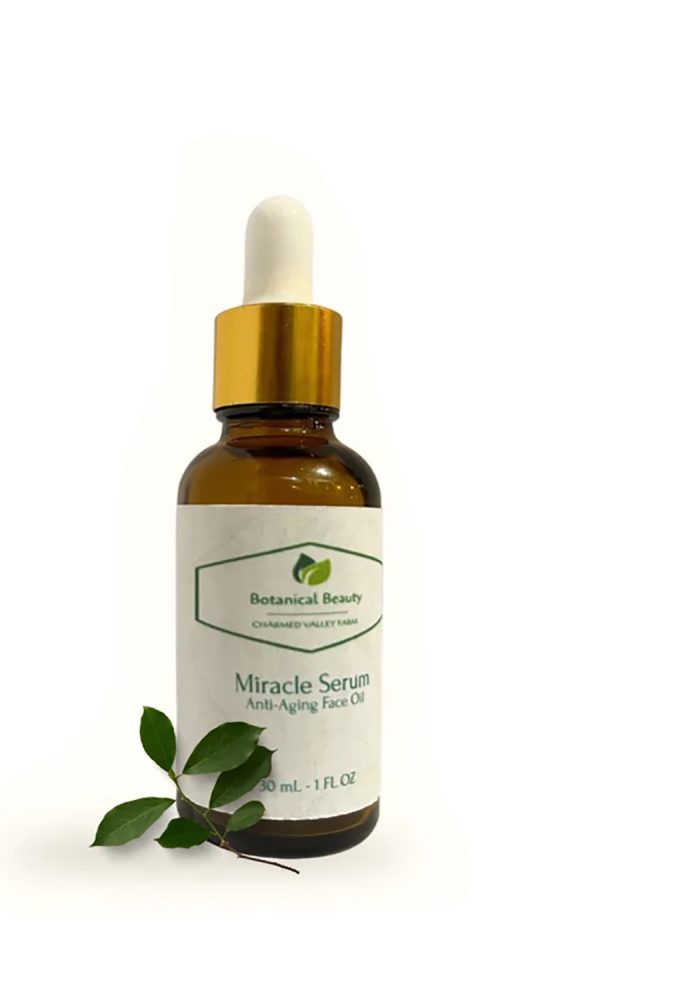 "Small businesses have what the big-box stores lack: personality, quality, atmosphere, and more," says Kayla Baer, marketing manager at Kennedy's Flowers & Gifts in Grand Rapids, Mich. "People love shopping local because their dollars go right back into the community they know and love, which keeps their friends and family members employed, boosts morale and buzz for the city or region, and makes them feel like they're making an impact with their purchases. In our experience, we've found that people are often willing to spend more when a product is local because they know it's probably of higher quality than a product that's mass produced at a corporate factory."
Developing a strategic partnership with another local business is a great tactic for increasing your regional footprint, by building brand awareness among a new audience. It could be a business that is either in or allied with the industry or one whose values align with your own.
For example, Baer shares that Kennedy's Flowers & Gifts offers a line of custom candles created by the LIMA candle company in Grand Rapids, which is owned by two sisters and offers 100 percent soy candles that feature chemical-free fragrances and no dyes. "With LIMA, we create custom botanical scents and labels," she says. "One of the candles we stock year-round is a fig-scented "Grateful for You" candle, but we also develop candles specific to all seasons and holidays. For instance, for Mother's Day, we will offer a lilac-scented candle in a pink iridescent container with a "Happy Mother's Day" dust cover, and for the winter season, we offered a "Warm & Cozy" bundle that included a lavender-and-sage-scented candle. The variety of scents and labels that we can create make the candles easy to pair with flower arrangements—and people always love a high-quality candle."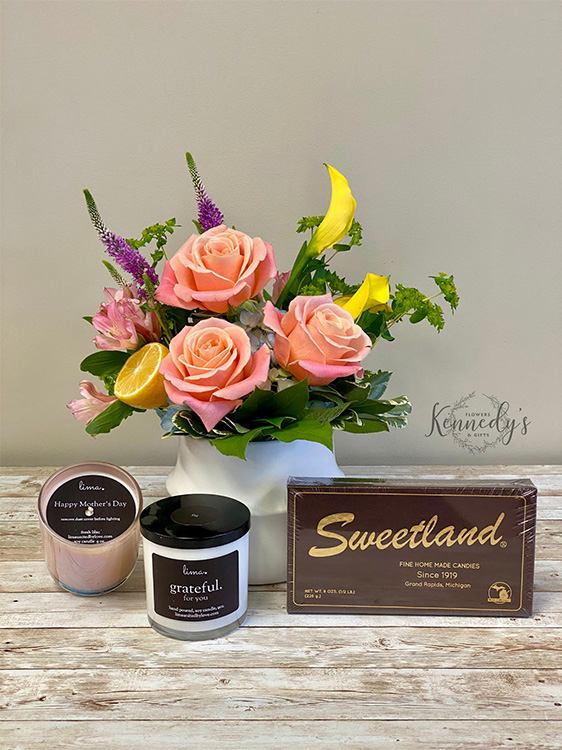 Sweetland Candies is another Grand Rapids business that Kennedy's Flowers & Gifts loves to support. "Chocolates and candy are an easy pairing with flowers, so they're worth offering," Baer advises. "Our customers are more willing to purchase an add-on when they know the item is from a local company. We often promote a half-pound box of assorted chocolates and a four-pack of chocolate, caramel and pecan turtles."
It's no secret that support among small businesses contributes to their success. "We love to keep stock of local products and promote local events because we understand the impact that it has," Baer says. "It's one of those things that keeps going round and round. When we support them, they support us, and it gives the community an opportunity to support all of us at once."
In St. Louis, Mo., Kim Brannan, AAF, co-founder and director of marketing at Stems Florist, shares, "We co-produce our own line of private-label, Stems-branded candles with St. Louis Candle Co., which is a female-owned and family-operated small business that handcrafts premium quality candles in small batches. We selected all the scents and designed the artwork for the labels. Each scent is named as a destination—"In the Kitchen, "At the Coffee Shop," "In the Garden," and so on. Also, we're getting ready to launch a line of silk scarves, the colors of which match specific flowers, such as Delphinium Blue. This Mother's Day, we will offer products from a local coffee roaster and a local bakery, and we will donate a portion of every sale to a local food bank.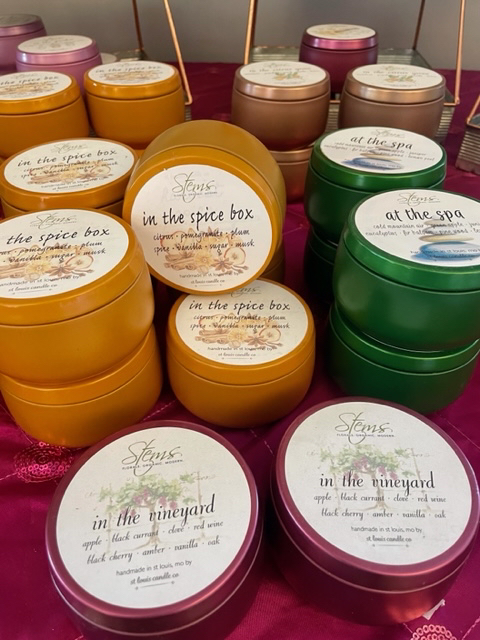 Dr Delphinium Designs & Events, with two locations in Dallas and Richardson, Texas, offers fabulous locally made artisan sugar cookies paired with its flower arrangements. The "Flowers and Cookie Sets" are available for a variety of occasions, including birthdays, anniversaries, births and get well, among others. Dr Delphinium procures the beautiful gourmet cookies from a "couture cookie studio" that was, until recently, based in Dallas but has relocated to Las Vegas, Nev. The "Flowers and Cookie Sets" range in price from $90 to $140, but the company also offers "Flowers and Wine Packages," one of which sells for $270 and includes a bottle of Dom Pérignon champagne.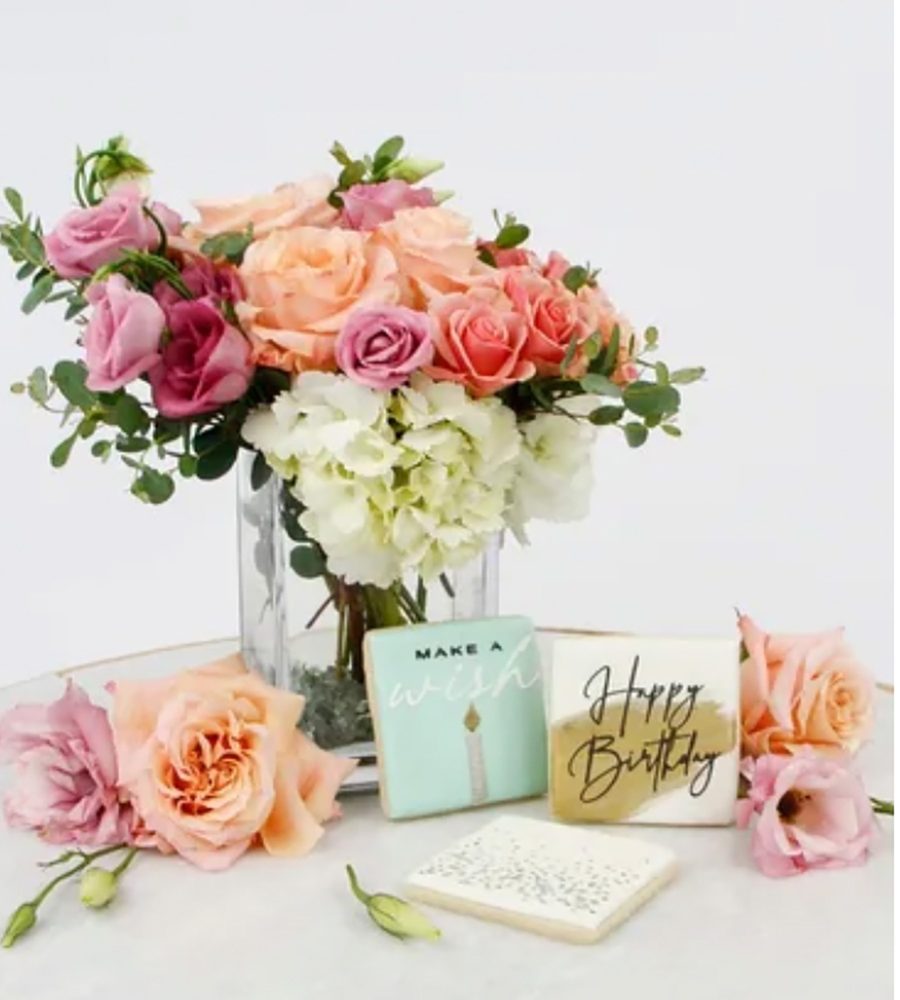 Marketing Local/Regional Products
If you're going to sell local and regional merchandise, you will want to market the items locally, both in store and online. As Kennedy's Flowers & Gifts and Dr Delphinium can attest, a great strategy is to bundle certain items with flowers or plants. In addition, train and, possibly, incentivize your staff to suggest specific local items as add-ons to all orders, to both phone and walk-in customers.
Additionally, creating a business account on Yelp, Facebook, Twitter and Instagram can help you connect with a local audience. Sharing tips and articles is an excellent way to drive local engagement and get good reviews of your business.
Offering "Locally" Grown Flowers
It is important to research cut flower farmers in your area and use local blooms, when possible. There are probably many unusual botanical treasures that grow seasonally in your area. And be sure to promote those flowers as local seasonal blooms and educate customers on the origin of the flowers.
Little Acre Flowers is Washington, D.C.'s only 100% locally sourcing florist. Founded in 2014, the company creates garden-inspired arrangements available for delivery daily around the D.C. metro area, in addition to offering event services and workshops. Little Acre Flowers work with flower farmers in Virginia, Maryland and D.C., to source all of its fresh product, and the company wraps all of its bouquets in repurposed burlap sourced from local coffee roasters. In addition, the shop's plants and gift items, such as chocolates and candles, are all procured from local makers.
"Every bloom and stem of greenery that go into our designs have been planted, cared for and harvested by local growers," says co-owner Amber Flack. "Our entire business model is focused on locally sourced flowers, which are more sustainable than flowers offered by many traditional florists who sell only flowers imported from thousands of miles away. We really care about the environment and celebrating the seasons, and we believe that using local flowers is a more eco-conscious and responsible choice. Utilizing local blooms also enables us to work with unusual and beautiful varietals—such as stunning Dahlia, charming Cosmos, interesting foxgloves and fleeting blooming branches—that wouldn't hold up well if they were imported. Our arrangements tell a special story of the time and place the flowers were grown, and we think that's important and that consumers appreciate it. Ultimately, though, it's about supporting the local economy and operating a business as sustainably as we can."
To get more involved with and support local businesses, tale time to research products generated in your area, and inquire of those companies and artisans about carrying their products in your shop. Is there a local chocolatier or baker you can work with in your area to create a special gift? Are there locally handmade soaps and spa products? Candles? Pottery? Artworks? The possibilities are endless. Finding the right fit for your business and carrying unique local products can diversity your business, attract new customers—and add to your bottom line.