Eight quick and easy tips for setting up "Instagram Shopping" for your business.
By Tonneli Grüetter
Maintaining a healthy Instagram presence has become a key ingredient in the path to success for many floral businesses. From growers and wholesalers to retail florists and their loyal customers, one doesn't have to go far to locate a business that has directly benefited from this visually powerful platform.
When a grower shares its newest varieties of cut flowers through social media, it excites us. When a wholesaler shares a long-awaited out-of-stock item that has returned, it brings us in to purchase. When we as florists share our latest arrangements, it brings in valued customers. When those same customers share photos of their treasured new blooms, it inspires their friends to become floral consumers, too.
While some apps such as Pinterest and Facebook have always made it easy to click directly through a link for purchase opportunities, they have lacked certain key demographics, which has made Instagram an ideal platform to reach floral consumers. Despite its choice to deny users the ability to click links within captions, Instagram remains a leading destination for consumer research. More than 80 percent of Instagram users report they have made purchase decisions based on items they discovered while using the app.
In 2020, Facebook, the owner of Instagram, announced a fully redesigned shopping experience powered by "Facebook Pay"(pay.facebook.com), which has opened up millions of users to improved shopping experiences. This change resulted in huge increases in consumer in-app shopping. Instagram now reports more than 130 million in-app transactions happen each month—that's more than 4 million purchases per day!
Follow our simple guide to setting up "Instagram Shopping" (business.instagram. com/shopping), and start converting inspirational posts to bigger profits now:
1. Set up "Instagram Shopping."
In order to set up "Instagram Shopping" on your profile, you must first confirm eligibility. This includes making sure you have an e-shop on your business website and reviewing eligibility as outlined in the app's user terms.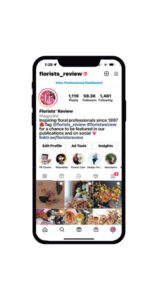 2. Convert your profile type.
If you have not already done so, convert your "Personal" profile to a "Business" or "Creator" account. To confirm or change the type of account you have, go into Settings > Account > Switch Account Type. Switching from a "Personal" account to a "Business" or "Creator" account will also unlock many powerful new features your business will enjoy, including data insights.
3. Connect your Instagram profile to your Facebook business page.
To complete this step, visit your business's Instagram profile, and select "Edit Profile." Inside "Public Business Information," select "Page." You can next select a Facebook Page from your registered Pages. If you do not currently have a Facebook Page, select "Create a New Facebook Page."
4. Upload your available product library.
Feel free to get creative here. Showcase items your customers desire including gift cards, design consultations and flower arrangements. You can do this manually through the "Facebook Business Manager" tool, or use a third-party certified ecommerce platform partner such as Shopify, which will optimize the shopping experience you provide.
5. Verification is a must.
Once you have uploaded your catalog of inventory, the next step is to verify your shop. This step can take a few days, but sometimes it will go faster. To do this, go into "Profile" and select "Settings" from the main menu. Next choose "Sign Up for Shopping," and then follow the instructions in-app to submit your account for review.
6. Turn on "Shopping."
After your account has been verified, it is time to turn on "Shopping." Return to your "Settings" section, click on "Business" and then click on "Shopping." Select the "Product Catalog" you want to publish, then click on "Done." Your profile will now have a live shopping tab. Anytime customers visit, they can make purchases without leaving the safety of their app.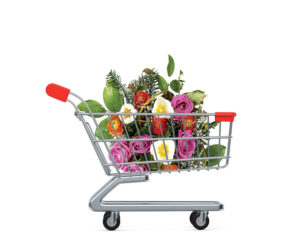 7. Tag items in your posts.
If you are looking to make direct purchases even more straightforward for customers, product tagging in your posts is a must. To tag items for sale in your next Instagram post, start by sharing a photo, as usual. Tap "Add Photo," add a caption with a direct call to action, and tap on "Tag Products" (this will be new). Tap on your photo, search for an applicable shop item and select that product. Finally, hit "Done" to publish your post.
8. Shopping in "Instagram Stories."
You will also have the opportunity to enable shopping through your "Instagram Stories." Open "Instagram Stories," and begin drafting a story as usual with either photos or a video. Before publishing, tap the "Sticker" icon in the top right corner of your screen. Select the product sticker, followed by the item from your inventory that you want to share. Relocate the product sticker to where you would like it to appear in the frame. You can also change the text color of the product sticker by tapping the sticker.
Just like that, you're ready to join the small-business revolution. With" Instagram Shopping," you will now be tapped directly into the trusted space of 500 million daily Instagram users. By reducing the number of steps between brand awareness and the opportunity to purchase, you can create an enviable conversion rate. From follower to customer, you just unlocked a whole new way to retail.