By Nita Robertson AIFD, CFD
Container Sponsor: Melrose International
An inspiration for a Day of the Dead alter (ofrenda) or buffet arrangement. Celebrate this holiday by using bold, bright colors like orange, red and hot pink. It is nice to add a pop of black, I achieved this by spraying some seeded Eucalyptus black. Another trick to incorporate the theme is to insert a day of the dead sugar skull (calavara) cupcake topper into the center of a carnation.Other additions can include candles, fruit, dried material and pictures of loved ones.
Step by Step:
Step 1: Create a "spider-web" structure using a wire wreath frame. Tie lengths of paper-covered wire across the base in a spider web form. Then glue acorns, moss and fall accents around the rim of the wire wreath base.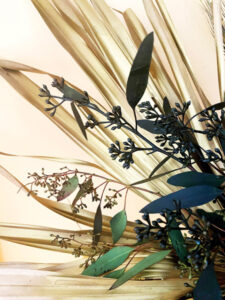 STEP 2 Spray-paint seeded Eucalyptus black, and spray-paint dried fan-palm leaves gold.
STEP 3 Attach heavy-gauge wires or wired wood picks to one section of the structure, and insert them into the floral foam in a container so that the structure
is upright. Arrange flowers through the structure. Pierce the bases of mini pumpkins with wood picks, secure the picks with hot glue, and arrange them into the design.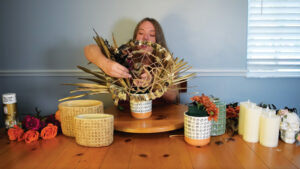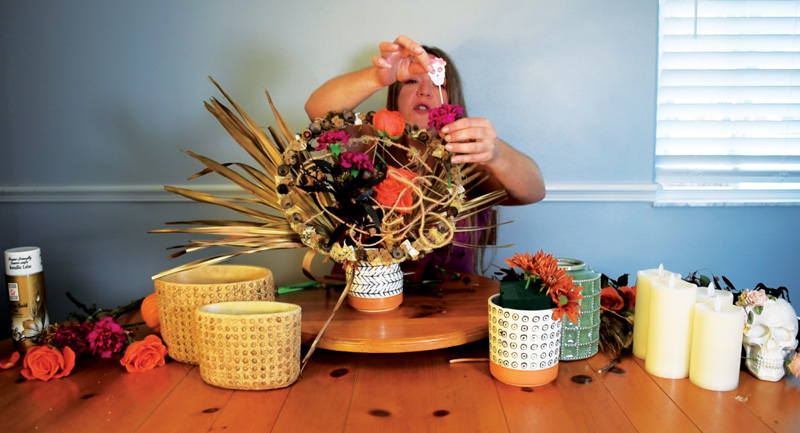 STEP 4 Insert a plastic sugar-skull (calavera) cupcake topper into the center of a carnation (or two). Then arrange a cluster of carnations into the design.
STEP 5 String individual Hypericum berries onto a length of 24-gauge floral wire, to create a berry "garland." Attach a wood pick to each end of the wire, and insert the garland into the design in a playful yet artistic manner.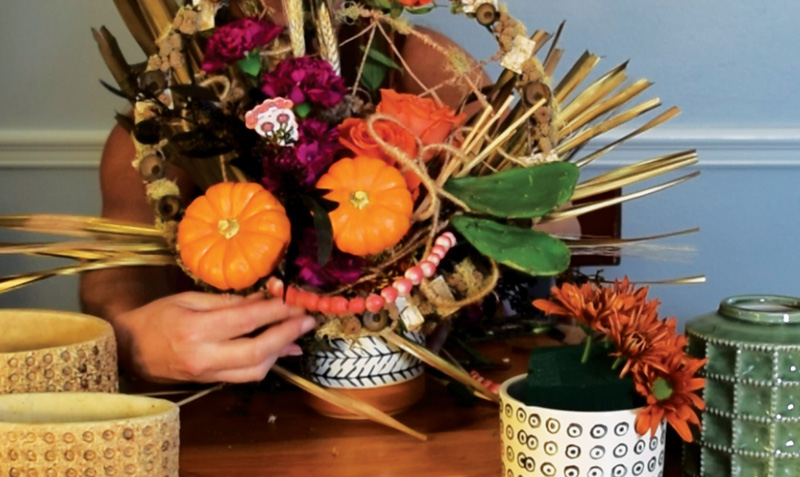 STEP 6 Finish by adding accents—like candles, fruit, component containers, and other theme décor—to the display.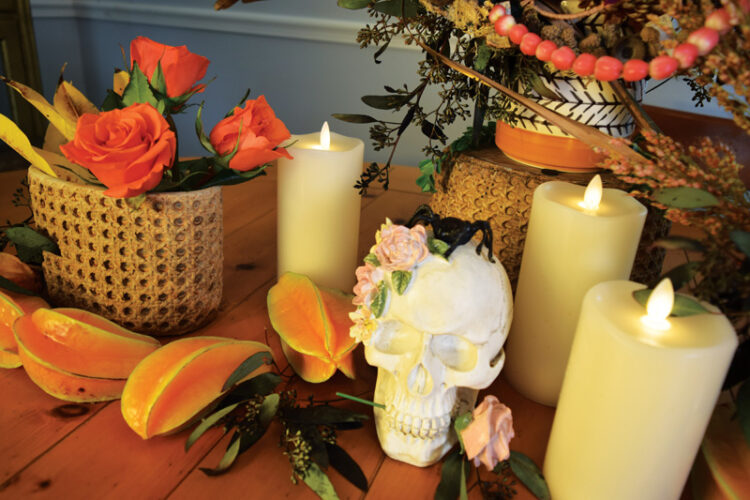 Video Tutorial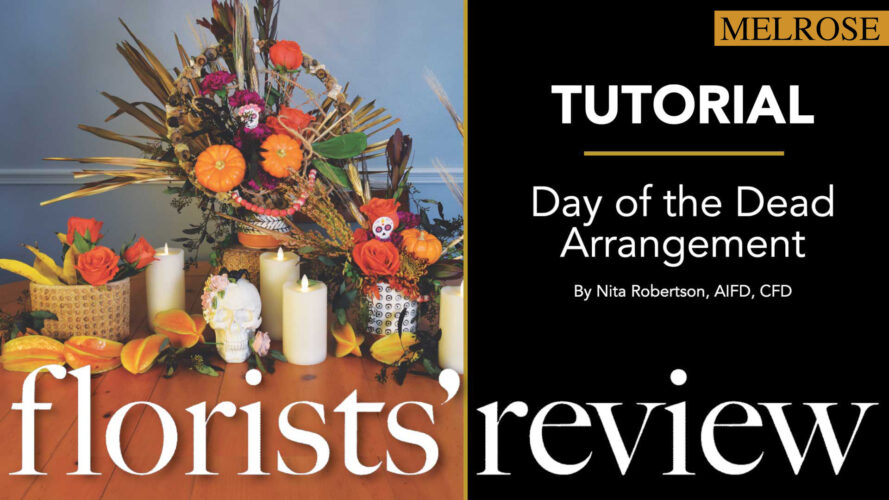 Materials
HARD GOODS
• Dolomite Pot Set (74535) from Melrose International
• Day of the Dead cupcake topper
• OASIS® Floral Foam Maxlife
• OASISTM Bind Wire
• DESIGN MASTER BrilliantGold COLORTOOL® Spray
• DESIGN MASTER Flat Black COLORTOOL® Spray
• Wire wreath ring • OASIS Florist Wire • Wood picks
BOTANICALS
• Rosa x hybrid (hybrid tea rose)
• Leucadendron laureolum x salignum 'Safari Sunset'
• Dianthus caryophyllus (carnation)
• Chrysanthemum x morifolium (daisy spray mums)
• Hypericum androsaemum (St. John's wort, tutsan)
• Hypnum spp. (sheet moss)
• Eucalyptus spp. (seeded eucalypt, seeded gum tree)
• Livistona chinensis, dried (Chinese fan palm)
• Triticum aestivum, dried (wheat) • Cactaceae family (cactus)
• Cucurbita pepo
(mini pumpkins)
• Quercus spp. (acorns)