Floral design by Beth O'Reilly, AIFD, CFD, TMF. Photos by Bill Doran Company; Houston, Texas
DRIED BOTANICALS ARE IDEAL—AND HIGHLY DESIRED—COMPLEMENTS TO FRESH FLOWERS FOR FALL DESIGNS.
Autumn is the season of harvest, and flower designs for this time of year are most appropriate and beautiful when they characterize the bounty that Mother Nature (and our nation's farmers) provide. Gourds and squashes are particular favorites of this season, lending dramatic colorations, shapes and textures to fall arrangements.
To that end, renowned floral designer Beth O'Reilly, AIFD,CFD, TMF, creates this abundant composition of fresh and dried botanicals, all beautifully woven into an exquisite tapestry of seasonal hues and textures. With Thanksgiving, in particular, just weeks away, take inspiration from this design to create fresh, new offerings for your customers' homes this fall.
Step-By-Step
STEP 1 PREP THE CONTAINER.
Thoroughly soak three bricks of natural fiber floral foam in flower nutrient solution, and secure them into a triple-brick tray with waterproof tape.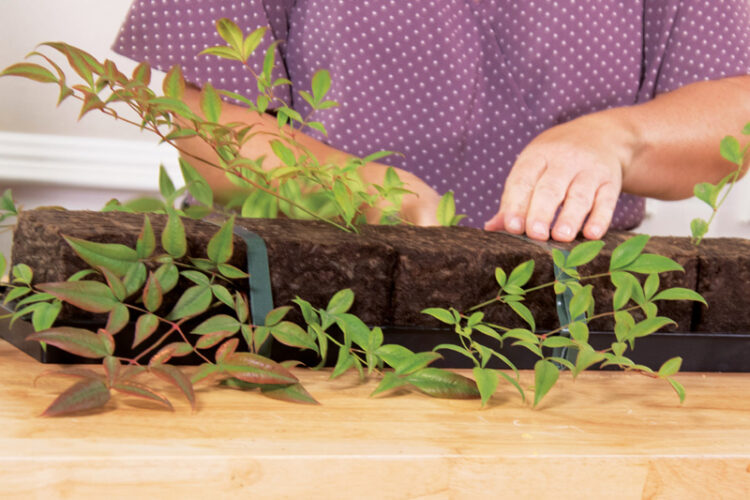 STEP 2 PREP THE GOURDS.
Twist one end of a length of aluminum wire with needle- nose pliers to form a loose coil. Leave about 5" of wire length beyond the coil. Bend the wire at a 90 degree angle, dip the spiral into hot-melt (pan) glue, and adhere the spiral to the bottom of a gourd. Repeat this step for as many gourds as you wish to use.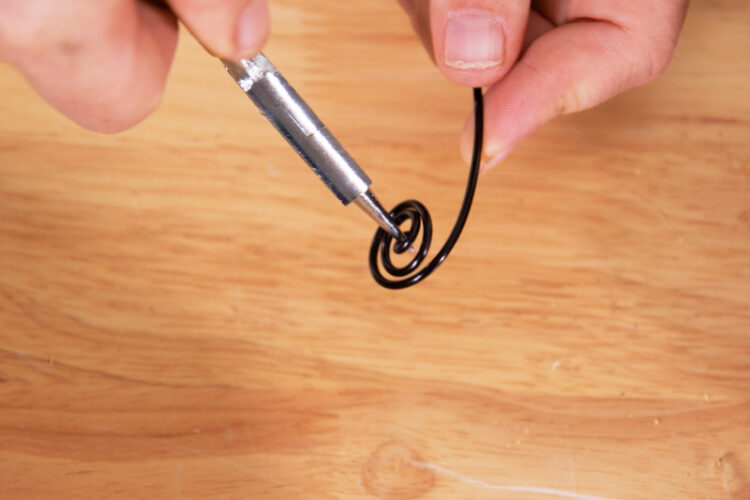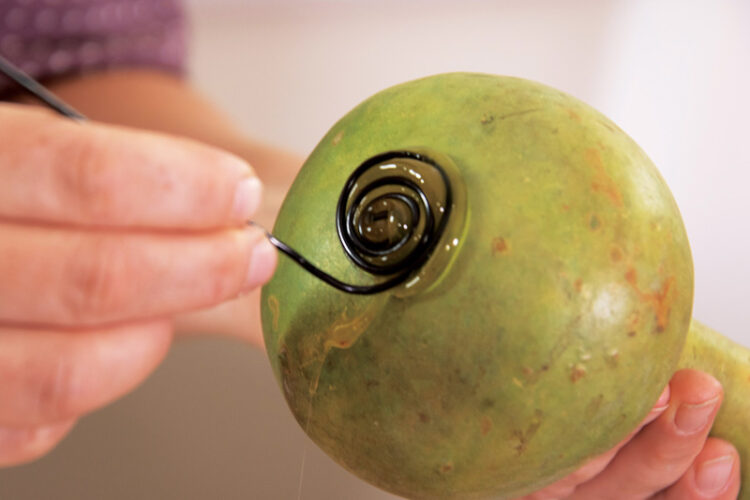 STEP 3 BASE WITH FOLIAGES, GOURDS AND GRAPEVINE.
Arrange sprigs of heavenly bamboo foliage, stems of fresh grapevine and the gourds into the natural fiber floral foam. Pay attention to the shape and movement the necks of the large dipper gourds create in the design. Create depth and negative space by looping lengths of leafy fresh grapevine in and around the foam.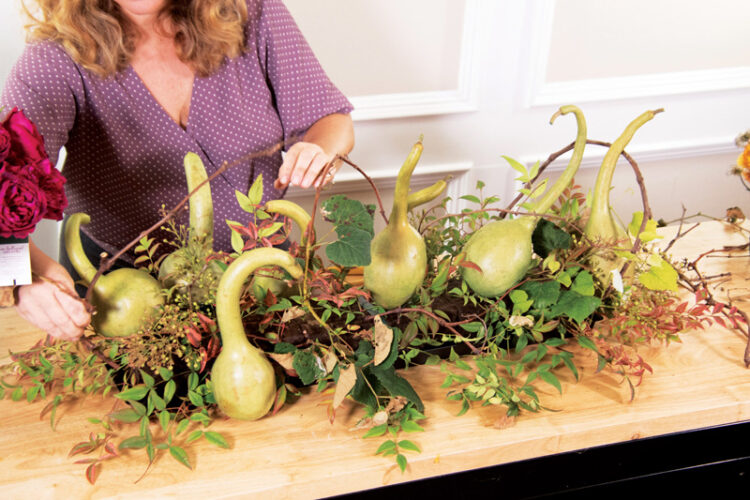 STEP 4 LAYER IN FRESH AND DRIED MATERIALS.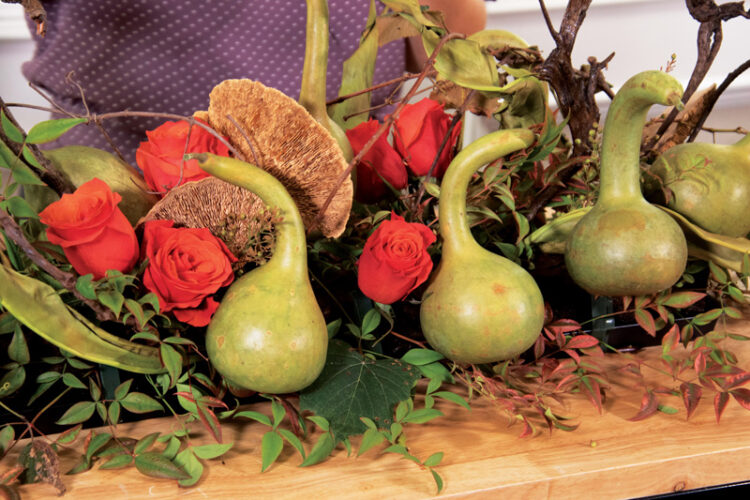 Tuck bright-colored blooms deep into the design to create depth. Add dried textural materials at different levels within the design. TIP: When inserting delicate or bulky stems into natural fiber floral foam, use a knife to create a pilot hole for easy stem insertion.
STEP 5 BUILD UPON THE DESIGN USING PARALLEL STEM PLACEMENTS. 
Continue arranging fresh and dried botanicals in a vegetative manner (positioned as they would grow in nature). Group smaller materials, including the smaller dipper gourds, for visual impact.