Through Strawberry Moon Blooms, Sara Searl offers flower picking and photography events, a weekly farmstand, monthly flower subscriptions and an a la carte wedding bouquet menu.
Full Article Below Source
Local farmer-florist sprouts business from scratch
By ALLISON WINTERS awinters@sixriversmedia.com
KINGSPORT — Sara Searl started by growing stock flowers for her own wedding, but when it didn't go as planned, she still pursued her flower dreams.
That persistence turned into her current flower farm business, Strawberry Moon Blooms. Located in Kingsport, Searl grows her own flowers from seeds, including a field of sunflowers. She has been growing flowers on her own for the past seven years.
"I'm the kind of person that if something doesn't go right, or I fail at something, I've just got to try again and try even harder," said Searl. "I went down this rabbit hole. I found more resources online about growing flowers on a larger scale."
Her love of flowers also stems from her educational background. Searl graduated from North Carolina State University, where she double majored in biology and plant biology. She also received her master's degree from Tusculum University and spent several years teaching biology at local schools.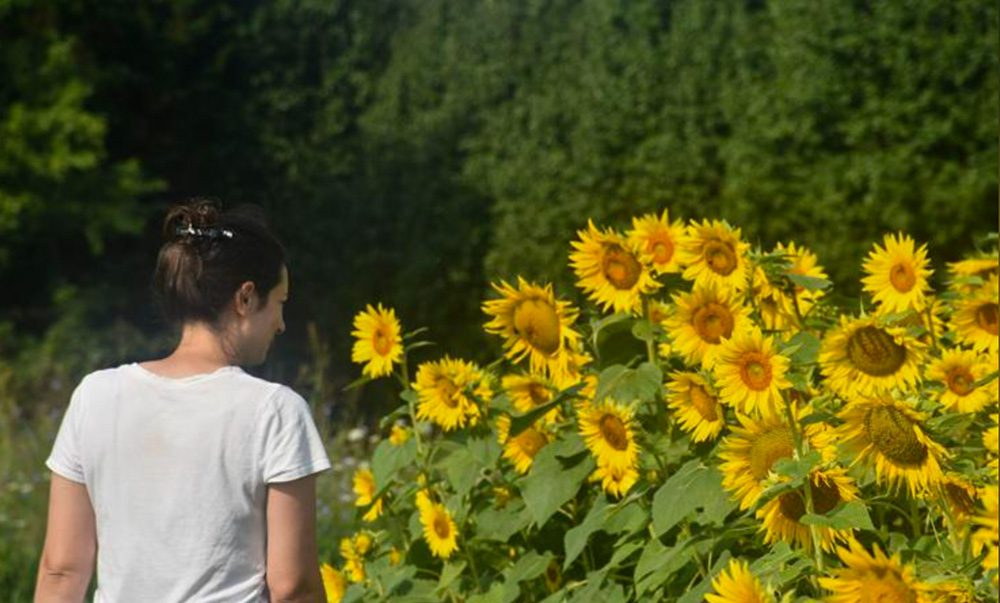 Entering into the business
Searl said she always had flowers in her garden, but had never tried something of that scale before. Right now, she focuses her growing efforts on unique blooms that are harder for people to get their hands on, such as lisianthus and ranunculus.
"We aim to pick out the ones that are top notch," Searl said. "The ones that are hard for people to get a hold of if you're just a retail buyer and hard to grow if you're a home gardener."
While there might not be blooms throughout the winter, she explained the planting is continuous. Most of the flowers tend to start blooming around April.
Joy drives her passion
One of her favorite parts about the business is the joy flowers bring to people.
Being able to make that happen for other people, giving them the opportunity to experience really special varieties of flowers and getting them the chance to pick flowers, which is not a chance that everybody has every day," said Searl. "It's just sharing the joy that flowers can bring to your life and the flowers."
The flower fields are primarily self-maintained, but her husband, grandfather and two daughters help as well. She enjoys incorporating her family into doing what she loves.
"I find a lot of fulfillment in growing and connecting with nature in that way," mentioned Searl. "I think I really love how much time I spend with my girls outside. We have a teaching moment every day when we're constantly in the flowers like this."
About the flower farm
Through Strawberry Moon Blooms, she offers flower picking and photography events, a weekly farmstand, monthly flower subscriptions and an a la carte wedding bouquet menu.
Since May, Searl has set up a stand selling flowers every Friday, but she intends to put the project on pause during September as she focuses on the flower picking events. She has seen more and more people stopping by since she started the process.
"We've had a few people stop by the farmstand this year, but it's kind of like slowly and organically gaining momentum," said Searl. "I think it'll probably be a little bit better in the spring when we start having those really early spring flowers."
"U-pick" flower events allow visitors to fill up a plastic cup with blooms from the farm to take home with them. A ticket from the event also grants visitors access to the sunflower field for non- professional photos. These events are currently scheduled for mornings and evenings every Saturday in September.
The first succession of sunflowers is in full bloom. Searl said these blooms should last through this week and a few days into next week. The next succession should be in full bloom in the next two or three weeks. She said that photographers can reach out to book sessions during non-public hours.
For more information about Strawberry Moon Blooms, visit https://www.strawberrymoonblooms.com/.