AFE seized this opportunity to connect with industry members from across the world at Proflora and delivered two informative presentations that highlighted the latest research on Thrips and Botrytis management.
Full Article Below Source
AFE Spotlight at Proflora 2023: Two Informative Presentations and an Award of Recognition

Proflora, Colombia's premier horticultural trade show, marked a significant milestone as it celebrated its 30th anniversary this year. After a four-year hiatus due to COVID-19, the event returned in-person with a bang, drawing over 300 exhibitors from 18 different countries. Organized by Asocolflores, one of the key sponsors of the American Floral Endowment's Thrips and Botrytis Campaign, Proflora 2023 was a resounding success. AFE's Research Director Dr. Terril Nell, Executive Committee Chairman Ken Young, and researchers Dr. Melissa Muñoz and Ashley Summerfield attended, representing the Endowment and sharing our important work. AFE seized this opportunity to connect with industry members from across the world and delivered two informative presentations that highlighted the latest research on Thrips and Botrytis management.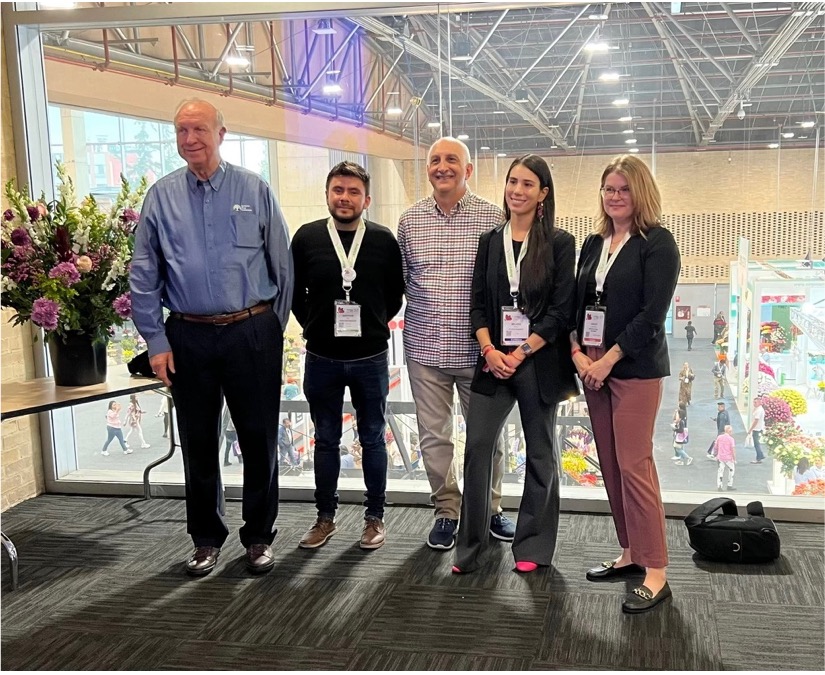 Dr. Melissa Muñoz from NC State University, a native of Medellin, Colombia, and a member of AFE's Young Professionals Council, took the stage to present her extensive research findings on Botrytis control. Melissa's academic journey, culminating in a Ph.D. at Clemson University, provided her with valuable insights into Botrytis blight's impact on cut roses. Her work has identified alternative practices to effectively manage this disease in Colombian cut flower operations. Her Proflora presentation, delivered in Spanish, focused on innovative management strategies to deal with the pressing issue of fungicide resistance development and explored the use of biorational products as sustainable alternatives.

Ashley Summerfield, a Senior Research Technician at Vineland Research and Innovation Centre in Canada, presented practical strategies and knowledge to help growers make a successful transition to a biocontrol-based IPM program. Her presentation delved into the intricacies of biocontrol-based thrips management, offering valuable insights into the strategies that have proven effective for ornamental growers in Canada. Ashley, who boasts nearly a decade of experience in greenhouse pest research, has focused extensively on thrips IPM. She is particularly passionate about thrips species identification, having co-authored a simplified thrips identification guide for growers and IPM technical specialists in Ontario, Canada.Both sessions had full rooms with attendees eager to learn more about AFE's Thrips & Botrytis research and resources. The good news for those looking to learn more is that the Endowment has recently launched a brand-new Thrips & Botrytis Research Library that is totally free to the industry with informative webinars, insightful fact sheets, engaging articles, and more for implementation strategies. These impactful resources are provided in both English and Spanish.In addition to these two presentations, another highlight was AFE's Research Director, Dr. Terril Nell, being honored with a special Award of Recognition during the Asocolflores Networking Lunch. This award recognizes Dr. Nell's continued service and dedication to the floriculture industry throughout his career.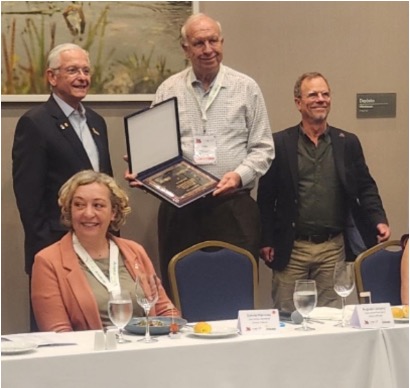 This follows Dr. Nell's recent induction into the Floriculture Hall of Fame.AFE also participated in the Sustainability Meeting. The Endowment is working diligently on a new sustainability project, Sustainabloom, which will be launching with a website soon providing sustainability guides for all segments of the floral industry. Additionally, AFE has recently become the newest Associate Member of the Floriculture Sustainability Initiative (FSI).
While at Proflora, the Endowment partnered with other US Floral Trade Organizations in a special informational booth showing how the floral industry can continue to support each other and collaborate globally.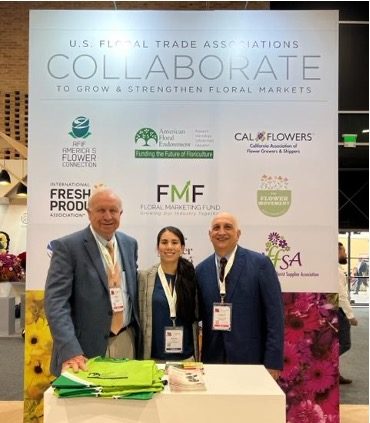 The AFE's success is made possible thanks to the generous support of our sponsors. The informative presentations by Melissa Muñoz and Ashley Summerfield not only educated attendees but also highlighted AFE's commitment to advancing knowledge and profitability in floriculture. We look forward to future collaborations that will further benefit the floral industry and its stakeholders. You can find more research and results from AFE's Thrips and Botrytis Campaign here.
By Laura Barth, AFE Research Coordinator