2021 "Garden Rose Design Contest" Winners
Alexandra Farms' fourth-annual contest generated excitement around the world, drawing nearly 200 entries from 135 designers in 22 countries!
By David Coake
For the fourth consecutive year, Alexandra Farms—the premier grower of premium garden roses in the world—hosted its highly anticipated "Garden Rose Design Contest." This annual event invites floral designers and flower lovers alike from around the world to showcase their creative talents and technical skills using spectacular garden roses. Entrants were permitted to incorporate other types of flowers, as well, if they chose.
This year, the two design categories were "Wedding Work" and "Everyday Design," and designers could enter either or both category. They also were allowed to submit two designs in each category. The final totals: 135 designers from 22 countries participated, submitting nearly 200 entries!
Teresa Ahlberg, Alexandra Farms marketing and communications manager, says the company was delighted with both the level of participation and the quality of designs. "Last year was incredibly challenging for people around the world for so many reasons," she remarks. "Despite everything, the creative minds in our industry kept doing what they do best—designing unique, beautiful work and inspiring us all! We loved seeing the spirit and personality of each designer come through in this year's winning entries."
Jose R. Azout, president of Alexandra Farms, shares the inspiration behind the contest: "Once we grow and ship our garden roses, our task of creating beauty is done," he says. "The roses, by themselves, are beautiful, but that's not the complete experience. We want to continue to be a part of the creation of beauty through this contest. We also want designers to learn about our varieties' performance, fragrance, textures and colors, and this contest is a great way to get that interaction. We are thrilled to see our roses being used in such creative and fantastic ways by talented designers worldwide."
THE JUDGING PROCESS
• The first step in the evaluation process was selecting 10 finalists in each of the two categories from among the nearly 200 entries, which was done by a team at Alexandra Farms.
• Next, three judges—Jose R. Azout, president of Alexandra Farms; David J.C. Austin, managing director of David Austin Roses; and Holly Heider Chapple, owner of Holly Chapple Flowers and Hope Flower Farm and founder of Chapel Designers—evaluated the 10 finalists in each category.
• The judges' scores were then tabulated to identify the first-, second- and third-place winners in each category.
• The two Readers' Choice winners were chosen by a public online vote from among the 10 finalists in each category.
Ahlberg explains that the floral designs were evaluated on three criteria: how garden roses were used in the design, photo quality, and the overall design aesthetic and composition. She also emphasizes that throughout the evaluation process, all judging was done anonymously independently and confidentially—the judges did not know the identities of the entrants, nor did they confer with each other.
THE PRIZES
• 1st Place in each category: All-expenses-paid trip for two to Alexandra Farms in Bogotá, Colombia
• 2nd Place in each category: 1,000 stems of garden roses
• 3rd Place in each category: 500 stems of garden roses
• Readers' Choice award in each category: 1,000 stems of garden roses
• Top 20 Finalists: 48 stems of garden roses
For more information about the contest, visit alexandrafarms.com/garden-rose-design-contest.
2021 "GARDEN ROSE DESIGN CONTEST" WINNERS
EVERYDAY DESIGN CATEGORY
FIRST PLACE
Trini Mai
Long Beach, Calif.
@petitgarden.lb
Garden rose varieties: 'Kiss Me Kate', 'The Alnwick' (Ausgrab), 'Evelyn' (Aussaucer), 'Jayne Austin' (Ausbreak), 'Tranquility' (Ausnoble), 'Desdemona' (Auskindling) and 'Distant Drum'
Photographer: Trini Mai
SECOND PLACE
Ksenia Shestakova
D&K Flowers House
Yekaterinburg, Sverdlovsk Oblast, Russia
@dk_flowers_house
facebook.com/dkflowershouse
Garden rose varieties used: 'Juliet' (Ausjameson) and 'Amnesia'
Photographer: D&K Flowers House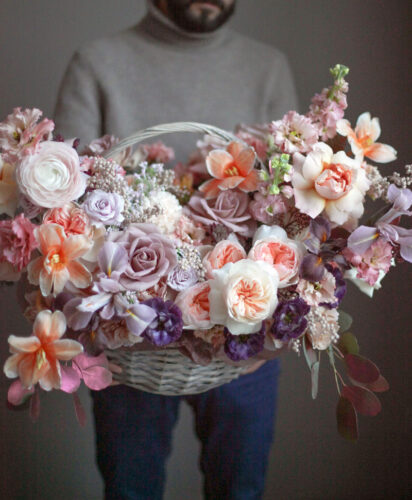 THIRD PLACE
Brenna Quan, AIFD, CFD
Burnaby, British Columbia, Canada
@brenna_quan
facebook.com/brenna.quan
Garden rose variety used: 'Pink Xpression'
Photographer: Brenna Quan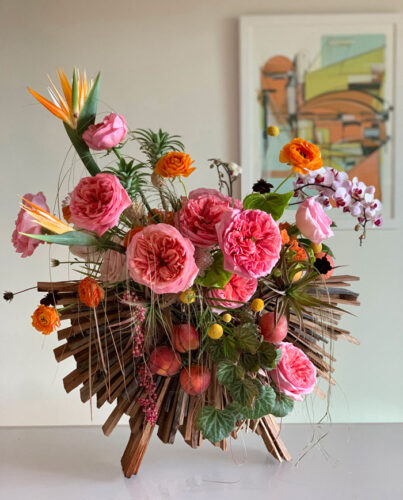 READERS' CHOICE
Katherine Taylor
Jubilee Flowers
Fairhope, Ala.
@jubilee_flowers
facebook.com/JubileeFlowers
Garden rose varieties used: 'Romantic Antike' and 'Keira' (Ausboxer)
Photographer: Lacey McLaughlin
@laceymclaughlinphoto
facebook.com/laceymclaughlinphotography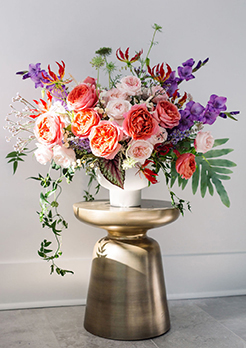 WEDDING WORK CATEGORY
FIRST PLACE
Dennis Kneepkens
DK – Dennis Kneepkens
Amsterdam, Noord-Holland, Netherlands
@dk_dennis_kneepkens
facebook.com/DKDennisKneepkens
Garden rose varieties used: 'Princess Midori' (Green) and 'Patience' (Auspastor)
Photographer: Maryn Haertel
@marynhaertel
facebook.com/marijn.haertel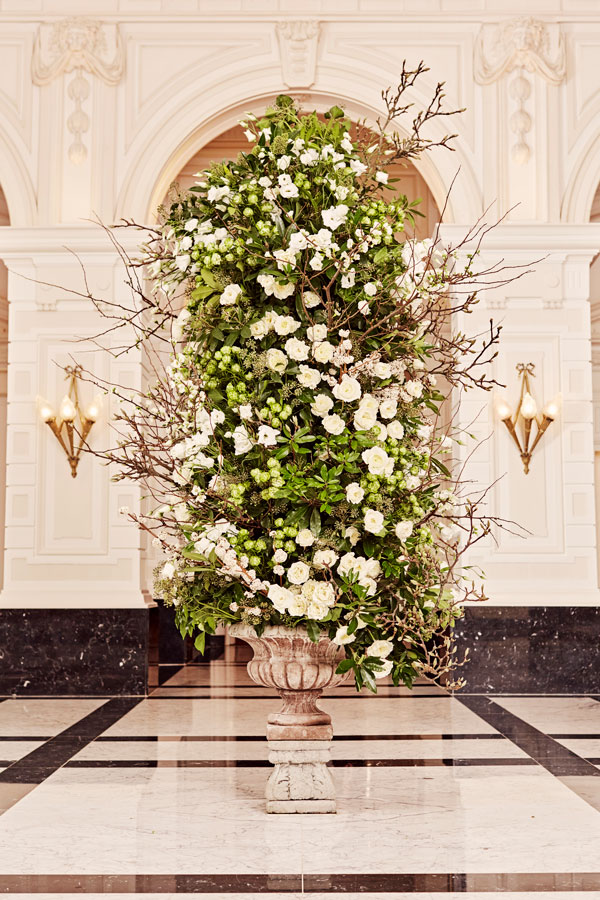 SECOND PLACE
Nancy Zimmerman
Fancy Florals by Nancy
Fairbury, Ill.
@fancyfloralsbynancy
facebook.com/fancyfloralsbynancy
Garden rose varieties used: 'Capability' (Ausapply) and 'Miranda' (Ausimmon)
Photographer: Rebekah Albaugh Photography
@rebekah.albaugh.photographer
facebook.com/RebekahAlbaughPhotographer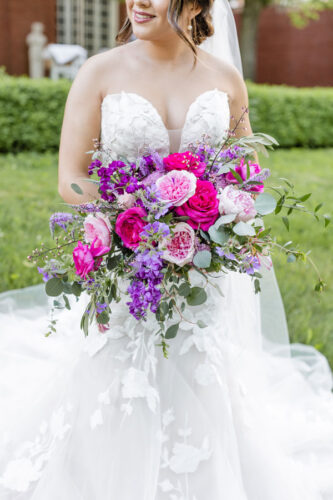 THIRD PLACE
Amanda Rodgers
Bouquet Atlanta
Atlanta, Ga.
@bouquetatlanta
facebook.com/bouquetatlanta
Garden rose varieties used: 'Francis Meilland', 'Evelyn' (Aussaucer), 'Princess Charlene of Monaco' and 'Love Song'
Photographer: Michelle Scott Photography
@michellescottphotography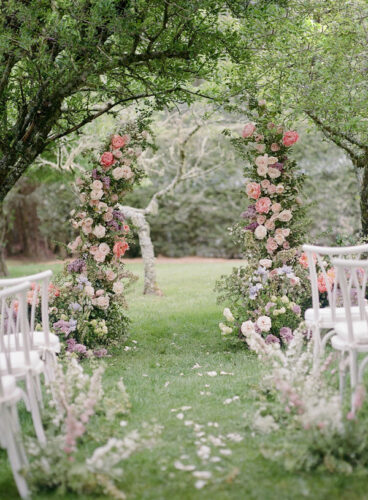 READERS' CHOICE
Ana Vivas
Aniska Creations
Miami, Fla.
@aniskacreations
facebook.com/aniskacreations
Garden rose varieties used: 'Tsumugi' and 'Miyabi'
Photographer: Natasha Arceu
@natasharceu_photography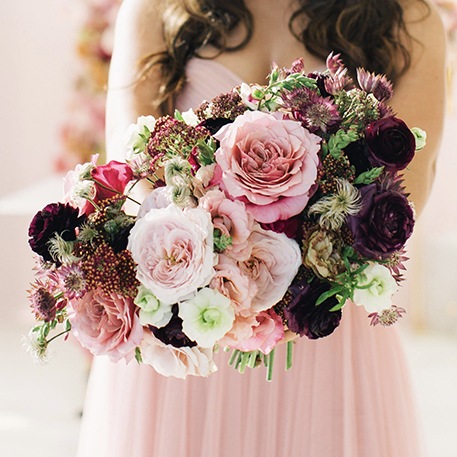 ABOUT ALEXANDRA FARMS
Alexandra Farms is a boutique rose farm dedicated to growing only nostalgic, romantic garden roses. Located in the Andes Mountains of Bogotá, Colombia, the company is the largest of four licensed growers of David Austin® Roses in the world, and the only one in Colombia.
In their greenhouses, they grow commercial varieties of garden roses from breeders all over the world including Germany, France, Spain, the Netherlands, Denmark, England and Japan, to create four distinct collections: David Austin Wedding & Event Roses, Deluxe Garden Roses, Princess Japanese Garden Roses and Wabara Garden Roses. All roses are harvested, graded and packed by hand. To explore Alexandra Farms' large selection of garden roses, visit alexandrafarms.com.