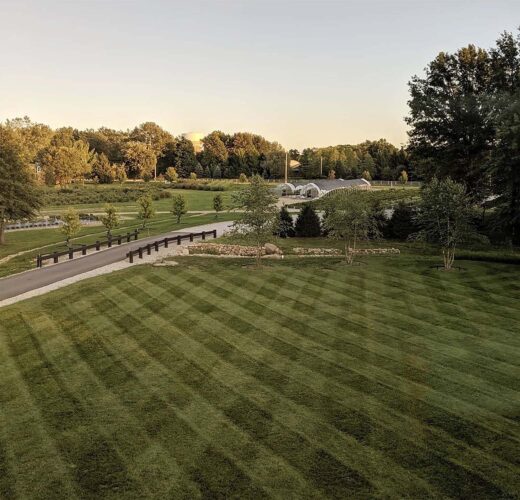 Red Twig Farms (RTF) is no longer just an Ohio flower farm; it is now "everyone's farm." Situated in New Albany, Ohio, on approximately 8 acres (just under 6 acres in production), Red Twig Farms specializes in tulips, peonies, dogwood/willow branches and winterberry, and it has a nursery division with bulbs, plants, tubers and bareroots.
The farm, owned by Josh and Lindsey McCullough, started with growing dogwood and willow branches for the family's landscaping company. The first peony plants were ready for harvest in 2013, and the McCulloughs started selling peonies at farmers markets and pedaling them from the back of their SUV to florists in the area. After many years of loading up every Saturday morning to head to the farmers market and losing product because the peonies would open in the heat, the couple decided to try something new—"Peony Fest."
Peony Fest kicked off the peony season every Memorial Day weekend. In 2019, the last Peony Fest, more than 7,000 people came through in two days. Unfortunately, Peony Fest was retired because, each year, the farm produced more blooms, making the once Farm Store a Flower Processing & Design Center. How did this happen? In 2020, like many other businesses, the farm had to pivot from being an on-site flower-farm store to either closing the doors or making the leap to shipping nationwide. The McCulloughs chose the latter, and in a matter of weeks, they had figured out shipping and sent out 1,711 boxes of peonies to 48 states in four weeks. From the start, most of their business was direct to consumer, with a small percentage to wholesalers, florists and designers. After the restructure, the farm opened options for florists and designers, with shipping directly to their doors. Red Twig Farms even added flower designs to its lineup, with Red Twig Farms' "Bloom Mechanics Flower Club"! Bloom Mechanics offers flower arrangements for weddings and parties, monthly arrangements, and more.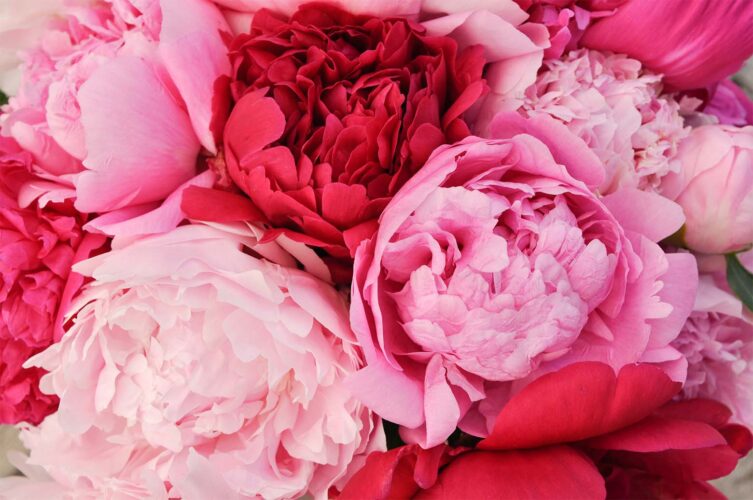 Let's talk a bit more about these peonies. If you know peonies, you know that they are the best low-high maintenance plants. While they are low maintenance because they are hardy and come back every year, they are high maintenance when in the fields. Every peony plant is weeded by hand several times a year. Red Twig Farms removes the secondary buds from every plant a few weeks prior to harvest. This helps send all the energy to creating larger buds. RTF employees harvest each bloom by hand while it's in the "marshmallow" stage—meaning it's a closed bud but bounces back when squeezed. The team strips the bottom leaves off of each stem, and then into the coolers they go! This all happens in a time frame of 14 to 21 days, depending on the weather. RTF harvests two times a day—early morning and evening (never in the heat of the day). The farm now ships fresh peonies to all 50 states! Pre-orders start January 1 each year until the crops are sold out.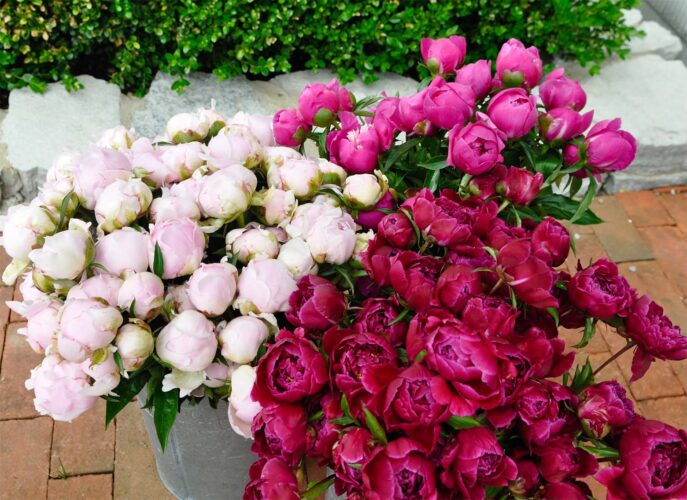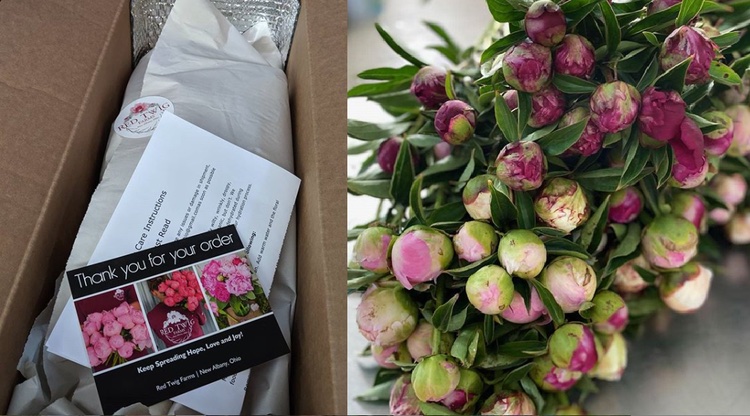 While peonies have always been the stars at RTF, the farm's tulip division is continuing to grow. Red Twig Farms is in the second year of its "Stranger to Stranger Tulip Campaign," where customers can buy bouquets that will be donated, to spread hope, joy and kindness. The bouquets are magic; they find those who need them the most. The bouquets have gone to random park benches, schools, first responders, hospitals, Meals on Wheels, grocery store workers and so many others. The bouquets have stickers on them asking those who find them to let RTF know where! The team is usually in tears by the end of the day because the stories are so touching. The McCulloughs started this campaign in 2020, just as everything was shutting down. They brought it back for 2022 and are committed to making it an annual event. In 2020, more than 1,000 tulip bouquets were donated, and for 2022, they have so far donated more than 1,200 bouquets. Tulips are also available for purchase outside of the campaign.
Once tulip and peony seasons are over, it's time to prep for branches and wreaths. Each October, the RTF team heads out to harvest branches of dogwood, willow and winterberry for holiday containers. These branches are also harvested by hand, the leaves are removed and the branches are bundled. The branches span all colors and textures, from straight to curly. RTF ships the branches all over the USA, to wholesalers, garden centers, designers and consumers. Pre-orders start July 1.
Is it time for a break after branch harvest? Well, no. It's then holiday season, which means holiday wreaths! Red Twig Farms' holiday wreaths are handmade on metal frames using fresh evergreen cuttings. Each year, RTF creates a "Holiday Wreath Collective," which typically comprises five or six designs. Pre-orders start July 1.
Last but not least is RTF's Nursery Division. Red Twig Farms offers tulip bulbs, dahlia tubers, peony bareroots and peony plants for consumers' home gardening/landscaping projects. Wholesale pricing is available, as well. RTF offers these products two times a year, for both spring and fall plantings.
Still want to learn more about Red Twig Farms? Follow our Story on Instagram @redtwigfarms and @bloommechanics. Better yet, connect with us via e-mail at redtwigfarmsohio@gmail.com. We'd love to meet you!