By Nita Robertson, AIFD, CFD
Flowers aren't just for humans; animals love them too! There is something so adorable about pets wearing flowers, especially for weddings and other special events.
In FR's second annual "Pets and Petals" contest, more than 30 floral designers from around the world submitted photos of their most beautiful flowery creations for pets, including flower collars and crowns for dogs, goats and lambs, a rabbit and even a horse.
Florists always get creative. This year, when a dog and a hamster have a "love affair," their owner, a photographer and a florist friend give the "couple" a dream wedding, complete with a mini cake, veil and bouquet for the hamster. Bet prepared for an overload of cuteness!
We are delighted to present the winners in our 2022 "Pets in Petals" contest.
WINNER
Valerie Foote
Sungrove Blossoms
Rochester, N.Y.
Photos by SLZ Photography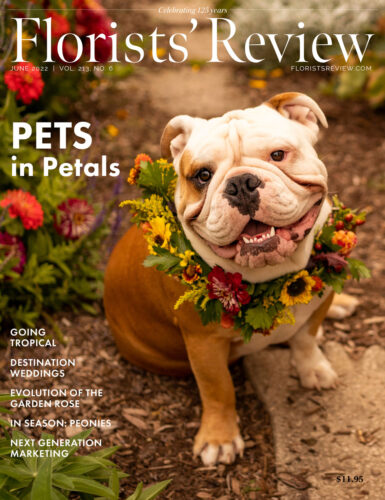 We fell in love with the bulldog featured on the cover of this issue. He was celebrating "National Dog Day" (August 26) last year in the garden with some friends. Beautiful flowers add to the personality and beauty of this loving animal. This guy knows how to party!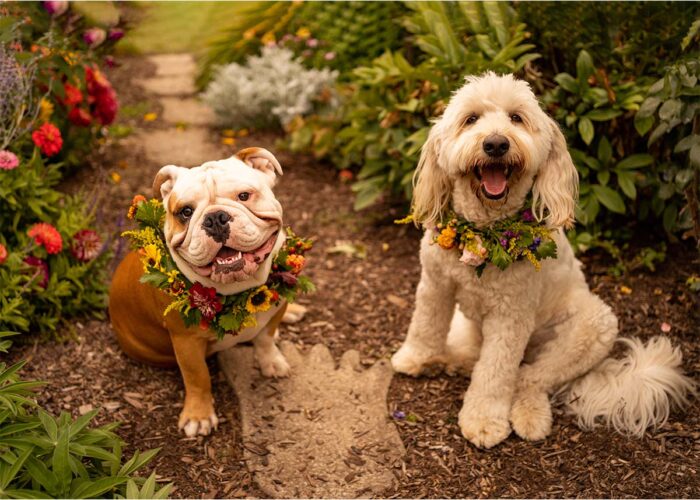 DASHING DOGS
A popular trend has been beautiful, lush flower collars and crowns for dogs, which always make for the cutest pics—and most dogs seem happy to wear them.
Evelyn Krebs, owner of Stil und Stiele in Zurich, Switzerland, made a unique flower veil for a beautiful pup. "The dog's name is Daika, and she loved wearing this floral veil." Krebs says.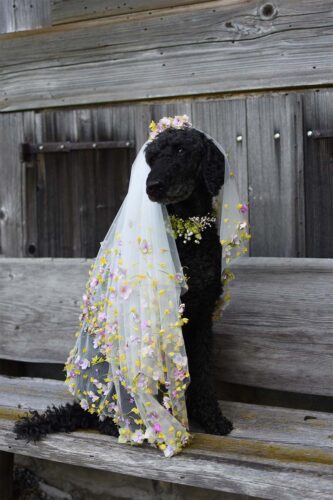 Jami Block, owner of Floral Frontier in Prairie Village, Kan., shared her top bloom ambassador and shop security, Miss Dottie Toto, a beautiful dalmatian. "She is always up for a floral photoshoot," Block shares.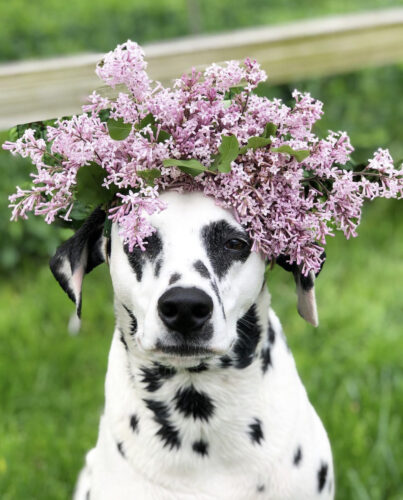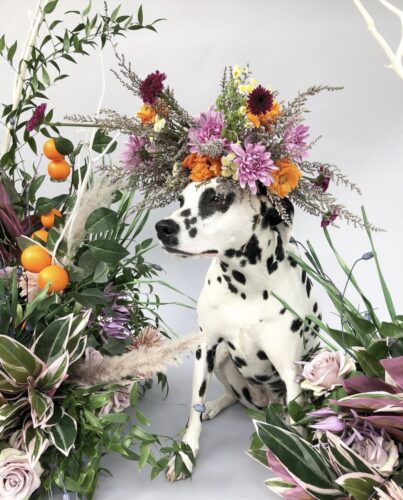 Charlie, a Cavalier King Charles Spaniel, stole the show at his parents' wedding," notes Bonnie Melin, owner of Ruby Reds Floral & Garden in Jacksonville, Fla. "He wore a flower collar of Ranunculus, snowberries, Hydrangea and spray roses, with a touch of foliage."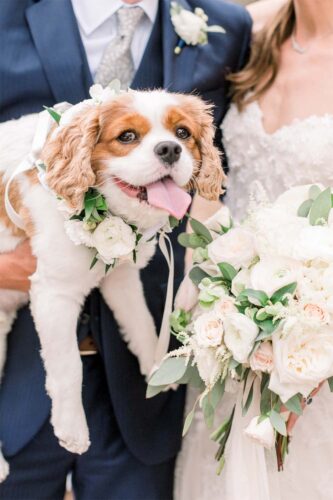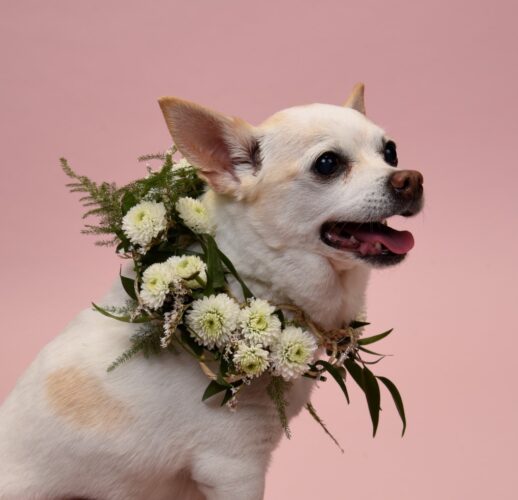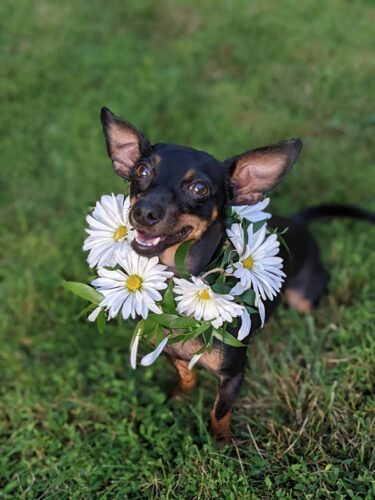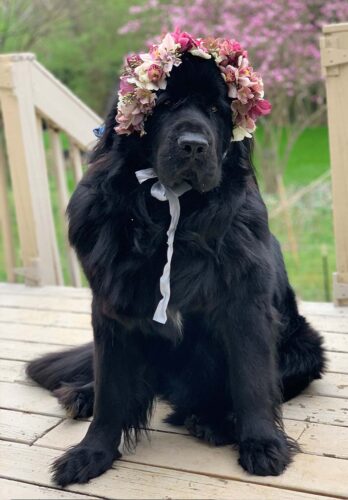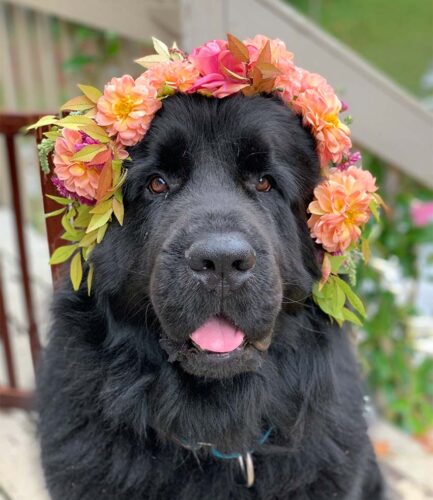 FANCY FARM ANIMALS
Flowers are for every animal that is close to one's heart, and that includes farm animals, too.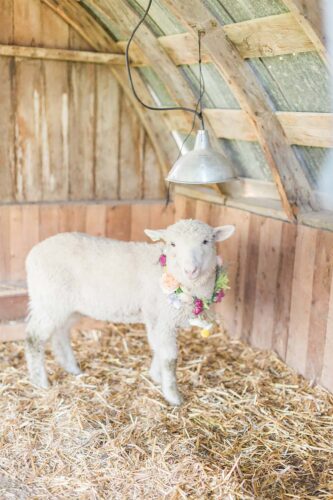 At van H acres farm in Langley, British Colombia, Canada, they grow flowers and raise Nigerian Dwarf dairy goats. "In the spring, we are overrun with both spring flower crops and baby goats," says co-owner Marie van Hulsentop. "How could I not dress up some of these kids, fit for meeting the Queen in flower crowns and bow-ties?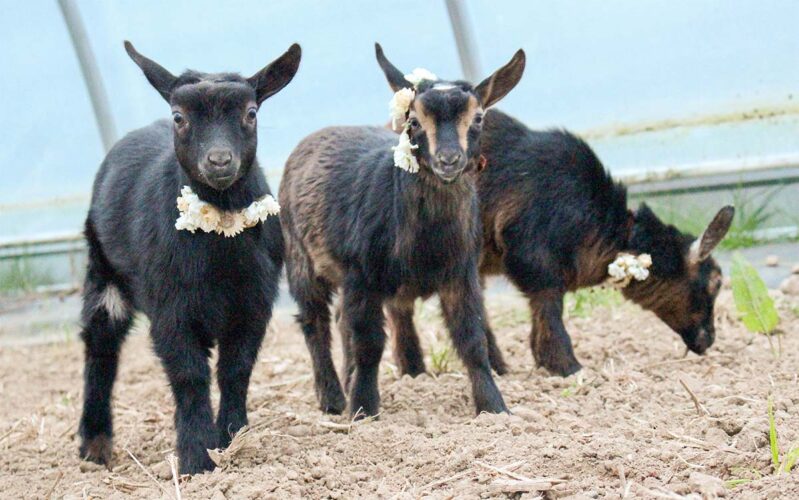 Sue Hines, owner of Sue Hines Floral in Medical Lake (Spokane), Wash. is a dedicated flower and animal lover who enjoys adorning all types of animals with beautiful flowers. "Zar is the coolest barn cat at Sullivan Family Farms in Cheney, Wash. He knows how to struts his stuff while wearing a beautiful flower collar," Hines says. "And Eleanor is a sweetheart calf on the farm."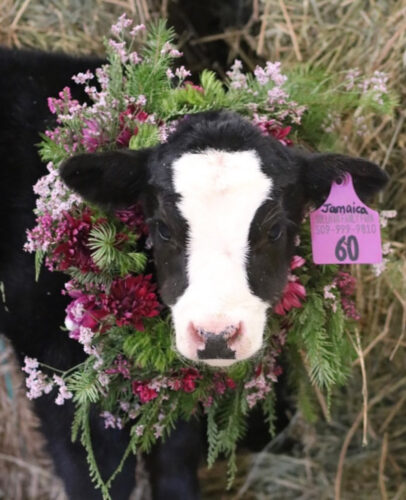 SIDEBAR