By Nita Robertson AIFD, CFD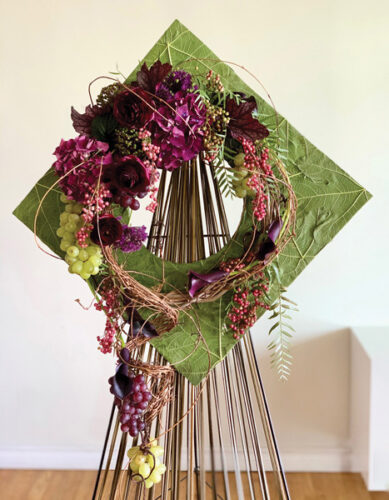 Sympathy design is an area of floristry that needs to evolve with the changing times. The need to modernize and personalize sympathy tributes is crucial to sustaining and growing flower sales for memorial and funeral services. Traditional sympathy arrangement styles have remained relatively static for generations, and there is a need for growth in this area. The importance of adding artistic flair to sympathy work is crucially important, and these designs should be treated like those for any other special event.
Two ways of doing that are personalizing sympathy tributes and conveying more of a "celebration of life" rather than somber mourning via beautiful color palettes and contemporary styling. Traditional shapes such as wreaths, crosses and hearts will always be desired, but let's elevate those designs and bring them into the future. It is our job as florists to offer our clients all the possibilities of creating memorable displays for funeral services.
Personalizing sympathy arrangements is one way to showcase your creativity and create connection, emotion and healing for the loved ones. Creative flower designs that convey the personality and personal interests of the deceased is key. Incorporating a personal item can really make a heartfelt statement. Ask families if they have any personal items you can include in their designs to make them special. The possibilities are endless, and a few examples include a fishing pole, a musical instrument, and gardening gloves or a hat.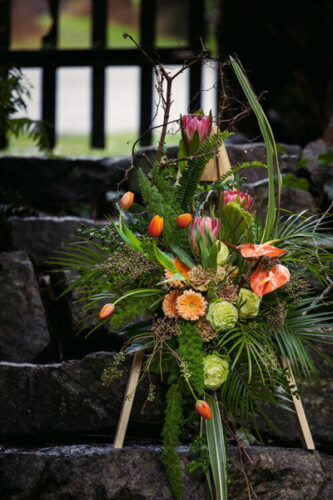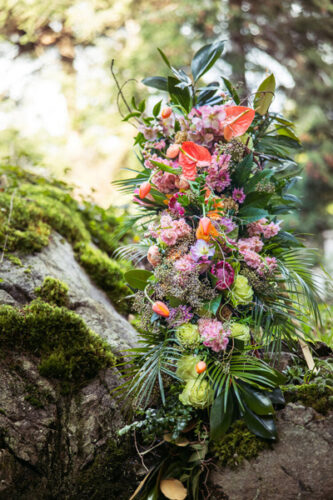 Hitomi Gilliam, AIFD, CFD, shares her take on sympathy floristry. "Updating to suit current lifestyles and the general vibe of what consumers sees as beautiful is very important for this segment of floristry," she offers.
"My sense is to revamp sympathy work from the stiff, archaic traditional badges of honor to more creative, individual expressions reflecting the personality of a person's life well lived. Thinking differently about sympathy work and designing pieces for a life event— sympathy design work is event work. Designs can be assembled to last for the amount of time that they need to look good, minimizing the use of some of the polluting elements in supplies and making disposing of the flowers much more organic and decomposable."
Last spring, Gilliam and Brenna Quan, AIFD, CFD, offered a virtual design class during which they explored new shapes, stylings and combinations of botanicals for thoughtful, beautiful tributes for celebrations of life.
Quan's cremation-urn frame featured below could be taken home to create a decorative mantelpiece for the remains of a loved one, using a combination of plants and fresh flowers.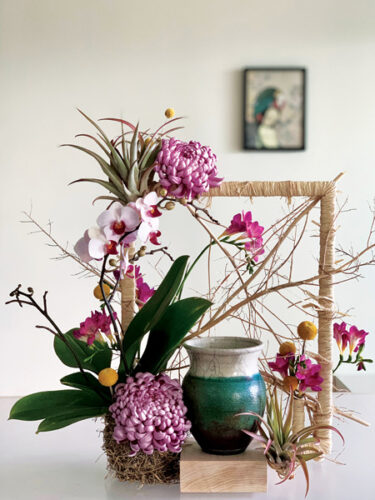 About her design featured at the beginning of this article, Quan says, "This one is for a vineyard owner or wine enthusiast, with reeds mimicking the rows of growing grapes and the inclusion of fresh grapevine and grape clusters."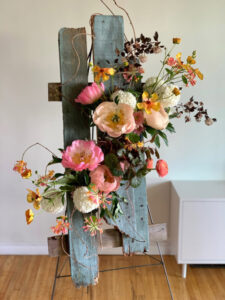 The design (left) was created in memory of a lover of gardening, Quan's "plank" design is floral-foam free; she created it by attaching several "The Pillow®" Foam-free Design Mechanics from Syndicate Sales' "Holly Heider Chapple Exclusively for Syndicate" collection to a frame of reclaimed wood fencing boards.
Mike Hollenbeck, AIFD, CFD, does a lot of sympathy work at his shop, Floral Artistry in Lewiston, Idaho. Here, he shares pictures of some of the personal touches he has used to create memorable and personal tributes. The use of personal items really connects the floral pieces to the deceased and provides comfort to family and friends as they celebrate the life of the one lost.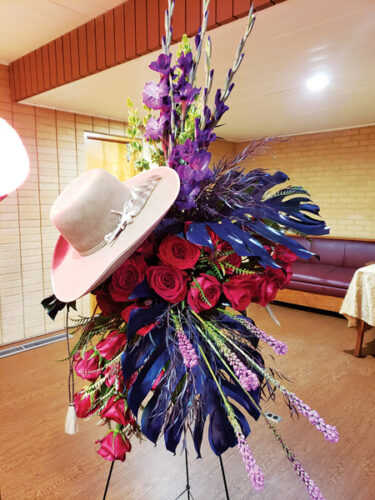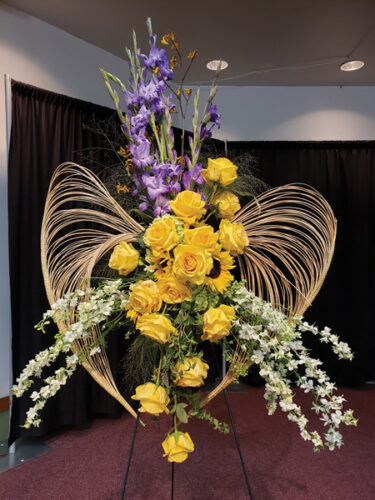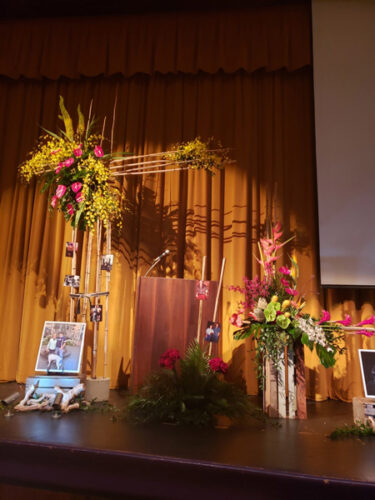 Jorge Uribe, AIFD, CFD, EMC, owner of Urban Floral in Wolcott, Conn., is a master of creating stunning custom floral arrangements inspired by nature and rife with color and texture. Uribe shares some his beautiful modern sympathy designs as inspiration for modernizing sympathy tributes. A distinctive Uribe touch is writing on a leaf in gold ink in lieu of the old-style banners with gold foil lettering on ribbon. This is a great idea for updating an old tradition that many consumers still desire.