Strange Bright Blooms
A History of Cut Flowers
This just-released book explores the social ramifications of cut flowers and the floriculture industry throughout history.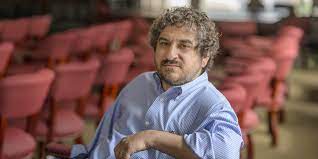 At a whopping 324 pages, comprising 90 stunning color plates and 20 halftones, Strange Bright Blooms: A History of Cut Flowers is the type of deep dive into the complicated history of cut flowers that flower nerds have been waiting for. Written by author and Georgia State University professor Randy Malamud, this new release is a Michael Pollan-esque trip into the secret history of flowers. Differing from other flower books, Strange Bright Blooms dominantly focuses on the social ramifications of floriculture throughout history. In five fascinating sections, this book explores everything from the economic history of flower sellers to the role flowers have played in our modern perceptions of gender, sexuality, race and class
The closing chapter, titled "Flowers of War," explores the role cut flowers have played in the struggle for peace. Many of us have seen the iconic image of a daisy in the barrel of a soldier's rifle, but do we know where that idea came from or why it works? In this book, the complicated multifaceted answer is revealed.
Malamud has created the ultimate compendium of cut flower industry history, and Strange Bright Blooms is a must-read addition to your floral library—fit for a college course but as easy to consume as the latest fad television series.
Virginia Woolf famously began one of her greatest novels: "Mrs. Dalloway said she would buy the flowers herself." Of course, she would: Why would anyone surrender the best part of the day to someone else?
Flowers grace our lives at moments of celebration and despair. "We eat, drink, sing, dance and flirt with them," writes Kakuzō Okakura, the late Japanese art curator, author and scholar. Flowers brighten our homes, our parties and our rituals with incomparable notes of natural beauty, but the "nature" in these displays is tamed and conscribed.
Randy Malamud seeks to understand the transplanted nature of cut flowers, our relationship with them and the careful curation of their very existence. Strange Bright Blooms: A History of Cut Flowers is a picaresque, unpredictable ramble through not only the world of flowers but also the world itself, exploring painting, murals, fashion, public art, glass flowers, pressed flowers, flowery church hats, weaponized flowers, deconstructed flowers, flower power and much more.
— Reaktion Books; The University of Chicago Press
BOOK DETAILS
324 pages
Hardcover
$40