This artful, modern and sophisticated flower heart design is sure to alter the mind-sets of flower-complacent consumers this Valentine's Day.
Floral design by Andrea Ancel, AIFD, CFD; FTD director of design
Photos and videos by James Merri, FTD director of production
Presented by FTD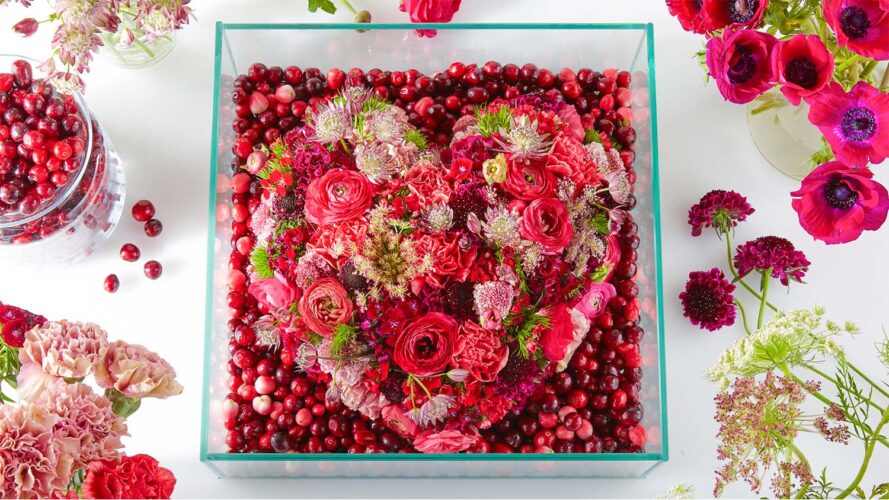 Let's face it: Many consumers today—particularly younger shoppers—do not consider flowers to be particularly exciting, creative or personal gift options for Valentine's Day. Instead, they perceive flowers as too traditional, common or mundane—and, often, not a good value (expensive and not long lasting).
This year, change those minds by offering floral designs that are exciting, creative, romantic, able to be personalized—and a great value, in terms of longevity. This floral design idea checks all those boxes and will certainly generate excitement among shoppers looking for something cool, hip, modern, creative, romantic—and sophisticated.
Among its many positive attributes, this design can be created in a variety of sizes, using virtually any types of flowers—yielding a range of price points. And it's a great way to use all those broken flower heads, turning potential loss and waste into profit. Finally, because the flower stems are short, this design will last incredibly long—and, depending on the flowers used, can even dry into a lasting keepsake (talk about value!).
STEP BY STEP
Step 1
Cut floral foam into the shape of a heart. Alternatively, choose a heart-shaped floral-foam form, most of which have mâché or plastic backings.
Layer cranberries into the base of large square glass container. Do not add water; cranberries float.
Thoroughly soak the floral-foam heart in properly proportioned flower nutrient solution, and place it on top of the cranberries.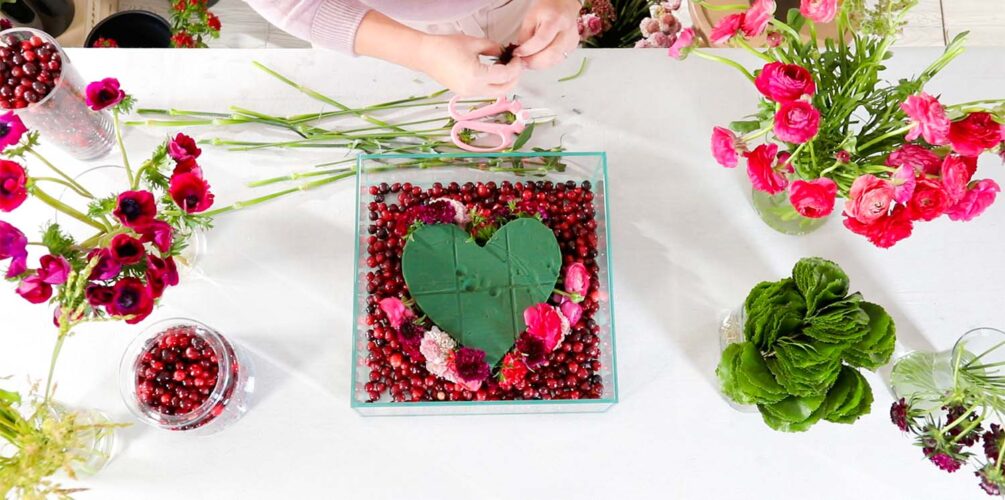 Step 2
Arrange smaller blooms around the bottom of the heart (the point), to help keep the shape visible.
Step 3
Arrange larger blooms on the surface of the floral-foam heart. Layer on Astrantia, Ranunculus buds and Queen Anne's lace, for softness and dimension.
Pop Hypericum berries off their stems, and sprinkle atop the surface of the design.

MATERIALS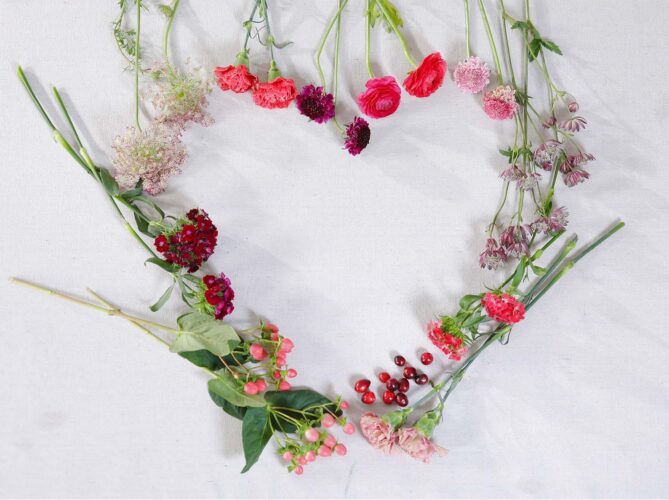 BOTANICALS
Dianthus barbatus (sweet William)
Dianthus caryophyllus (carnation)
Ranunculus asiaticus (Persian buttercup)
Scabiosa atropurpurea x caucasica 'Scoop' series (pincushion flower, scabious)
Astrantia major (masterwort, great masterwort)
Daucus carota 'Dara' (chocolate lace flower, chocolate Queen Anne's lace)
Hypericum androsaemum (tutsan, St. John's wort)
Vaccinium macrocarpon (cranberry, American cranberry)
HARD GOODS
Large, low (shallow) square glass container
OASIS® Floral Foam Maxlife
Video Tutorial