Cut flowers produced in the U.S. are favored by a growing number of consumers. Discover more about the "American grown" flower industry and burgeoning movement in this exclusive FR report.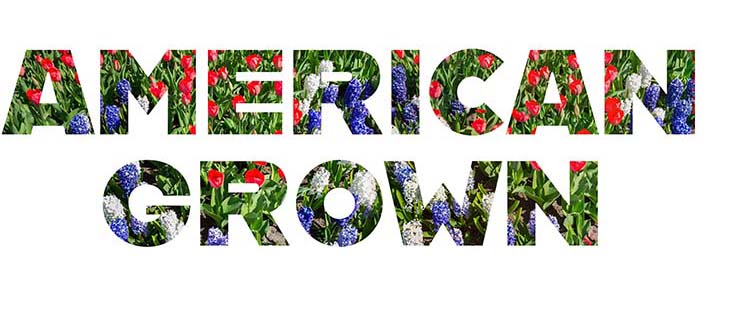 By Nita Robertson, AIFD, CFD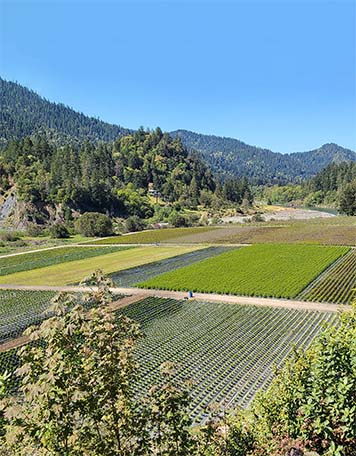 The U.S. Cut Flower Market
The cut flower and foliage sector are an important part of U.S. agriculture, with a daily economic impact, supporting hundreds of farmers and small businesses and providing tens of thousands of jobs in the United States.
Most cut flowers are grown in warm climates that allow for flower production through much of the year. Growers in Florida produce an estimated 69 percent of the domestic cut foliage grown in the U.S., and California is the top cut-flower-producing state in the U.S., with flower farms producing approximately 76 percent of all cut flowers grown in the U.S. Smaller percentages of cut flowers are produced also in Washington, Oregon, New Jersey, Florida, Hawaii and other states, according to Petal Republic and AboutFlowers.com. You may be surprised, however, to learn that there are flower farms in every state.
Despite their long history of quality fresh flower production, many domestic growers are—and have been—struggling because of competition from growers outside the U.S., particularly in Colombia and Ecuador, as well as in Mexico, Costa Rica and Guatemala. Cut flower and foliage imports from offshore growers dominate today's U.S. flower market, accounting for approximately 80 percent of all the cut flowers sold in the U.S. However, the role of domestically and locally grown botanicals is undeniable. There is an increased awareness about supporting "local" goods and businesses among consumers, including cut flower growers and the florists that sell American-grown flowers. During the height of the COVID-19 pandemic, many florists discovered "local" flower farms and used them to fill their needs.
American-grown flowers are something to be celebrated. They highlight the resilient spirit that has defined the American people across generations. "Local" growers often offer types and varieties of cut flowers that are not available from any other sources. Florists also have the opportunity to get to know farmers and form long-lasting collaborations with them. They see firsthand the growers' pride in their products.
"It is important to promote 'American Grown' flowers, not only to help sustain existing farms and encourage new farms to flourish but also to continue the rich tradition of American agriculture and invest in America's cut flower industry," says Aileen Casillas, owner of Florian, a full-service flower shop in Prescott, Ariz.
Field to Vase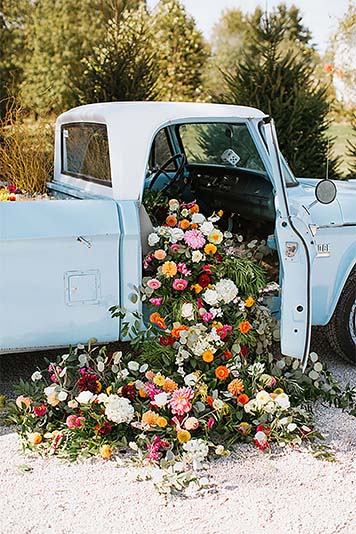 U.S. flower farmers put a lot of love, time and hard work into growing beautiful cut flowers for florists to design with, and relationships between farmers and floral designers is key to helping both segments flourish. Growers decide what to produce, incorporating their knowledge of local growing conditions and experimenting with new cut flower types and varieties. Florists know what flowers are in demand and work best for specific designs and occasions. If growers know what florists want, need and will buy, there is a high possibility they will start growing those items; therefore, it is important for growers and retail florists to forge strong relationships and work together to support each other.
"What's not to love about American-grown flowers?" asks Jennifer Reed, owner of Jennifer Designs in Mantua Township, N.J. "Not only are 'locally' sourced flowers beautiful and long lasting but buying them also supports local communities and economies—and so much more. I also love getting to know the farmers and their families and why they are passionate about flower farming."
If you regularly stock cut flowers that are domestically or "locally" grown, be sure to market that fact to your current customers and other consumers; doing so can lead to increased sales, including more frequent purchases, and new customers. Many consumers today care about sustainability and the origin of the products they buy, so educate your community about where your flowers come from and your support of "local" farmers.
"As a grower, I am supporting my local economy and ecology," shares Marly Surena-Llorens, owner of Fenimore & Rutland, a micro flower farm that sells both wholesale and retail and also offers design services in Allentown, Pa. "My customers are impressed when they learn that locally grown flowers last longer than flowers that have to be shipped long distances. And, for me, as a designer, I appreciate the creative challenge that using only local flowers and foliage presents."
Kitayama Brothers/KB Farms, a renowned cut-flower-growing operation and flower broker based in Watsonville, Calif., has more than 1 million square feet of greenhouse space and has been in business for 74 years. In addition to selling the flowers it grows, the company also sources around 80 different types of flowers, herbs, fillers, foliages and branches from smaller local growers in the Santa Cruz area.
"When you buy from KB Farms, you are supporting not only our family business but also many other small family businesses across the region," notes Robert Kitayama, president. "We source flowers that we do not grow from boutique growers in our area; they produce specialty types of varieties of flowers, greens and branches that would otherwise not make it to market. We have them to thank for the excellent product diversity we have available. Without a focus on buying American-grown products, growers—small and large—would likely find themselves closing their doors, as so many growers already have."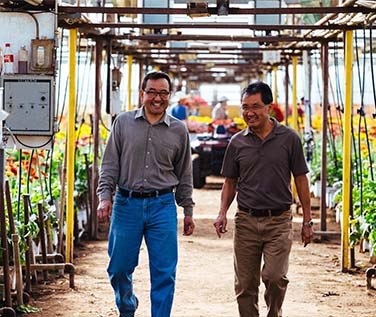 The American Grown Flower Movement
Debra Prinzing, PFCI, who is widely credited with helping spark the American-grown flower movement, launched SlowFlowers.com in 2014 to connect consumers to florists, studio designers, wedding and event planners, supermarket flower departments and flower farmers who are committed to using American-grown flowers. Based in Seattle, Wash., Prinzing is a writer/author, speaker and leading advocate for American-grown flowers. Through her many Slow Flowers-branded projects, she has created a national conversation that stimulates consumers and professionals alike to make conscious choices about their flower purchases.
Posy Blue, a flower retailer and grower in Meridian (Boise), Idaho, uses American-grown flowers exclusively. "We are committed to using sustainable practices in our designs, and we source only local and American-grown flowers, from my own cut flower garden and locally, as well as from flower farms in California and Oregon. Every stem at Posy Blue is 100 percent American grown," says owner Roni Pladsen.
"I believe that American-grown flowers make my designs more interesting, and they also last longer," says Blair Lynn, owner of Sweet Blossoms in Frederick, Md. "I'm happy to support our local flower farmers because supporting them means supporting our local infrastructure and also reducing my company's carbon footprint."
CERTIFIED AMERICAN GROWN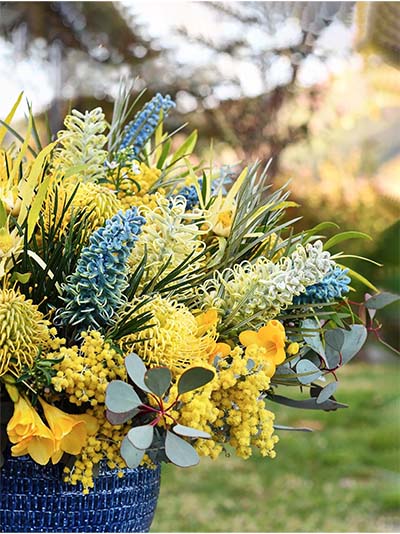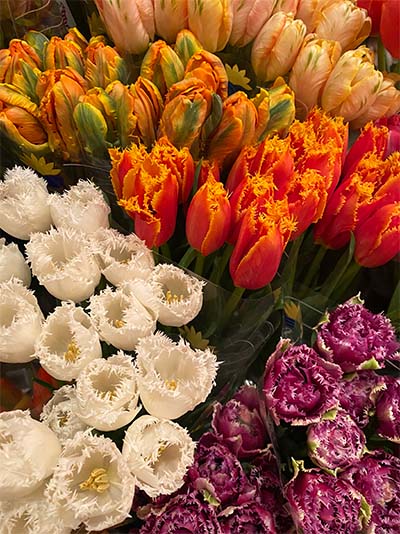 Certified American Grown (CAG) is an independent national trade association based in California and representing cut flower and greens farmers nationwide. Originally a marketing and governmental relations group under the auspices of the California Cut Flower Commission, CAG now represents a diverse community of American cut flower, cut foliage and potted plant farmers in the U.S.
As the voice for domestic flower farms, CAG works toward sustainability and prosperity through a unified voice, effective advocacy and strategic promotion. The Certified American Grown seal communicates to consumers the domestic origins of their purchases and affirms the high quality, freshness and standards involved with producing Certified American Grown flowers, foliage and plants. To become members of CAG, flower farms must go through a third-party origin-verification process.
"Certified American Grown is a community of U.S. flower farms, of any shape or size," shares Camron King, CEO of Certified American Grown. "From multigenerational, new and upcoming farms to micro farms and large-volume growers, all are working together through CAG to promote American-grown flowers and foliage. Currently, Certified American Grown member farms generate more than 50 percent of the cut flower and foliage production in the U.S.
"Consumers spend almost $27 billion per year on floral products, and while the majority of consumers would prefer to buy locally grown flowers and foliage, only a small percentage of the cut flowers and foliage that are sold in the United States are grown here," King explains. "We hope to change that by further educating consumers and policymakers on the importance of supporting home-grown industries. Our vision is to have a healthy, sustainable and prosperous 'American Grown' cut flower and foliage farming community."
As one of the premier wholesale sources for fresh cut flowers and foliage in North America, Florabundance supplies floral designers with variety, value and versatility. Located in Carpinteria, Calif., Florabundance offers 65 percent to 70 percent domestically grown flowers. "We have noticed increasing interest and requests for American-grown flowers and foliage among our customers, which is possible for them to determine because those products are clearly marked 'Certified American Grown' on our website," explains Joost Bongaerts, owner and president of Florabundance.
July is American Grown Flowers and Foliage Month, an annual celebration of the domestic farming community that highlights the bounty grown on U.S. farms and the contributions they make to their employees, their communities, the industry and the country. American Grown Flowers and Foliage Month has been recognized through a Congressional resolution marking July as the month for this U.S. celebration, which opens the door for retailers, wholesalers and flower farmers to continue to discuss the virtues of homegrown flowers and foliage—a point that's resonating with consumers for whom origin matters.
Certified American Grown has a lot planned to celebrate American Grown Flowers and Foliage Month 2022. Flower retailers and wholesalers around the country are celebrating with special promotions and activities, and flower farms are hosting special events and workshops and selling specially designed celebratory bouquets.
"It is a busy month, full of events surrounding American-grown flowers," explains Anna Kalins, CAG program manager. "Every state in the U.S. will have 'local' flowers and foliage available. We are doing a big social media push for sharing American-grown flowers to spread the awareness and beauty of 'locally' grown product."
Kalins encourages all florists to support Certified American Grown-member flower farms—not only this July but also throughout the year—by tagging Certified American Grown flowers and the farm(s) they source from on social media, to share the beauty and love for American-grown flowers. Visit AmericanGrownFlowers.org, to learn more.