Younger consumers are discovering—and loving—tropical flowers, and showing their versatility by arranging them in new ways and color harmonies is key to exciting this group.
Design, photos and text by Nita Robertson, AIFD, CFD
Sponsored by Hawaii Floriculture and Nursery Association (HFNA)
and OASIS Floral Products/Smithers-Oasis Company
There is nothing like tropical flowers to create the feeling of a tranquil paradise. On these pages, I share inspiration for designing with Hawaiian-grown tropical flowers while sharing the beauty of aloha love. All of the flowers and foliages were grown by Hawaiian farmers who are proud to share the beauty of their islands with the world. The botanical materials were generously provided by the Hawaii Floriculture and Nursery Association (HFNA), which believes in floral design education to promote and educate the world about using Hawaiian-grown tropical flowers in a new way. Discover more at HawaiiNeotropica.com.
Many floral designers are becoming more eco aware with their compositions, so I chose to create this arrangement using the new OASIS®FibreFloral™ Design Media from OASIS Floral Products/Smithers-Oasis Company. This product is derived from natural volcanic basalt rock with a bio-based binder derived from rapidly renewable materials. It is fast soaking, has excellent water storage capacity and is easy to use. The bricks have a natural color and texture and do not need to be fully covered, if desired.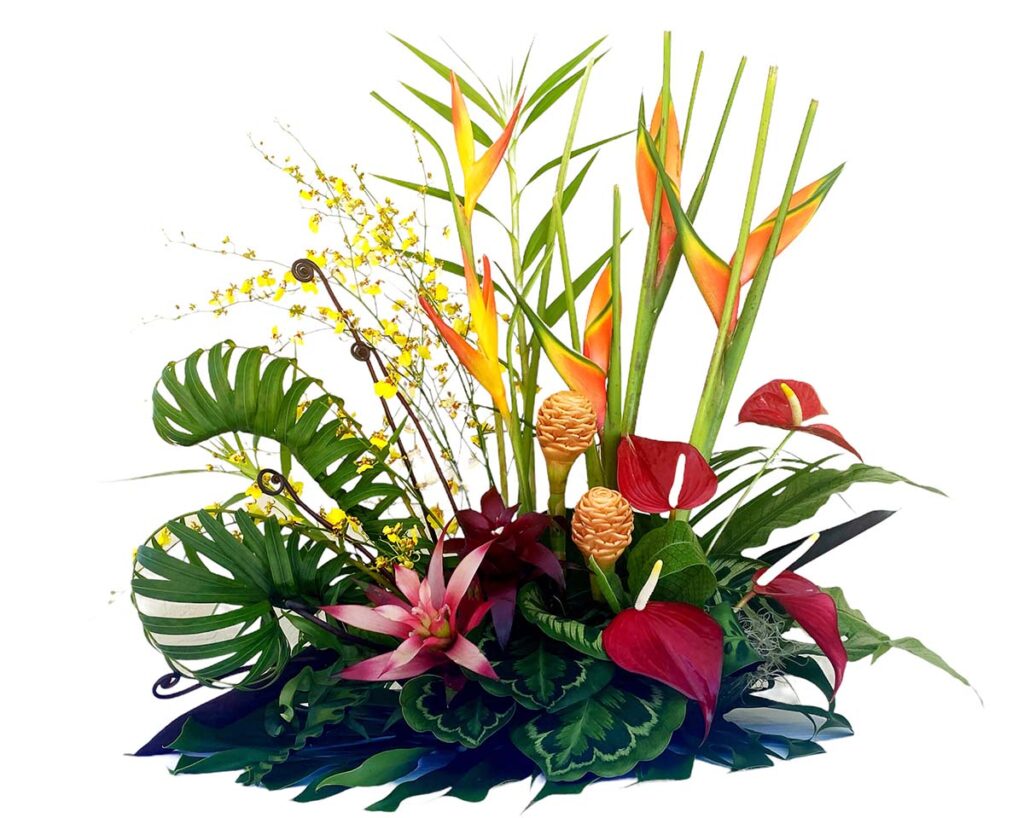 STEP BY STEP
Step 1
Soak two bricks of OASIS® FibreFloral™ Design Media in properly proportioned flower nutrient solution, until fully saturated. Then place the bricks into a shallow dish container, and secure them with waterproof tape. Add flower nutrient solution to the container so that the design media remains hydrated.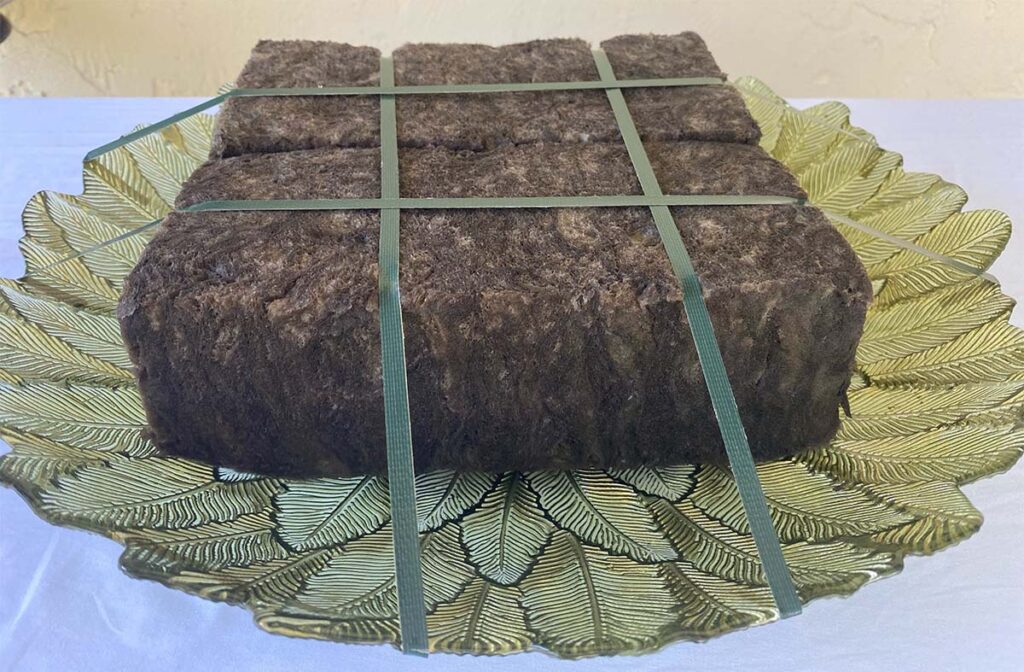 Step 2
Arrange the tropical flowers in groupings, to give each type maximum attention. Arrange longer-stemmed flowers (Heliconia, Oncidium orchids and bamboo orchid foliage), to create height and vertical and curved lines, and arrange large, shorter-stemmed blooms (I chose two bromeliad blooms) lower in the design, to create a focal point. Arrange Anthurium blooms on the right side of the design, both high and low. Leave ample space between blooms so that each can be fully admired and enjoyed.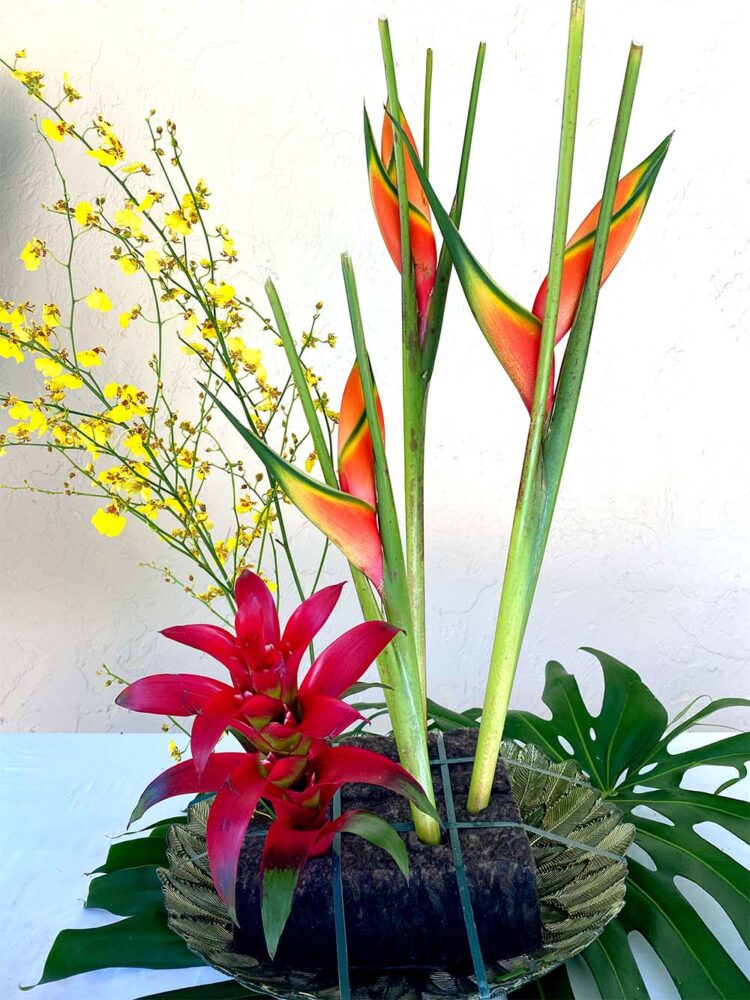 Step 3
Arranges stems of dramatic textured and patterned tropical foliage, again, in groups, around the base of the design. Tropical foliage deserves to be showcased as much as the flowers in the design. I chose crocodile fern, laua'e fern and two species of Calathea leaves (now botanically reclassified as Goeppertia).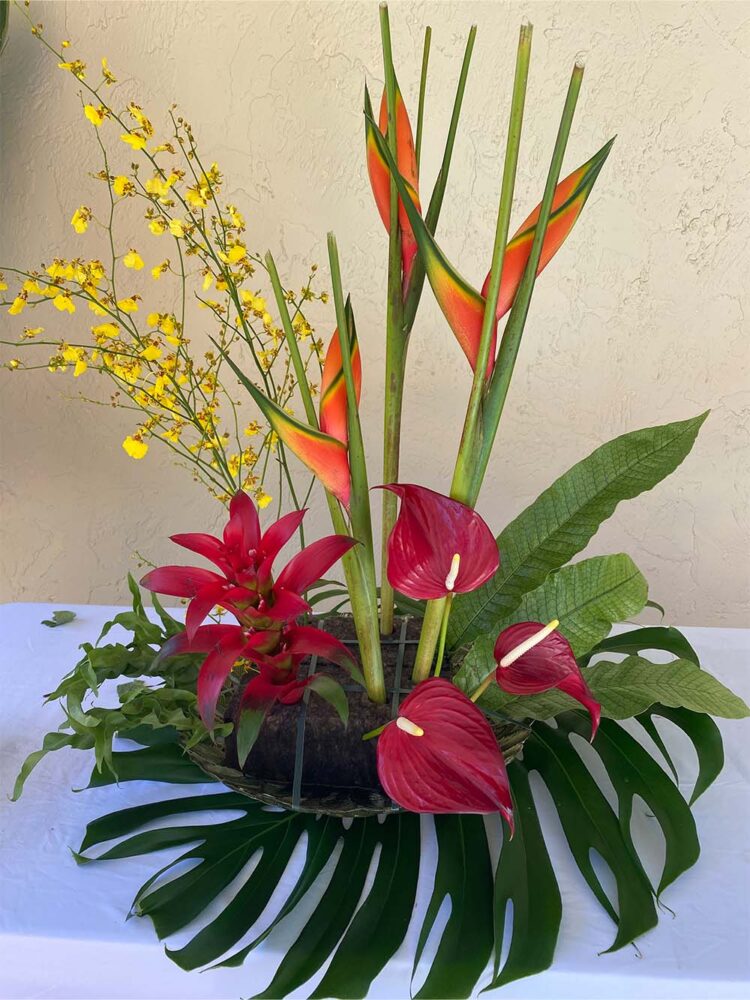 Step 4
Weave or otherwise manipulate some of the foliage, to add a dramatic touch and showcase your artistry. I created two nautilus-shell-shaped structures with areca palm fronds: Place the stem of one palm frond at your belly or between your knees; gently curve it backward; and, starting with three leaves at the top of the palm frond, begin "weaving" it like a French braid. Add in additional leaves, one at a time, progressing down the stem. Secure the leaf formation with paper-covered wire. Arrange the braided palm fronds into the design, on the left side, to balance the Anthurium on the right side.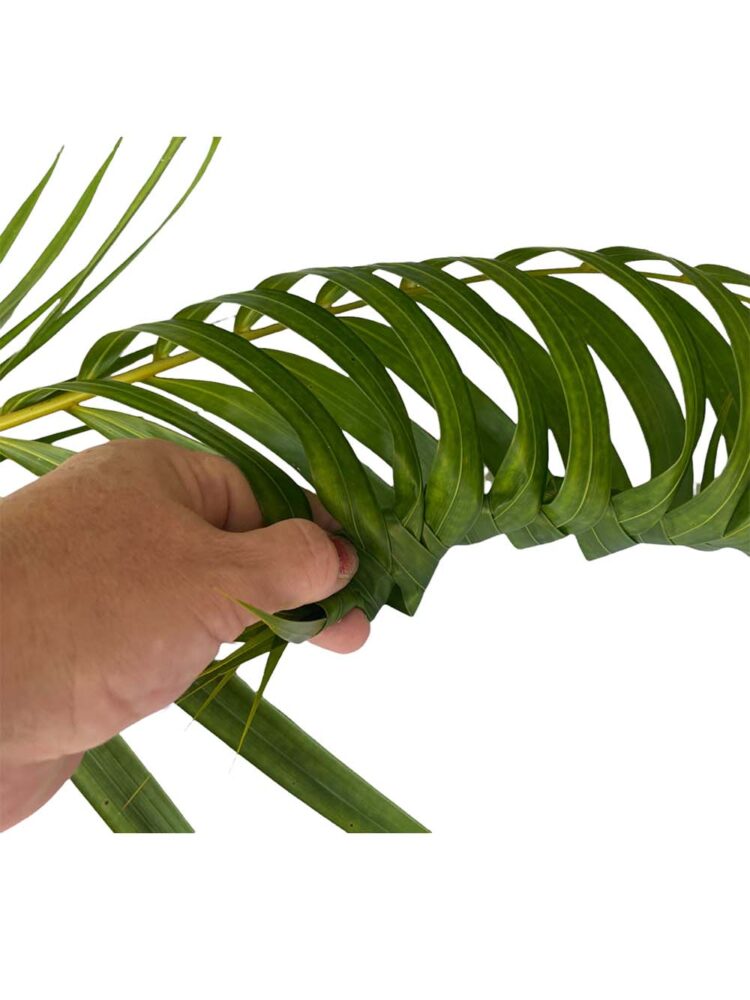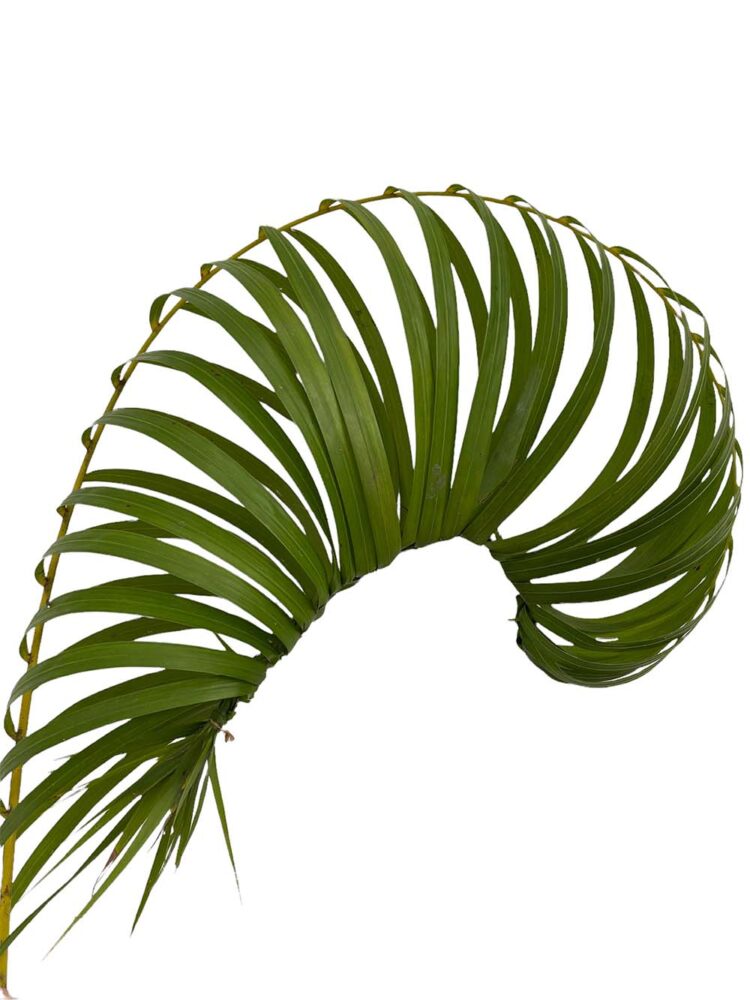 Step 5
Arrange beehive gingers and uluhe fern curls, where needed, to finish the design. Place the arrangement atop a large Monstera leaf, to add to the lush display.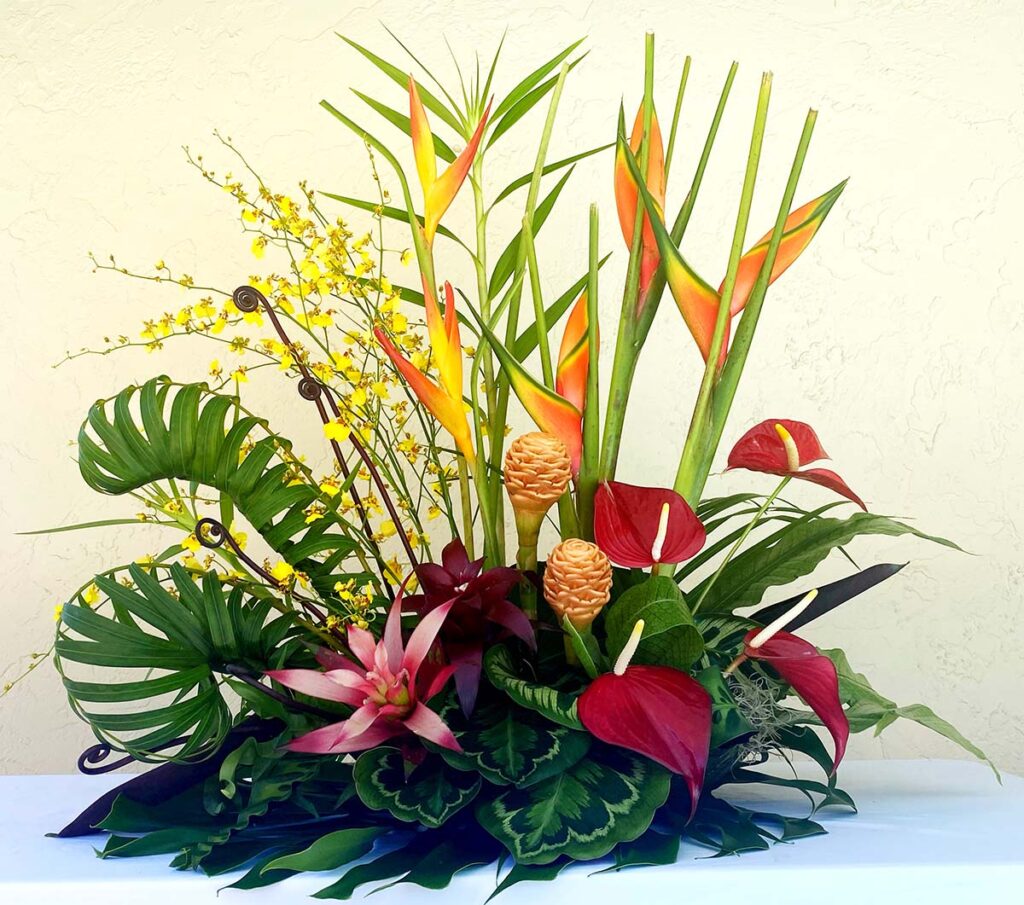 MATERIALS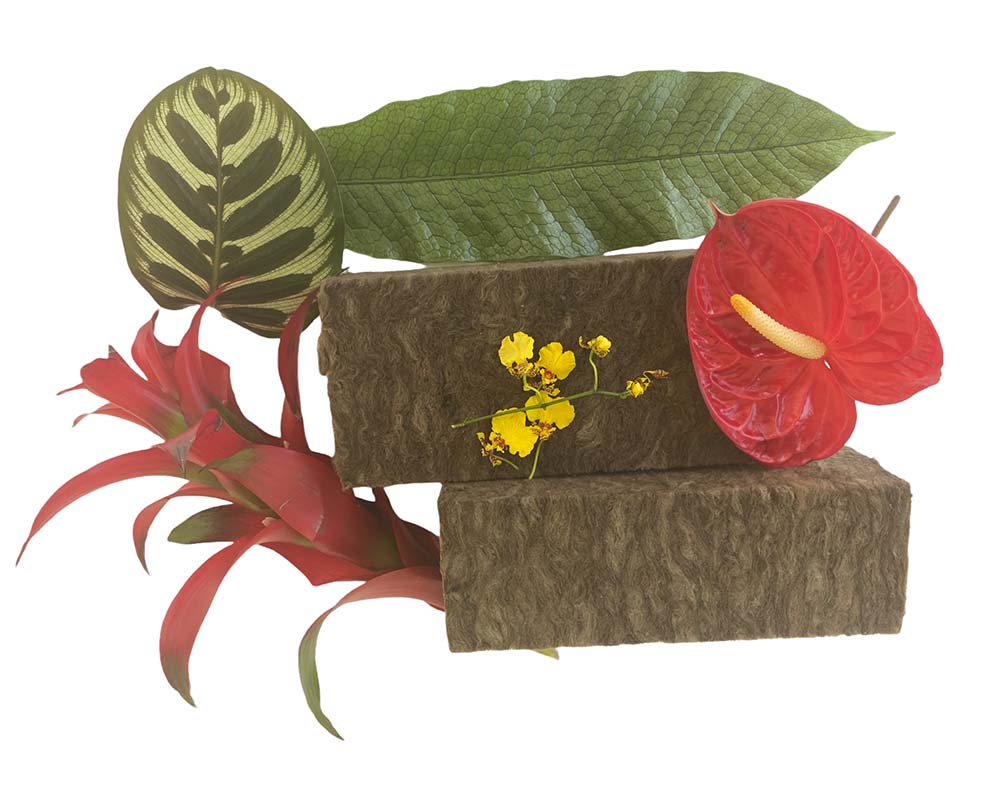 BOTANICALS FROM HFNA
Heliconia bihai (macaw flower, firebird, wild plantain)
Heliconia psittacorum (parakeet flower, parrot's flower, parrot's beak, parrot's plantain)
Anthurium andraeanum (flamingo lily, tailflower)
Zingiber spectabile (beehive ginger)
Oncidium spp. (dancing-lady orchid, golden shower orchid)
Guzmania spp. (bromeliad)
Arundia graminifolia (bamboo orchid)
Dypsis lutescens/Chrysalidocarpus lutescens (areca palm, butterfly palm, yellow palm)
Monstera deliciosa (Swiss-cheese plant, split-leaf philodendron)
Goeppertia roseopicta/Calathea roseopicta (rose-painted prayer plant, rose-painted Calathea)
Goeppertia insignis/Calathea lancifolia (rattlesnake prayer plant, rattlesnake Calathea)
Microsorum musifolium/Polypodium musifolium 'Crocodyllus' (crocodile fern, alligator fern)
Microsorum grossum 'Laua'e'/Phymatosorus grossus (laua'e fern, wart fern, musk fern)
Dicranopteris linearis (uluhe fern curl, fiddlehead fern, monkey tail fern)
HARD GOODS FROM OASIS FLORAL PRODUCTS
OASIS® FibreFloral™ Design Media
OASIS™ Bind Wire
OASIS® Waterproof Tape (1/4" Green)
Decorative dish (alternatively, 9" or 11" LOMEY® Designer Dish)