Tips and tricks for executing beautiful outdoor floral décor
By Nita Robertson, AIFD, CFD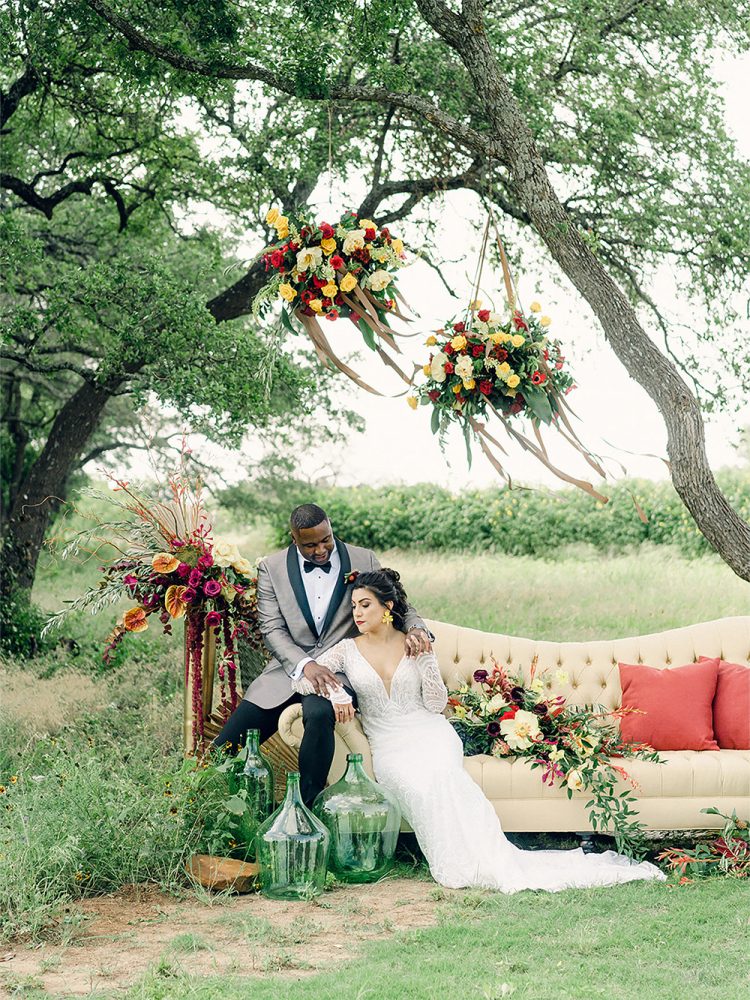 Live floral décor for outdoor events enhances the natural beauty of the surroundings, beautifying any space and creating a sublime ambiance for the guests. However, there are many things to consider when planning flowers for the outdoors, especially during the summer months. It is important that you, as the florist, take weather and location into consideration and make the best choices for your designs—and inform your clients about the realities along the way. Key to this is knowing how different flower types perform outdoors in your area as well as employing important steps that will help you execute your outdoor florals with confidence and get great results.
For example, tropical flowers have a natural tolerance for extreme heat and are a great option if you're worried about high temperatures at an outdoor event. Consider blooms like Anthurium, orchids, gingers, birds-of-paradise and Heliconia paired with hearty tropical foliages. Other more traditional heat-tolerant flowers include sunflowers, lilies, miniature callas, carnations, Chrysanthemum, Alstroemeria, Zinnia,Dahlia, Cosmos, Celosia, yarrow, Limonium and all the members of the Proteaceae family, among many others. Succulents, of course, also withstand extreme heat, and incorporating dried botanicals—as well as fresh fruits and vegetables—into designs can add durable color and texture to outdoor tablescapes. Unfortunately, wedding favorites such as peonies, Hydrangea and garden roses often don't fare as well in hot outdoor settings, depending on the type of design and water source.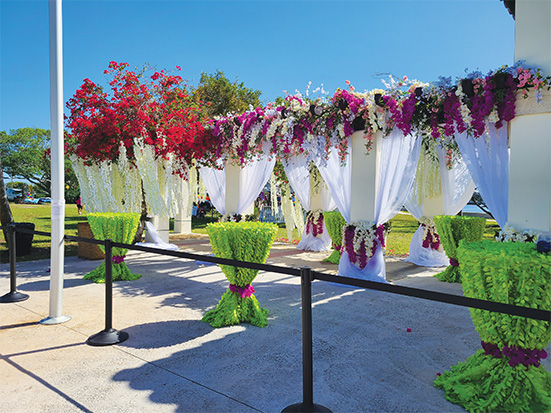 In Chamberlain, S.D., Patience Pickner, AIFD, CFD, PFCI, SDCF, owner of The Picket Fence, does many outdoor weddings and events, and she has several tips for creating the longest-lasting outdoor florals. "It's all about selecting the correct mechanics and the proper product," she advises. "Knowing which botanicals hold up well in your area of the country is key. Drieds, of course, are amazing to incorporate into designs, and I also like to 'color enhance' certain foliages sometimes, not only for added interest but also to provide extra durability.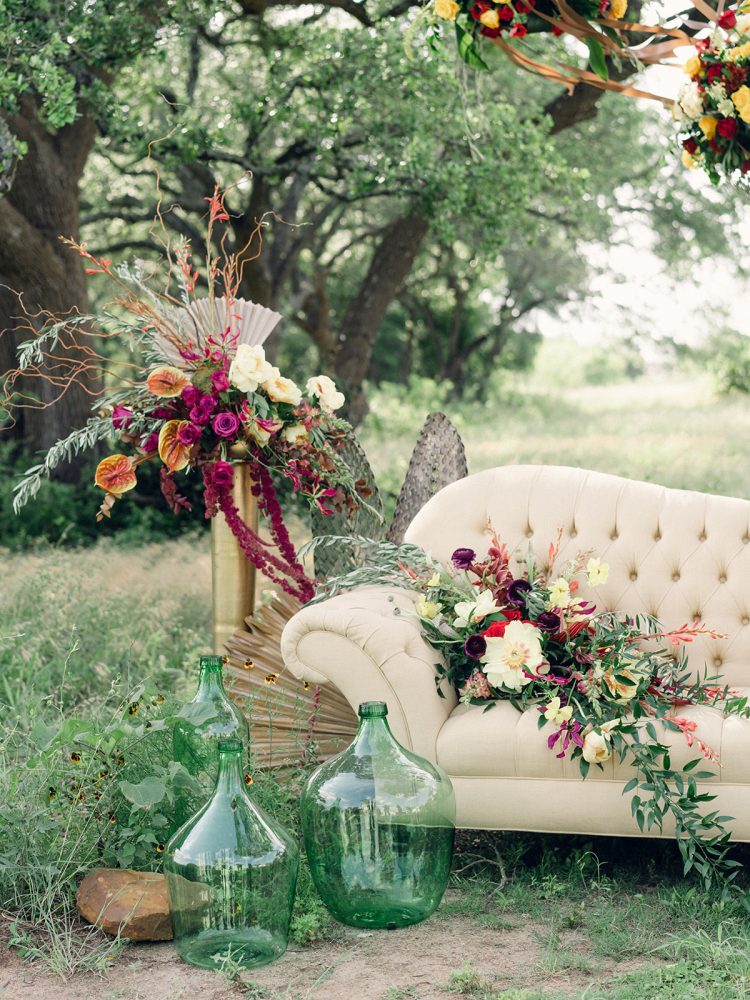 "In addition, choosing containers and design mechanics that provide abundant sources of water is crucial," Pickner continues. "And, of course, processing, conditioning and hydrating flowers properly before designing with them is also critical to ensuring success. Be sure that all flowers have been 'hardened off' in a floral cooler for a minimum of 24 hours before starting a project. When a client insists on having cut Hydrangea outside in hot weather, I will warn her of the risks and then recommend using high-quality permanent blooms instead. Even if it is cooler in your area and using fresh Hydrangea is an option, I recommend submerging already-well-hydrated blooms in room-temperature water for at least an hour before designing with them."
If you are concerned about flowers wilting, how you place them into the design is important, too. For instance, in an arch, flower chandelier or other type of large installation, arrange the flowers to hang downward. In addition, lightly spray all blooms several times with either an exterior-coating finishing spray such as FloraLife® Clear Crowning Glory® (best for botanical materials and designs that have little or no water source, such as wreaths, garlands, door swags, wearable flowers, etc.) or a cellular-level finishing spray such as FloraLife® Finishing Touch (best for designs that have a water source via a container or floral foam). Finishing sprays slow dehydration in flowers due to transpiration.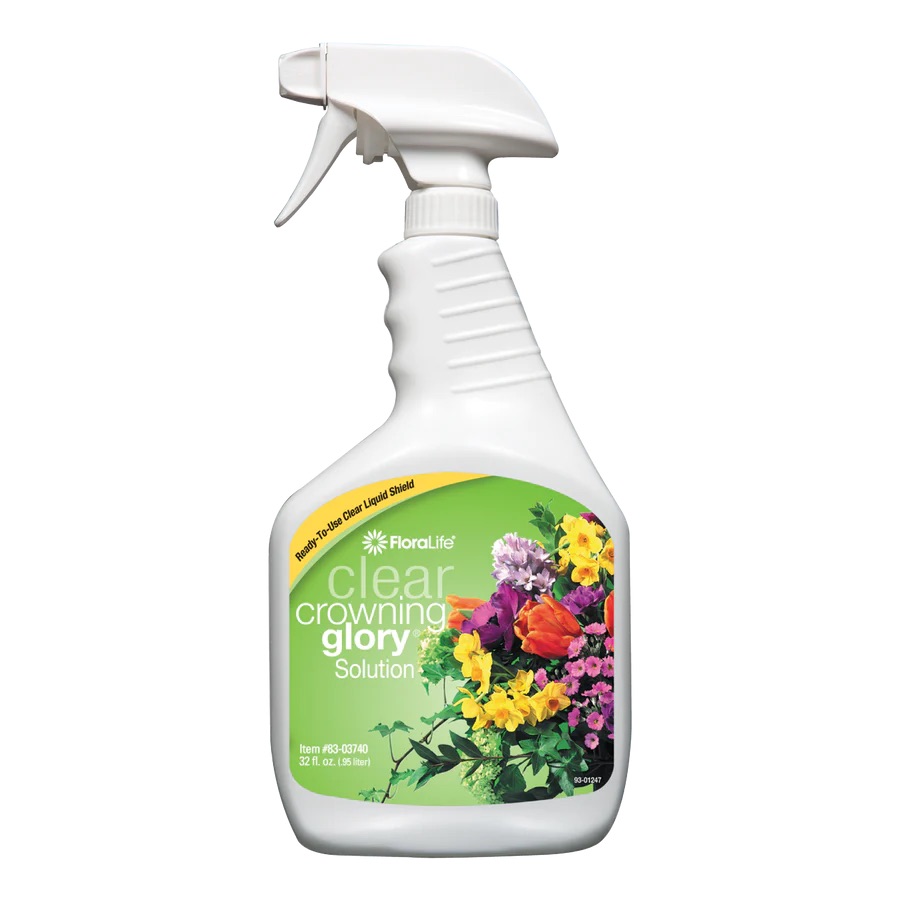 Timing is also key. Be sure to have enough staff on site so that floral designs can be placed, and outdoor installations can be made, at the latest possible time. Then, before leaving a venue, have everyone do a last-minute walk-through and replace any water-stressed blooms.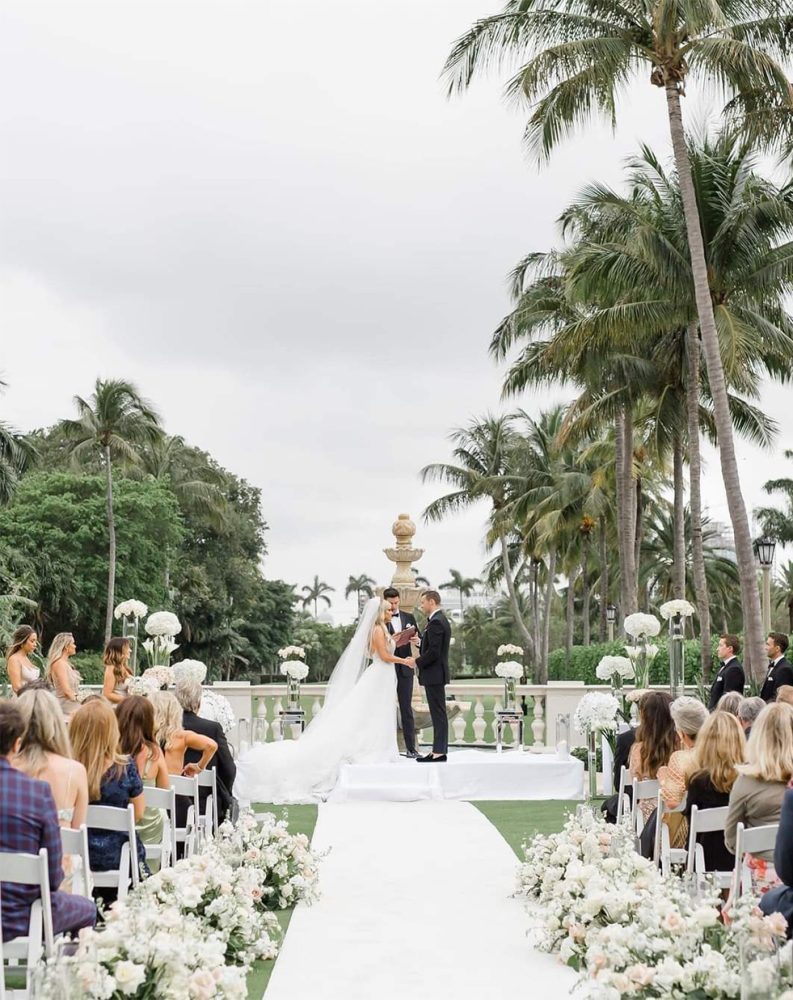 Rodrigo "Varito" Vásquez, AIFD, CFD, FSMD, FPCF, floral director at The Special Event Resource & Design Group and owner of R.Varito Designs & Institute, both in West Palm Beach, Fla., specializes in large events for a demanding high-end clientele, and, like all florists, he needs to make sure his designs for outdoor events are going to perform well. Following is his advice for planning and designing an outdoor event.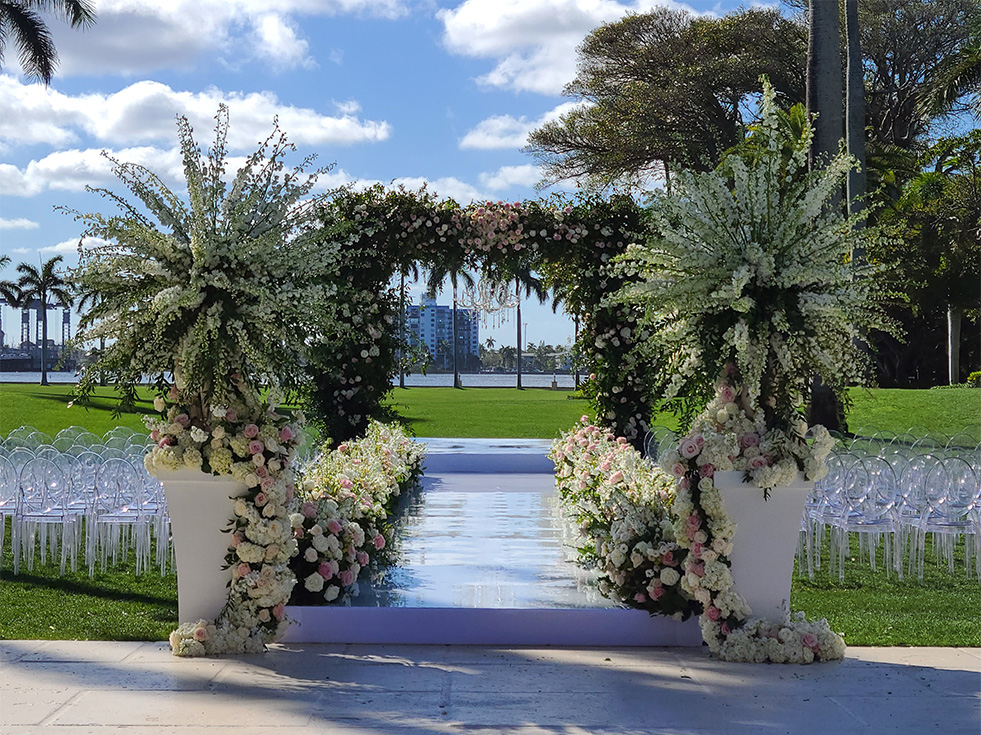 "The process of maintaining flowers in excellent condition begins with the choice of suppliers," Vásquez says. "I like to buy directly from 'local' farms because the vase life of the flowers is often greater than with flowers that have to be transported many miles and that pass through various distribution channels. Regardless of supplier, make sure that the product is fresh—no more than three days from the cut—and schedule arrival no more than three days prior to the event, if possible. Then, process the flowers immediately and properly. Stem cleaning, precise cutting, and immediate and thorough hydration are the keys to success. Hydration and flower nutrient solutions can be great allies, but be sure to calculate their costs into your prices. In some instances, especially when you must process large quantities of product, I find that a precise cut, properly cleaned stems and fresh water at room temperature are enough. This is dependent, of course, on flower type (some require specialized treatment), outdoor temperatures, and even altitude (flowers' transpiration rates are affected by altitude—the higher the altitude, the slower the transpiration rate).
"Once flowers are properly processed," Vásquez continues, "allow them to hydrate for a minimum of eight hours before designing with them; I always allow my flowers to hydrate for 24 hours before using them."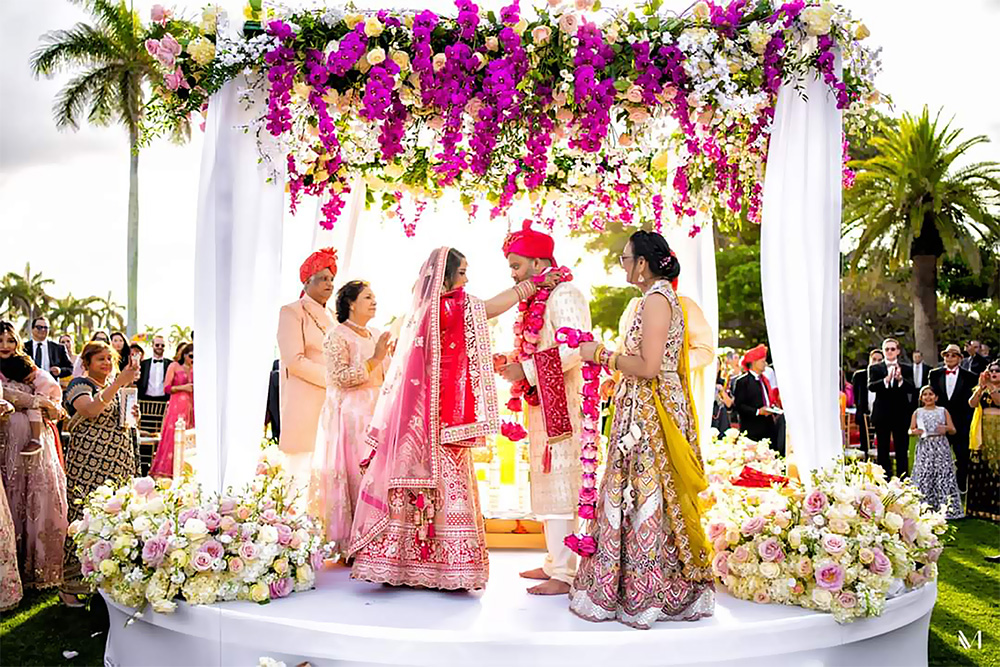 Vásquez also points out that for designs created in water—such as vase arrangements—it's imperative that the water be clean and free of leaves and other debris. And, for designs created in floral foam, the foam must be thoroughly saturated. He also recommends placing finished designs into a flower refrigerator immediately upon their completion. "If you have floral cooler designated for event work, program the temperature to be between 55 F and 60 F so that the flowers are not adversely affected by extreme temperature changes throughout the designing, delivery and installation processes," he advises.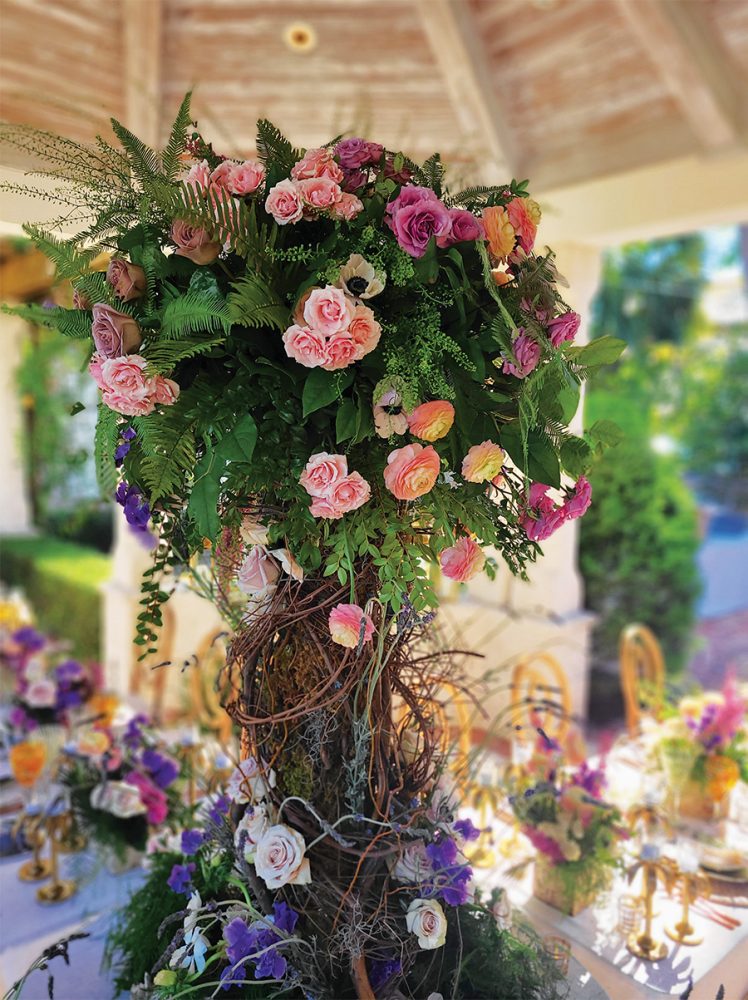 If event designs are created off site, in a store or design facility, the process of transporting them to the event venue can also affect the life of the flowers. "Refrigerated vehicles are, of course, the best option," Vásquez says. "Once at the event site, flowers should be kept in a cool or air-conditioned area for as long as possible before being placed outdoors. However, if the site does not have such an area, keep the designs in the refrigerated truck(s) until the last possible moment. Depending on the time of the event and the availability of the venue, I like to have all designs placed three hours before the start of the event."
For designs created on site, Vásquez recommends keeping the flowers in buckets of water, to keep them hydrating for as long as possible. "Regardless of whether we create floral designs on site or in our facility, we spray all of the flowers with a finishing spray [e.g., FloraLife®Clear Crowning Glory® or FloraLife® Finishing Touch], which slows dehydration, helping flowers stay as fresh as possible," Vásquez concludes.