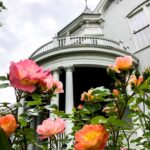 Flowers outside the entrance of the Glenn House. Art in a historic house decorated from trim to trim in flower arrangements is what the Art in Bloom event is all about. This second-annual event will be held at the Glenn House in downtown Cape Girardeau May 7-9.

Art in Bloom is an event at which local florists pick out a painting and a room in the Glenn House and design a flower arrangement for how they interpret the art or the room. It could be a recreation of flowers in the painting or more symbolic, depending on the florist's interpretation.

Event coordinator and 2019 SEMO alumnus Brent James is the head of this event.

"Brent James loves all things floral and art," said President of the Board of Historical Association of Greater Cape Girardeau Christy Mershon. "This was one event he has been very passionate about from the very beginning."

Mershon said the Glenn House is owned by the community, and the board members are caretakers.

"The importance of having events like this at historic sites such as the Glenn House is that the money from donations is going to preserve and keep the building for future generations to continue to enjoy," James said. "That is also why we typically try to partner with small and local businesses, because they are the same way — the support of local people supports them."

Some of the local businesses participating are D Duncan Floristry & Boutique, CLEMENTINE, Mother Earth Floral, Magnolia Market and 20 N. Pacific.

"There are four actual florists participating in the event along with three other participants, as well, doing their own solo arrangements," James said. "All participants are from the downtown Cape Girardeau area." An example of what florists could bring and style for the Art in Bloom event. Dustin Duncan, founder and owner of D Duncan Florist and Boutique, said he is excited to bring his unique style of floral arrangement to the event.

"Our tagline is unique designs that matter, and we want to showcase that here at the event," Duncan said. "Everyone's always saying that we are unique and for us to keep showing our work because we are all so different."

James said there will be refreshments outside, as well as a fire-pit for visitors to enjoy after they tour the house.

"This is both our opening weekend and Mother's Day weekend. We hope for a big turnout. Saying that, this is our first event since COVID. We are so happy to have the house back open, but we are still asking that people follow all COVID protocols while inside the house," James said.

The event is free May 7 from 5 to 9 p.m., as part of the Arts Council's First Friday event. Admission is $5 for adults and $2 for children the rest of the weekend.

To stay up-to-date with events at the Glenn House, find them on Facebook at The Glenn House: A Historic Treasure in Cape Girardeau, MO and on Instagram at @theglennhouse.