The five hottest trends in wearable flowers and interviews with two floral designers who created successful businesses in this arena.
By Tonneli Grüetter
From the fantastical to the practical, botanical couture is back. In the world of weddings, using flowers to create unforgettable moments has become an increasing priority for nuptial couples. From photo walls fashioned of permanent botanicals to fresh-flower-crested chuppahs and sweetheart tables bursting with blooms, couples are looking to florists to create moments that mirror the impact of their love. For these floral maximalist clients and the floral designers who bring their dreams to reality, no statement can supersede the awe-striking reaction garnered by bridal botanical couture.
Incorporating fresh, dried or permanent wearable flowers into engagement parties, showers, photoshoots and wedding-day attire gives couples an opportunity to infuse their special days with a most memorable sense of elegance. In the following list of five of the hottest botanical couture and wearable flowers styles for weddings, we highlight botanical couture artists who are making the trending designs come to life, as well as some exciting ways in which you, too, can test the limits of design through wedding wearables.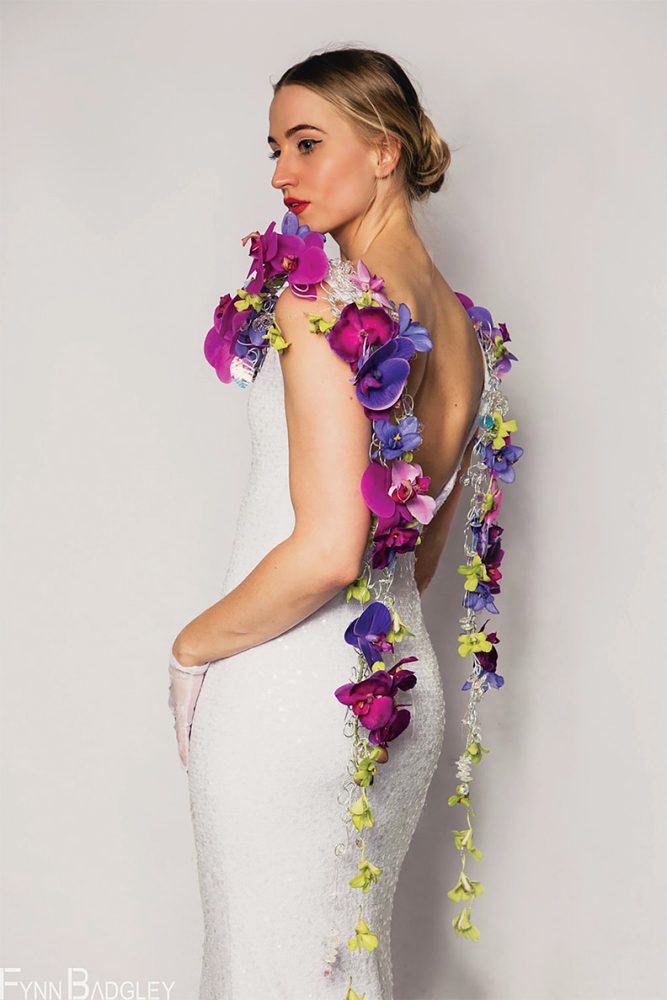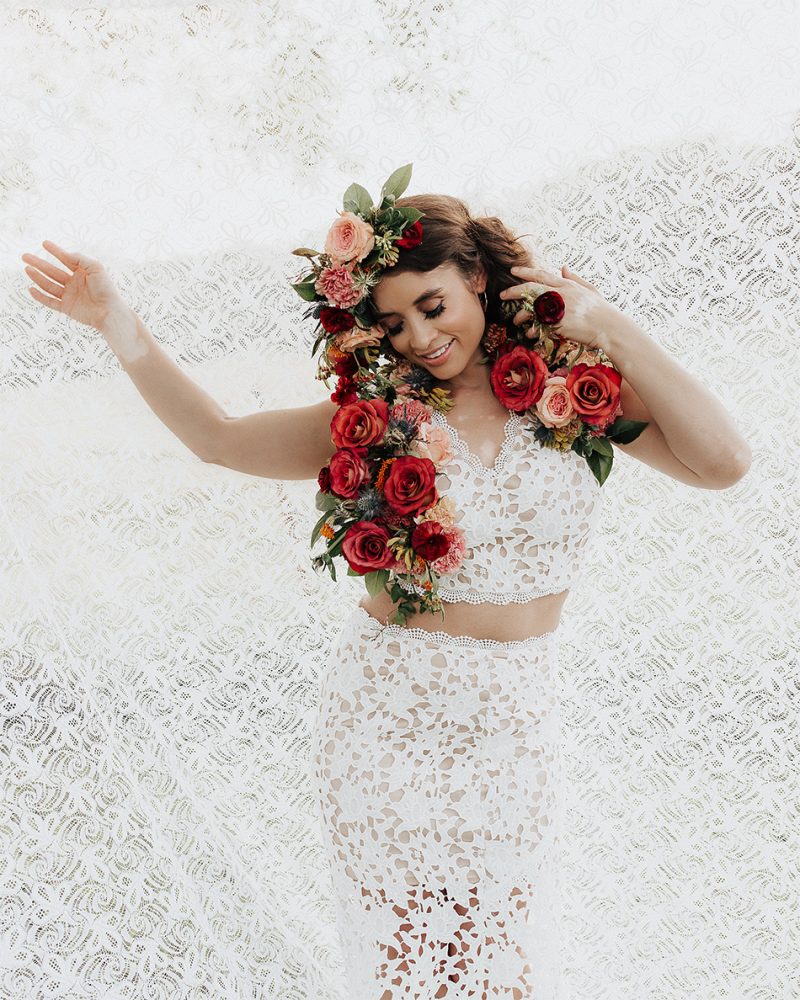 1. Flower Crowns
After rocketing to popularity in the aughts, flower crowns have become a staple of bridal styling for brides and bridesmaids alike. These wearables can be made with fresh, dried and/or permanent flowers. Current flower crown trends can range from delicate minimalism to bold extravagance, depending on the desires of each client. Crowns can also be adapted to hat bands, for a more rugged or rocker style.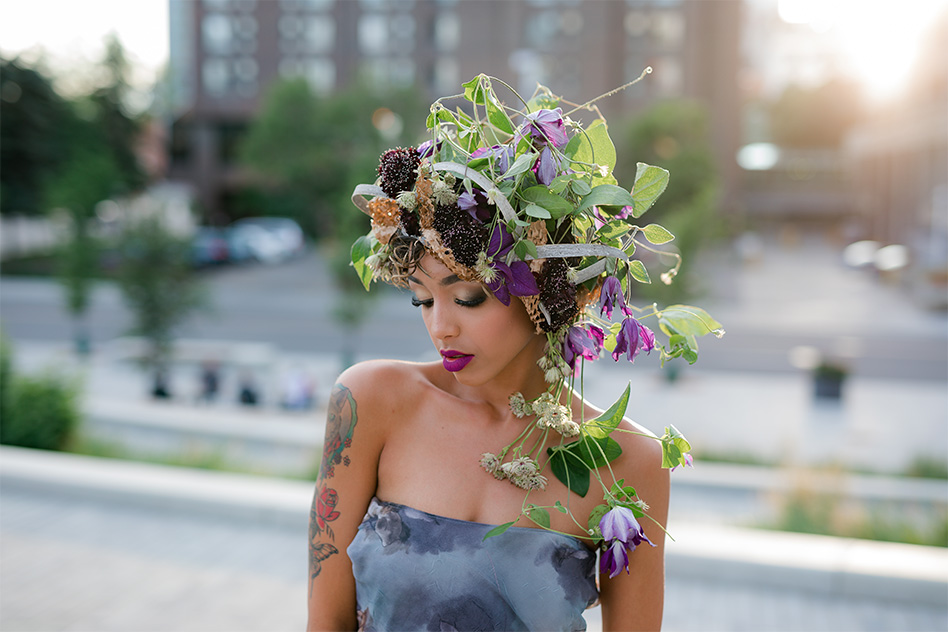 2. Flower-adorned Veils
An emerging trend we have seen is the rise of flower-adorned veils. Daring brides with contemporary aesthetics are bringing flowers right onto their veils, resulting in an artful, ethereal look. Flowers for this style can range from spray roses, available from growers like Alexandra Farms, sewn directly onto the edges of the veils to featherweight blossoms glued onto the center sweep of veils, sometimes in artful lace-like patterns or in lieu of sequins.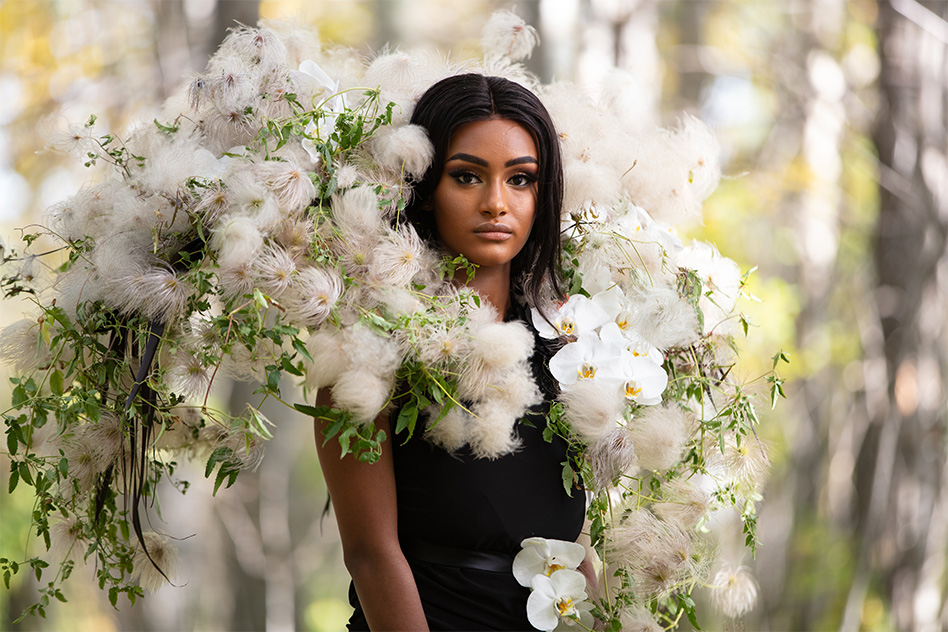 3. Botanical Jewelry and Accessories
Inspired by flower design educators like Michigan's Susan McLeary and Oregon's Françoise Weeks, a whole new generation of designers are now experimenting with deconstructed fresh and dried floral materials to create flower jewelry. This can include earrings, necklaces, bracelets and even rings. Botanical jewelry can be especially fun accessories for wedding-party members at rehearsal dinners or for mothers of the bride or groom on the wedding day, to celebrate the special distinction these guests hold.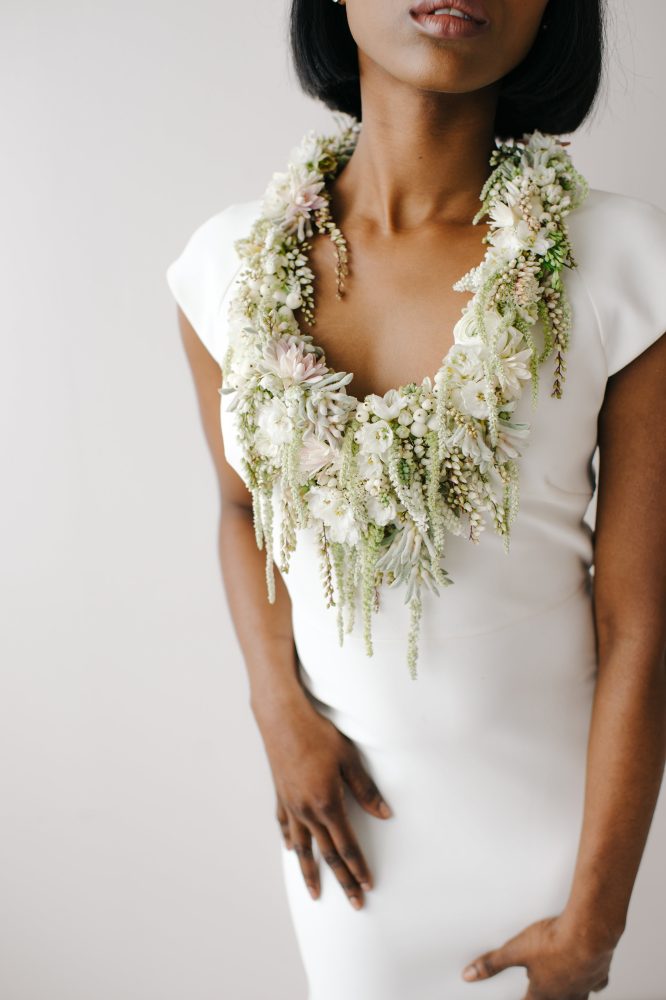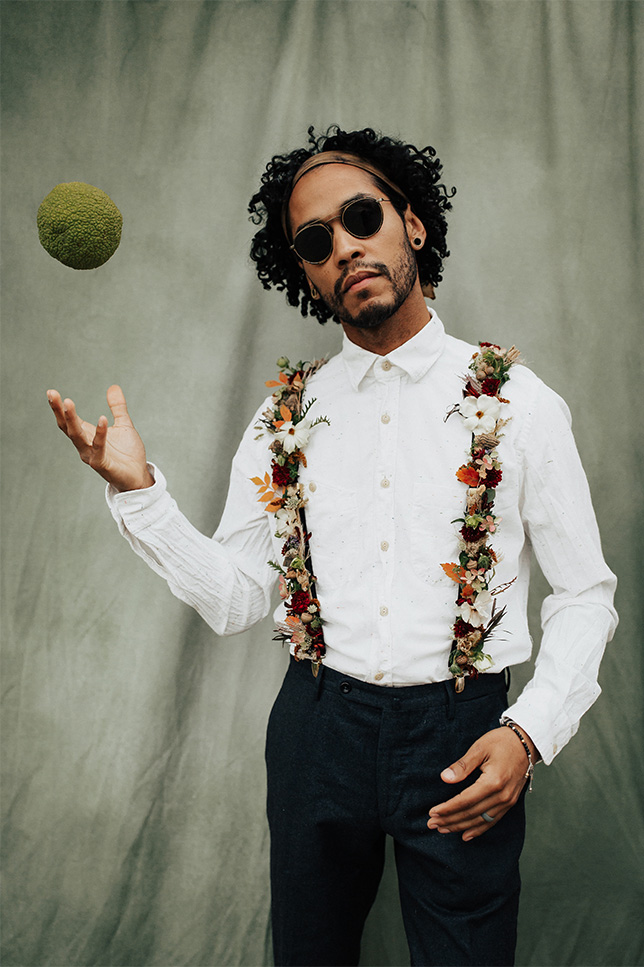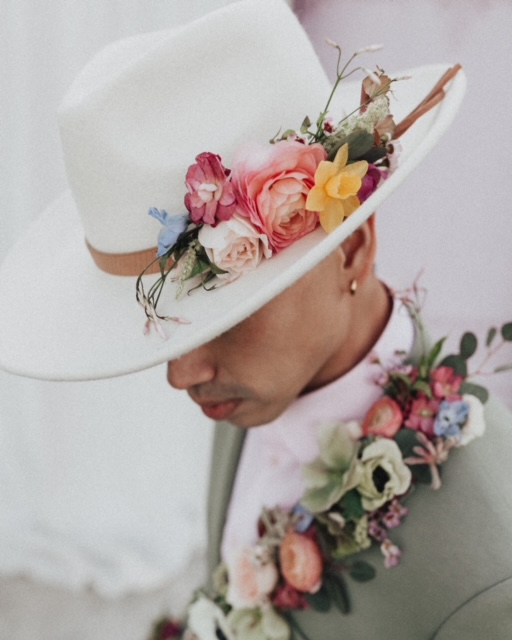 4. Botanical Dresses and Clothing
For the client seeking an unforgettable fairy-tale photoshoot, fully flowered gowns make a statement like no other. Most popular in the world of wedding editorial work, flowered dresses and other garments make a big splash and challenge the limitations of our chosen media. From Texas-based floral artist Carol Jillian, we see the beautiful potential of this artform—perhaps more so than from any other artist in this category. Jillian has appeared in numerous print publications and achieved international notoriety with her shockingly weightless botanical couture.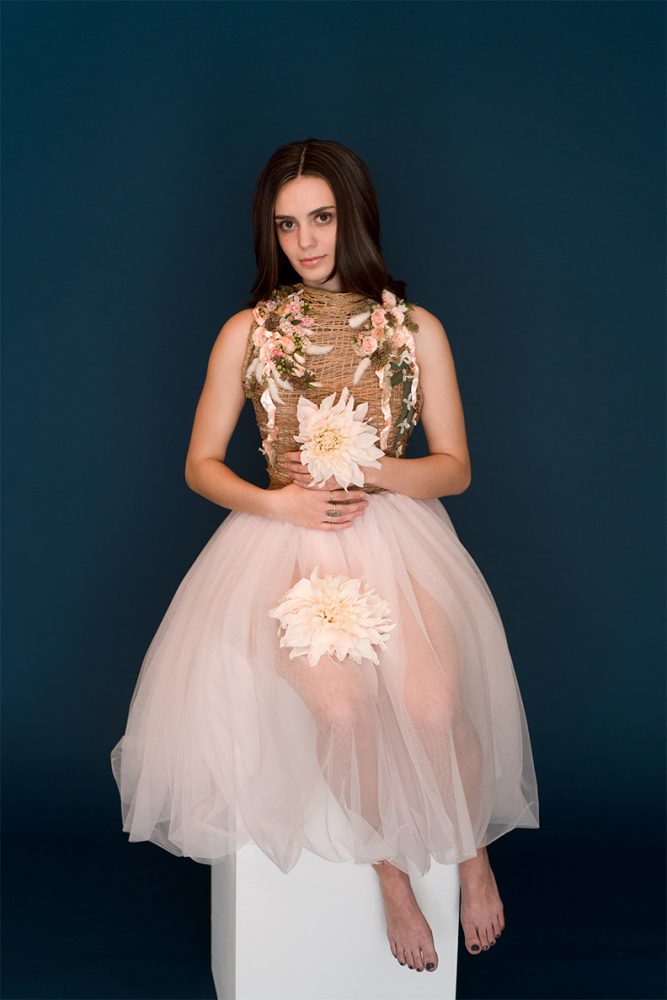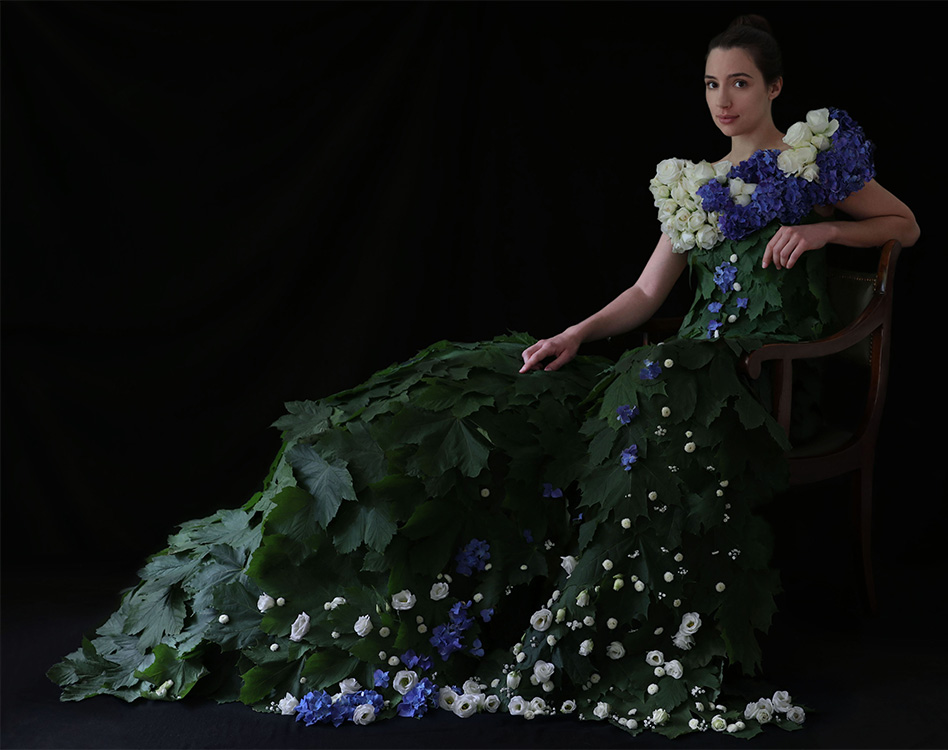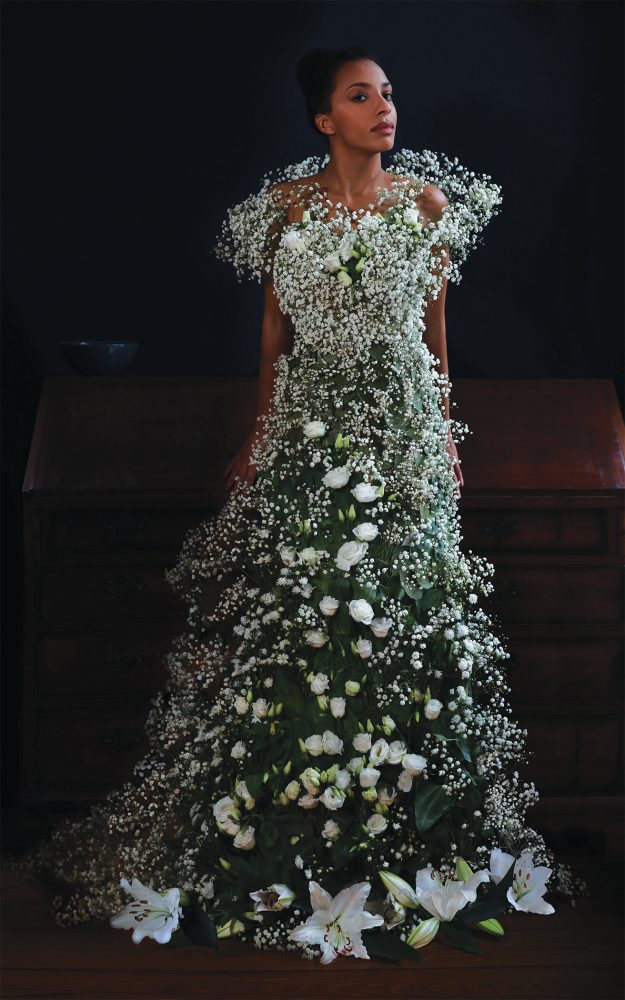 5. Flower Tattoos
Ideal for a bride or wedding party member who does not want to be encumbered by flowers that have to be held, flower tattoos are excellent examples of a real-life way to wear flowers that truly reflect one's unique personality and style. Flower tattoos can be applied to any part of the body, but they are especially popular for adorning wrists, shoulders and backs. Worn close to the skin, they can also provide the added benefit of natural fragrance.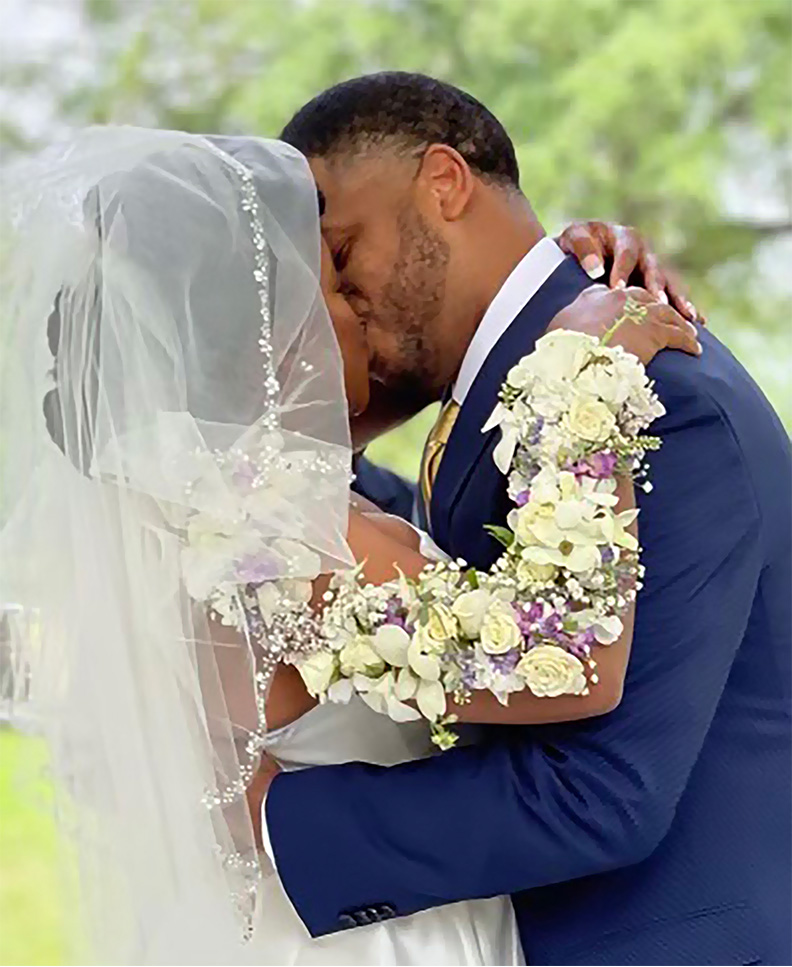 Q&A with Two Prominent Botanical Couture Artists
Meet Anne Thorne, owner of Thorne Floral in Kansas City, Mo., and Tiffany Weinbender, owner of Ida Mayes Floral Design House in Austin, Texas, and discover what inspires them and how they create their magical designs.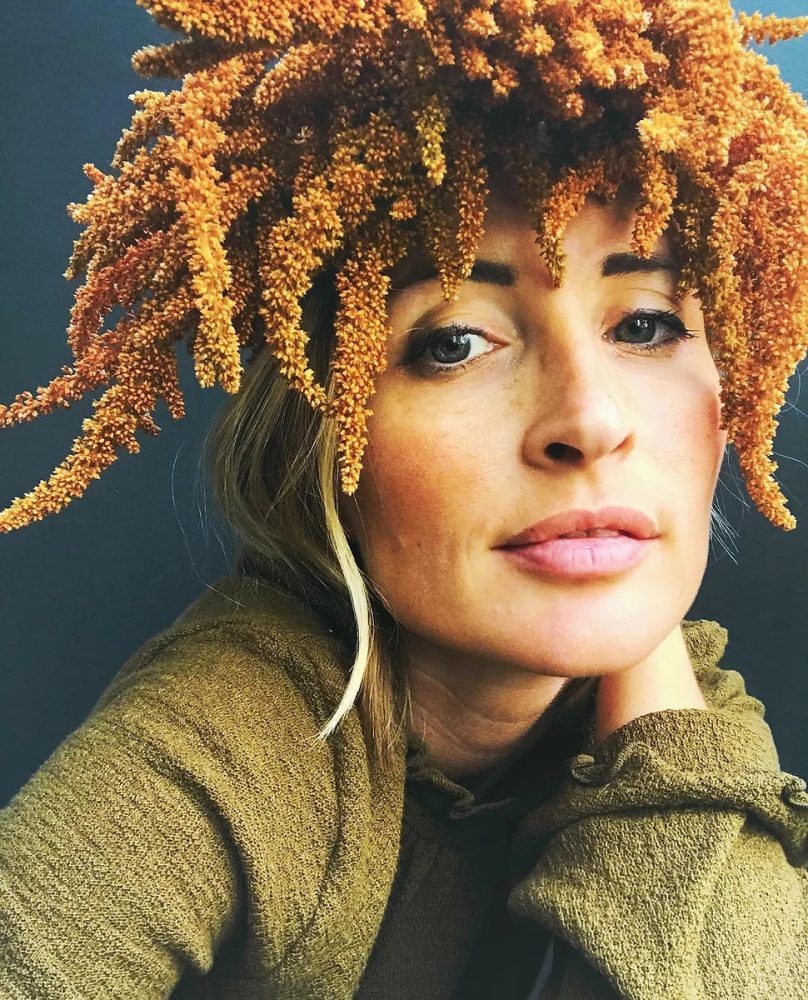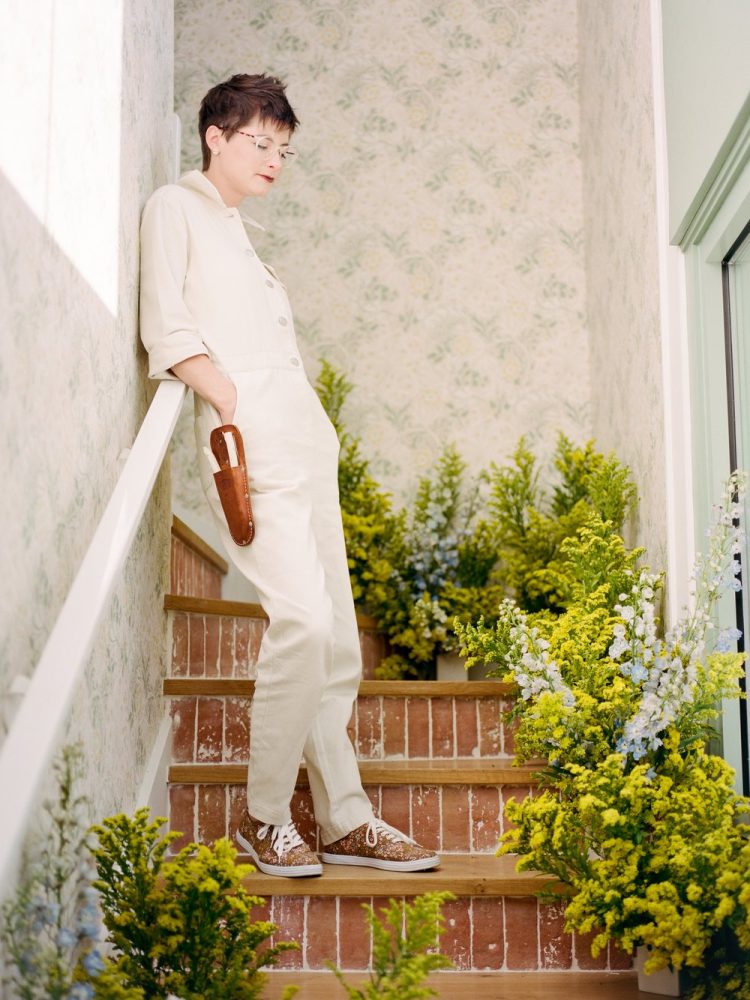 FR: What are your three favorite botanicals to use in botanical couture work?
Tiffany Weinbender: I love designing with stems that comprise multiple small blooms that enable me to utilize either individual blooms or clusters of blooms. Delphinium, Dendrobium and hyacinths are my three favorites.
FR: Which tools or hard goods do you rely on most in creating botanical couture?
Anne Thorne: I use a homemade "hydration chamber" every time and a lot of liquid floral adhesive.
NOTE: For more information on hydration chambers, we recommend reading The Art of Wearable Flowers by Susan McLeary or Françoise Weeks' blog post on the subject, at francoiseweeks.com/2020/08/hydration-chamber-for-designs-with-no-watersource.
FR: How does creating botanical couture fulfill your creative aspirations?
Tiffany Weinbender: I feel most like a true artist when I create floral couture pieces. We often talk with our clients about how "flower impact" is not about quantity but about quality, thoughtfulness and details. With wearables, this rings especially true. The intersection of fashion and flowers is a beautiful combination of artistic endeavors. Delivering a design that reflects my philosophy in the most obvious way is extremely satisfying.
FR: What type of botanical couture garments or wearables are most in demand?
Anne Thorne: Flower crowns and headpieces usually, but I also create many other types of wearable flowers. For example, you wouldn't believe how someone's face lights up when I give her a set of flower rings to wear instead of the usual corsage. I love to see how people visibly change when they wear flowers. They smile, and they're confident. You can feel it. Also, I've been trying to get people to open up to wearing something unique and fun, like a set of floral epaulets for their receptions. It's going to be a thing; you heard it here first!
FR: Has botanical couture helped you establish an individual identity and brand for your business?
Tiffany Weinbender: Floral couture has created a new avenue in which to stand out in the floral design world. I'm proud of the attention to detail evident in our designs, and there's no better area to showcase detailed perfection than in wearable flowers. These designs take time, patience, steady hands and a logistical/engineering mind to pull off. Coming up with new ways to construct and wear flowers is an ongoing process, and it's one I love being a part of because it makes our clients feel extra special and makes my business unique."
FR: Who are your favorite botanical couture educators, and what are your favorite workshops or books for learning botanical couture techniques?
Anne Thorne: I can't say enough about Sue McLeary and the work she does. Françoise Weeks is such an inspiration, as well. They both want to push the limits of what's possible and what we can dream up as floral designers, and they truly believe that florists are artists. They share freely and have helped to change the culture in floristry from a place where ideas were to be guarded as secrets to a place of abundance, where we can all share thoughts and learn from each other. When we share, we all grow. And, no one else will do it just like you. You're the special ingredient; you bring the magic.
NOTE: Susan McLeary offers both in-person instruction and online tutorials on botanical couture design, as well as other subjects. Visit her websites, susanmcleary.com/courses and passionflowersue.com
Françoise Weeks teaches in-person workshops on creating botanical couture designs, as well as on wedding and woodland design. Learn more at francoiseweeks.com.