Offering professional holiday decorating services for homes, offices, country clubs, hotels, restaurants and myriad other business can provide a substantial new source of revenue for your business.
By Nita Robertson AIFD, CFD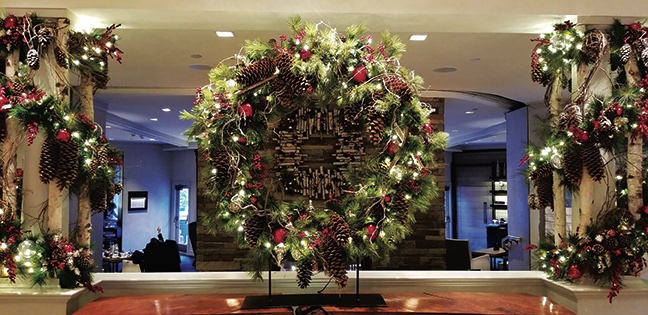 Offering holiday decorating services is a great way to bring in extra revenue for your business—and not just during the winter holiday season (although that's the biggie!). And it's an opportunity that extends to designers in every retail segment of the industry, from retail and studio florists to freelancers and home-based business to event designers. The prospective client base for these services is also wide ranging, including corporate offices, hotels, country clubs, restaurants, event venues and conference centers, and private homes—to mention just a few.
Decorating services could include setting up and decorating trees; designing and hanging wreaths, garlands and bows both indoors and out; hanging lighting, both indoors and out; creating vignettes with clients' holiday collectibles; staging stationary outdoor décor; and much more. Particularly with commercial clients, some of the pieces can be of extraordinary size—such as 20-foot-tall Christmas trees and 10-foot-diameter wreaths (or larger!), so the price points for these pieces are also larger, as is the design and installation labor. And let's not forget post-holiday décor takedown, packing and even storage options. You can easily see that the possibilities to create additional revenue by offering holiday and seasonal decorating services throughout the year are endless.
The goal is to be a one-stop service for all of a client's holiday decorating needs. With permanent décor, you can refresh items every year, giving them a new look and feel according to each customer's needs. Also every year, you can offer new items and add-ons to keep the décor looking new and different as well as making another sales.
Jon Robert Throne, AIFD, CFD, is the "king of Christmas" in northwest Washington state. His company, Countryside Floral & Garden in Issaquah, does yearly holiday installations for hotels, country clubs and private homes. He shares that some of his accounts need multiple fully decorated trees as well as garlands and wreaths. "These are often big-ticket items, and you don't want to miss these sales," Throne states. "Establishments like hotels and country clubs, in particular, as well as many large corporations often have large budgets for holiday décor, so don't miss the opportunity to cater to them."
Throne's busiest time for holiday installations typically spans the week before Thanksgiving through the first week of December. "The timing is good for my business because it is before the Christmas rush for floral deliveries, making it a perfect addition to the services we offer," he notes. "Some clients have been with me for more than 15 years. Having repeat annual contracts enables me to plan and schedule in advance, and it also allows me to shop for my clients prior to the season. They all usually add something new every year to refresh, update or change their looks a bit."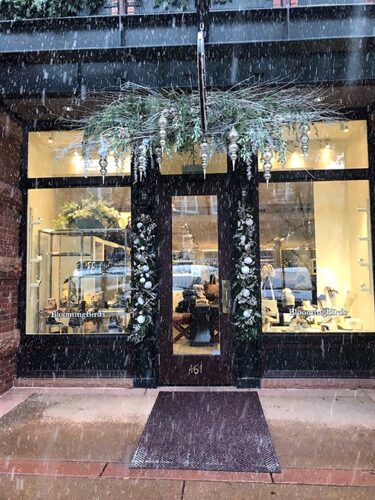 Cindy Anderson, AIFD, CFD, PFCI, a freelance floral designer and educator in Colorado Springs, Colo., does amazing holiday décor for a varietyof clients, including wealthy, often high-profile clients with over-the-top homes in the tony ski resort of Aspen. "These are clients of Aspen Branch Design, and I freelance for them and do the work," she says.
When Anderson meets with the clients, she discusses style and colors, among other needs and requirements. "These differ from year to year," she explains. "Fees include a refurbish or restyle every year. We often reuse as much product as possible, but we update it. Clients include hotels; restaurants; retail stores; art galleries; and home owners, many of who are in town only for the holidays." Aspen Branch Design also stores the holiday décor for most of its clients, Anderson adds.
Offering your clients a storage option— for a fee, of course—is a great add-on service and revenue-generating opportunity. In addition to providing additional revenue, this service typically locks in the orders for the following year. It also gives you the availability to refresh permanent botanicals during the slower months of summer. If you have the space or can obtain some secure storage space for a reasonable price, be sure to offer clients a storage option.
Creating beautiful holiday décor enables clients to enjoy the season free from the stress and worry of installation, takedown and storage. And most companies and individuals who want someone else to handle all of these things for them are willing to pay handsomely for the service.
If you're not already offering these services, consider them for next year. And start small, perhaps with only two or three clients your first year. You'll have plenty of time before Christmas 2022 to investigate staffing and space requirements and to promote these new services and prospect for clients.