A guide to planning and hosting workshops to increase your revenues.
By Andrew Joseph
There's an old adage, "If it ain't broke, don't fix it," but that's not always practical advice when it comes to running a business like a flower shop. Sometimes you need to break the rut and reinvent how you market yourself. Innovation is the key to success and to furthering it, and it's why you need to hold workshops to enlarge not only your customer base but also your wallet. The truth of the matter is, if you aren't offering flower engagement workshops, you're losing out on revenue.
Like everything in our business, there is no one perfect way to go about anything. If there was, every flower shop would be exactly the same.
So, what exactly is a flower design workshop? Simply put, it's a single event where you invite people—skilled or otherwise—to learn how to construct a floral design. It can be held in your shop—during business hours or after—or at a customer- specified location such as an office, church, community center or other public space. Or, it can be taken up a notch and held at a restaurant where food and drinks are also made available. Some floral designers also host workshops online.
The First Steps
Choosing a theme is probably the most important thing you can do. The theme is the basis for the floral design that the workshop attendees will construct, so it has to be something that people will be interested in learning. It can't simply be something that you want to teach; the participants must want to learn it, too, and it should be done for all skill levels, unless you wish to specify otherwise.
Timing is everything when it comes to performing a themed workshop. For the autumn season, a theme relating to Halloween or Thanksgiving might be the ticket. How about a Christmas theme or a Valentine's Day theme? Oh, and there's also spring, Easter and Mother's Day! For Mother's Day, for example, dads or grandparents could bring in the kids to create floral gifts for mom, which will surely be talked about for years! The only limit for creating customer interest and engagement is your imagination.
Next, you need to set a date that will be convenient to both yourself and potential attendees. Offering a Mother's Day floral design workshop on a Friday night may work well for you, but it might not work well for the youngsters who have earlier bedtimes.
Then, you need to get the word out about the event. Yes, you could train your staff to talk up the event with customers and hand out event fliers both inside and outside of the shop. But we are also a social media driven society. If you don't have a decent social media presence via Instagram, Facebook, Twitter, etc., or have a lively website, you need to create one immediately. Florists' Review has created many informative articles on how to utilize social media to your advantage (visit FloristsReview.com)—including one in this issue. Get the word out about your workshop—and do it often and with inventive nonrepeating messaging.

Tips from Flower Workshop Pros
For your edification about flower design workshops, we reached out to three floral design professionals from across the country, to get their best tips, tricks and advice.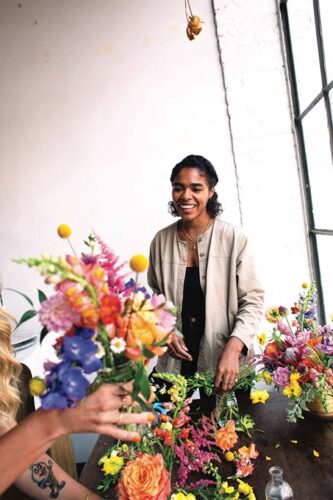 Stems| Brooklyn, N.Y.
In 2013, Suzanna Cameron took over what she describes as a tiny, darkly lit speakeasy bar in Brooklyn, N.Y., and turned it into the sparkling warehouse-style studio and retail shop that is Stems Brooklyn. Following a sustainable floristry plan, the charming Cameron says that workshops have been a focal point of her business since it opened.
"Because Stems was originally opened inside of a speakeasy whiskey bar in south Brooklyn, we started doing workshops with a cozy beverage," Cameron states, adding that customers initiated it. "The idea came about when folks started asking us about floral design and wanting to learn more."
Cameron believes that flowers make people happy, and workshops are one way she can share her love of flowers with her local community. "I wanted to create workshops for everyday flower lovers rather than workshops geared toward professionals," she notes. "And, workshops are one of our best marketing tools. When customers come to our shop and meet us in person via a workshop, they are more likely to buy flowers from us and/or celebrate their weddings and life events using flowers from Stems. To me, boots-on-the-ground marketing is the most effective way to engage authentically with our customers and our community."
Currently, Stems is hosting workshops twice a month, but going into 2022, Cameron plans to host weekly workshops, with the focus on its "Stems Signature" workshop—a favorite with the customer base. "We aren't going to offer 'specialty' workshops anymore," she explains, "because we found they didn't truly serve our community in the best manner."
There are exceptions to the rule, however. Cameron shares that she did find much success with holiday wreath and dried flower centerpiece design workshops held in autumn, and she will continue to offer both. She points to the local community's diverse background as a reason for Stems to approach its offerings with great care around approaching holidays. "We want to help them design a product that anybody can enjoy during the holidays they personally celebrate."
FarmGal Flowers
Perhaps a reflection of its big-city environment and ensuing costs, Cameron says its workshops have all been in the $95 to $115 range. Each Stems workshop includes all the botanical materials, supplies and vessels required to create the advertised design, as well as use of Stems' in-house tools like shears, tape and flower buckets.
"Pre-COVID, we would allow folks to pull from a flower bar—no limits—which now seems nuts," Cameron concedes. "First, this wasn't great for the last people coming up to the bar because they ended up with the dregs. Also, it didn't allow for us to educate on why we use each floral item. We now 'recipe' a design and perform a step-by-step tutorial for each attendee so that everyone can create a design that they can be proud of. It also allows us to control costs and overall vision of the arrangement."
Before the pandemic, Stems would travel to clients to stage workshops, but today, outside of a few key clients, the company keeps its workshops in house. "We found that operational costs associated with moving outside of our space exacerbates the cost beyond what most of what our customers are willing to pay," Cameron explains, adding, "We had to charge for the additional labor, truck rentals, flower ordering and all the other extra stuff, which really upped the cost."
Within its space, Stems workshops have limited participation because of social distancing. "The workshops continue to be quite popular," Cameron says. "We typically host bachelorette parties, baby showers and birthday parties for groups of 10 to 15 people."
For florists thinking about offering workshops, Cameron offers, "While staying in house makes the most sense for my business, do what makes sense for you financially and for your own business model."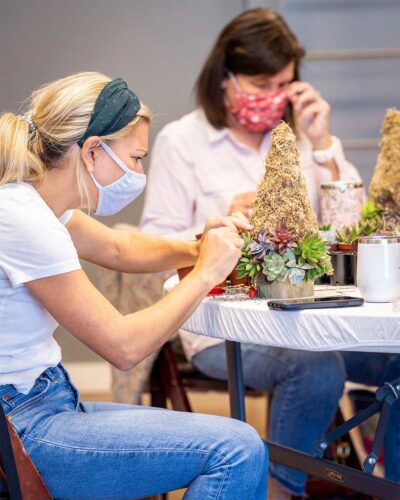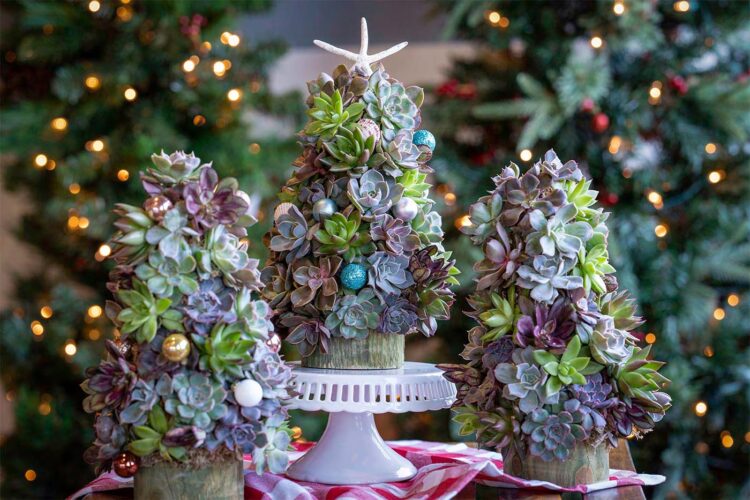 While Eileen Tongson admits having taken more than her fair share of good-natured kidding, her aptly named FarmGal Flowers is a well-respected part of the Orlando, Fla., community. Starting in 2014, a segment of FarmGal Flowers operates at the East End Market, a local artisanal food hall, which comprises a community keenly interested in the "living locally" concept.
Tongson, who loves to teach and formerly taught at the University of Florida, noticed that there seemed to be a fair amount of interest in flower arranging and gardening- related classes in her market. Described as an urban specialty cut flower farm and floral design studio, FarmGal Flowers began offering off-site workshops in 2015.
"My goal is to inspire and encourage my students," Tongson shares. "When they complete a project, they are happy. And workshops have become our primary revenue streams."
Although she is often asked to host workshops on specific dates and at specific times, Tongson says that, from a logistical standpoint, it is easier and less time consuming for her to plan workshops on her own schedule.
Pricewise, Tongson says her workshops are $55 and up per person, but prices vary depending on the topic. "Most of our workshops are all inclusive in terms of supplies," she acknowledges, adding that she does offer themes for her workshops and that her holiday-themed workshops are most popular. "The exception is our succulent and pumpkin workshops. I ask the students to bring their own pumpkins because they often want a particular color, and it is difficult for me to transport that many pumpkins to my shop and then to an event space. I also encourage students to bring their own floral snips, gardening gloves, notebooks and pens."
She adds: "I usually allow students to select their own flowers, but I provide them with instructions regarding how many of each type they can have. I always have an assistant working with me to help manage things at each workshop."
Tongson says that initially all of her workshops were canceled due to the COVID-19 pandemic, but once things began loosening up, she began teaching in person again, with smaller-sized classes, about a year ago. She commonly holds her workshops at local venues, including Leu Gardens, East End Market and Edible Education Experience—three locations where she grows her flowers but that also have classrooms in which she can teach. "All of these locations are within three miles of my home," Tongson notes.
FarmGal Flowers also offers online workshops. "While I prefer in-person workshops, I teach quite a bit online now," Tongson states. "I get a lot of requests from students who do not live in the area or cannot attend one of my in-person classes."
Blooms on Boswell | Topeka, Kan.
The affable Lori McNorton, proprietor, chief designer and gift buyer of Blooms on Boswell in Topeka, Kan., says she and her team have been leading workshops for the past two-and-a-half years. Shortly after purchasing her shop in January 2019, McNorton began offering workshops as a way to bring customers in. "I love working with the public and helping them realize that they just might have more of a creative side than they think," she explains. "And, I especially love working with children and watching them create."
With a goal to provide at least two workshops each month, McNorton discovered that the best-laid plans don't always work out. "We've found that fall is the best time for our workshops because everyone seems ready to be creative and decorate for the holidays," she shares. To fill out other times of the year, Blooms on Boswell has responded to requests for group workshops and women's groups, as well as corporate events, along with some parent/ child groupings.
Charging $45 per person on average (although fees for some of the more involved holiday workshops can go up to $65, depending on the product involved), McNorton says every event always includes a finished product that each attendee can take home. "We allow participants to select color schemes, but mostly we have recipes that we follow."
Not content to always remain in shop, McNorton says she has also taken her workshops on the road, such as in the middle of a pumpkin patch, a Christmas tree farm, in barns and more. "Several times a year, I am asked to do presentations, which are always a lot of fun and provide me with the opportunity to offer a special invitation to attendees to visit the store."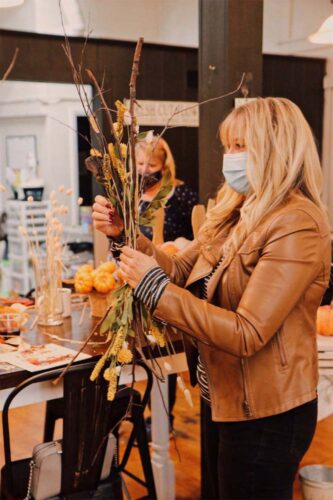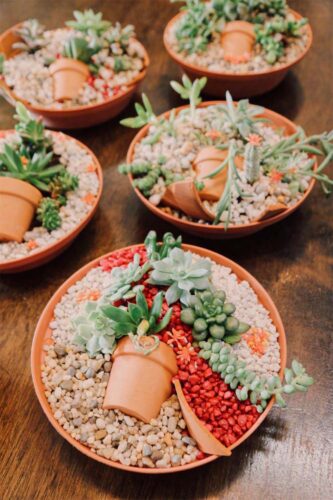 Class Dismissed
Large or small, floral designs workshops are a great way to increase cash flow and attract new customers. And, there are myriad ways to offer workshops, including in house, off site and online. The same holds true when it comes to setting fees for workshops—although it's important that you charge what your market can afford while ensuring that all your costs—from materials, travel and wages— are covered, and that you make a profit, as well.
Final words of advice: Yes, you will probably have some nerves when performing your first workshops; it happens to everyone. Be yourself. Speak like the professional you are, but speak the same language as your audience. You are marketing yourself and your business—as well as the entire floral industry

.