Looking beyond common foliages and assigning them the same importance as flower blooms is one mode du jour for elevating and modernizing your flower designs.
By Tonneli Grüetter
Have you recently found a love of the leaf? If so, you're not alone!
Increasingly, florists are looking beyond common foliages we rely on, such as salal, ferns and Eucalyptus, to embellish their flower designs. Practicing intention when selecting the right foliages as accents will bring out the natural beauty of your flowers in a way that thoughtless one-size-fits-all filler foliage cannot, and consumers are taking note. Regionally specialized and seasonal greenery have suddenly become the belle du jour of the flower shop. For savvy floral consumers looking to purchase premium cut flowers, there is a growing expectation for equally swoon-worthy foliage.
When scrolling through the pages of Instagram, it does not take long to begin noticing the sheer diversity of foliage currently being utilized by floral designers. It is fair to say houseplant mania has translated into an all new love and appreciation of foliage shared by growers, designers and customers alike. In 2022, we have seen top trendsetters making statements with massive tropical palms, galaxy-patterned rex Begonia leaves and delicate foraged woodland vines accompanied by lush fresh flowers. It is striking the power an autumn-kissed branch of red maple (Acer rubrum) leaves can possess. If paired with exotic blossoms of the same hue, a branch of red maple leaves can create a bold monochromatic statement, rooting the viewer in the present while it commands full attention. Alternatively, that same maple branch paired with cherry tomatoes on the vine (they have an excellent vase life, trust us!), Rudbeckia (black-eyed Susans) and fall-toned Dahliamay demonstrate the opposite effect, transporting the viewer to the final golden days of summer watching fall roll in.
Depending on the flowers you pair it with, foliage can cast a vastly different perception of time and place onto your design. When you add the special significance of unexpected greenery to florals, it is akin to adding music to poetry. You may consider first the language of flowers to convey color and mood, and then pivot back to foliage to express time and the passing of seasons.
To find out more about this emerging trend, we asked three trendsetting floral designers to share which foliages get them excited to design, as well as their best advice to encourage others to take the jump, too, and embrace their love of the leaf.
Brenna Quan, AIFD, CFD
Vancouver, B.C. Canada
Favorite Specialty Foliage: "Phormium tenax (New Zealand flax) is currently one of my faves! I can create straight or curved lines as well as varied textures from smooth to shredded fibers."
Advice for florists hesitant to branch out with new types of foliage: "When it comes to foliage, I find myself more attracted to the colors that stray from what we typically associate as 'greens.' Rather than thinking of [foliage] as a type of neutral background for the focal flowers, showcase it more as an equal to the flowers, interacting with the other botanicals and creating more unexpected color palettes within the design expression."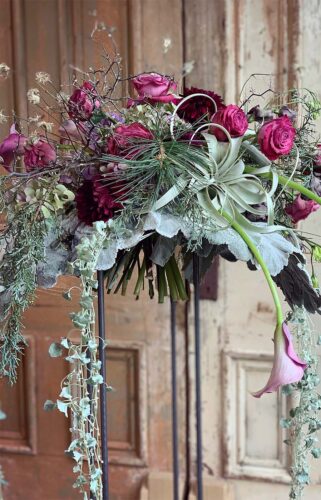 Gilberto Espinoza Freihoff
Dogwood & Fir
San Diego, Calif.
Favorite Specialty Foliages: Begonia, Caladium, Cotinus (smokebush), Heuchera, Spiraea, Viburnum berries and foliage; Rubus (blackberry) berries and foliage, Vaccinium (blueberry) berries and foliage, Phlox, Pieris, Ginkgo and Smilax.
Advice for florists hesitant to branch out with new types of foliage: "Working with flowers and nature is fascinating. There are so many interesting plants and foliages that will elevate your creations. Expanding horizons and getting familiar with more products will train your eye and knowledge for creating more interesting and complex designs."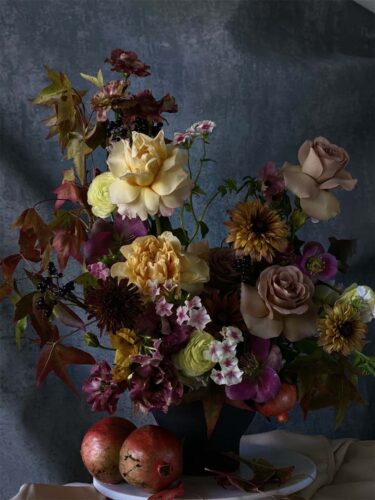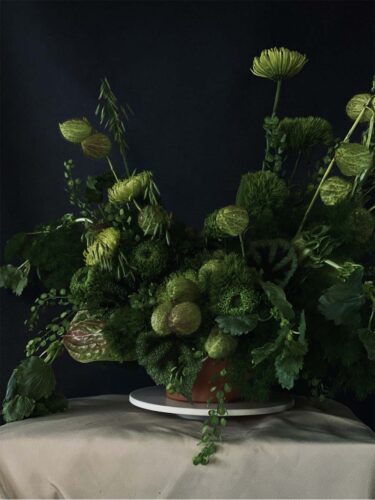 Canaan Marshall
Canaan Marshall Designs
Atlanta, Ga.
Favorite Specialty Foliage: "Nature is constantly inspiring me to create, but Magnolia branches never fail me!"
Advice for florists hesitant to branch out with new types of foliage: "Beauty is all around us and, sometimes, in the least likely places. To build better arrangements, you're going to have to try new materials."